Vilseck overwhelms ISB, moves into semis
by
Seth Robson
October 22, 2006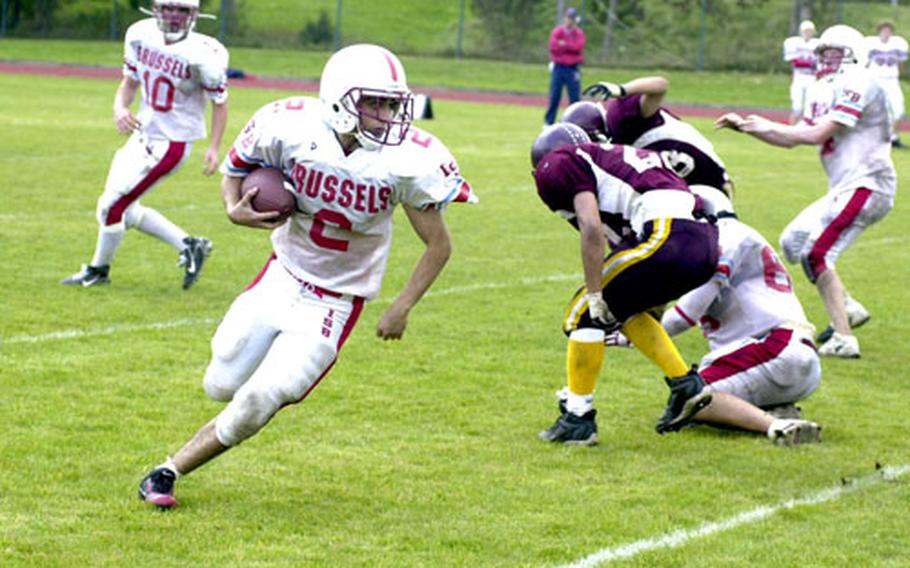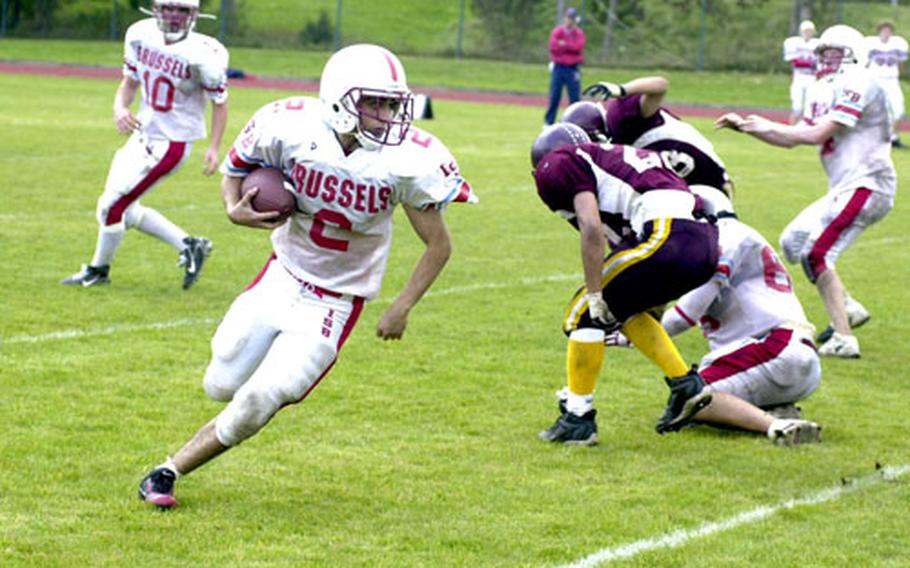 VILSECK, Germany — Justin Ingram threw three touchdown passes and Rex Ray ran for two more to lead Vilseck to a 53-28 win over the International School of Belgium on Saturday. The victory moved the Falcons into the semifinals of the Division II football championships.
Vilseck won the hard-fought contest by wearing down an ISB team that scored 21 points in the first quarter, but just one TD the rest of the way.
"We have been putting up a lot of points," Vilseck coach Billy Ratcliff said of his team, which scored 98 points in its last two games to qualify for the playoffs. "Everything was working."
He said the defense did its job when it was needed.
Both teams started fast. In the first quarter, Ray scored on TD runs of 15 and three yards, Vilseck kick returner Dex Johnson ran a kickoff back 70 yards for another score and Ramon Ramirez had a one-yard TD plunge.
But ISB had plenty of firepower of its own. Patrick Thigpen ran in a pair of touchdowns from one and two yards, and running back Philip Feldman had a one-yard TD run to keep the score close.
In the second quarter, Vilseck began pulling away. Ingram threw TD passes of 89 yards to Chris Lewis and 19 to Jamal Grant while the defense held ISB scoreless for a 40-21 halftime score.
Vilseck scored two more times in the third quarter — Robert Wright ran in a touchdown from nine yards out and Ingram hit Lewis for a 16-yard TD.
Thigpen scored his third TD on an 11-yard run, but it was all ISB could muster.
In the final quarter Vilseck kept the ball on the ground to eat up time, punting twice and stifling ISB's passing game. Ray snuffed one ISB drive with an interception — one of six ISB turnovers in the game.
ISB coach Rob Stewart said virtually every male American at the school, which has students from many different nations, plays on the football team. But he acknowledged that they could not keep up with a team like Vilseck.
Vilseck, which has improved steadily this season as more players have arrived with the 2nd Cavalry (Stryker) Regiment, will travel to Bitburg for a semifinal game next week.