DODDS-Europe volleyball championships
Vilseck, BFA, Rota take different routes to victory
by
Jennifer H. Svan
November 6, 2010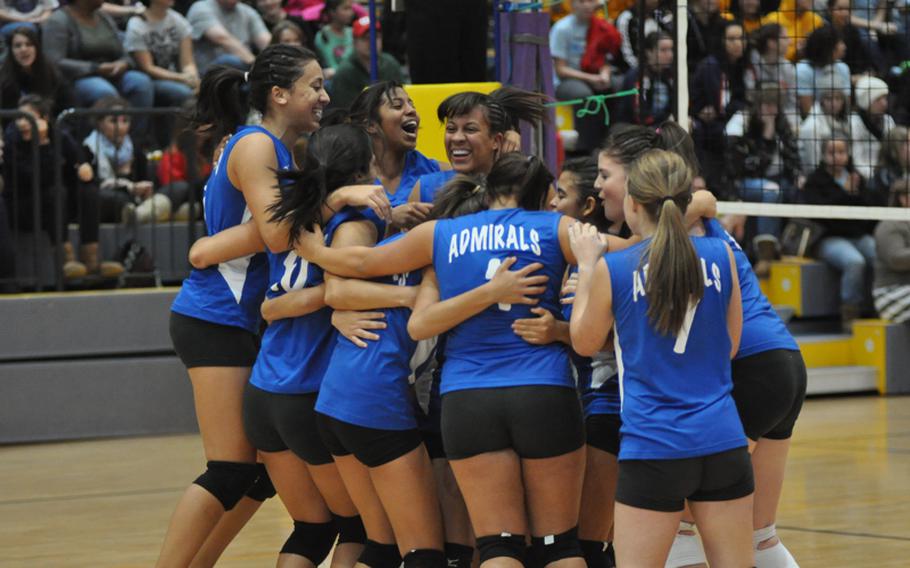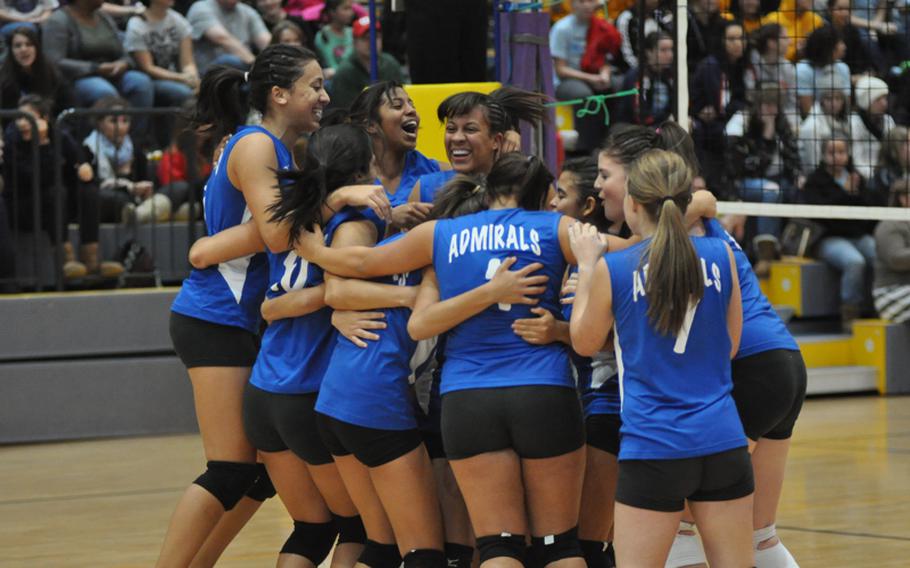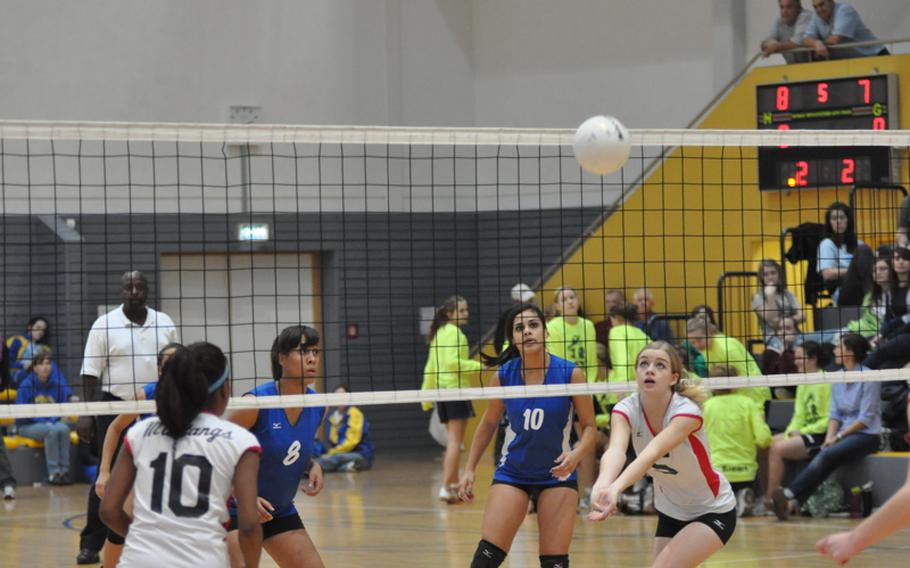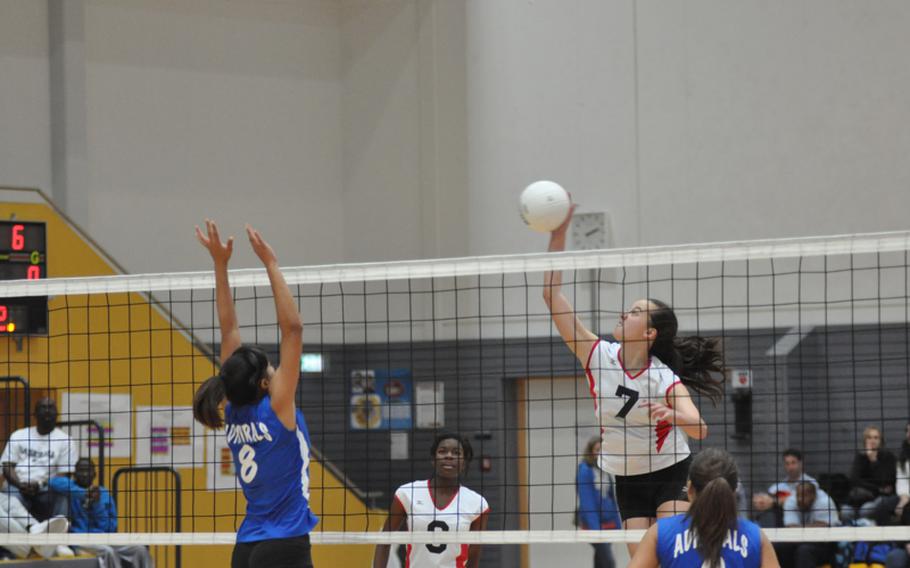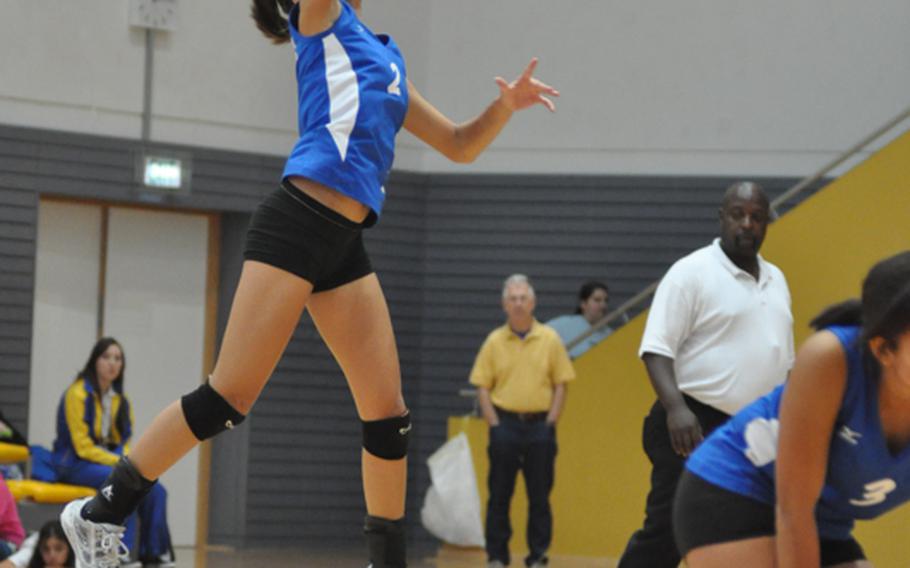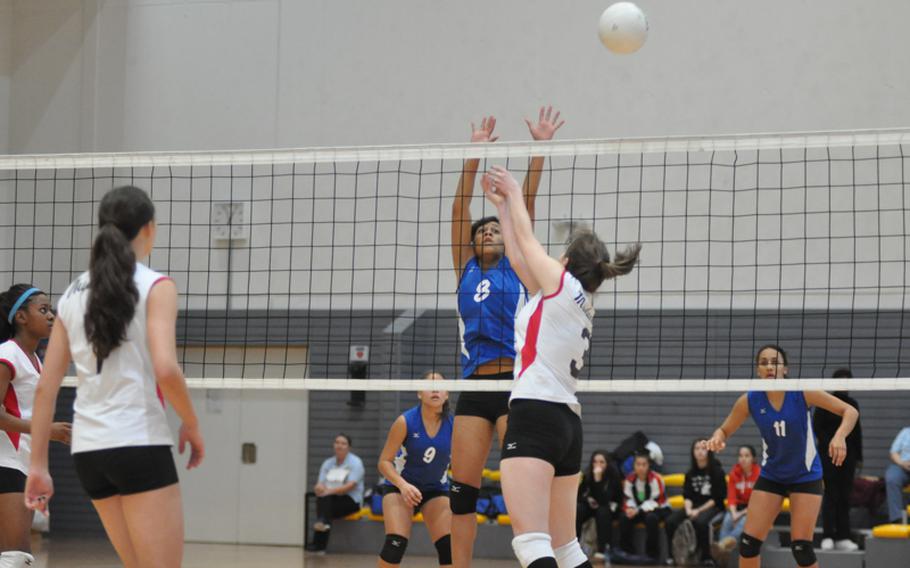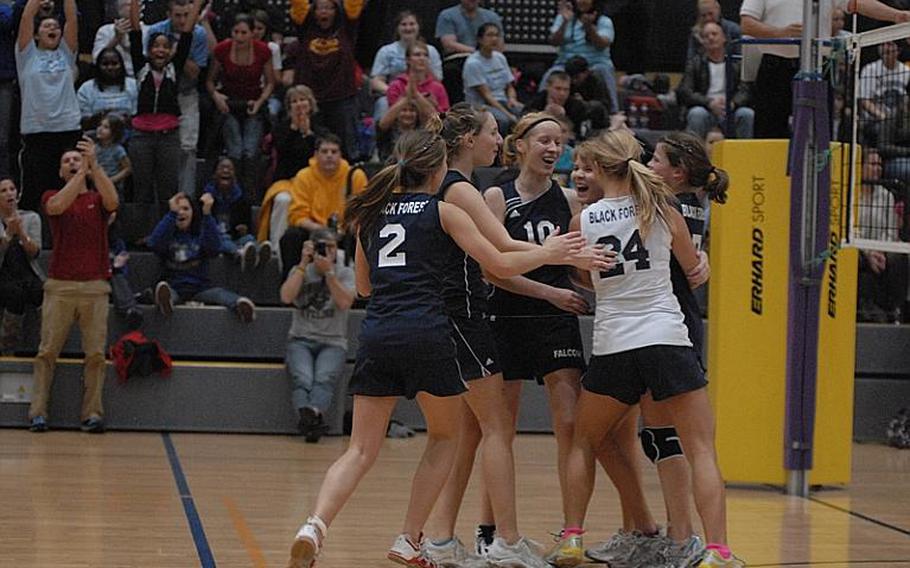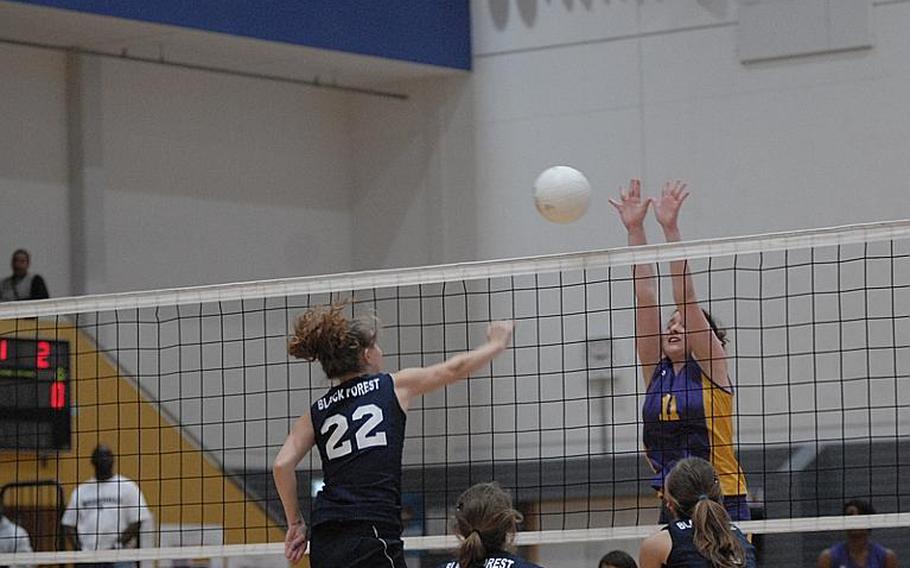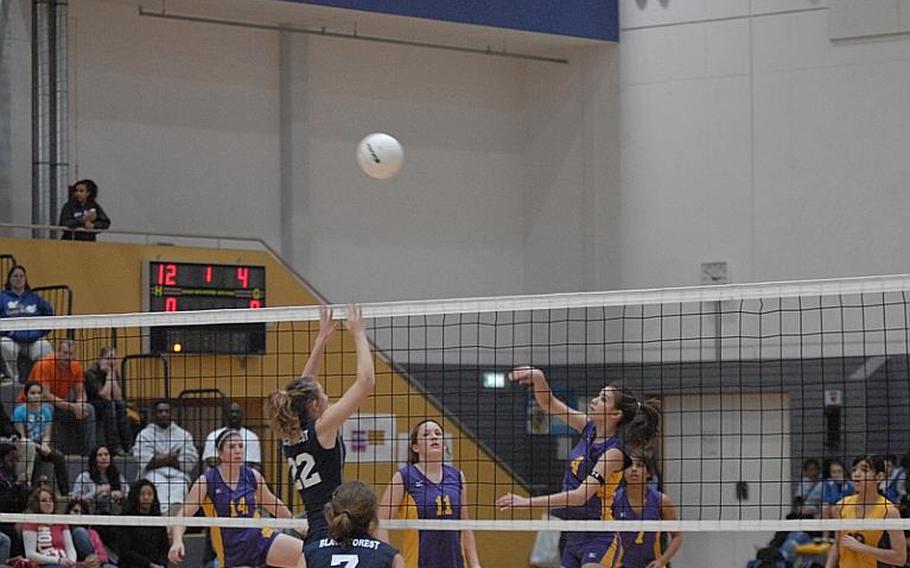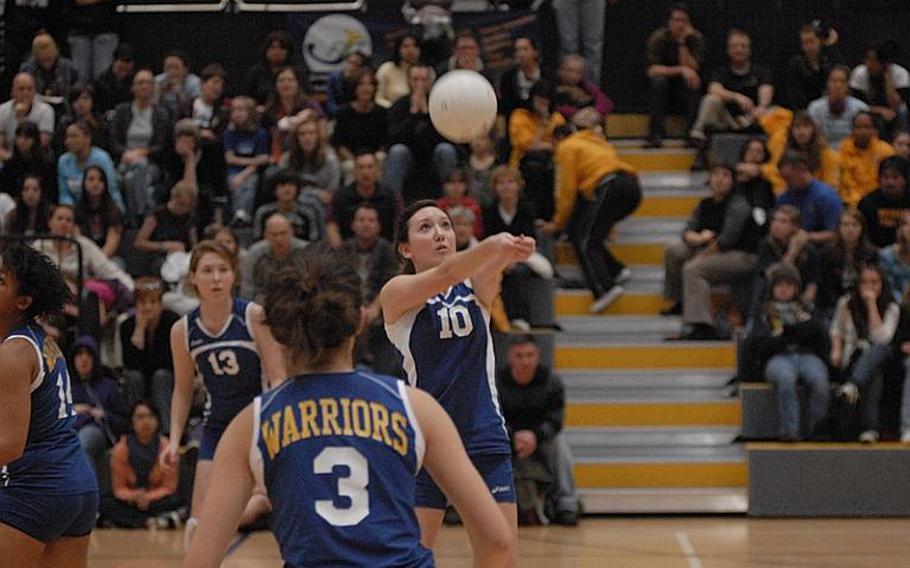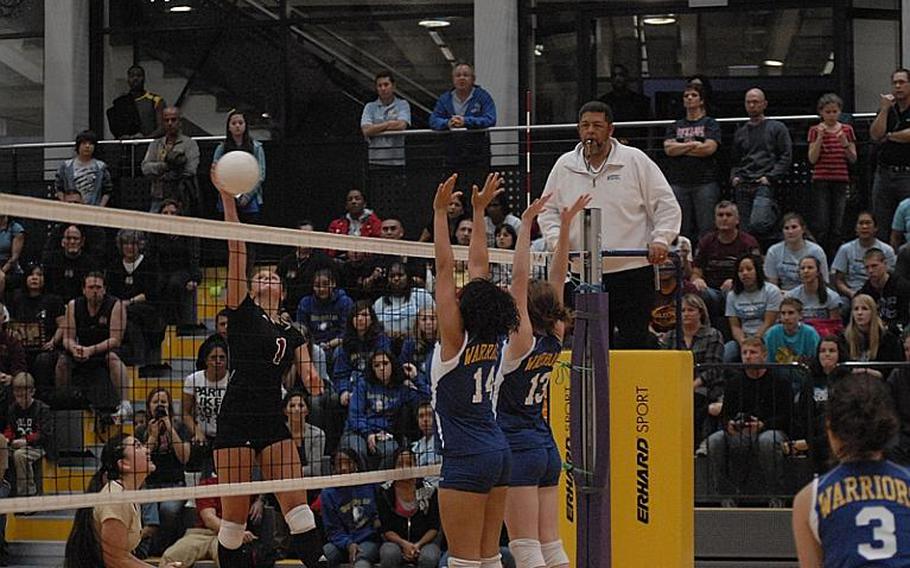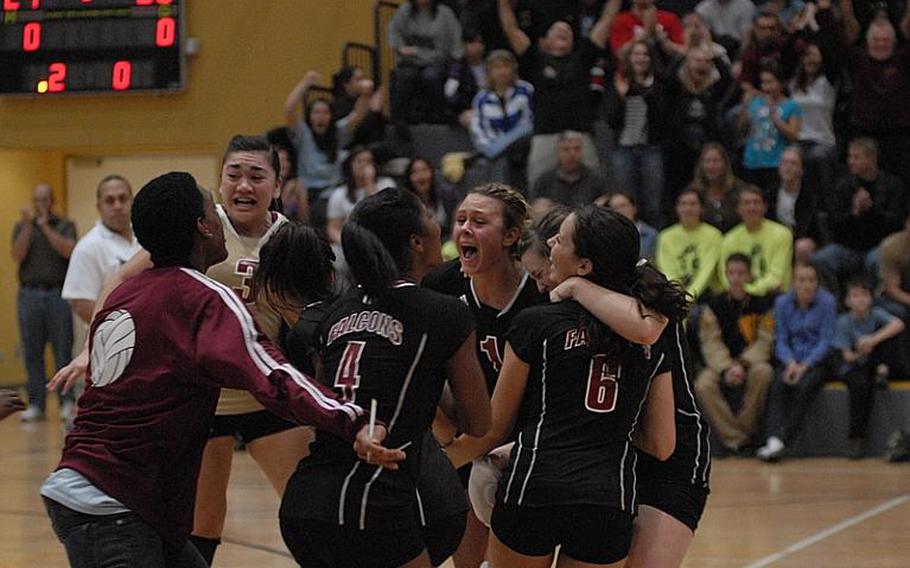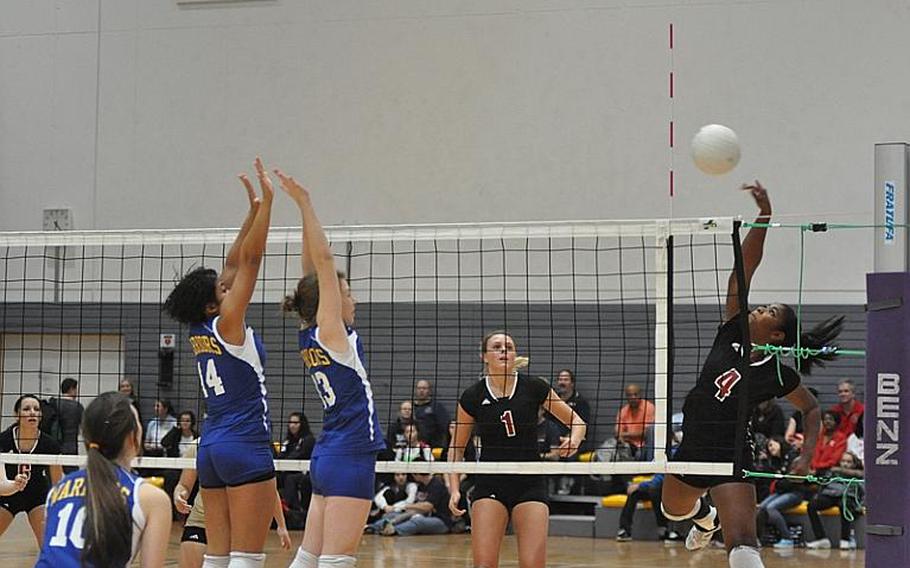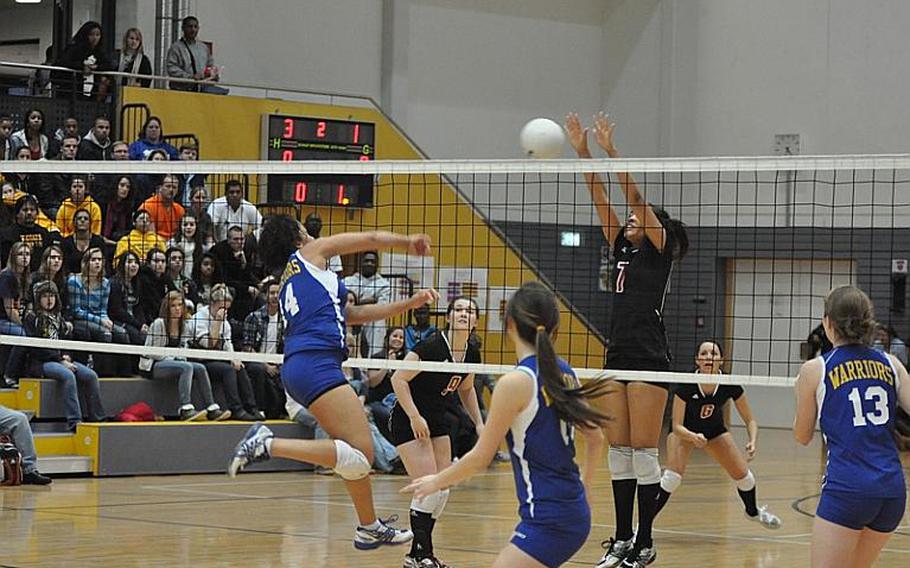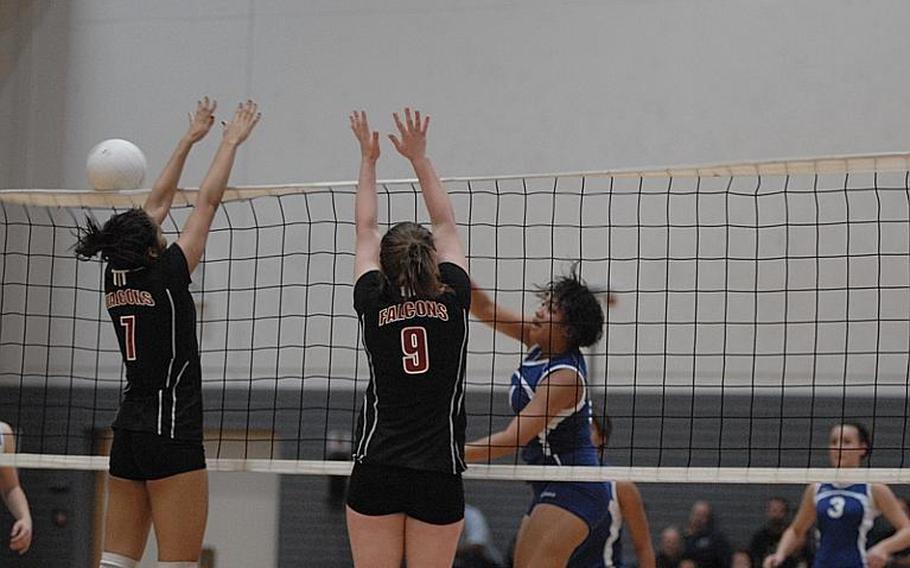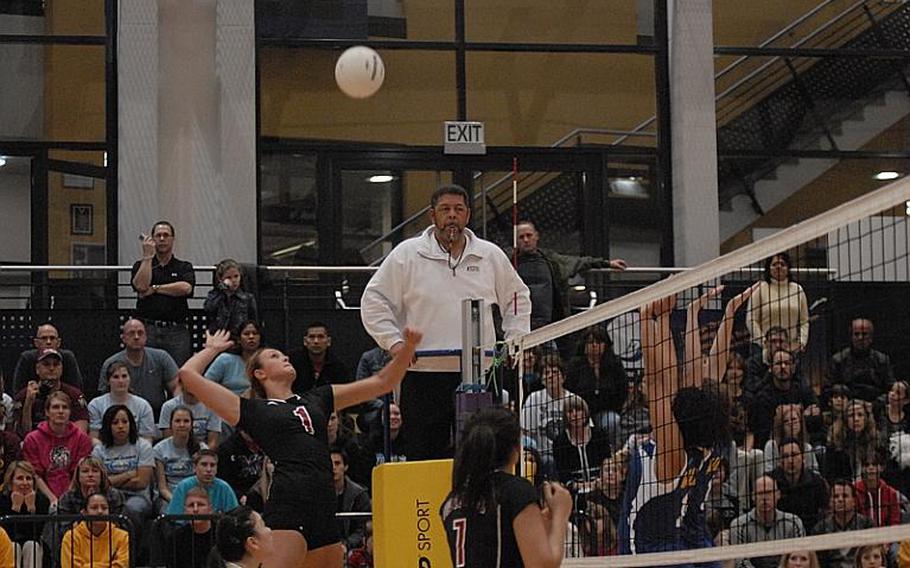 RAMSTEIN AIR BASE, Germany — Black Forest Academy was the only returning champion to retain its DODDS-Europe volleyball title, as new faces took the crowns in Divisions I and III.
Playing before rowdy crowds in the Southside gym at the DODDS-Europe 2010 girls volleyball tournament, BFA took three straight sets from Mannheim — 25-15, 25-20, 25-17 — to win its third-straight D-II title.
Third-seed Vilseck claimed the school's first title since moving up to Division I three years ago by sweeping fifth-seed Wiesbaden in three exciting sets, 25-15, 25-15, 25-20. And Rota, the D-III top seed, hung on to beat a feisty Menwith Hill in a five-set slugfest, 25-23, 24-26, 25-7, 21-25, 16-14.
Division I After falling to Ramstein in last year's final, Vilseck came charging into the title game, took control of the match early and held off a surging Wiesbaden squad that saved some of its best play of the season for the third and final set.
The two finalists were the teams with the best record in round-robin play. The Warriors, seeded fifth, tied with Heidelberg and SHAPE in round-robin play but had the best percentage of sets won among the three tied teams. The tiebreaker put them in Saturday's final.
Warriors coach Linnea Velsvaag said this was the team's first final appearance since at least 2000 and the Warriors, fighting a case of the jitters, didn't warm up until it was too late.
But Velsvaag was quick to credit Vilseck. "They have such a strong front and a great setter," she said.
That strong front was led by senior Anna Muzzy, who had 14 kills and earned Division I MVP honors.
Senior Kimberlee Akuna was hard to stop in the backcourt, totaling 17 digs and registering six aces while going 13-for-14 while serving. Junior Taylor Hall contributed four aces, 15 service points and 20 assists.
The Falcons — whose fans were among the loudest of the afternoon — lost earlier in the tournament to No. 1 seed Heidelberg, but won when it counted, said coach Brian Swenty. The team showered Swenty with roses after the match.
"It feels great," said Muzzy of the final win.
Division II Working together like a well-oiled machine, BFA relied on a solid team effort to hold on to its title. The Falcons entered the tournament seeded third in its pool despite being the two-time defending champ.
"We don't really have any stars, just a lot of good players that play well together," said BFA coach Pat Woodward. "Relentless comes to mind."
BFA jumped out to an early 7-2 lead in the first set on strong serving from senior Eliza Garrity, and Mannheim was never able to get back into the set. In the second set, Mannheim jumped out to an 8-4 lead with junior Rachel Lankford serving up an ace. But BFA clawed its way back into the game, taking a 9-8 lead, and never looked back. Mannheim fought its way through the third set, tying the score four times — 11-11, 12-12, 15-15, 16-16 — but BFA scored the next five points with the help of consistent serving from sophomore Natalie Bertrand en route to the win.
Mannheim sophomore Grace Gonzalez, who at the libero position was busy getting first hands on the ball, said her teammates were "disappointed because we could have played better than that." With Mannheim scheduled to shutter at the end of this school year, the team wanted to go out with a bang, Gonzalez said.
Division III
The longest match of the finals belonged to Rota and Menwith Hill. Early on, however, it looked like Rota would put Menwith away in an easy fashion as the Admirals took a commanding 17-7 lead. Menwith Hill, it turns out, was only getting warmed up. The Mustangs pulled to within one, 23-24, before Rota eked out the first-set victory.
The tiny high school from North Yorkshire, England, used its momentum to take the second set, 26-24. But, with fans on both sides chanting loudly from the bleachers, the Mustangs fell apart in the third set, losing 25-7, before coming back to take the fourth set, 25-21. In the fifth and final set, Menwith Hill looked like it would prevail, taking a commanding 7-1 lead in the 15-point set. But Rota tied the score up at 14-14 and finished off the Mustangs 16-14, for the title.
Both teams were emotional after the game. "That was intense, Judy," Menwith Hill coach Karen Ehrhard said to Rota coach Judy Scarbrough.
"It was amazing," agreed Scarbrough, noting her team hadn't lost any sets the entire tournament until facing Ehrhard's squad.
Freshman Aspen Luna had some big plays for the admirals, with eight aces on serve and 12 kills. Sophomore Natalia Rivera also had a strong match, adding five aces and seven kills.
"There definitely was pressure," said Luna, the Division III MVP. "We did it. We pulled it out."
Ehrhard, in her first year coaching volleyball, credited senior setter Alex Furrow and her two hitters, sophomore Kaia Pierce and senior Monique McCreary.
"I've got a team of fighters," she said.
---
---
---
---