2013 IN REVIEW
Vidovic's heroics among 2013's top Europe sports stories
by
Gregory Broome
December 28, 2013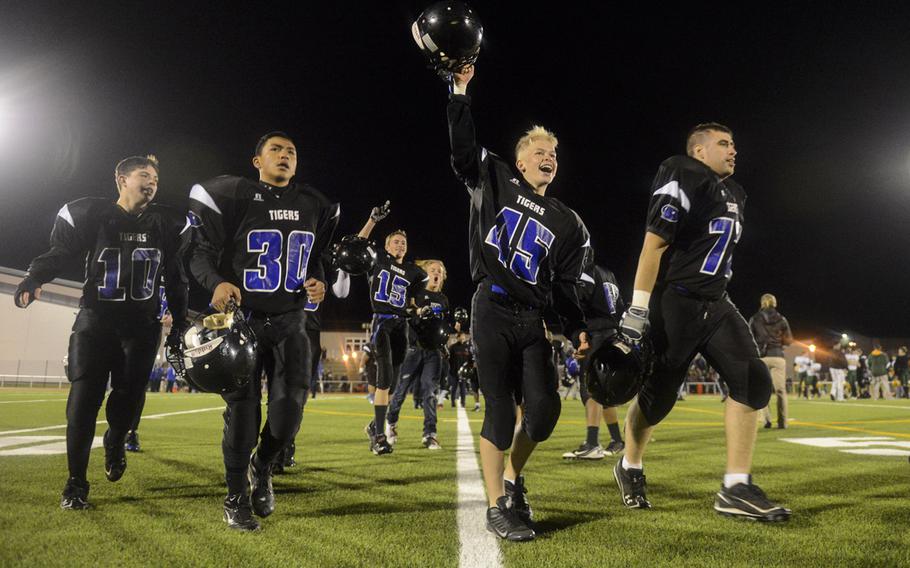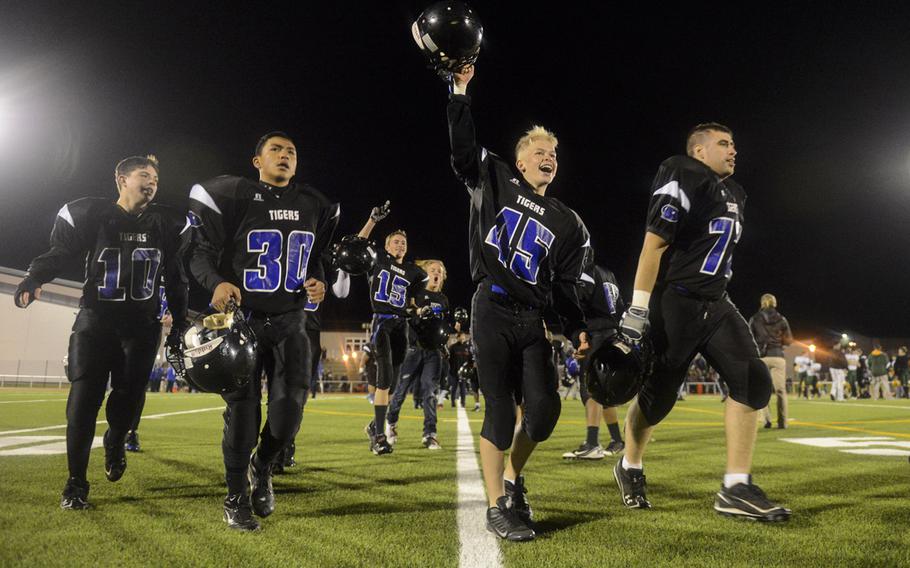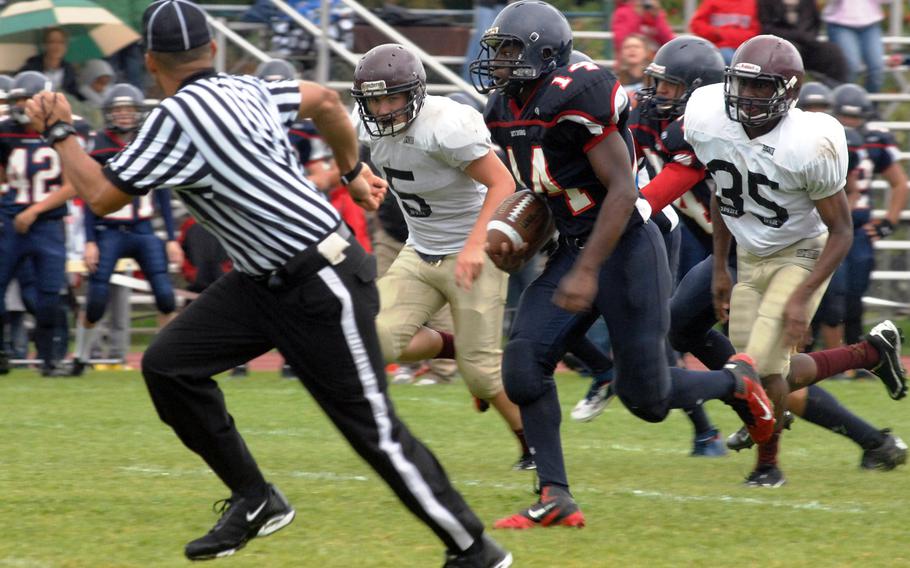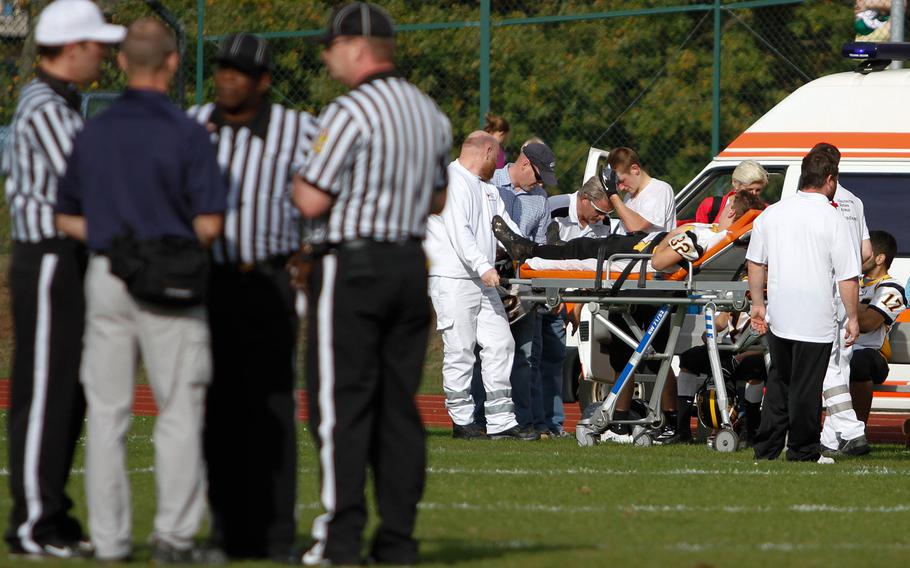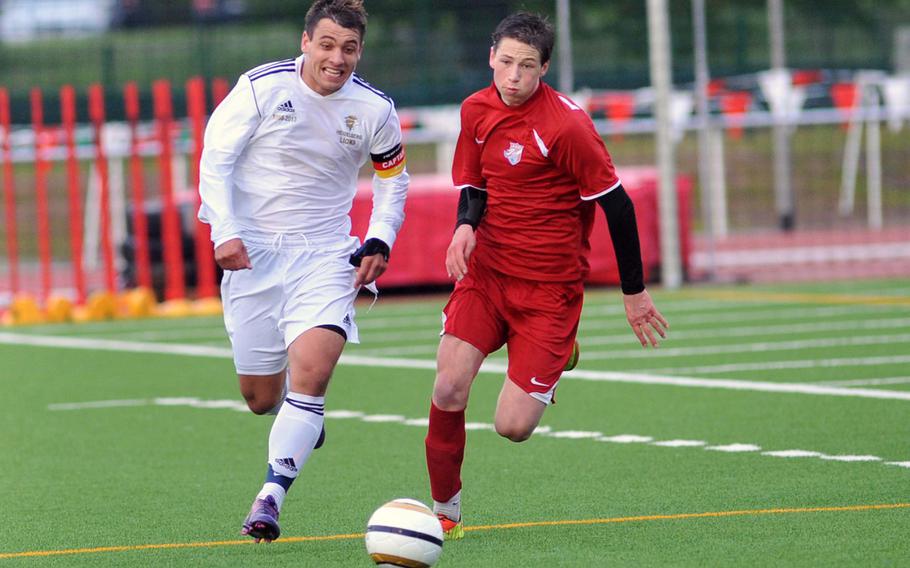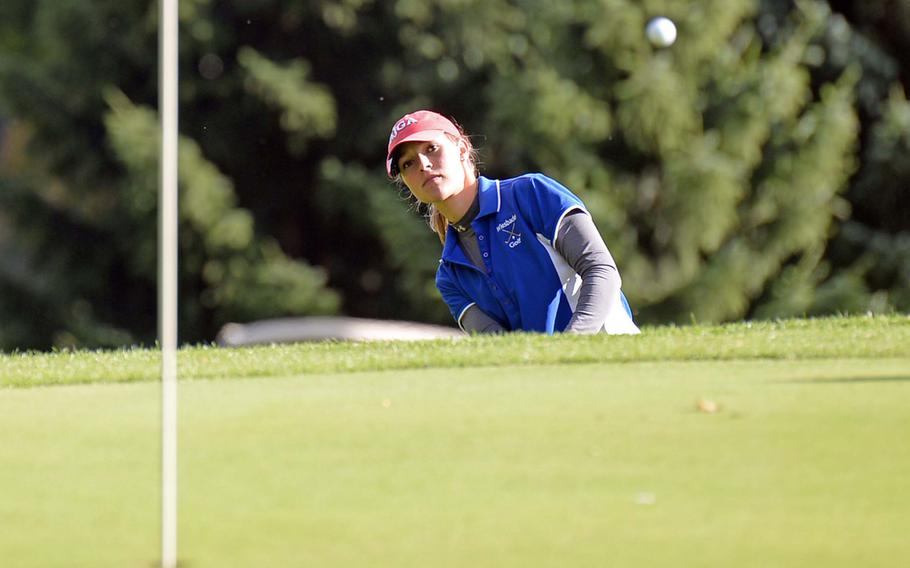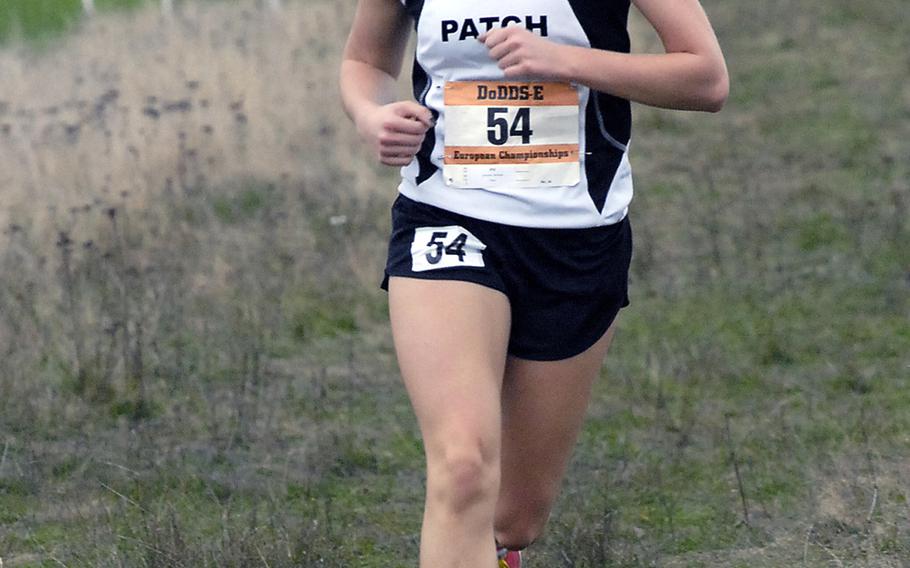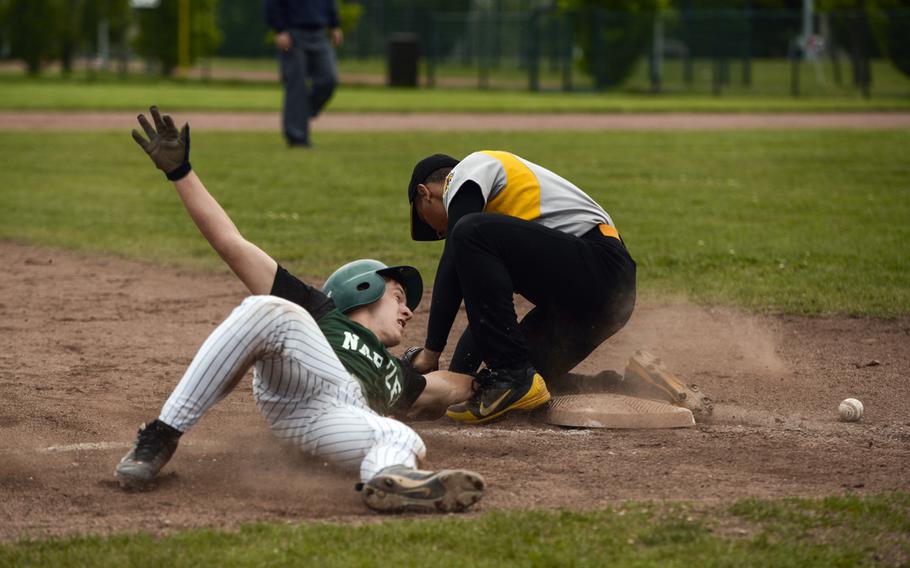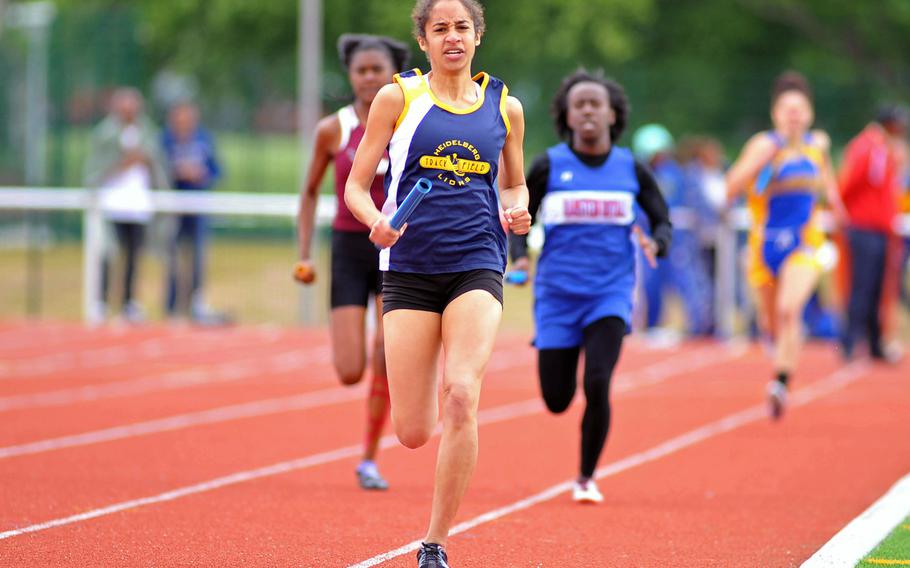 Though it spanned just two months, the DODDS-Europe football season provided many of the most memorable sports moments of 2013, including rearranged leagues and schedules, shocking transfers of power and a controversy sparked by one concussion-filled Saturday afternoon.
Here is a look back at the top 10 Stars and Stripes Europe sports stories of 2013.
1 Hohenfels ends Bitburg's streak, starts its own: A fervent home-field crowd, a seemingly outmanned opponent, a statement-making early score: the Oct. 26 European semifinal game between Hohenfels and Bitburg had all the trappings of another well-built float in Bitburg's ongoing parade of wins.
Then everything changed.
Hohenfels, powered by the relentless efforts of running back David Vidovic and the fresh two-way playmaking of newcomer Tony Saintmelus, scored 18 unanswered points over the game's final five minutes to stun the four-time defending champions 38-28. A week later, Vidovic and the Tigers completed an equally stunning comeback to edge SHAPE 38-35 and win the Division II championship.
After the season, Vidovic was honored as Stars and Stripes football athlete of the year and joined Saintmelus on the All-Europe team. But for all his individual glory, Vidovic was quick to identify teamwork as the driving force in the Hohenfels rise to power.
"Play together, don't give up," Vidovic said after the Nov. 2 title game. "Outcome, win or lose, we were in this together as a family."
2 Barons set the standard for consistency: Just weeks before upstart Hohenfels sank its claws into them, Bitburg football was riding high. Higher, in fact, than any program before them.
The homestanding Barons beat Baumholder 42-6 on Sept. 14 to record their 32nd straight win and break Ansbach's DODDS-Europe record for consecutive victories. In response, famously stoic head coach Mike Laue offered his first and last thoughts on the topic.
"We'll talk about it one time, today," Laue said. "Then we'll move on and do other things down the road."
The Barons extended their streak by four more games before Hohenfels ended it at 36.
3 Patch coach pulls team, sparks discussion: With his team losing handily to Ramstein and several of his players sidelined by injuries, Patch football coach Brian Hill removed his Panthers from the field with eight minutes and 56 seconds to play in the teams' Oct. 26 Division I semifinal game.
Seeking to explain his actions, Hill sent DODDS-Europe athletic director Karen Seadore an email that reverberated throughout DODDS-Europe football. In his message, Hill accused Ramstein players of intentionally targeting the heads of their opponents, Royals coach Carlos Amponin of condoning his team's illegal efforts and the game's German officials of being oblivious and unresponsive to the resulting collisions.
Seadore said a review of game film showed no evidence of "malicious intent" on Ramstein's part. Hill was suspended one game for ending the contest early. A week later, the two European championship games, including Ramstein's loss to Wiesbaden, were played as scheduled and without incident.
But in the midst of a nationwide debate on the dangers football poses to its young participants, it's safe to assume those are far from the final words on the subject.
4 Historic Heidelberg takes final bow: Drawdown and reduction represent the new normal for American servicemembers and civilians in Europe. That didn't make the closure of Heidelberg, perhaps Europe's most historic American high school, any less shocking.
Faced with shrinking talent bases and long odds, the final versions of Heidelberg's athletic teams sought to craft enduring final acts for their programs' storied histories.
The Lions' boys soccer team came close to scripting a storybook ending for what became known as "The Last Roar." The team advanced all the way to the Division I European championship game before losing to International School of Brussels.
Two days later, Heidelberg's girls 1,600-meter relay team took first place in their event to claim the last European championship in school history, a triumphant end to six decades of Lion ferocity.
5 Classic games decide European hoops champs: With the stakes at their highest, the Saturday slate of DODDS-Europe basketball championship games should be among the most compelling of the season. The six games played Feb. 23 in Wiesbaden didn't disappoint.
A remarkable collection of soon-to-disperse talent fueled Bamberg's Division III boys win. Brussels held off a fierce Bamberg comeback for a 31-29 win in the Division III girls game. AFNORTH exacted revenge against Naples in a rematch of the previous year's Division II boys title game. Underrated Bitburg's Division II girls win over Ansbach completed its turn from underdog to champion. An upstart Patch team shocked Ramstein for the Division I boys crown, and Kaiserslautern fought off host Wiesbaden for a stirring 30-28 win and the Division I girls title.
6 Female phenoms continue to dominate courses: DODDS-Europe queen bees Jenna Eidem and Baileigh Sessions continued to buzz well over the heads of their competition in 2013.
Eidem, a Wiesbaden junior, outlasted a new crop of contenders to claim a third straight girls golf championship by a sizeable margin.
Sessions, a Patch senior, cruised to her third straight cross country championship, the only girl in Europe to clock in at under 20 minutes.
7 Spring sports plans frustrated by weather: Hitting a fast-moving baseball is hard enough in sunny conditions. Picking out the spinning white orb from a sheet of floating white snowflakes is that much harder.
That was the plight faced by DODDS-Europe baseball and softball players early in a nominal spring season that seemed unable to shake the frigid yoke of winter. Low temperatures and a persistent wintry mix of precipitation cost several teams chunks of their soccer, track and diamond schedules.
8 Italian teams take over D-II diamond: A local rivalry went continental in May as Italian baseball powers Naples and Vicenza outlasted a Europe-wide field and staged the latest entry in their ongoing struggle in the Division II European championship game. The game was the first time two Italy-based teams had played for a European baseball crown.
As it was throughout the regular season, Naples was the clear victor with a 15-1 championship-game rout.
9 Budget crunch rearranges football ranks: A mandate to slash travel costs prompted DODDS-Europe to make some significant alterations to the structure of its football program.
Division III, a collection of far-flung small schools that accounted for an outsized portion of the organization's travel costs, was folded. Its members either moved up to Division II, switched its boys to volleyball or joined the makeshift four-team Independent League serving Northern Europe.
Meanwhile, the North and South teams comprising Division II played strict regional schedules, eliminating a number of costly long-haul road trips.
10 Schweinfurt, Bamberg pool resources: The two neighboring Bavarian schools have always been intertwined. The arrangement simply got a lot more formal in 2013.
Both small schools are set to close at the end of the current school year, and each has seen its student population plummet in anticipation.
As a result, the former rivals opted to join forces for a combined football team in the fall and joint basketball teams in the winter, salvaging one last season for their remaining student-athletes.