Veterans hold Marathon Day ruck march in Boston to honor troops
---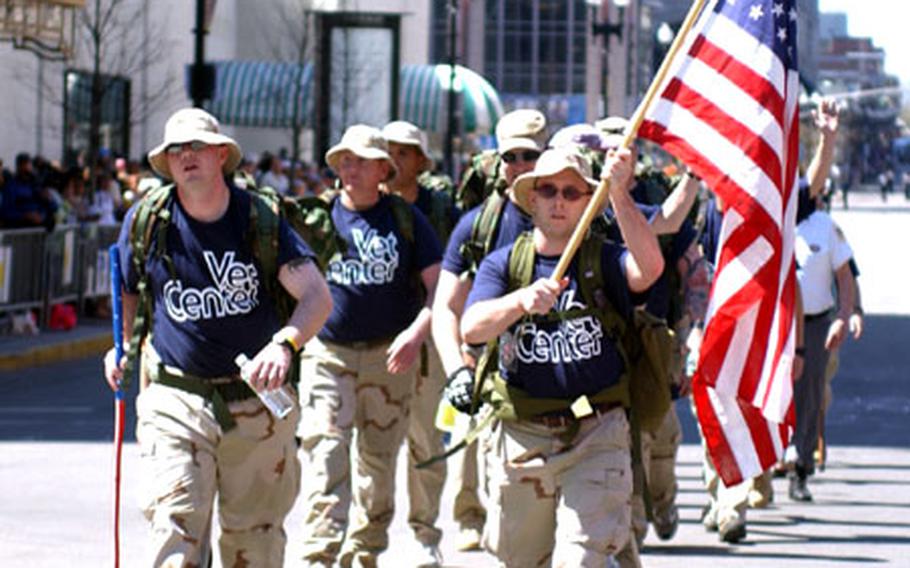 WASHINGTON — A group of veterans used Monday's Patriots Day celebration in Boston to honor active military heroes overseas by holding a 26.2-mile ruck march along the path of the Boston Marathon.
Eleven veterans took part in the event, which started at 4 a.m. and took more than eight hours to complete. Hartford (Conn.) Veterans Center outreach specialist Jay White, who helped organize the event, said despite the distance he was full of energy at the end.
"When we got to a half-mile before the end, they announced our names and the crowd started cheering," he said. "Then some local Vietnam Vets joined us marching, and we walked to the finish line in columns of two, with everyone cheering."
The marchers carried water and other basic supplies in their ruck sacks as they traveled from Hopkinton to Natick, past Wellesley College and up Heartbreak Hill into the heart of Boston. White said several hundred spectators greeted them at the finish, even though the race participants were still several hours away.
Celebrated in Maine and Massachusetts, Patriots Day commemorates the skirmishes and battles that began the colonies' fight for independence.
Event organizer Garrick Lewis, an outreach specialist with the Manchester Veterans Center in Manchester, Conn., said he came up with the idea of a pre-marathon ruck march after hearing about the Iraq marathon, organized by servicemembers who had been planning on competing in the Boston race before their deployment.
"I thought that could be a great way to bring some of our recent combat veterans together," said Lewis, an Air Force veteran who spent several months in Iraq last summer.
"Most guys I talk to, they still think about the guys over there. It's like a surrogate family for them. This gives them a way to feel connected with them."
Most of the participants in the ruck march had run in marathons in the past — White said he has competed in 11 marathons — but Lewis said his only previous long-distance experience was an unpleasant 30-mile ruck march during basic training.
But he was inspired by the group that signed up to honor their brothers in arms.
"It's a kind of group therapy," he said. "To hang out with these guys is really helpful."
---
---
---
---