USAFE women dominant to last second in title game
by
Rusty Bryan
April 13, 2006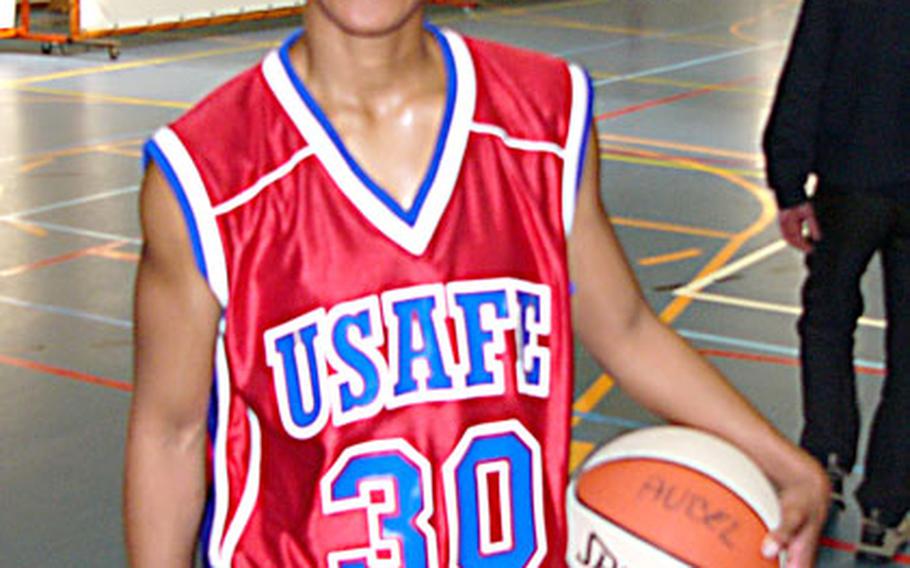 AUBEL, Belgium — Even with an 80-point lead, USAFE's women had their heads, hearts and bodies in Wednesday's championship game of the Component-Command Air Headquarters Ramstein Inter-Nation Basketball Tournament.
With her team holding an 90-10 lead and 4:10 to play, Aviano's Victoria Drees dove for a loose ball and earned a possession for a U.S. team that hardly needed it.
"It's just a reflex," said Drees, who scored 20 points in USAFE's 98-13 victory over Germany to give the Americans their second straight C-C Ramstein title. The tournament is the successor to the AIRNORTH competitions between the NATO air forces.
All-Air Force guard Nicole Bowman, who turned down a bid to play on the Armed Forces team in favor of this tournament, scored a game-high 28 points.
Bowman said an impending transfer prompted her to return for this game rather than seek even greater glory with the Armed Forces team.
"I'm transferring to [Pacific Air Forces]," she said. "This was my last chance to play with this team."
A pressing U.S. defense forced 36 turnovers and produced leads of 30-4 after 10 minutes, 58-6 at halftime and 80-10 after three quarters.
Bowman said the large margins had little effect on the USAFE team's performance or its satisfaction in winning.
"We play unselfishly," she said. "We try to make sure everybody gets a chance to touch the ball."
Four players touched it enough to score in double figures — Bowman, Drees, LaShannon Grant of Ramstein (15 points) and Sybil Reed of Lakenheath (13 points).
And the lopsided victory?
"Winning is the whole point of the game," Bowman said. "We had a lot of fun."
USAFE 98, Germany 13
USAFE 98, Germany 13
German AF 4 2 4 3 13
USAFE 30 28 22 18 98
Scoring — Germany: Anne Hoffman 4, Nancy Loth 3, Ute Logeman 2, Judith Duerbaum 2, Kirsten Blank 2; USAFE: Nicole Bowman 28, Victoria Drees 20, LaShannon Grant 15, Sybil Reed 13, Jessica Bailey 6, Sharina Bennett 6, Jennifer Brooks 4, Susan Hill 4, Tanya Davis 2.