GALLERY
Soldiers take top men's spots in 31st Army Ten-Miler; civilian wins women's race
---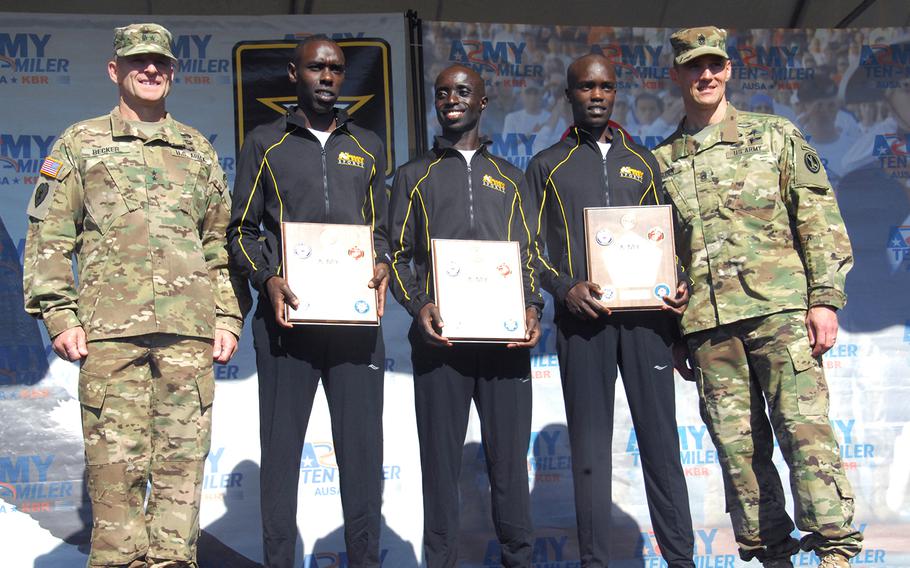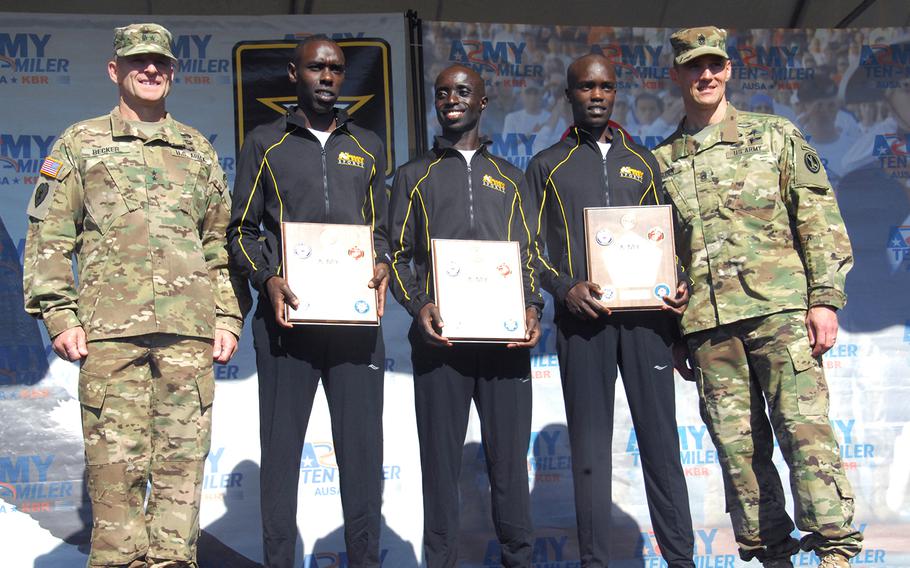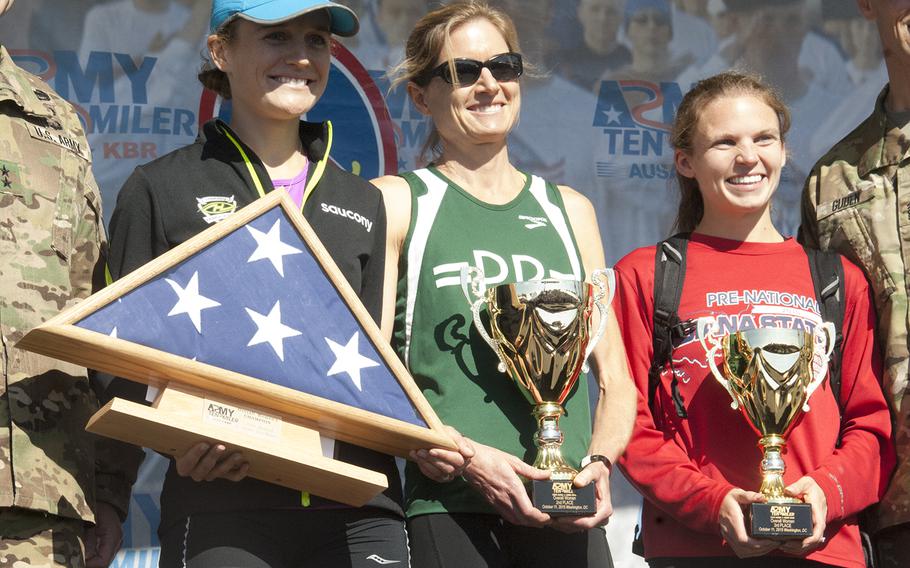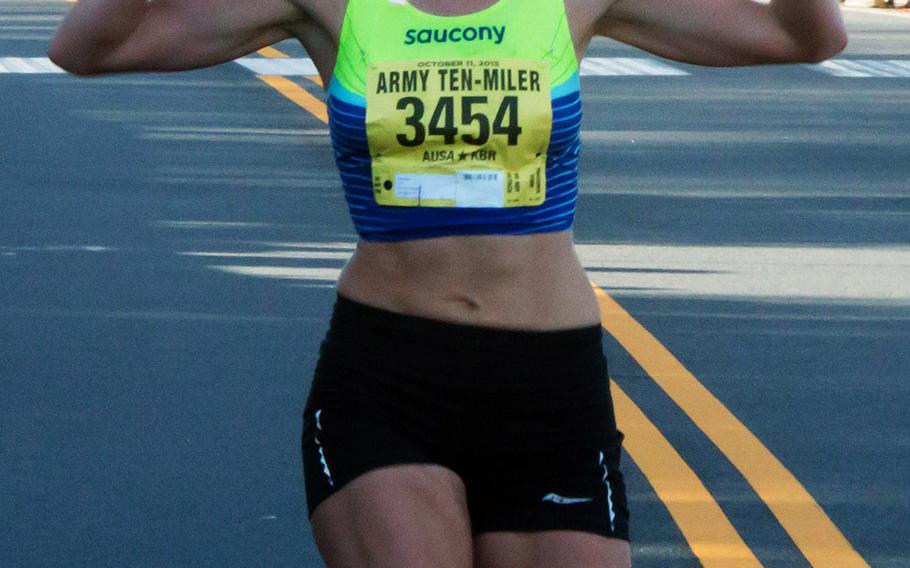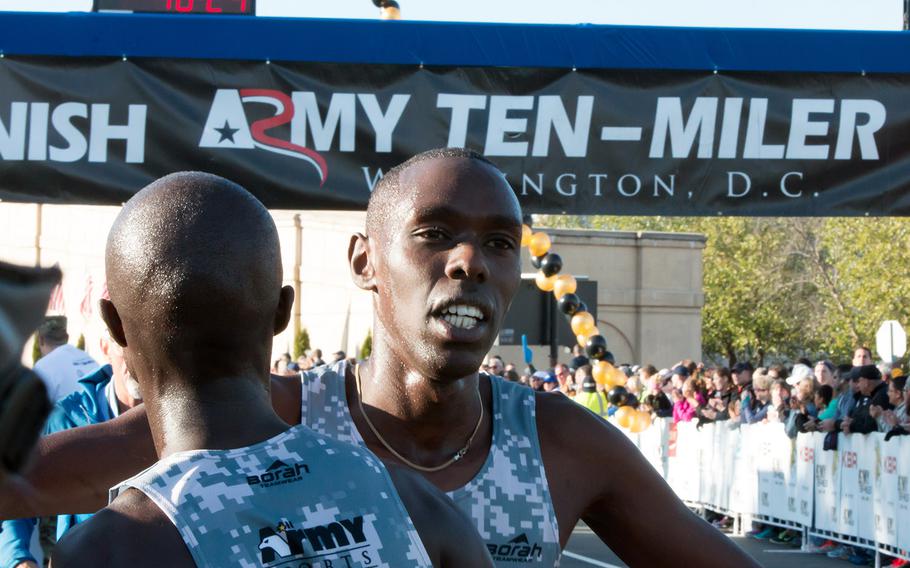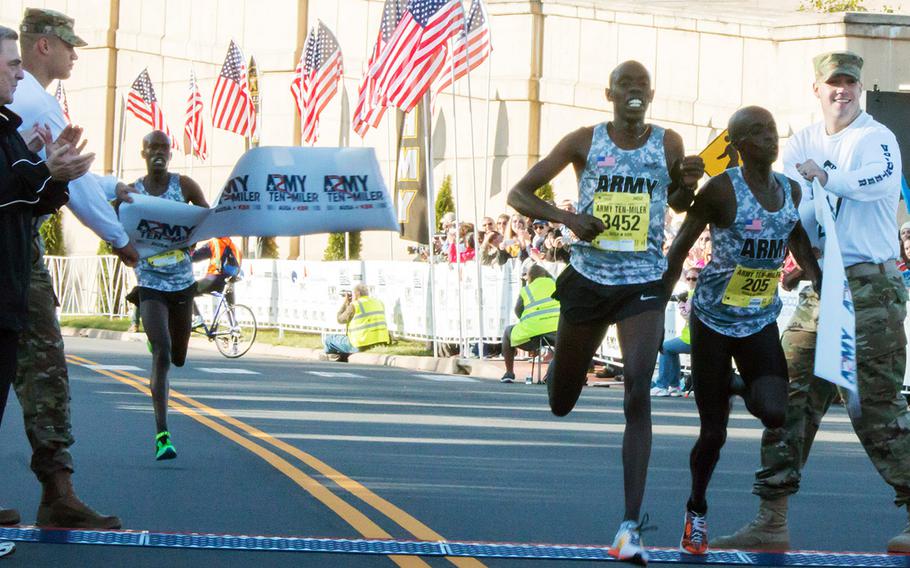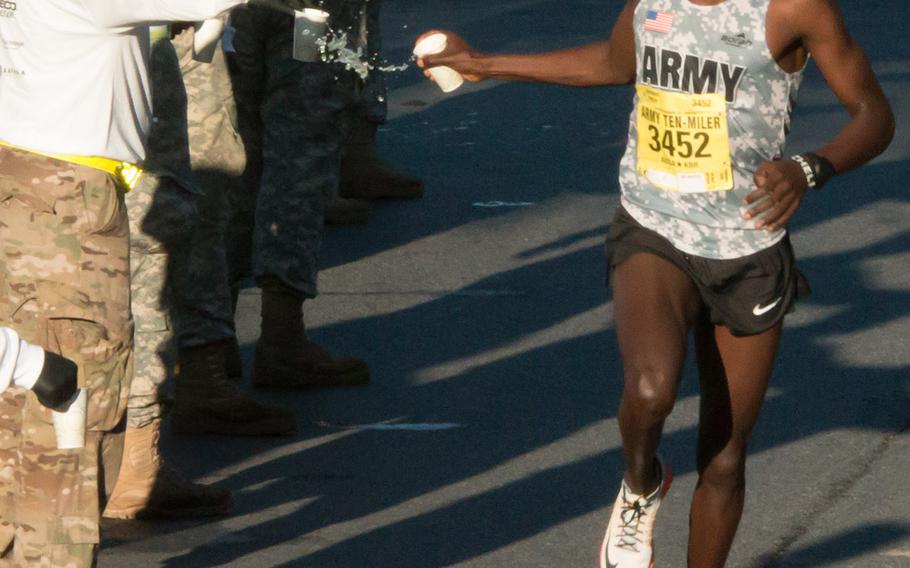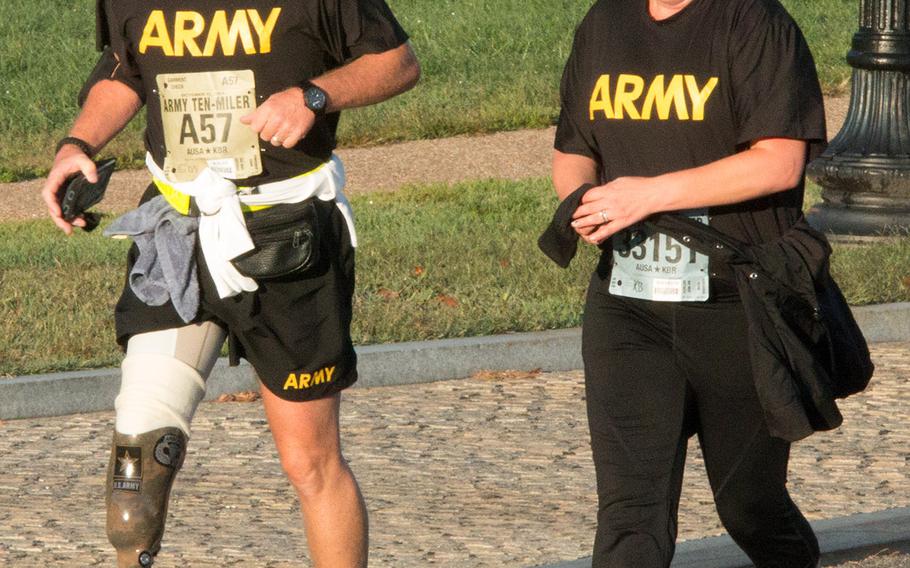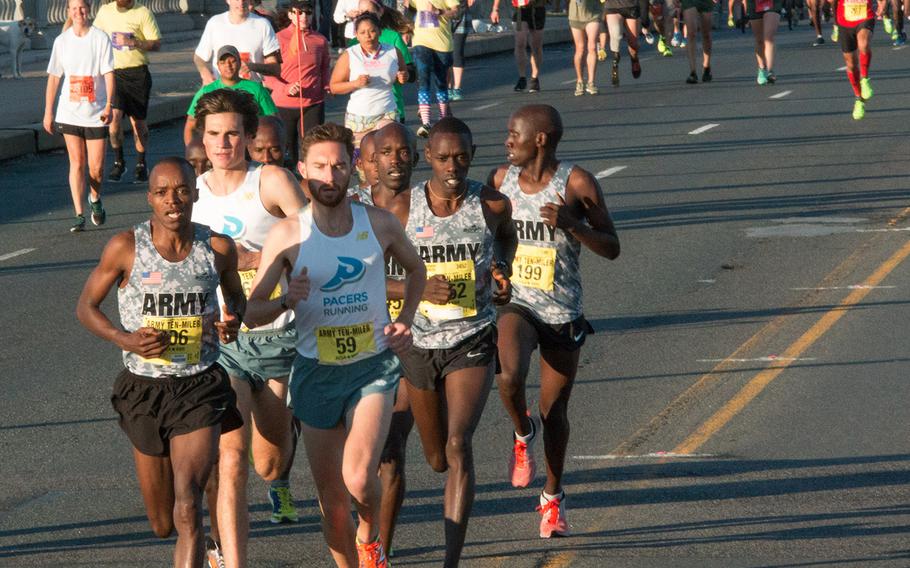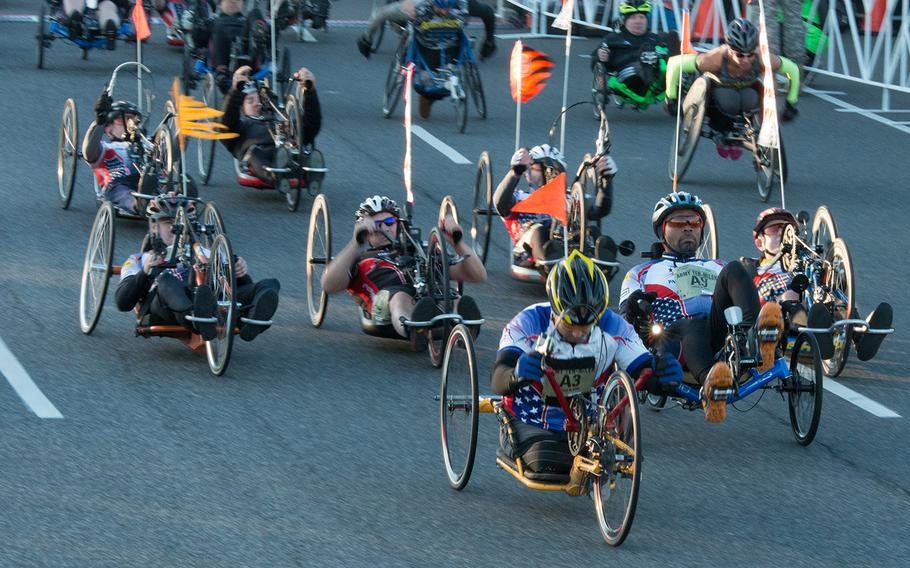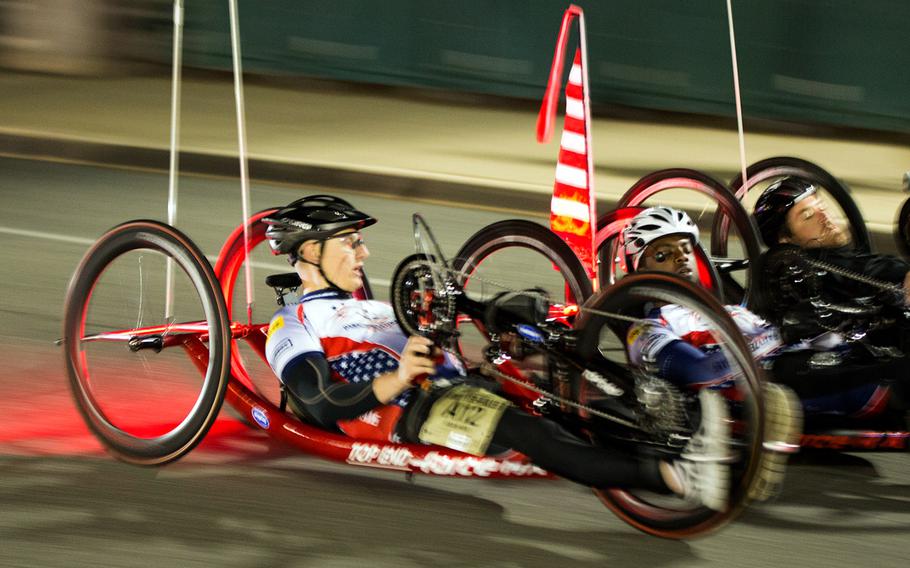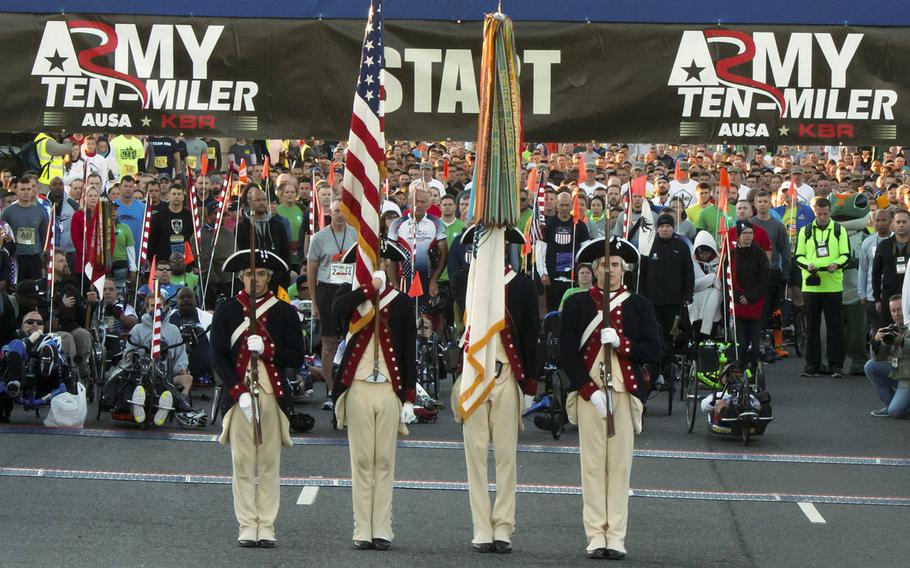 ARLINGTON, Va. — The Army put on a strong showing Sunday at its namesake race as soldiers swept the top spots and ended the race in a close finish.
Pfc. Paul Chelimo of Fort Carson, Colo., claimed first place by mere milliseconds, winning the 31st Army Ten-Miler with an unofficial time of 48:19.57.
Spc. Nicholas Kipruto of Fort Hood, Texas, crossed the finish line a split-second later at 48:19.79. Despite being teammates on the Army team, the 31-year-old was giving it all in the last 100-meters in an attempt to overtake Chelimo in a friendly rivalry.
"When it comes to that...it's more like who really wants it? It comes down to how good you plan for it," Kipruto said. "As much as he's my teammate, at the end of the day I want to kick [his rear]."
Still, Kipruto was reveling in the fact that Army men swept the leaderboard. Spc. Shadrack Kipchirchir came in third with a time of 48:20. Spc. Augustus Maiyo, who won the Marine Corps Marathon in 2012, came in fourth at 48:28.
"This was special," Kipruto said. "And I'm glad I'm a part of it."
As part of his first-place winnings, Chelimo was given a U.S. flag that was flown over the Pentagon. He plans to put it up in a spot at home where it'll serve as a reminder of what it's like to be on top.
"That'll keep me going," Chelimo said. "I've got to work to win it next year again. Every time I see the flag, it'll remind me that I have a lot of work to do to get the title again."
Tina Muir of Lexingon, Ky., was the first place female finisher with an unofficial time of 55:19. Perry Shoemaker of Vienna, Va., came in second at 57:30 and Stephanie Bryan of Frederick, Md., finished at 57:45.
Despite being a civilian originally from the UK, Muir said the race means a lot to her.
"Being in the Army Ten-Miler, I realize how much they do for keeping us safe," Muir said. I'm from England but I love America … and they help make sure that this is the great place that it is.
"They do so much for the country already," Muir added, "and then they come here and run so fast."
The winners of the male wounded warrior category were Mark Holbert of Aldie, Va., Gregory Gadson of Alexandria, Va., and William Latham of Victorville, Ca.
The female wounded warrior winners were Karen Holman of Chester, Va., and Elizabeth O'Connor of Washington, DC.
lin.cj@stripes.com Twitter: @cjlinSS
---
---
---
---