US finishes seventh in Albert Schweitzer basketball tournament
by
Rusty Bryan
April 14, 2012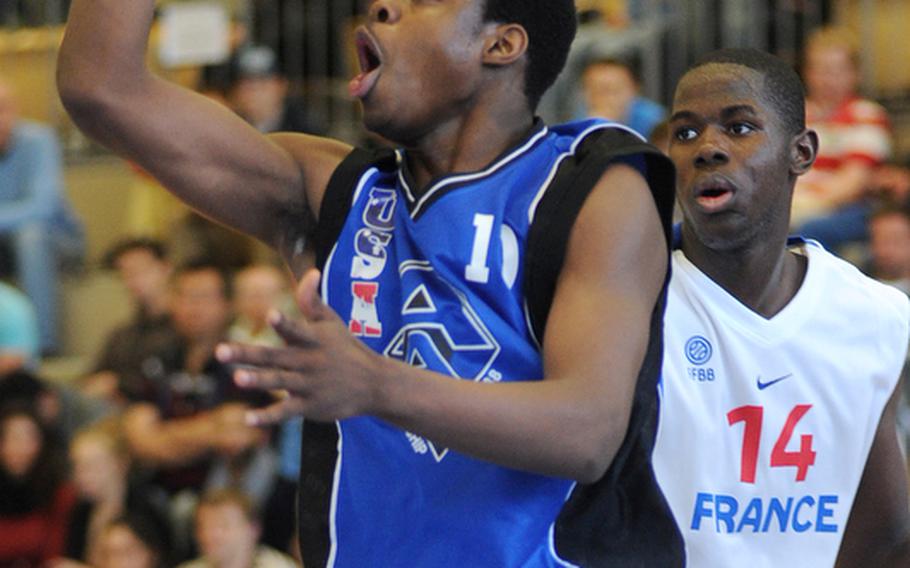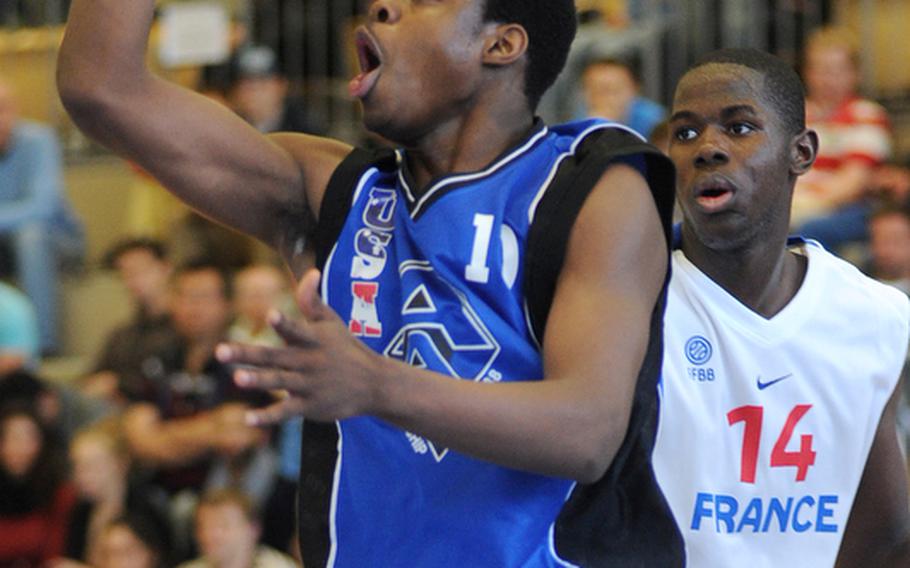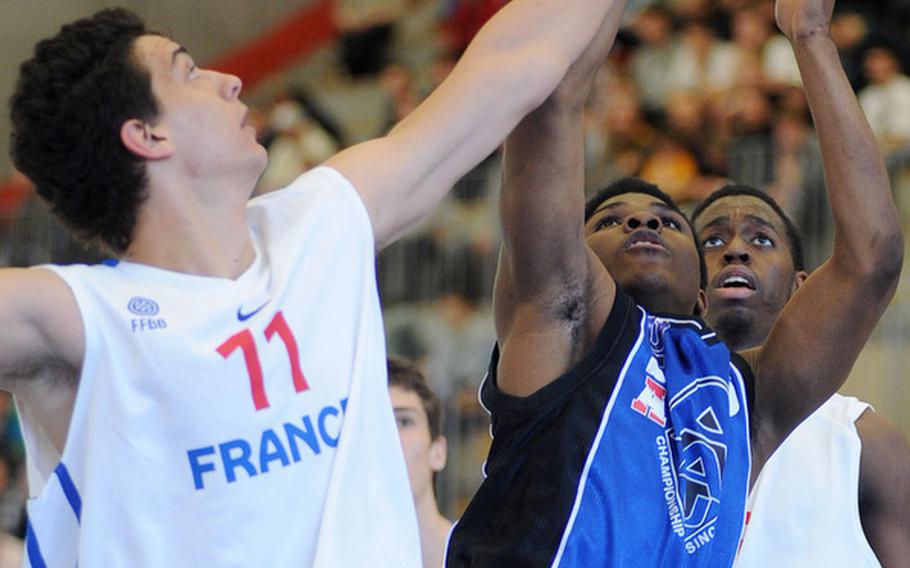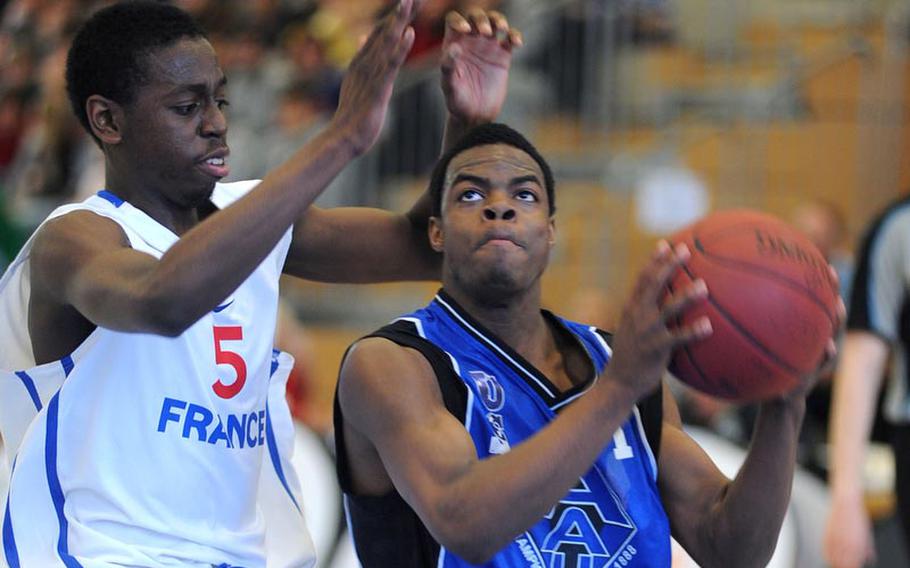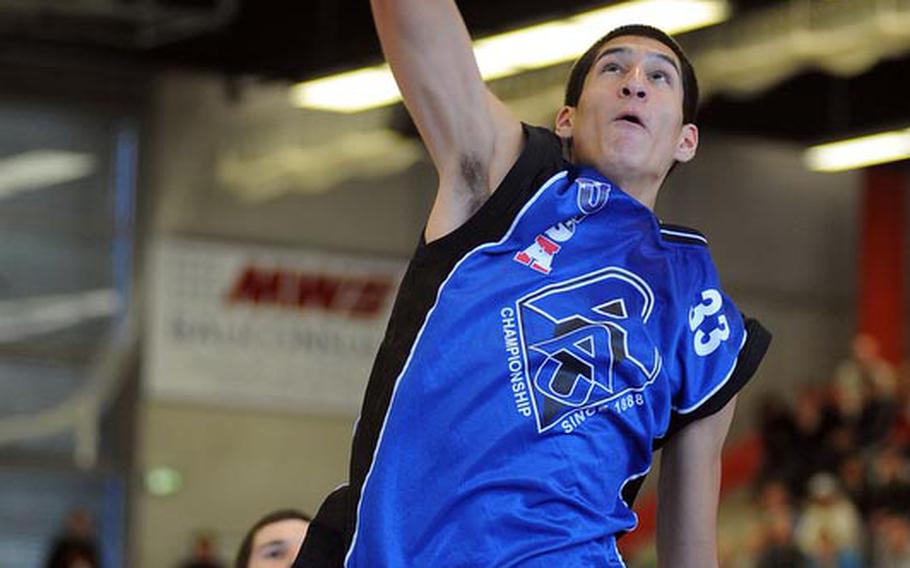 MANNHEIM, Germany — The pleasant sound you heard on a diamond of a spring morning here was the winning note the U.S. team sounded in its final appearance in the 26th biennial Albert Schweitzer international youth basketball tournament, 87-71 over France in the event's seventh-place game.
"Once we got started," said U.S. coach Butch Estes of Palm Beach State College in Lake Worth, Fla., "we played with a lot of energy."
The exact point when the Americans got started was with 4:32 to play in the first period, when Derrick Walton Jr. of Harper Woods, Mich., scored to end a 15-0 French run that consumed all but the first minute of the game's opening 5:28. The bucket launched the U.S. on a 15-0 run of its own, capped by a three-pointer from Steve Haney Jr. of Fort Lauderdale, Fla., that put the Americans up 17-15.
It was 19-17 U.S.A. at the end of the first 10 minutes, and the U.S., on three-pointers from Collin Hartman, Darryl Hicks of Louisville, Ky., and Darian Harris of Bentonville, Ark., had expanded its edge to 28-17 before the team's leading scorer, Stevie Clark of Oklahoma City, made his first appearance of the morning.
Doing so much damage without Clark in the lineup spoke volumes to Estes.
"Stevie's probably our leader," Estes said of the 5-11 point guard who scored 38 points Thursday night in a blowout loss to Russia, "but what I liked best about this team was that every night we'd have three or four players in double figures."
Saturday, five Americans hit double figures — Walton with a team-high 20, Haney and Hicks, who canned three three-pointers Saturday, with 11 each, and inside presences Derek Willis of Mt. Pleasant, Ky., and Austin Nichols of Memphis with 10 each.
"(Team chief) Eddie Ford put this team together to be unselfish," Estes explained.
Also undoubtedly pleasing to Estes was the way his team avoided foul trouble even when pressuring the ball when the French got it onto the hands of their 6-11 center Mouhamadou Jaieh.
Jaiheh, who snared a game-high 14 rebounds, was 10-for-12 from the floor on two-point attempts, most of them on dunks or point-blank hook shots in the lane, en route to a game-high 25 points. But for all his activity, the Americans didn't put the French into the bonus in either of the first two periods.
Even better free-throw opportunity news came just after halftime. The French committed three fouls in the first minute of the second half and put the Americans into the bonus with 7:28 left in the third quarter.
The Americans, who went 16-for-18 from the line Saturday, couldn't have been happier, and closed the game intensely, forcing 14 second-half turnovers, but playing with growing confidence until the final buzzer.
"We're ready to go home," said Willis, who led the U.S. with seven rebounds, "but we didn't want to go home on a loss."
Even so, the team was loose on Saturday, according to Walton.
"Not really," he answered when asked if there were pre-game pressure on the team to win its final game. "We came here to have fun."
The victory allowed the Americans, who have won this event a record 10 times but have gone without a medal since winning the bronze in 2000, to match the seventh-place run by the 2006 team. The U.S. finished fourth in 2004, 2008 and 2010 and fifth in 2002. The U.S. last won AST gold in 1996.
Spain won the tournament championship with a 76-65 victory over Serbia. Turkey took the bronze medal by beating Germany 90-85. Italy won the fifth-place game over Russia, 69-68.
Saturday's win also ended a three-game skid by the Americans, who won their first two games over Greece and Denmark, only to fall to Serbia, Spain and Russia in their next three.
"After the first two games, we got scouted," Estes said about his team, which assembled for the first time just four days before taking on the year-round, junior national teams of six European nations. "Serbia and Spain were probably the two best teams in the tournament, and they adjusted. We weren't able to adjust to the adjustments."
In addition to whatever hardware the Schweitzer hands out for seventh place, the Americans, the only non-European team to reach the tourney's quarterfinal pools, will pack some lessons learned into their carry-ons.
"I learned how hard you have to play," said Walton, who attends Chandler Park Academy in Michigan. "I really enjoyed playing against this talent level."
Echoed Clark, who played just 13:33 and scored four points to end his tourney with a team-leading average of 19.8 points per game, "I have a lot more respect for European basketball."
No one, however, could respect European basketball more than Estes, who praised the royal treatment his team received from the tourney organizers.
"In the past, when we'd go overseas, we'd do a lot of teaching to the European or South American teams. Now, I can't praise them enough for the strides they've made. It was great competition, and great for me, as a coach, to get exposed to these offenses and patterns. I saw some things I'm going to take back and put into my program at Palm Beach State."
The box score:
USA 87, France 81Seventh-place gameSaturday at Mannheim, GermanyUSA ...... 19 29 19 20—87France ....... 17 26 14 24—81Scoring—USA: Derrick Walton Jr. 20, Steve Haney Jr. 11, Darryl Hicks 11, Austin Nichols 10, Derek Willis 10, Nicholas Smith 8, Marki Bryan 5, Collin Hartman 5, Stevie Clark 4, Darian Harris 3; France: Mouhamadou Jaiteh 25, Louison Thomas 18, Anthony Racine 15, Boris Dallo 9, Kevin Harley 9, Tristan Toneguzzo 4, Alexandre Chassang 1. Rebounding—USA 33 (Willis 7, Bryan 5, Smith 4, Nichols 3); France 40 (Jaiteh 14). Assists—USA 12 (Walton 3, Hartman 2, Hicks 2, Willis 2); France 18 (Jaiteh 6). Total fouls—USA 20, France 18. Fouled out—None.
---
---
---
---