Unfinished business: Kadena still stinging from loss in Class AA championship
by
Dave Ornauer
September 4, 2009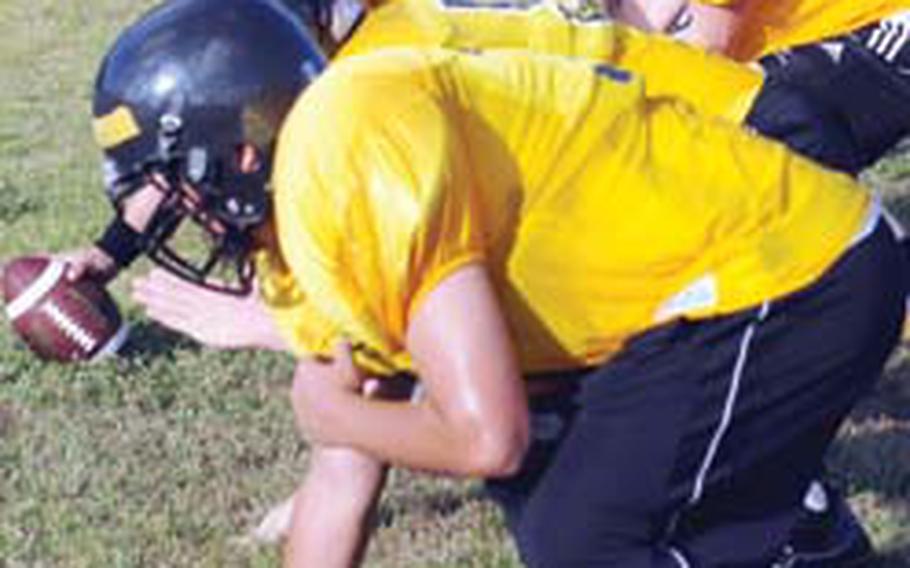 KADENA AIR BASE, Okinawa — The memory in Sergio Mendoza's mind roars as brightly as a reactor core glows sinisterly during a nuclear meltdown.
Trinidai Stansel's solo tackle of a player virtually twice his size, Kadena lineman-turned-fullback Jordan Ray, on a two-point conversion try that would have given Mendoza's Panthers a 23-22 victory.
Stansel and the Seoul American Falcons prevailed 22-21 for their second Class AA football title in three years. Both at home. And at Kadena's expense.
"If ever I wanted a do-over, that's the one," Mendoza said during a recent practice as the Panthers prepared to defend their three straight Okinawa Activities Council titles.
But if there's an expression that sums up the 2009 Panthers, it might be "unfinished business." Even with a Class AA title in 2007, Kadena enters the 2009 campaign hungry, Mendoza said.
"We certainly feel we need to bounce back," he said. "We did in 2007 and came back as a stronger team. We discussed this at length" before summer break to see what could be done.
A core group of veterans teamed with players and coaches from the Foster and Kadena teams in the U.S. Forces Japan-American Football League to step up their conditioning.
"We've doubled and tripled our workouts," Mendoza said of conditioning sessions that lasted as long as 3½ hours. "We hope it pays off."
Kadena must overcome a numbers problem, though; only 20 players are out for the varsity. "There'll be a lot of ironman this season," he said.
But among that number is a solid core of experience, particularly at running back, where juniors Shariff Coleman, Thomas McDonald and Lotty Smith are joined by junior newcomer Dennis Sharp.
Plowing the road for them is a line led by veterans such as Tyler Broome. Stan Schrock and Norman Correa will split time under center.
They'll do their best-of-five OAC series with arch-rival Kubasaki, and will hit the road for the first time to play in-season games against off-island teams, Robert D. Edgren on Sept. 26 and Yokota on Oct. 17.
Wherever and whomever they play, Mendoza is hoping all the hard work can bring the Panthers back to the Class AA title game.
"We may not get there, but we're certainly going to try," Mendoza said. "We want to be in that last game."
In Kubasaki, the Panthers will face a team in full rebuilding mode. Just one starter — coach Fred Bales' son, senior running back Josh Bales — returns to a team that's lost 10 straight to Kadena, dating back to the 2006 season. Bales still calls Kadena the OAC's "team to beat."
And Kubasaki enters the season without two-year part-time starting quarterback Kaleb Robinson, who gave up football to concentrate on baseball. Seniors Mateo Sanchez and P.J. Varner take over under center, and have transfer receiver Clay Beasley from Ohio to catch their pitches.
"We have a good bunch of kids who are as tired of losing as I am. It falls on the shoulders of the coach to find a way with available resources," Bales said. "It takes blocking, tackling and sound execution on both sides of the ball."
Team capsulesKadena PanthersKadena Air Base2008-5-1 overall, .833, 132 points for, 22 points against; 4-0 Okinawa Activities Council, 1.000, 84 points for, 0 points against. Won third straight Okinawa Activities Council regular-season best-of-five series by 4-0 count; won Class AA semifinal 27-0 over Guam High on Nov. 1 at Kadena Air Base; lost Class AA championship game 22-21 at Seoul American on Nov. 8.Head coach-Sergio Mendoza, fourth season. Overall record 14-2, three straight Okinawa Activities Council regular-season titles (2006-08), one Class AA championship (2007).Returning players-13.Returning starters-8.Base offense-Multiple, spread option, power wishbone.Base defense-5-3.Key returners-Stanley Schrock, Sr., QB-WR-S; Tyler Broome, Sr., L; Sean O'Neill, Sr., L; Gabriel Ahner, So., L; Aaron Ahner, Jr., PK; Thomas McDonald, Jr., RB; Lotty Smith, Jr., RB-DB; Nollie Jones, Jr., LB; Anthony Tarver, Sr., LB; James Thompson, Sr., LB; Corey Hankerson, So., L; Anthony Arivisa, Sr., LB; Norman Correa, Sr., QB.Key newcomers-L.J. Hubbard, Sr., WR; Shariff Coleman, Jr., RB; Tem Gutierrez, Jr., L; Marquis Lawrence, So., L; Michael Correa, Jr., L; Dennis Sharp, Jr., RB.Strengths-Strong at all skills positions, leadership in the interior.Drawbacks-Lack of depth; just 20 players on varsity.Overview-Contending. They may not be deep, but this is a veteran group on a mission of redemption for Class AA title game loss. Core group worked as many as 3½ hours a day in Okinawa's stifling heat to prepare for the campaign. They may have to ironman it, but they're still a good bet to reach their fourth straight Class AA title game.
Kubasaki DragonsCamp Foster2008-2-4 overall, .333, 49 points for, 110 points against; 0-4 Okinawa Activities Council, .000, 0 points for, 84 points against.Head coach-Fred Bales, fifth season. Overall record 5-10, one Okinawa Activities Council title (2005), one Class AA title (2005).Returning players-5.Returning starters-1.Note-One returning starter, senior Mikael Barge, transfers prior to the season opener.Base offense-Multiple.Base defense-3-5-3.Key returner-Josh Bales, Sr., RB-DB.Key newcomers-Clay Beasley, Sr., WR; Deon Lewis, Jr., RB-DB; Andrew Loftesnes, Sr., L; Lucas Grondin, Sr., L; Mateo Sanchez, Sr., QB; P.J. Varner, Sr., QB; Matt Payne, Jr., OL-DL.Strengths-Solid play from Beasley and Bales, some quickness, some size.Drawbacks-Lack of experience.Overview-Rebuilding. They're facing growing pains now, but behind the 30-player varsity is a group of 50 junior varsity players, many new to the island, which may portend good things to come in future seasons.
Okinawa Activities Council schedulePreseasonFriday, Aug. 21Kubasaki green vs. Kubasaki white, 6 p.m.Friday, Aug. 28Okinawa Activities Council preseason jamboree, Kubasaki vs. Kadena at Ryukyu Middle School, 6 p.m.Regular seasonFriday, Sept. 4Kubasaki vs. Kadena at Ryukyu Middle School, 7 p.m.Friday, Sept. 11Kadena at Kubasaki, 7 p.m.Saturday, Sept. 19Kubasaki at Yokota, 7 p.m.Saturday, Sept. 26Kadena at Robert D. Edgren, 1 p.m.Friday, Oct. 9Kubasaki vs. Kadena at site to be determined, 7 p.m.Friday, Oct. 16 or Saturday, Oct. 17Kadena at Yokota, 7 p.m.Friday, Oct. 23Kadena at Kubasaki, 7 p.m.Friday, Oct. 30Kubasaki vs. Kadena, site to be determined, 7 p.m., if necessary.
---
---
---
---