D-II football semifinals
Underdogs will try to topple unbeaten hosts
by
Gregory Broome
October 26, 2017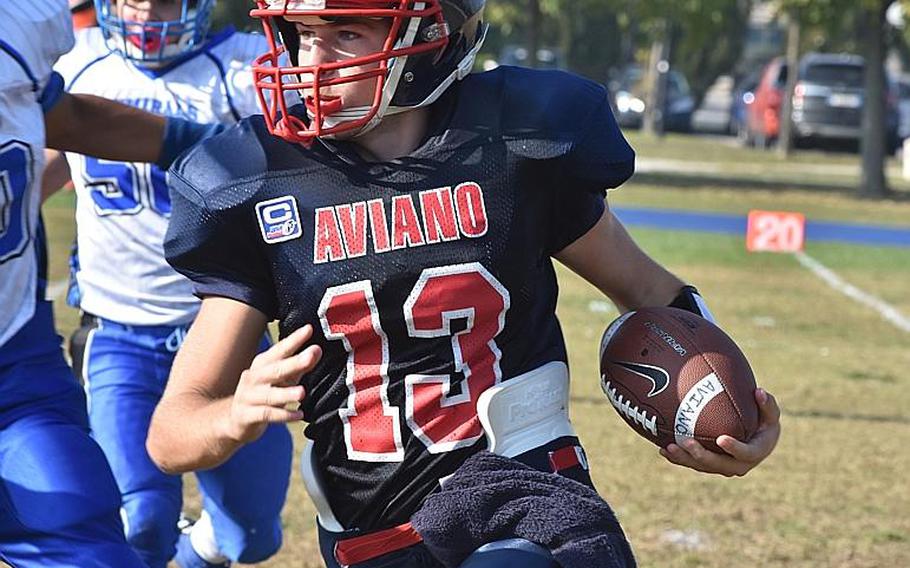 Nothing to lose.
That's the refrain emanating from each of the visiting teams in Saturday's DODEA-Europe Division II football semifinals, which feature the defending champion Rota Admirals visiting the Aviano Saints and the Spangdahlem Sentinels hosting the Naples Wildcats. The winners of those games will advance to the divisional European championship game Nov. 4 at Kaiserslautern, Germany.
Rota and Naples are both positioned as freewheeling, dangerous underdogs as they prepare for their road games, juxtaposed against the undefeated regional champions that will host those games under the weight of heavy expectations.
Rota at Aviano At first glance, the role of underdog is an awkward stance for Rota to take. The Admirals have played in the last two European championship games and won last year's at the end of a dominant undefeated season.
But things have changed in 2017. These Admirals were a largely inexperienced group at full strength, but a string of injuries have exacerbated the problem. Rota lost its starting quarterback midway through the season and its second-string signal-caller in last week's loss to SHAPE. With those challenges in mind, the defending champions consider their playoff berth, secured by way of a three-way tiebreaker on the last day of the season, more of an achievement than a letdown.
"It is amazing we have made it this far," Rota coach Ken Walter said. "We will go out and play the best game we can, without pressure."
Rota's opponent this weekend knows full well how quickly fortunes can reverse.
The Saints were the only team in Division II to go winless in 2016. This year, they're undefeated, including a 33-30 defeat of the Admirals on Oct. 14.
But while Rota is conforming to the new order, Aviano isn't exactly embracing the role of the frontrunner. Even with an unbeaten record, a regional title, a regular-season head-to-head win and a home game against a battered opponent, the Saints won't call themselves favorites.
"Rota is bigger, faster and stronger than us," Aviano coach Rick Dahlstrom said. "We will need to play up to their level."
Naples at Spangdahlem The Wildcats are a more natural fit than the Admirals as an underdog, if only because it's near impossible to consider Spangdahlem as anything but a heavy favorite.
The Sentinels, 6-0 overall and 4-0 in the North region this fall, have yet to be seriously challenged. They've won their six games by a combined margin of 347-26. They've scored at least 46 points in every game and have broken the 60-point threshold three times. They've allowed more than six points just once, including three shutouts.
There's only one caveat to that overwhelming dominance - Spangdahlem has only played one of the other three teams in the Division II playoffs, a 48-6 defeat of Rota. With a new opponent in town, the Sentinels aren't taking anything for granted.
"Each game we prepare for is the most important," Spangdahlem coach Mike Laue said.
"Naples has continued to improve over the season and gives a different look both defensively and offensively. We will need to prepare for these adjustments."
The Wildcats, meanwhile, are prepared for their shot at the frontrunner.
"We have to continue to do what has gotten us here," Naples coach Jim Davis said. "We have nothing to lose."
Twitter: @broomestripes
---
---
---