Underclassmen stand out in tourney openers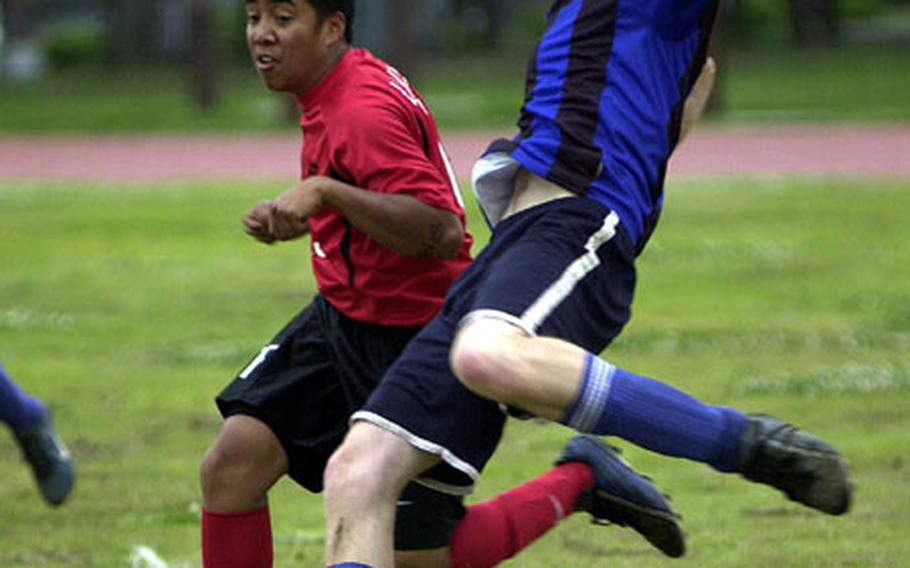 With luminaries such as Jay and Matt Irwin and Mike Chamberlain in the Yokota lineup, Jon Saffold can get lost in the shuffle.
The junior distinguished himself Friday, scoring twice to lead the Panthers to a 5-0 victory over Matthew C. Perry in the semifinals of the Department of Defense Dependents Schools-Japan boys soccer tournament at Yokota's Bonk Field.
A midfielder most of the season, Saffold was shifted to center-forward Wednesday during a scrimmage with Kokubunji High, a Japanese team.
"We experimented with a different formation and moved Jon up front. He's got a strong right and left foot," Yokota coach Tim Pujol said.
That was apparent in the 20th minute, when Ian Kingery sent a cross from the right side directly in front, where Saffold buried a hard shot past Samurai keeper Chris Riegel.
Saffold scored in the 69th minute, too, giving him seven goals, far fewer than Matt Irwin (25), Chamberlain (23) and Jay Irwin (12), but enough to make his teammates take notice.
"He's always had a big foot," Jay Irwin said. "We always knew that. As a sophomore last year, he was kind of slow, but this year, he's stepped it up. He's always been a defender and a passer, but he's capable of banging the ball into the net."
Saffold was one of several underclassmen who stood out on Friday, the first day of DODDS-Japan and Kanto Plain Association of Secondary Schools season-ending tournaments:
• Striker Robyn Hopp, a junior, scored four goals, two in a 4-1 victory over Robert D. Edgren that sent Nile C. Kinnick into the final of the DODDS-Japan girls tournament at Atsugi Naval Air Facility.
• Freshman Elli Legaspi and junior Sarah Streeton each scored two goals as Zama American moved into the DODDS-Japan girls tournament final with a 4-3 victory over Edgren and a 3-1 triumph over the American School In Japan's B side.
• Junior pitcher Carol Tully went 3-for-3 with three RBIs in Kinnick's 10-2 victory over Matthew C. Perry in the opener of the DODDS-Japan girls softball tournament at Yokosuka. She also started a game-ending double play to preserve a 13-12 victory of Kobe's Marist Brothers International.
• Another junior, Allison Amara, became the first girl to earn a victory in the Kanto Plain invitational baseball tournament, tossing two innings of relief as Zama American pounded Kinnick 22-6 to reach Saturday's semifinals.