Unbeaten Spartans hoping to make waves when it counts most
by
Gregory Broome
May 2, 2019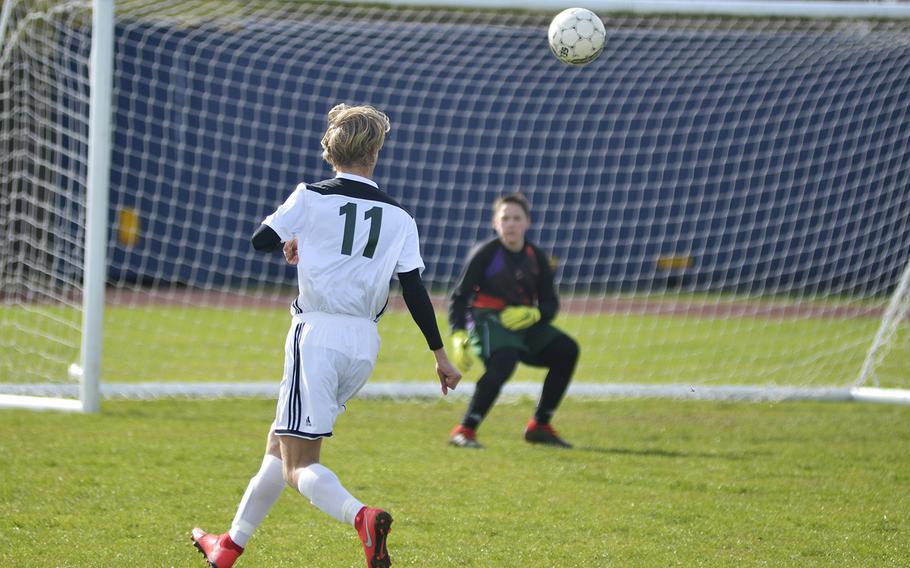 It's fine if you haven't noticed that SHAPE is the last school in Division I with perfect records in both boys and girls soccer. The Spartans are used to it.
"Without a doubt we are overlooked," SHAPE girls coach John Arias said.
Spartans boys coach Shawn Whitehurst said the school is often excluded from the spotlight trained on the division's larger programs.
"Historically, SHAPE has been constantly overlooked in the media because it's not in the population-dense area of the (Kaiserslautern Military Community), Wiesbaden or Stuttgart," Whitehurst said.
It'd be dangerous to ignore the Spartans this year. Both SHAPE soccer squads bring unbeaten divisional and overall records into this weekend's visit to Ramstein, the largest of the aforementioned big schools of Division I. That perfect start includes boys and girls sweeps of divisional opponents Vilseck, Kaiserslautern and Lakenheath.
Increased attention comes with its own drawbacks, however. Whitehurst said he's thrilled to see his players recognized by the media, but would prefer to maintain some aura of mystery.
"As a coach who is strategizing for the tournament … I want the opposition to come into the contest somewhat blind so that they cannot predict our strengths and weaknesses," Whitehurst said.
The Spartans' relatively small stature can also serve as motivation when they share a field with a more prominent opponent.
"Our girls are never intimidated by the bigger schools," Arias said. "They will play their hearts out and go toe-to-toe with whomever they come up against."
Along those lines, Whitehurst is unabashed about his team's pursuit of the No. 1 seed in this month's European tournament, an achievement that would make the Spartans impossible to overlook.
Boys and girls wins over Ramstein this weekend would secure match unbeaten divisional records for the Belgium-based Spartans, who will go on to face Division III squads Baumholder and Brussels to wrap up their regular-season schedules after taking on the Royals.
"You cannot dismiss the conference games as unimportant any more than you can dismiss middle school as unimportant," Whitehurst said. "Without those necessary steps, you cannot rise to the level of play needed at the tournament."
The way they've played so far this season, it might be the rest of Division I aspiring to reach the level of the Spartans.
Twitter: @broomestripes