D-III championship
Unbeaten Sentinels to get test from longtime foe Cougars
---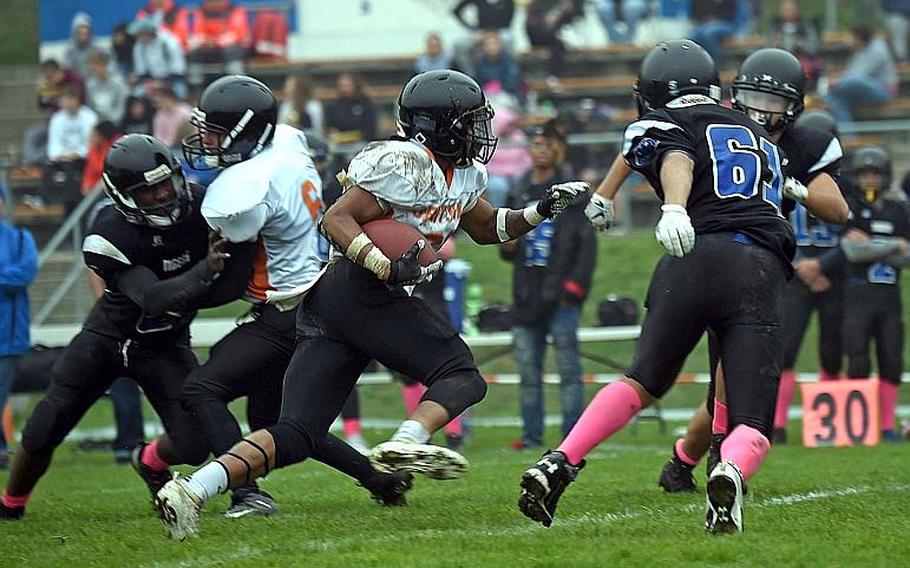 Two of DODEA-Europe's most accomplished programs will share the stage again on Saturday.
The Spangdahlem Sentinels and Ansbach Cougars, two former dynasties of Division II, will play Saturday at 1 p.m. CET for the 2019 DODEA-Europe Division III six-man football championship. The game comes 10 years after Spangdahlem, then known as the Bitburg Barons, beat the Cougars 19-6 in the 2009 Division II championship game.
"Ansbach always has a great program and have been a challenge for many years," Spangdahlem coach Mike Laue said. "This year is no different and Saturday's game should be another great game."
This weekend's two participants have been responsible for many great moments in the DODEA-Europe football annals.
Ansbach won back-to-back Division II titles in 2007 and 2008 and again in 2014 and 2015 before the school's shrinking population sidelined the program in 2017. The Cougars roared back to life in 2018, joining the inaugural season of DODEA-Europe's fledgling six-man Division III league and finishing as its undefeated champion.
Spangdahlem won four straight Division II championships between 2009 and 2012 and added a resurgent title in 2017 before it succumbed to the same dwindling player pool. The Sentinels' Division III debut this year has so far gone as well as Ansbach's did the year prior; their undefeated regular-season record includes a 58-0 throttling of the Cougars on Sept. 21.
True to form, Laue isn't taking anything for granted regardless of his team's status as a heavy favorite Saturday. The Sentinel coach said his team must "continue to do the things we have done all season" to enjoy continued success in its final, and most consequential, game of the season.
"We ask our players to improve each game. As a whole we have done that throughout the season," Laue said. "We focus on one game at a time and then move on."
Saturday's game will bring an end to a successful second season of six-man DODEA-Europe football, a solution that has allowed small schools that might have otherwise folded their programs to continue to field football squads.
This year saw the division swell from five teams to seven. Six of those teams won at least two games this fall.
broome.gregory@stripes.com Twitter: @broomestripes
---
---
---
---