Europe baseball
Unbeaten Ramstein still team to beat
---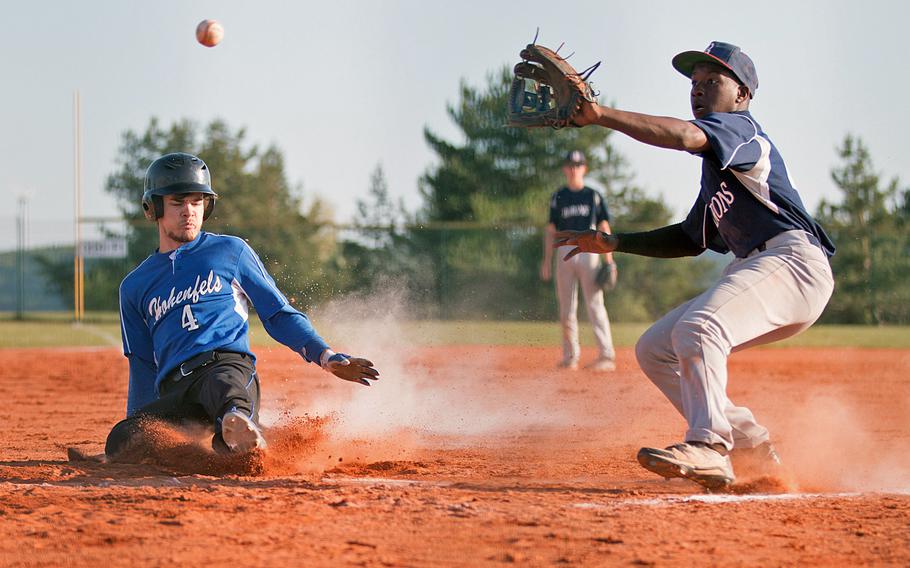 The 2016 DODEA-Europe baseball tournament begins its three-day run Thursday around the Kaiserslautern Military Community in Germany. Defending champions Ramstein and Rota will test their respective divisional title reigns against strong fields of title hopefuls from across the continent.
Division I At times this regular season, the three-time defending DODEA-Europe baseball champion Ramstein Royals have appeared beatable.
They just haven't been beaten.
Ramstein has played a handful of close games this spring - a three-run margin with Lakenheath, a two-run game with Wiesbaden, even a three-run decision against Division II/III opponent AFNORTH. But even as they fill the Royals' rear-view mirror, those opponents might not be as close as they appear.
A look at the other halves of the doubleheaders containing those close games reveals a more substantial edge for the reigning champs. The Royals routed Lakenheath 20-1 before the later 6-3 win, not to mention a 14-0 defeat of the Lancers a day prior. Ramstein blanked Wiesbaden 9-0 in game one before taking a 4-2 decision in the nightcap. And AFNORTH's temerity in losing just 6-3 last Saturday morning was punished with an 18-0 whipping in the afternoon.
Those numbers hint at a significant discrepancy in overall talent. As such, Ramstein is going to be very difficult to beat in a crucial single game, where ace pitcher Jonny Oswald and the Royals' parade of sweet-swinging sluggers can all be brought to bear at once.
To make things even more challenging for the challengers, the Royals have the kind of depth necessary to withstand the tournament's rigors and arrive at those crucial elimination games with their key arms and bats intact. That was evident in last spring's championship game, when Ramstein piled on 27 runs against a Vilseck team that had exhausted its resources just getting to Saturday.
Those runner-up Falcons were blanked by a combined 19-0 score when they opened this regular season against Ramstein, but they and a handful of other potentially dangerous squads will take their whacks again this week.
Wiesbaden might have the best chance, as the Warriors boast a very strong pitching staff led by Alex Newton and Gunner Yingling and potent sticks up and down the order. Stuttgart, which until recently shared the marquee with Ramstein among Europe's Division I elite, has defiantly stayed in contention with a string of comeback wins this spring, but the Panthers' season was bookended by two losses apiece to the Warriors and Royals.
SHAPE played its way onto the short list of contenders by splitting a pair with Wiesbaden last Saturday, while Italian entries Naples and Vicenza have posted winning regular seasons. Kaiserslautern, a dark horse back in the preseason starting gates, never hit its stride in a regular season featuring just one divisional victory.
Division II/III The returning final four from last year's small-school tournament - reigning champion Rota, runner-up Ansbach and semifinalists Bitburg and AFNORTH - are all back with strong entries poised to meet or exceed their 2015 standards. But they might have to make room for one more.
The champion Admirals, led by returning star Zach Heisler, played their typically slight regular-season schedule this spring but made it count in three straight wins over AFNORTH.
Ansbach has held its own through a rigorous schedule and enters the tournament coming off an impressive doubleheader sweep of 2015 Division I runner-up Vilseck.
But Bitburg has even that beat in terms of positive momentum; the Barons spent their season's final weekend sweeping AFNORTH and Division I SHAPE while plating a combined 36 runs over those four games.
AFNORTH, though it ended up on the wrong side of many of the above exchanges, owns wins against Division I SHAPE and Lakenheath this spring and remains a difficult out.
Sigonella is perhaps the most qualified to escape a fringe that also includes Aviano, Bahrain and Hohenfels. The Jaguars hit their peak in late April with wins over Naples and Ansbach and bring a steady .500 divisional record into the postseason.
Twitter: @broomestripes
---
---
---
---