Unbeaten Kadena finishes sweep of Korea foes
by
Dave Ornauer
September 25, 2010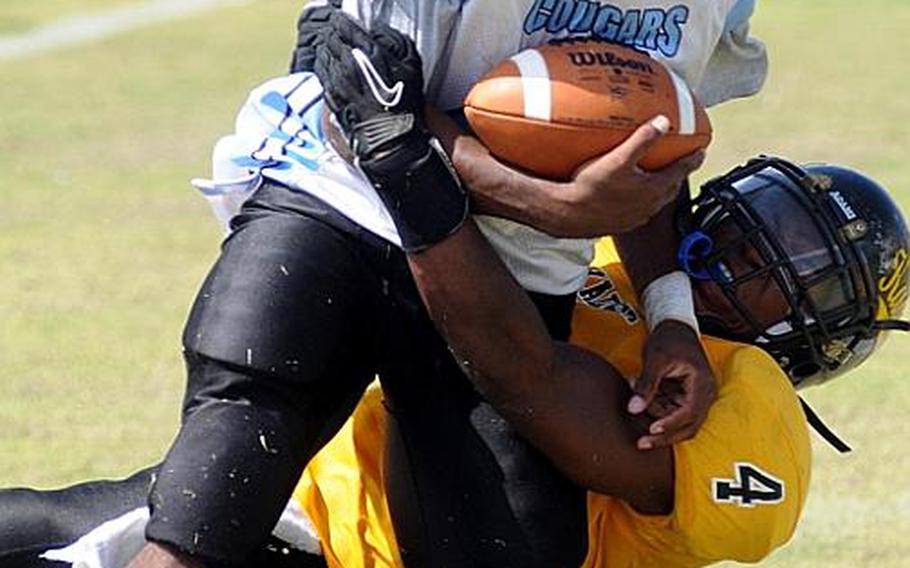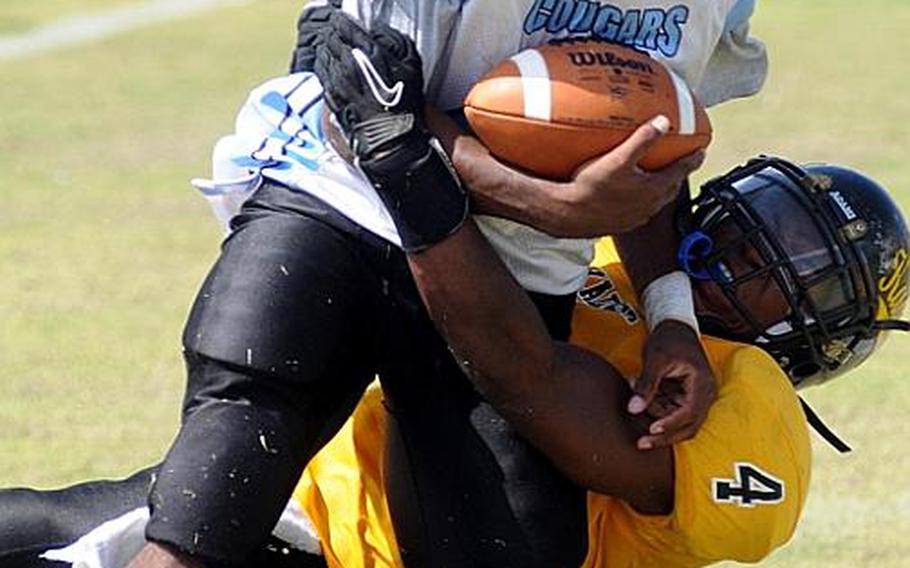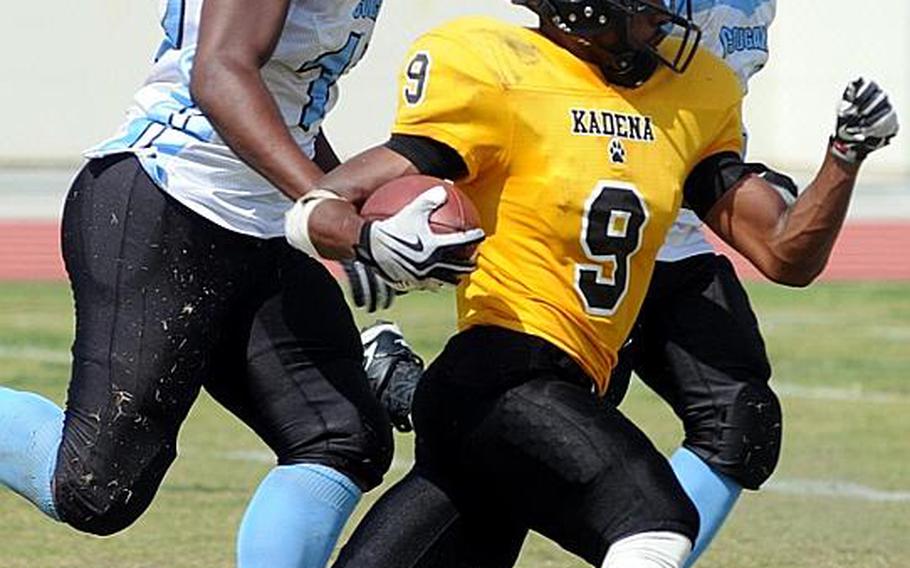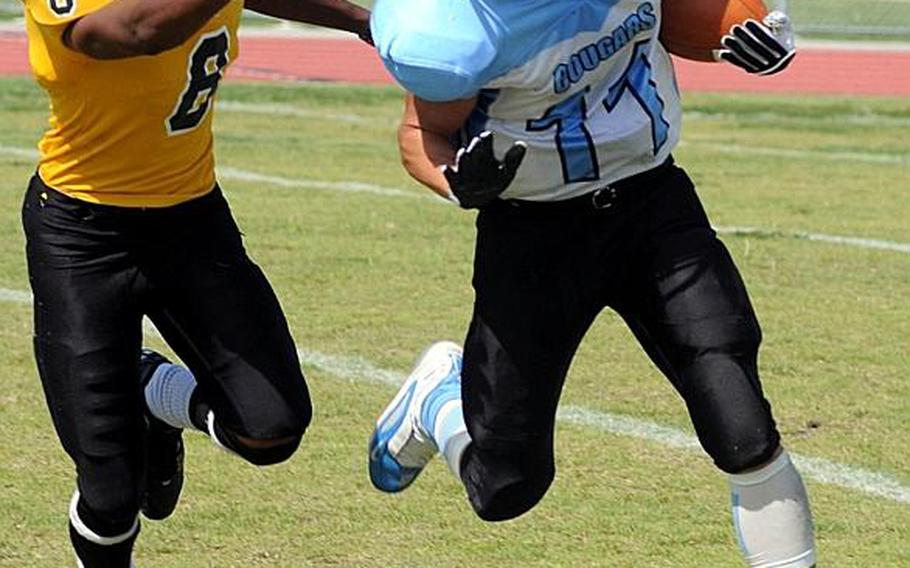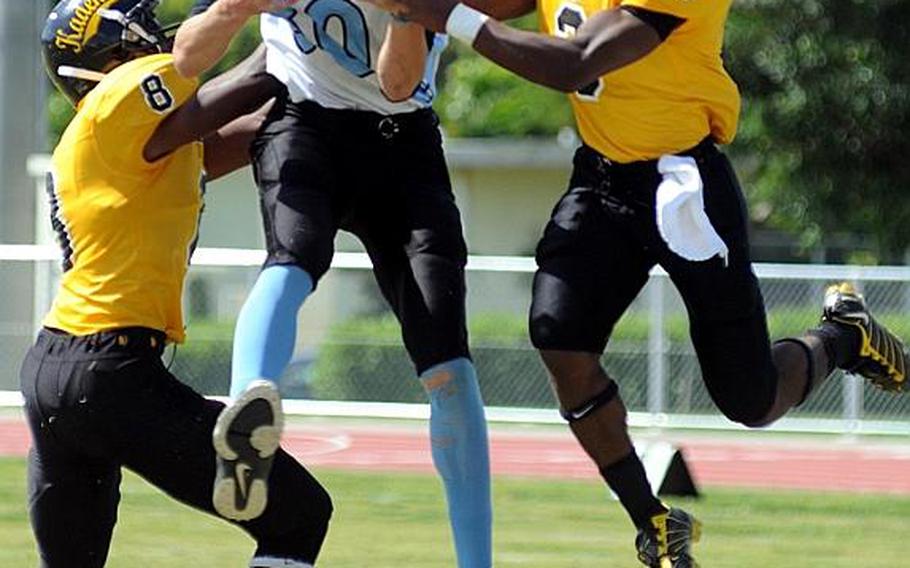 KADENA AIR BASE, Okinawa – A 38-point win normally might find the victors in a wild celebration. But Kadena's Panthers came off the Ryukyu Middle School field Saturday resolute and determined – almost as if they knew they could have played better, coach Sergio Mendoza said.
"This team was focused on the things we need to fix," Mendoza said after Shariff Coleman scored three touchdowns before leaving with a right hamstring cramp as the Panthers routed Osan American, 46-8. The second half was played with a running clock.
Saturday's contest was the last before the Panthers get down to the business of defending their Far East Division I title starting Friday at Kubasaki.
"Scores don't matter to us" at this point, Mendoza said. "Getting better does. And they're maturing and I'm proud of the steps they're taking toward maturing. They're coming together and realizing that our biggest strength is the person next to them."
Defense and avoiding harmful major penalties continue to be issues where Kadena needs most improvement, Mendoza said.
"We have some tackling issues we need to fix," he said. Of racking up nine penalties for 83 yards - five of them resulting in automatic first downs - Mendoza said, "Some of that may be due to overeagerness. But we have to discipline ourselves."
Coleman ran for touchdowns of 48 and 10 yards, then concluded the first half with a 52-yard interception return for a touchdown that ended with him limping across the goal line. He didn't play the rest of the way after racking up 139 all-purpose yards.
Thomas McDonald ran five times for 109 yards and a touchdown, and Tyrell Crutcher and Rodney Goodson each ran for scores. Kadena outgained Osan, 283-128.
The Cougars got their lone score in the third quarter on Brandon Morton's quarterback sneak. Osan wasn't without other chances; it sustained two long drives that ended with interceptions, and had one sure touchdown pass dropped in the end zone.
"Small, minor details," first-year Cougars coach Aaron Mundy said, adding that five false start/offside penalties also hurt. "We're at the cusp. Nothing taken away from Kadena; they're a very good team. The score may not show it, but I think we're getting better."
Kadena swept its season series with its DODDS Korea brethren; the Panthers blanked Seoul American, 57-0, on Sept. 3 and won, 22-6, at Daegu American on Sept. 11.
With Saturday's triumph, Kadena senior cornerback Cory Peckins became the first DODDS Pacific player to play for three teams, Osan, Zama American and Kadena, in three seasons and beat both of his former teams in successive weeks. Kadena won 24-14 at Zama on Sept. 18.
"Pretty weird," Peckins said of the rare feat. "It's crazy, seeing all my old teammates."
---
---
---
---