U.S. women take air forces track title; Germany wins men's meet
---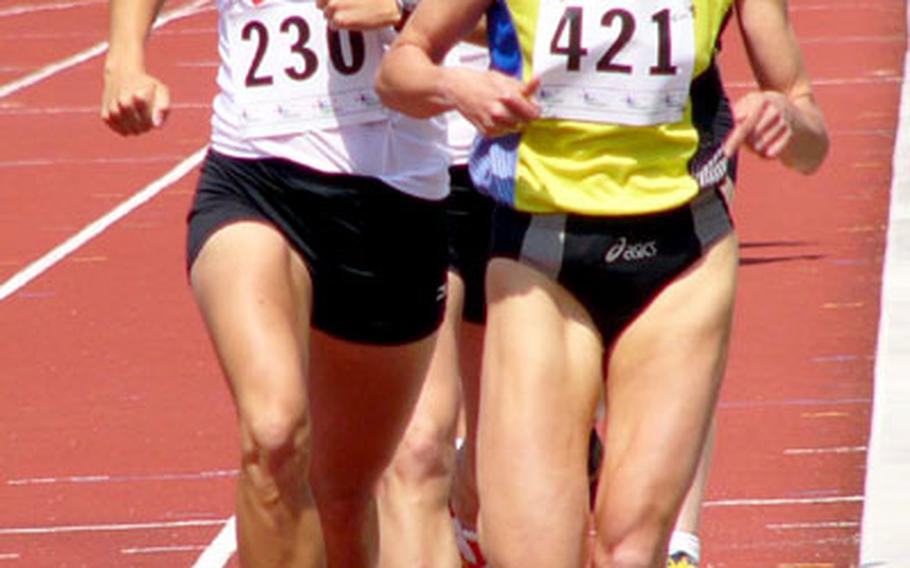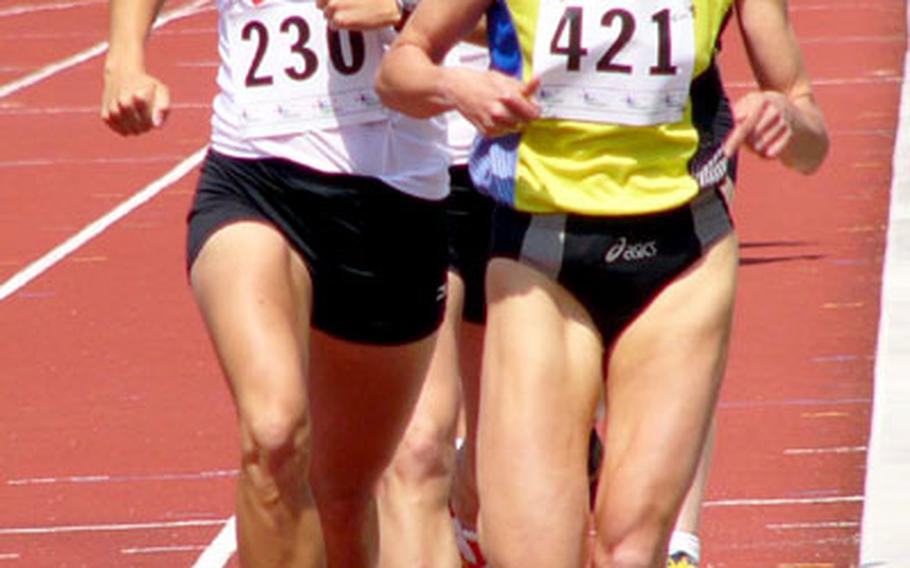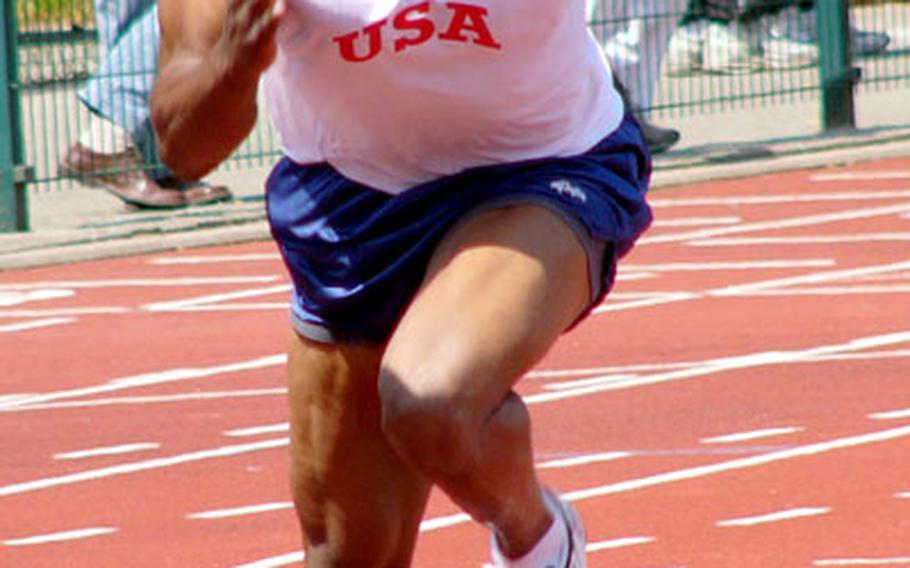 HERENTALS, Belgium — In its efforts to win yet another women's title in the international air forces' track and field championships on Wednesday, the U.S. enlisted the female half of two talented siblings and commissioned a brand-new sister act.
Former Nigerian national sprinter Omolade Akinremi, now an airman first class at Hurlburt Field, Fla., earned 11 points in the 100 meters, and middle-distance runners Caitlin and Sarah Reese combined for six in the 1,500 as the U.S. women outdistanced runner-up Germany 38-20 to win this event for the fifth straight year.
The U.S. men were not so fortunate, finishing second to Germany, 187-171.
The championship was sponsored by the Component Command Air Headquarters at Ramstein Air Base in Germany, and involved teams from the U.K., Belgium and the Netherlands in addition to USAFE and Germany. The majority of the USAFE team was from the United States.
"It was my first international meet," said Caitlin Reese, who flew in from Patrick Air Force Base, Fla., to reunite with her sister to reprise their days as middle-distance runners at Auburn. "It was fun to have this kind of competition."
The competition included Belgian cross-country star Anya Smolders, who consigned Caitlin and Sarah to second and third, respectively, by running the distance in 4 minutes 31.91 seconds. Caitlin finished in 4:34.57 and Sara, who's stationed at Kirtland Air Force Base, N.M., in 4:49.84.
"I thought I could hang with her and kick her down," Caitlin said, "but she held on and pulled away at the end."
Akinremi pulled away from the start in dominating the 100 in 12.37. Her victory made it a family affair in the 100, since brother Ibukun, an Arizona Air National Guardsman, blew away the men's field in a meet record 10.56.
Ibukun's effort wasn't enough for the U.S. men to win. Their cause was hurt by surprise losses to Britain's Royal Air Force team in the 4x100 and 4x400 relays that closed the day's activities, and by a disqualification in the 400-meter hurdles that opened the event.
The biggest winner of the day was Cataleya Carlson of Wright-Patterson Air Force Base, Ohio. She won the shot put at 39 feet 9¾ inches and discus at 134-2½, adding 12 points to the U.S. total.
Her male counterpart, Richard Harrison of Eglin Air Force Base, Fla., won the shot with a heave of 60-5½ and was second in the discus with a toss of 157-0.
Germany-based runners helped the U.S. team increase its point total in the distance events.
Spangdahlem's Joshua Ramos placed third in the 3,000-meter steeplechase (10:14.19), and Ramstein's Casey Jackson took bronze in the 10,000 (34:25.30).
"Today, it was all about place, not about time," said Jackson after drafting behind runners from Belgium and the Netherlands for most of his breezy six-mile jaunt. "You had to know where you were."
In more ways than one.
"[This meet] always provides great competition," he said. "It's good to know that even with our heavy ops tempo, we can compete here."
---
---
---
---