U.S. women's soccer team scores high with military fans
by
Kevin Dougherty
June 30, 2011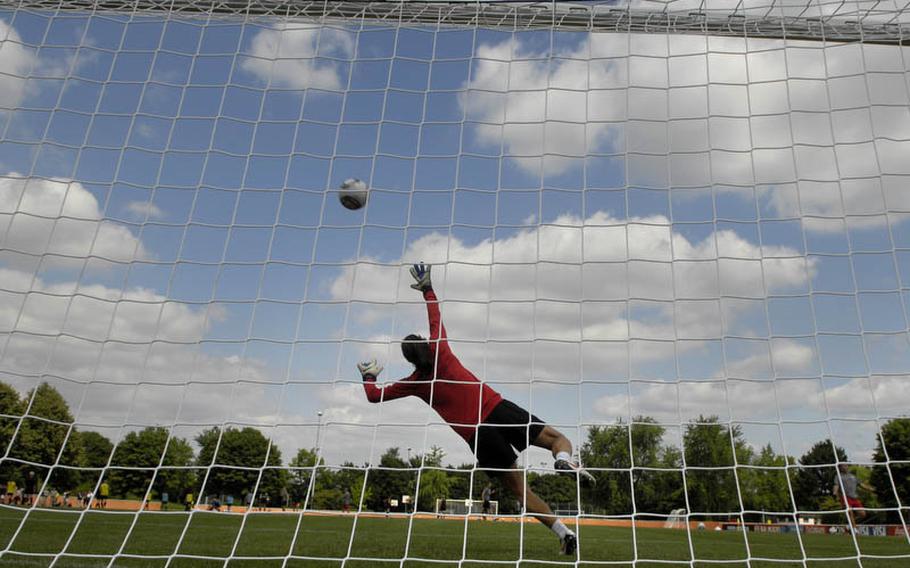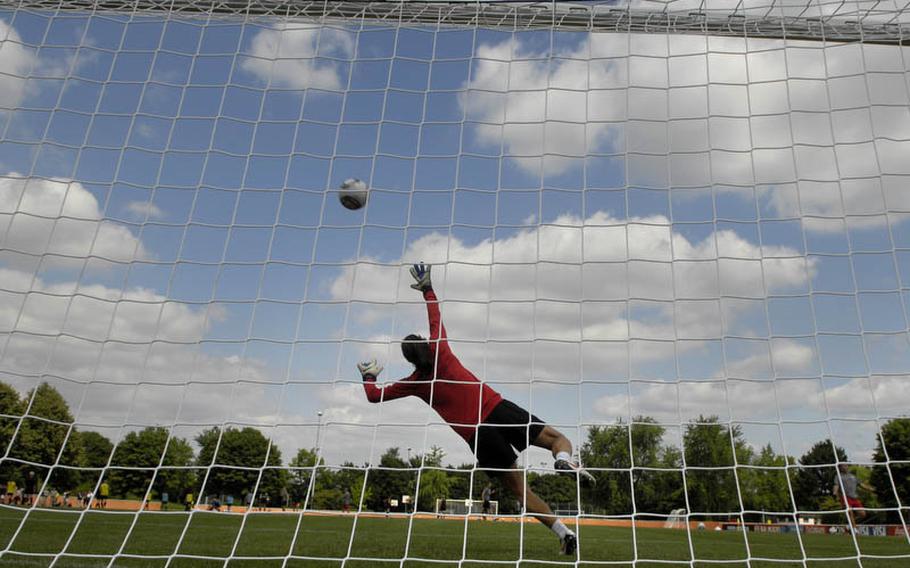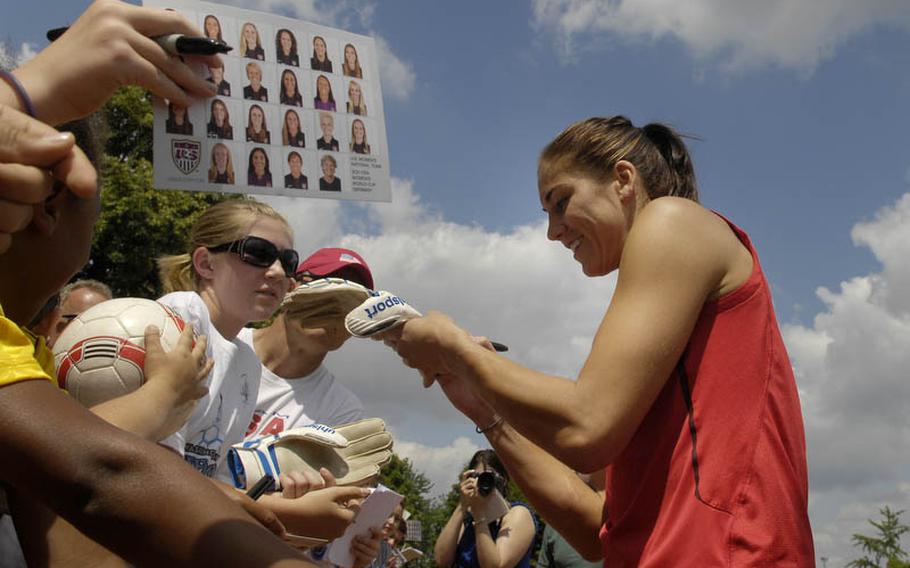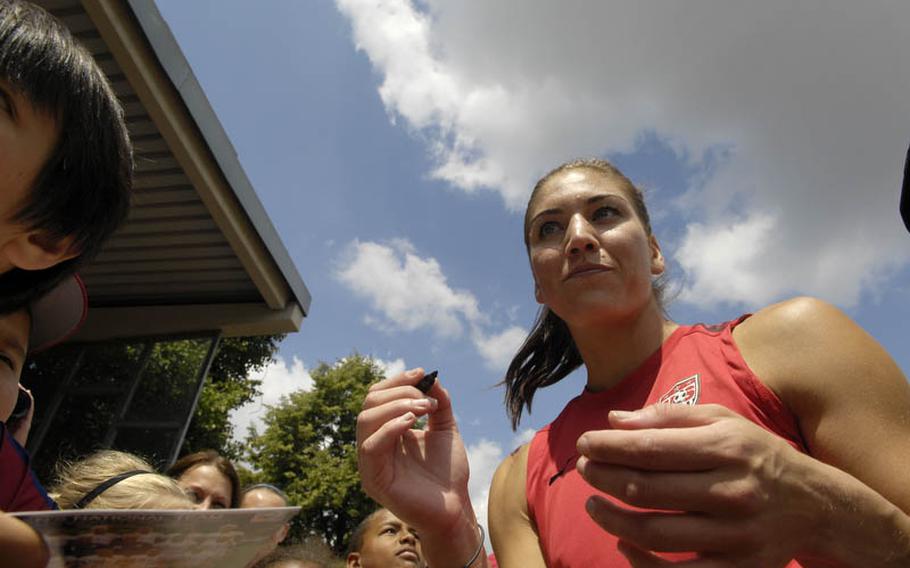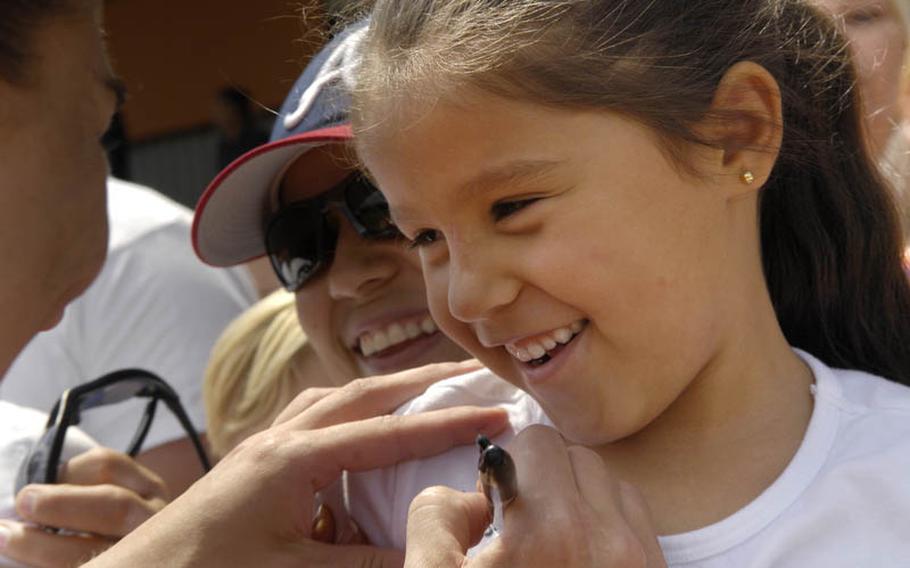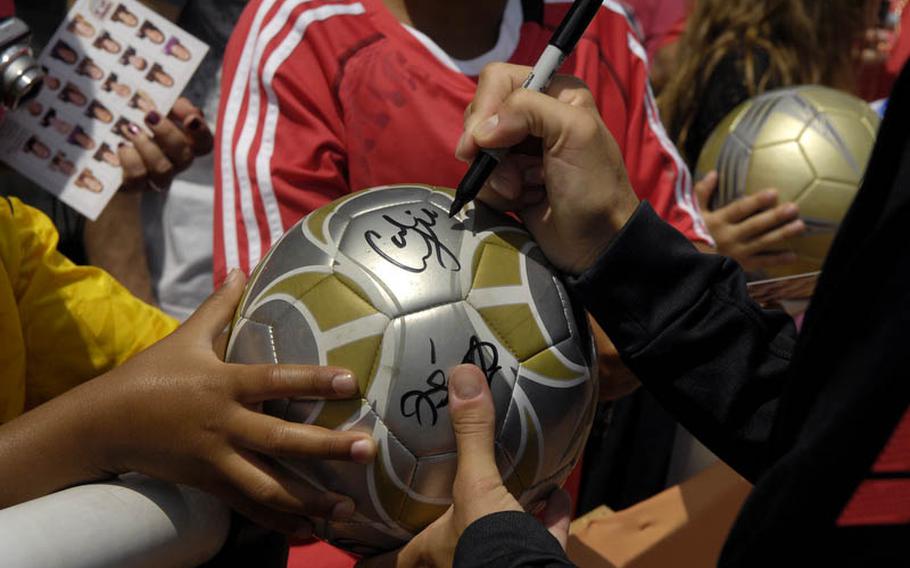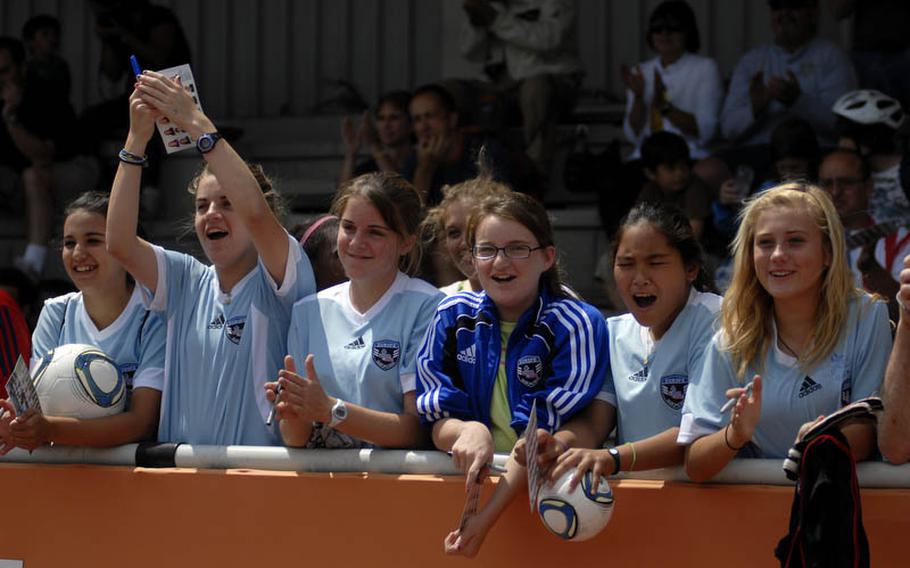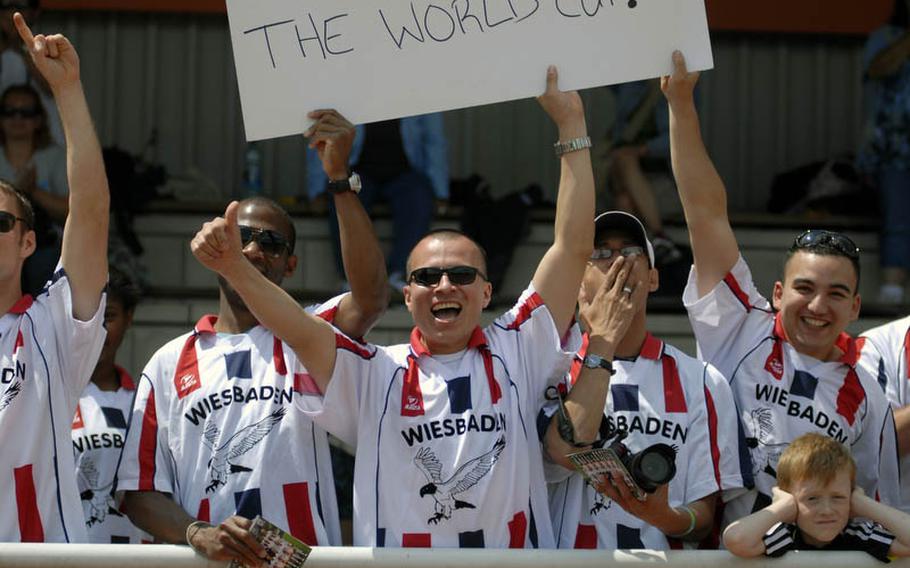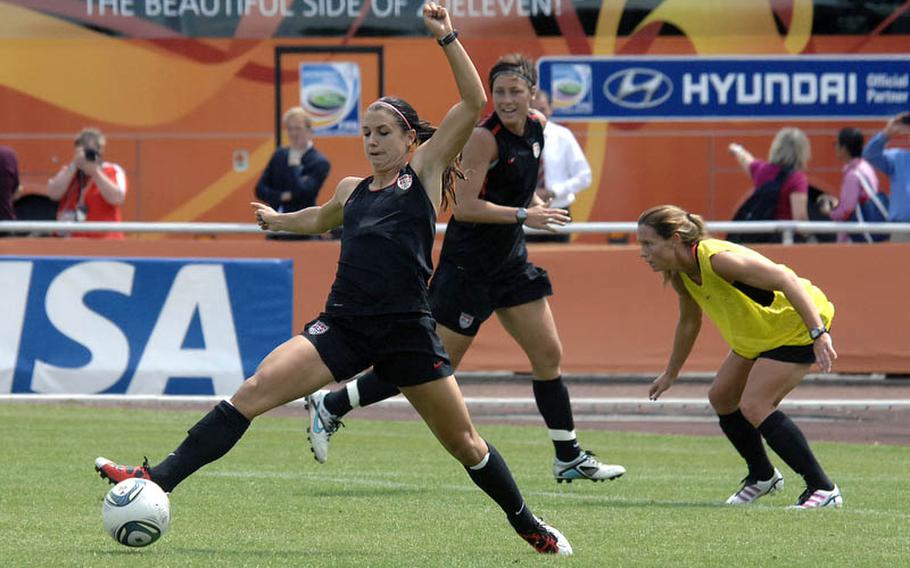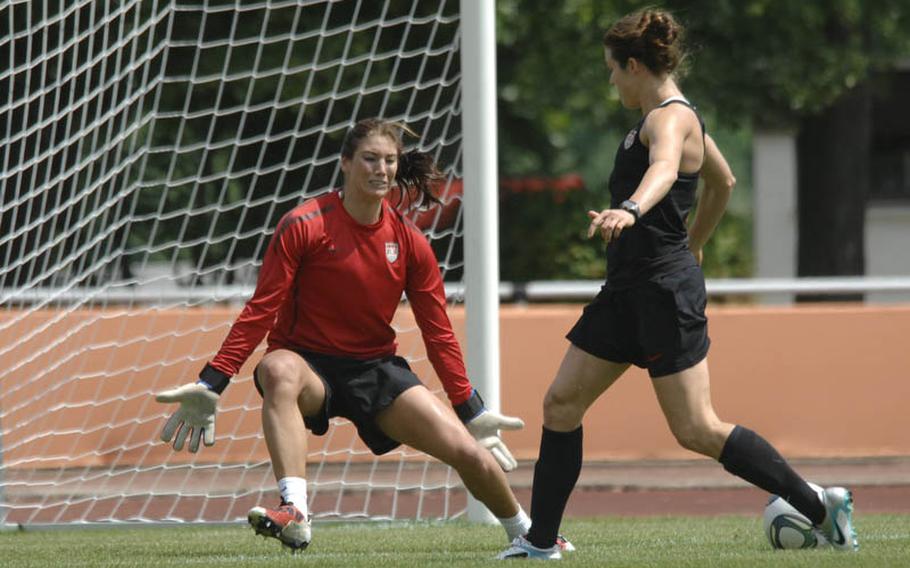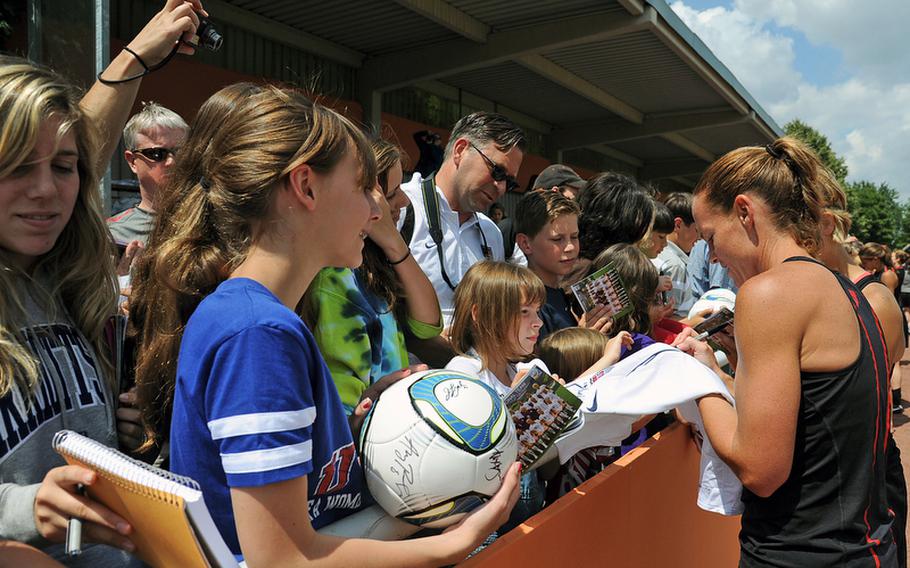 HEIDELBERG, Germany — Thirteen-year-old Rachel Braun stood with a swarm of soccer fans near the practice field and boldly told Hope Solo she wanted her job someday.
Solo, goalkeeper for the U.S. Women's National Team, wished Rachel well.
"I got Solo," Rachel yelled moments later, referring to the player's autograph. "That's all I came for."
Daniela Leyba, 14, did Rachel one better. She asked forward Abby Wambach to sign the red soccer jersey she was wearing.
"I'm not going to wear it anymore," Daniela said as she surveyed the signature.
The two Heidelberg teens were among hundreds of Americans who on Thursday attended an open practice of members of the U.S. women's national soccer team. While some local Germans attended the practice at SG Kirchheim stadium in Heidelberg, the opportunity was for Americans affiliated with the U.S. military.
After the workout, members of the team mingled with fans, signed autographs and posed for pictures. Their next match in the 2011 Women's World Cup is against Colombia on Saturday in Sinsheim, the second game of opening round play.
Three busloads of Americans from the U.S. military community in Stuttgart drove more than an hour to watch the practice, said John Hamilton, a morale, welfare and recreation employee in Stuttgart.
Other U.S. soccer fans came from as far away as Ansbach.
"It's the American team in Germany," said 12-year-old Gabrielle Gehler, who came by bus from Stuttgart with her father and younger sister. "It doesn't happen every day."
Sporting camouflage battle dress uniforms, Sgt. 1st Class Scott Gaiski and Sgt. Travis Strickland spent their lunch hour taking in the event, which was attended by about 500 people. Gaiski and Strickland are assigned to the 30th Medical Command at Tompkins Barracks in nearby Schwetzingen.
"Something like this is a great opportunity," Strickland said.
"Especially if they win the cup," Gaiski added.
Even if the U.S. team doesn't capture the World Cup, Daniela, Rachel and the rest of the U.S. soccer faithful were pleased to be part of the action.
"It's nice to see your soccer role models," said 12-year-old Margaux Stephens. The players are "like our gods."