U.S. withstands Italy's challenge to remain unbeaten in Schweitzer tuorney
by
Rusty Bryan
April 14, 2004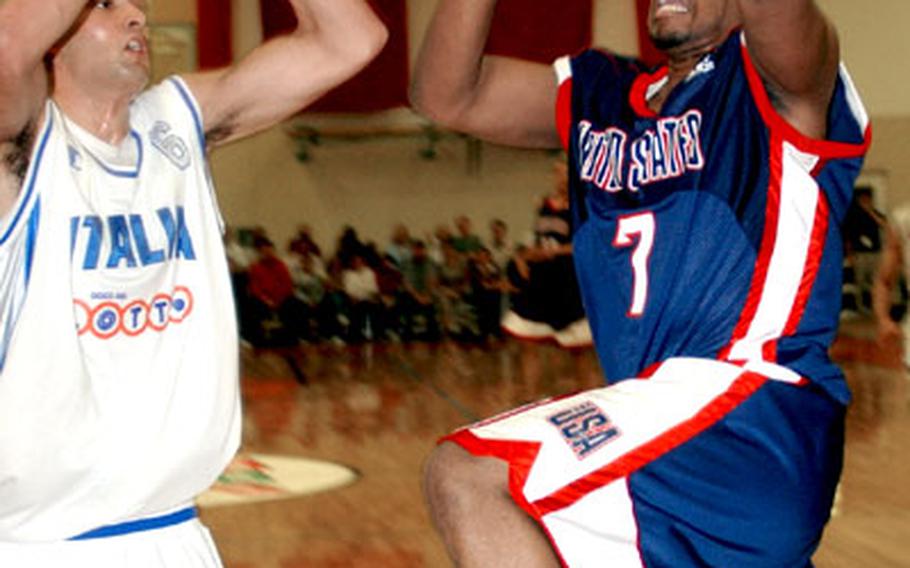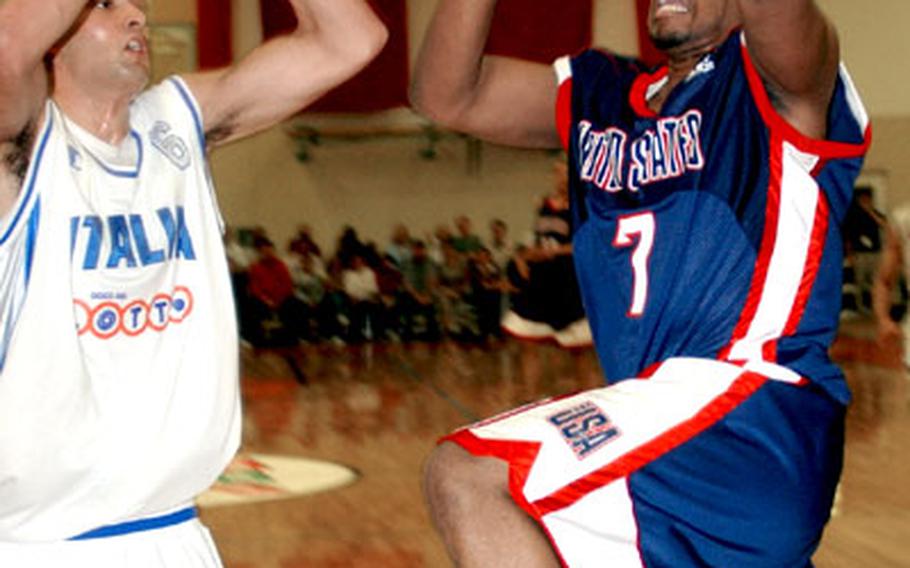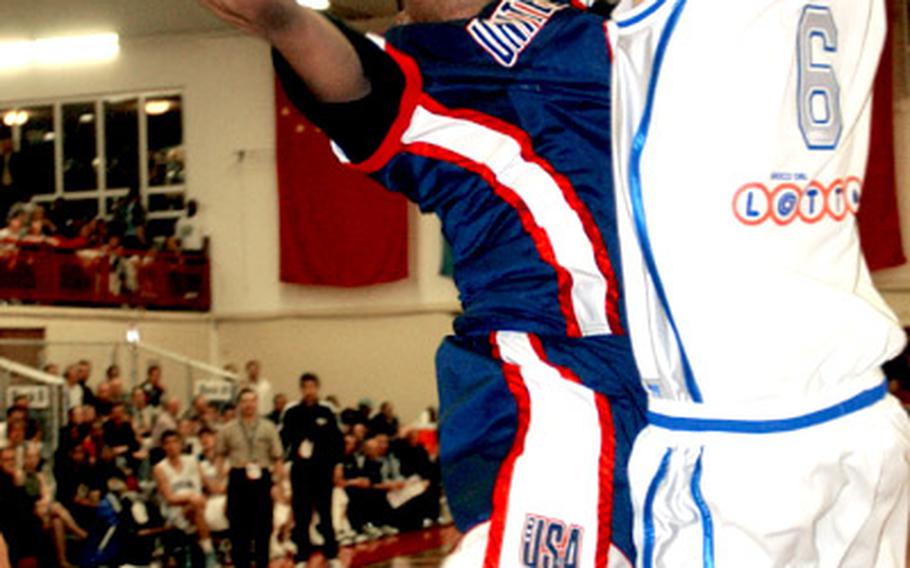 MANNHEIM, Germany — Thanks to a surprising second-half challenge by Italy on Monday night, the U.S. team enters the second round of the Albert Schweitzer International Youth Basketball Tournament fully gut-checked after a 75-60 victory.
With the Pool D championship in hand, the U.S. (3-0), along with D runner-up Poland, advance to the second round of this biennial event for junior national teams.
The U.S. faces the Pool B runner-up, Serbia-Montenegro, at 8 p.m. Wednesday, and the Pool B champion, Argentina, at 8 p.m. Thursday. Both games are at the Benjamin Franklin Village Sports Arena, with tickets for each game $10 for adults and $6 for youths under 18.
The U.S. led Italy 43-30 at halftime and seemingly had the game under control. But the Italians temporarily slowed the U.S. offense with a 2-3 zone and mounted a 26-16 run in the first 11½ minutes of the second half before the U.S. responded.
"I looked up and saw we were up by three, and said to myself, 'We're the USA. This can't happen,' " said David Burgess of Irving, Calif., a 6-10 center bound for BYU.
Burgess scored eight of his 10 points and pulled down eight of his 10 rebounds — all while draped with multiple combinations of tall Italian players — as the U.S. righted the ship.
Burgess said he used his team's rough patch as motivation.
"The last two games, I was in sleep-walk mode. I injured my ankle in my last high school game, and it's healed slowly. Tonight, I put all that aside. It was a matter of pride and heart."
And also a renewed emphasis on technique.
"David had a strong game," U.S. coach Dick McCann said. "What he's been working on is clamping the ball with both hands on the rebound and on the entry pass and keeping the ball high — not bringing it down or dribbling. He made some good moves to the basket."
Also showing good moves was 6-8 junior Tyrell Biggs of Ramsey, N.J. He scored 13 points and pulled down seven rebounds, while fellow Jersey guy Brandon Costner of West Orange added 10 points and five rebounds.
As they did against Poland, the Americans had a substantial rebounding edge over Italy (54-39). The advantage included a 23-13 margin on the offensive glass, which enabled the Americans to outscore Italy 20-4 on second-chance points.
Senior point guard Kyle Lowery of Philadelphia led the U.S. team in rebounding (12) for the third straight game.
Lowery also scored a team-high 16 points and stole the ball four times despite picking up his fourth foul with 1:50 left in the third quarter. After sitting for just under four minutes, he returned to the game and immediately scored to give the U.S. a 61-56 lead. The basket effectively ended the Italians' run, as the U.S. defense held them to four points in the final eight minutes.
McCann said that the Americans should benefit from having the game turn tough after halftime.
"It helps us as coaches see what combinations we have to have in there at certain times," he said. "Although I will say, any combination we had in there would have responded as well as the players did tonight."
Going into the second round, eight of the 16 teams remain in contention for medals. They have been placed in two new pools: Turkey, Spain, Germany A and Finland in one, and the U.S., Argentina, Serbia-Montenegro and Poland in the other.
The top two from each of those pools advance to Friday's semifinals at BFV. Semifinal tickets are $12 and $8, with tickets for Saturday's 2 p.m. third-place game and 4 p.m. championship showdown priced at $17 and $11.
---
---
---
---