U.S. ups offense, beats Spain in youth basketball tournament
by
Rusty Bryan
April 9, 2010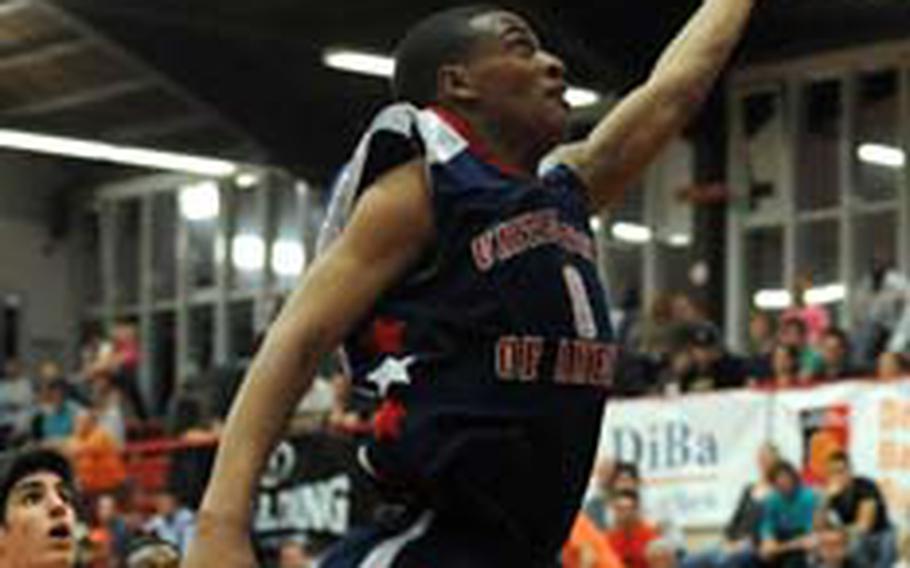 See an earlier version of this story here.
MANNHEIM, Germany — The U.S. team in the Albert Schweitzer International Youth Basketball Tournament discovered a different way of winning Wednesday night and gave itself a shot at reaching the final four of the biennial tournament.
The American team of high school all-stars, which topped previously undefeated Spain 91-81 Wednesday, played Australia on Thursday after this edition of Stars and Stripes went to press. The winner advanced to the semifinals Friday night.
"Tonight, (our shots) went in for a change," U.S. coach Larry Krystkowiak said Wednesday after the Americans, who averaged 66 points in their first three games, stepped up their offense.
Just in time, too.
"We didn't play that well defensively," Krystkowiak said. "The offense saved us."
The defensive problems were a result of the Spaniards' efficient offense, illustrated by wide-open layups made by back-door cutters. Spain also was formidable from the perimeter, where a 6-for-10 effort from behind the three-point arc lifted Jaime Fernandez to a game-high 28 points.
Fernandez's effectiveness from outside presented the U.S. a dilemma. Krystkowiak, a former coach of the Milwaukee Bucks, chose to leave the back door ajar.
"That's hard to defend," he said of the back-door play the Spaniards seemed to implement successfully after every timeout. "I guess I could have gone to a zone, but against a team that shoots like that, you can get into trouble, especially now that points-differential comes into play."
The U.S. was hoping to avoid points-differential complications by beating Australia and winning the pool and a sure semifinal berth. A loss to the Aussies would have left them in a possible points-differential tiebreaker with Australia and Spain.
University of Tennessee recruit Kevin Ware of Rockdale County (Ga.) led the way Wednesday with 22 points.
Damian Leonard of Greenville, S.C., and Ryan Boatright of Aurora, Ill., each added 19 points for the U.S. Boatright a 6-foot guard, is the No. 3 scorer in this 16-team event, averaging 18.3 points per game. He put Wednesday's game away with 43.9 seconds to play by driving to the rim for a layup and a foul that also drew a technical foul from a frustrated Spaniard. Boatright turned his five-point opportunity into four points.
The Americans' most dramatic offensive performer was Kansas Jayhawks recruit Royce Woolridge of Phoenix. He spiced his 17 points with two three-pointers from beyond NBA distance that averted shot-clock violations. For the game, Woolridge sank four of seven three-point attempts.