U.S. under-18 team down, but far from out at Schweitzer tourney
by
Rusty Bryan
April 17, 2006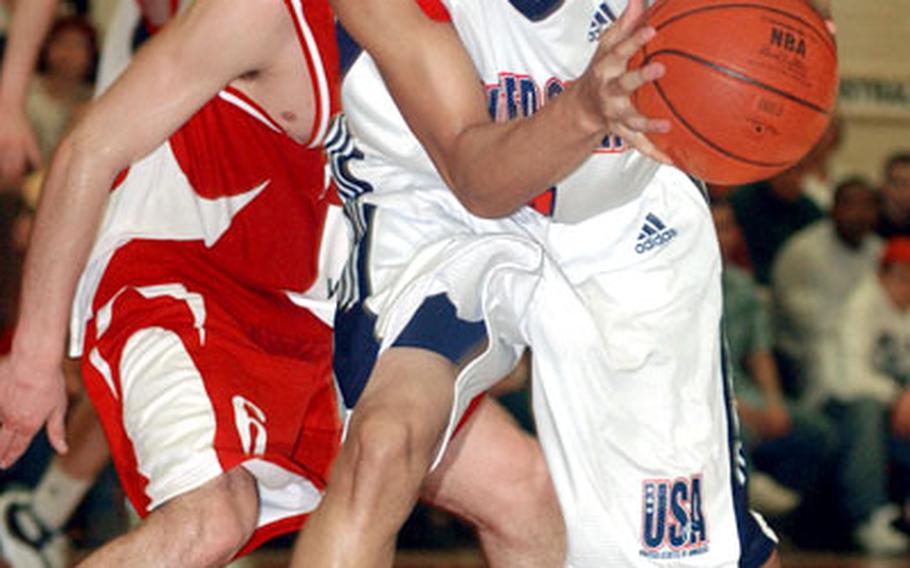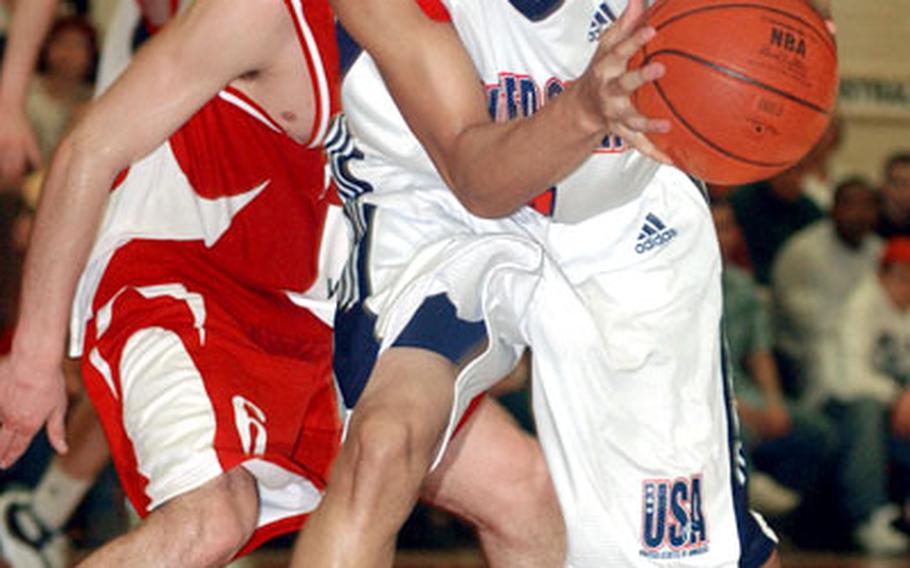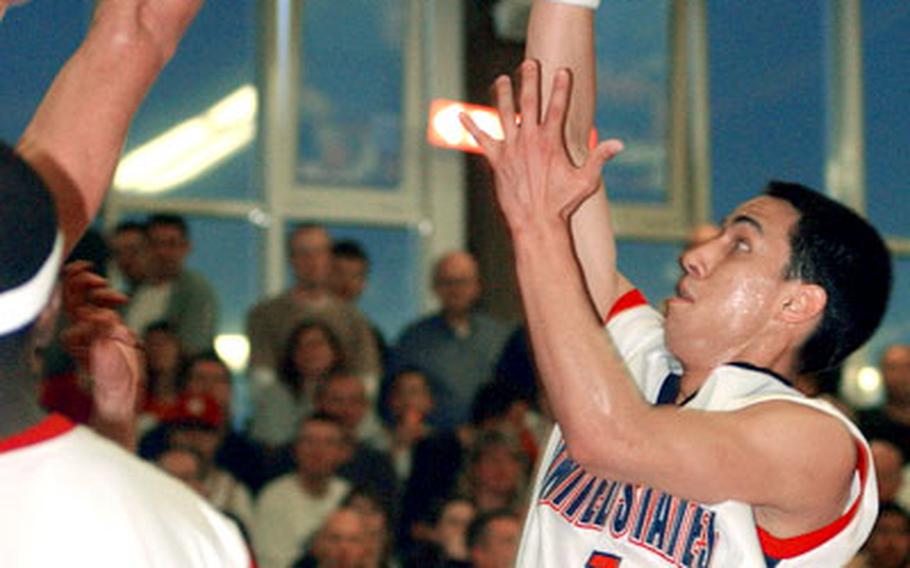 MANNHEIM, Germany — The U.S. team at the Albert Schweitzer International Youth Basketball Tournament took a negative record but a positive attitude into Sunday night's late pool-play game against Israel.
"What this team doesn't realize yet is that it can win the whole thing," U.S. coach Dick McCann said after his team's 84-77 loss to Croatia in Saturday night's opener of this biennial event matching the junior national teams of 15 countries and a U.S. all-star squad. "There's nothing that can't be fixed."
What didn't need fixing was the U.S. team's heart. Behind by 15 points at the start of the final period, the Americans clawed back to two points down twice in the final 4:33. The Americans struggled at the free-throw line, however, going only 4-for-9 in the quarter.
"The trouble with coming back all the time," said Joe Souza, who coached the Heidelberg Lady Generals to Army-Europe and U.S. Forces Europe titles in 2003 and 2004, "is that you use up all of your energy."
That may have happened to the U.S., but for stretches in the fourth, the Americans played impressive basketball.
"If we play like we played in the fourth quarter," McCann said, "we can beat any team in this tournament."
Beating any team in the AST is no simple feat for the Americans, who come from all over the U.S. and have just six days to learn enough about each other to take on teams that regularly practice several months each year.
Even so, McCann saw much to build on in the opening loss.
"The other teams we play will set hard picks, just like Croatia," he said. "In the fourth quarter, we were calling out the picks and staying with them. We lost our man two or three times in the fourth quarter, though, and it cost us."
Paying for the defensive miscues began after the Americans had cut their deficit to 71-69 on a bucket by Florida State-bound Josue Soto of Jacksonville, Fla., with 4:33 to go. Croatia's Zeljo Sakic broke open for a three-pointer, and the final reckoning arrived moments later when Bogdan Bogdanovich repeated the feat for a trey that made it 79-74 with 3:25 left. The tiring Americans were all but done.
The Americans were fortunate on Saturday they had a chance to come back at all. They put Coatia into the international game's two-shot bonus with 6:33 to play in the first period. Croatia, however, went just 8-for-14 from the line over the span.
The Americans, on the other hand, didn't get to the line in the first period and trailed 45-38 at halftime.
Change, however, was coming.
"We got together during a timeout," said Soto, who led the U.S. with 17 points. "Coach told us to play together as a team and play defense."
The result was a 23-14 run for the Americans over the final 9:15.
"If we had had another quarter," said Philadelphia's Antonio 'Scoop' Jardine, "we would have beaten them."
The loss left the Americans needing victories Sunday night against Israel and Monday against Spain to advance to the championship round.
"We've got to practice hard," said the Syracuse-bound Jardine, who scored 12 points. "We're going to try to win it all."
23rd Albert Schweitzer International TournamentCroatia 84, U.S.A. 77
(Pool-play Saturday at Mannheim, Germany)
Croatia .....23 22 22 17—84
United States .....16 22 16 23—77
Scoring—Croatia: Teo Patani 20, Zeljko Sakic 17, Bogdan Bogdanovich 16, Ivan Milekovic 12, Ante Delas 7, Filip Vukicevic 4, Hrovje Bozic 2, Jacov Bacic 2, Marino Sarlisa 2, Ivan Uvodic 2. USA: Josue Soto 17, Luke Babbitt 13, Antonio Jardine 12, Cole Aldrich 9, Richard Jackson 8, Anthony Stewart 7, Sam Muldrow 6, Edwin Rios 5.
Rebounding leaders—Croatia: Sakic 11, Bogdanovich 7, Delas 5. USA: Jackson 8, Babbitt 7, Aldrich 6, Jardine 6.
Assists leaders—Croatia: Sakic 4, Vukicevic 3. USA: Rios 3, Jardine 3, Soto 2.
Saturday's games
(at Halle Am Herzogenried, Mannheim)
Greece 88, Canada 83
Serbia and Montenegro 101, Italy 78
Turkey 78, Sweden 57
Germany 88, China 76
(at BFV Sports Arena, Mannheim)
Israel 93, Spain 87
Lithuania 74, Ukraine 65
Croatia 84, USA 77
France 70, Australia 65
Sunday's games
(at Halle Am Herzogenried, Mannheim)
Canada 67, Italy 65
China vs. Turkey
Sweden vs. Germany, late
Serbia and Montenegro vs. Greece, late
(at BFV Sports Arena, Mannheim)
Croatia 56, Spain 55
Australia vs. Ukraine
Lithuania vs. France, late
Israel vs. USA, late
Monday's games
(at Halle Am Herzogenried, Mannheim)
China vs. Sweden, 2 p.m.
Serbia and Montenegro vs. Canada, 4 p.m.
Greece vs. Italy, 6 p.m.
Turkey vs. Germany, 8 p.m.
(at BFV Sports Arena, Mannheim)
Lithuania vs. Australia, 2 p.m.
Israel vs. Croatia, 4 p.m.
France vs. Ukraine, 6 p.m.
USA vs. Spain, 8 p.m.