U.S. tops Latvia to reach SHAPE finals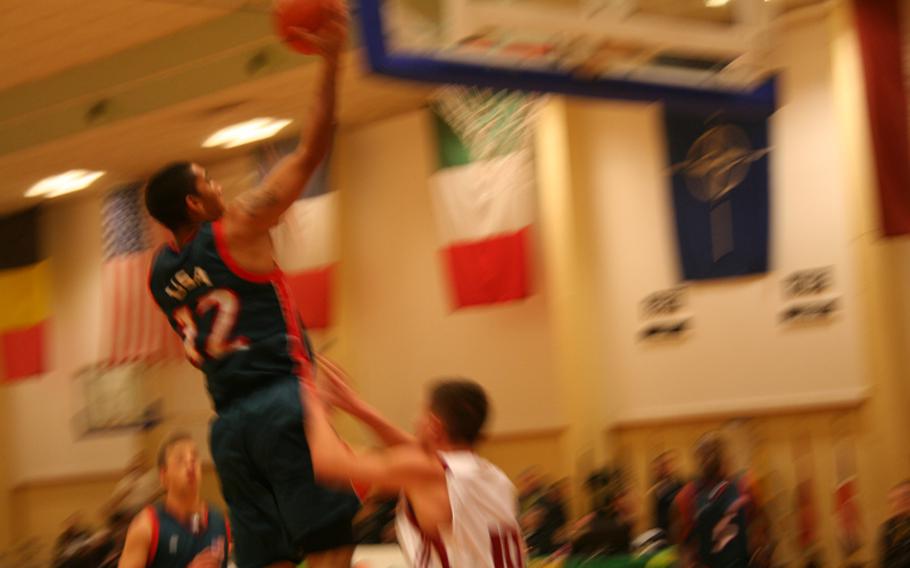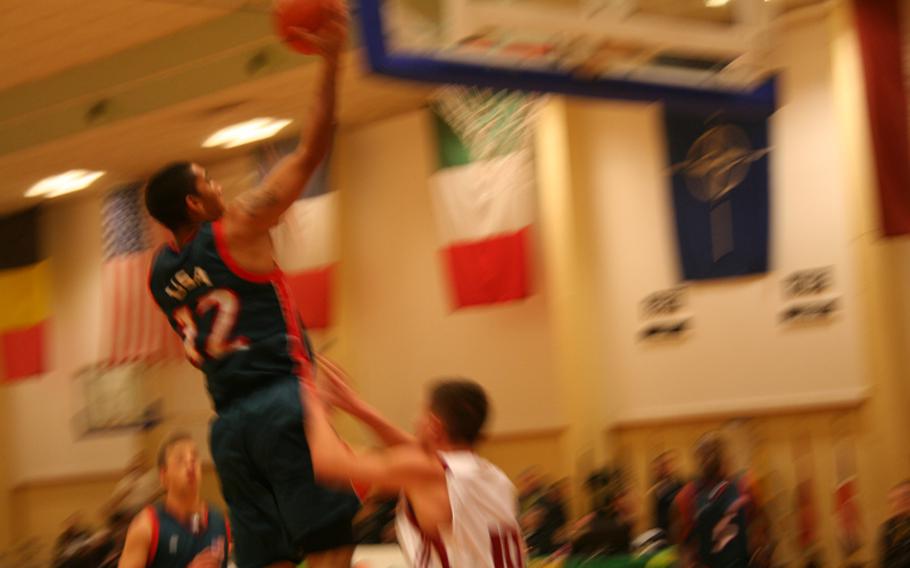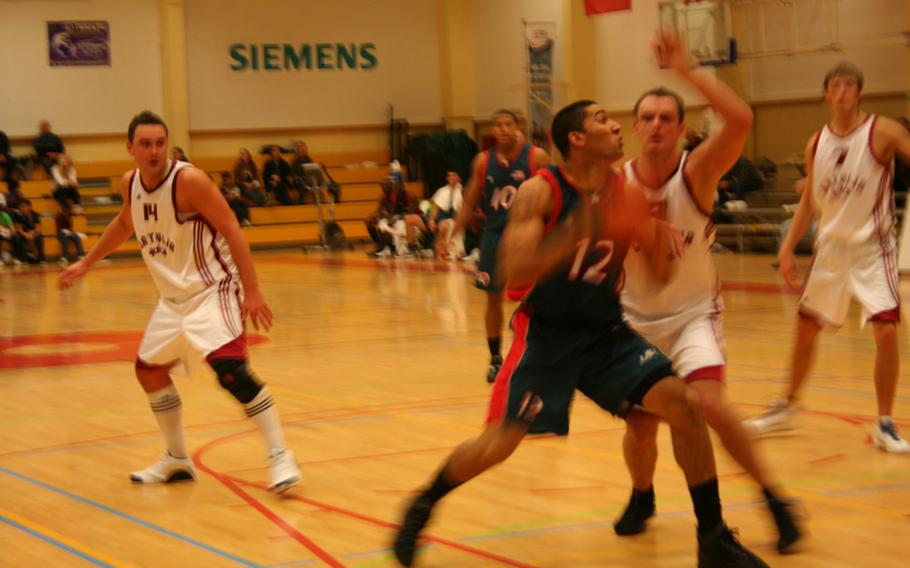 MONS, Belgium – The United States overcame a resilient Latvian team, 83-70, on Friday in the SHAPE International Basketball Tournament behind the leadership of 2nd Lt. Matt Holland, who topped all scorers with 22 points and collected 12 rebounds.
The victory propelled the American military team into Saturday night's championship game against Lithuania.
The Americans held a 40 – 27 led at the half as they limited Latvia to 10 points in the second period. The Latvians fought back, however, and slowly closed the gap. But in the end it was Coach David Smith's team that came away with the win as they topped Pool B.
Army 2nd Lt. Cleveland Richard hit 19 points for the Americans, while his ex-West Point team mate, 2nd Lt. Kenneth Brewer, added another 14 to the cause.
A 97 – 44 blowout of the Netherlands was good enough to send Lithuania, which finished second to South Korea in the World Military Basketball Championships in September, into the title game against the U.S.
In other tournament action Friday, Belgium shocked France with a 75 – 48 victory and was set to play Latvia at 6 p.m. for a place on the podium. The championship game was to follow.US Armed Forces (3-0) TOT-FG 3-PT REBOUNDS## Player FG FGA FG FGA FT FTA OF DE TOT PF TP A TO BLK S MIN-------------------------------------------------------------------------------9 HOLLAND, Matt....... f 8 16 3 6 3 3 5 7 12 2 22 4 5 0 2 358 JOHNSON, Craig...... c 1 2 0 0 0 2 2 1 3 1 2 2 3 1 0 1911 HENKE, Andrew....... g 0 4 0 2 1 2 2 3 5 5 1 2 1 0 1 165 BARTLEY, Ron........ g 1 6 1 3 0 0 1 2 3 1 3 8 5 0 1 247 RICHARD, Clevland... g 6 13 1 5 6 7 0 5 5 1 19 2 3 1 2 2710 NELSON, Marcus...... 1 4 0 0 0 0 1 1 2 0 2 5 0 0 4 1012 BREWER, Kenny....... 7 10 0 0 0 2 3 3 6 0 14 1 2 2 0 1414 SHEPPARD, Kirk...... 0 0 0 0 0 0 0 1 1 1 0 0 0 0 0 615 JEFFERSON, Jason.... 0 2 0 1 0 0 2 8 10 3 0 0 0 0 1 184 NEWMAN, Brandon..... 5 8 1 1 3 5 1 3 4 1 14 0 3 0 3 146 ROBINSON, Antonio... 3 3 0 0 0 2 1 3 4 2 6 0 0 0 1 17 Totals.............. 32 68 6 18 13 23 18 37 55 17 83 24 22 4 15 200
TOTAL FG%: .471 DEADBALL3-Pt. FG%: .333 REBOUNDSF Throw %: .565 0
Site: SHAPE Belgium Attendance: 176Officials: Claude (FRA); Pierre (BEL); Vytenis (LIT);Technical fouls: US Armed Forces-None. Latvia-None.Score by Periods 1 2 3 4 TotalUS Armed Forces..... 18 22 21 22 - 83Latvia.............. 17 10 19 24 - 70