U.S. team reaches medal round of Schweitzer tournament
by
Rusty Bryan
April 5, 2010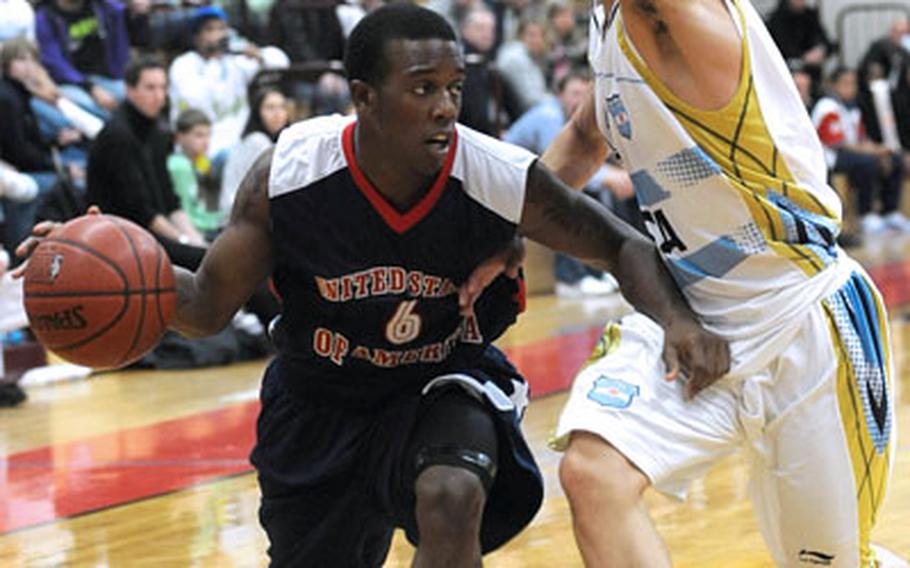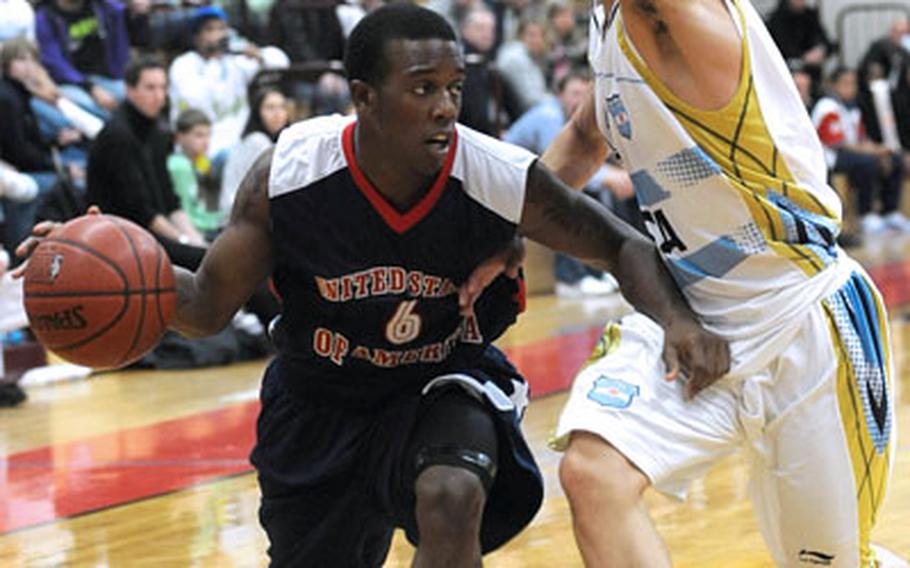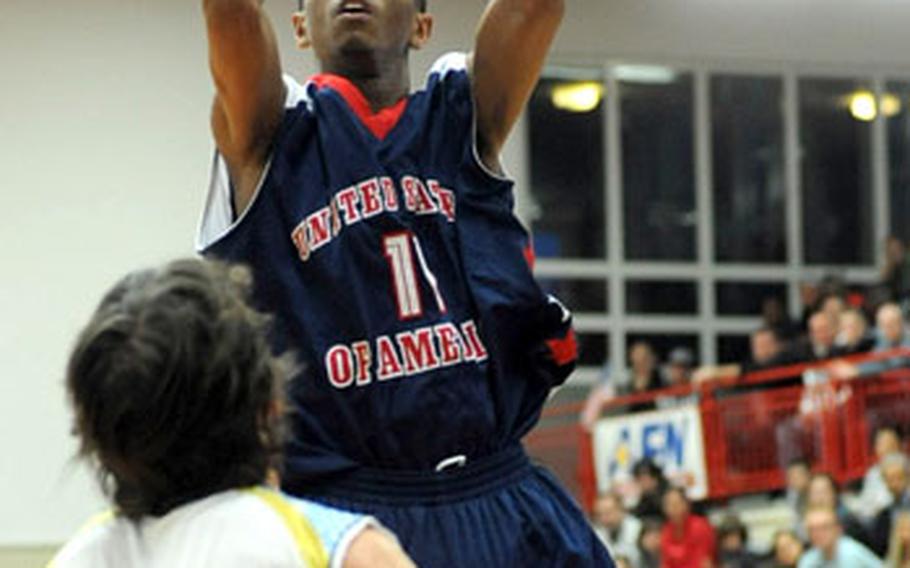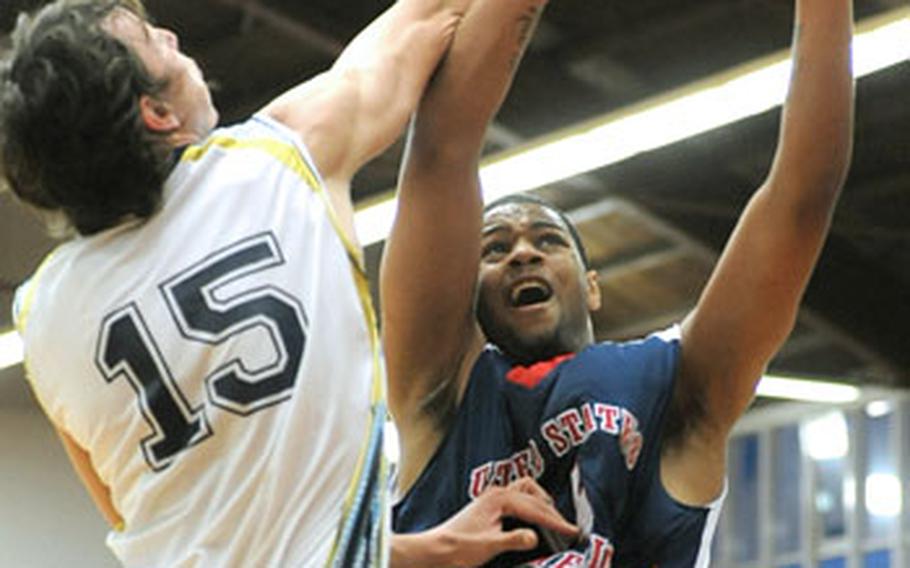 MANNHEIM, Germany — Their backs to the wall in just their seventh day of existence Monday night, the U.S. Albert Schweitzer team responded with a 61-53 pool-play victory over Argentina that landed the Americans in the medal round of this biennial international youth basketball tournament.
Ryan Boatright of East Aurora, Ill., High School scored a game-high 21 points, and Kevin Ware of Rockdale County, Ga., High School added 14 as the Americans put together their best game of the tournament.
But the real story came at the other end of the floor, according to U.S. coach Larry Krystkowiak.
"Defensively, we played the best we could play," Krystkowiak said after his team limited Argentina to 20 of 60 from the floor and 4 of 17 from behind the three-point arc. "To hold a team like Argentina to 53 points with a 24-second shot clock is remarkable. They're loaded with big-time shooters."
The defensive stand was a measure of the Americans' determination not to be relegated to the bottom eight of this 16-team event, 15 of which are junior national teams. A loss on Monday would have dropped the Americans into that status.
No way, Boatright said.
"We had to come out and win," the 6-0 junior point guard said. "We wanted to give ourselves a chance at the gold medal. We didn't come over here to play for ninth place."
Stunningly, that's the best France, the 2006 champion here, which stood 2-0 after Sunday's 67-66 victory over the U.S., can now hope to do. Earlier Monday, the French fell to Croatia, the team the U.S. downed 71-69 on Saturday. All three teams compiled 2-1 records, but France fell to third in the tiebreaker. Argentina finished fourth at 0-3.
"I don't know if the pools were assigned randomly or drawn from a hat," Krystkowiak said, "but that shows you how tough our pool was. Yesterday, France was sitting pretty, and now they're out of the tournament."
The U.S. stayed very much in the running for a record 11th AST gold medal, which would be their first since 1996 in a game in which they never trailed. For the first time in this year's event, the U.S. outrebounded an opponent (44-39), completing a 180-degree turnaround from last Thursday's exhibition loss to the German National Under-18 team. In that one, the Germans grabbed two rebounds to every one the Americans pulled down.
The Americans also avoided the foul problems that plagued them against France, another sign of their growing cohesion in playing team defense.
"When I agreed to come over and coach this team, I thought it might be a can of worms," Krystkowiak said about the task of getting so many all-stars to work together. "From Day 1, though, they've bought into what we're doing. In a week, we've come a long way."
There's still a long way to go, however. The Americans and Croatia advance to the next pool, joining unbeaten Spain and Australia. The top two among those four qualify for Friday's semifinals. The U.S. is to play Spain at 8 p.m. Wednesday and Australia at 8 p.m. Thursday. Both games are scheduled for the BFV Sports Arena here.
"We're happy about the win," Krystkowiak said, "but I told them it's just like winning a first-round playoff series in the NBA. You haven't won anything yet. You just get the chance to play on."
U.S.A 61, Argentina 53(Pool play Monday at Mannheim)
Argentina .......... 11 14 16 12—53U.S.A. .......... 14 11 23 13—61Scoring—Argentina: Fernando Podesta 19. German Abel Ressia 12, Marcos Delia 6, Joel Comba 5, Pablo Ignacio Perez 4, Carlos Paredes 3, Nicolas Copello 2, Lucas Diaz 2; U.S.A.: Ryan Boatright 21, Kevin Ware 14, Mike Chandler 6, Damian Leonard 6, Royce Woolridge 6, Chris Manhertz 4, Marshall Plumlee 4Rebounding—Argentina 39 (12 offensive, 27 defensive); U.S.A. 44 (14 offensive, 30 defensive) Plumlee 9, Chandler 7, Manhertz 6, Woolridge 6. Free throws—Argentina 9-of-16; U.S.A. 5-of-9. Field goals—Argentina 20-of-60, 33 percent, 4-of-17 3-points shots; U.S.A.: 24-of-63, 38 percent, 8-of-20 3-point shots.