U.S. team loses to Australia, but reaches Schweitzer semifinals
by
Rusty Bryan
April 8, 2010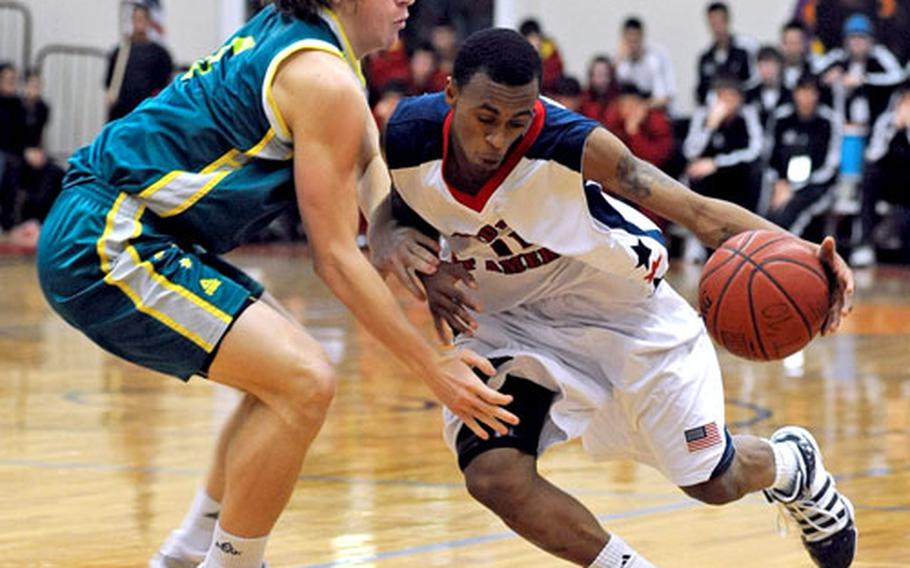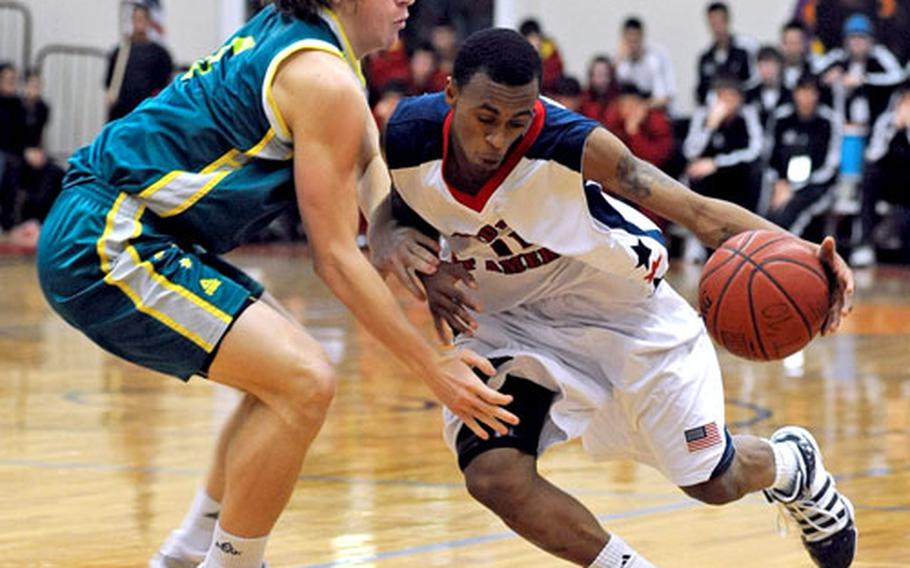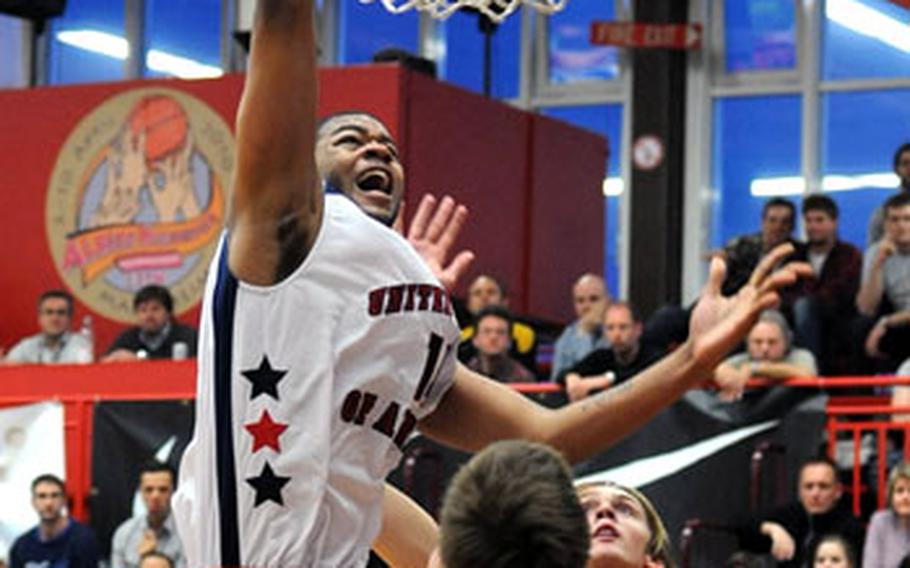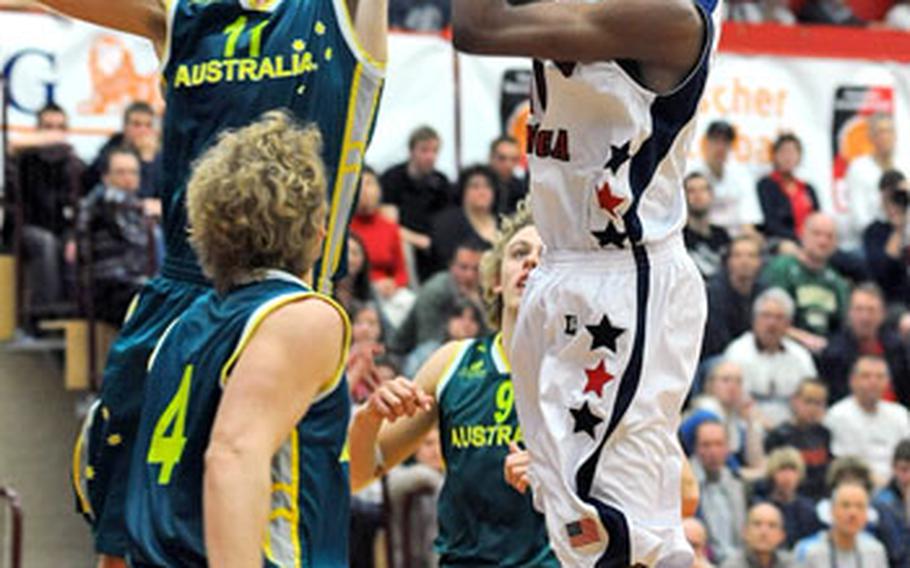 MANNHEIM, Germany – The downside Thursday night for the American teenagers at the 25th biennial Albert Schweitzer International Youth Basketball Tournament was a 79-66 loss to Australia.
The upside was advancement to today's semifinals by the narrowest of margins. After Spain, the team the American's defeated 91-81 on Wednesday, downed Croatia 85-60 earlier Thursday, the U.S. knew that under the complicated tiebreaker rules here, it could advance to the semifinals even by losing to Australia by 13 points or fewer.
"I didn't tell anybody," U.S. coach Larry Krystkowiak said about the 13-point cut-off the Americans hit with 2.5 seconds to play when Hugh Greenwood slammed home the dunk that capped Australia's decisive 16-3 run over the game's final 4:07.
What looked like a cheap-shot bucket actually proved a blessing, Krystkowiak said.
"They could have gone for a three," he said. "If we'd lost by 14, we'd have been out. They probably wanted us out. I doubt they want to see us again."
For the Aussies and Americans to meet again, in Saturday's title game, each will have to defeat a German national youth team today. Australia will play the German Under-17 team in a 6 p.m. semifinal at the BFV Sports Arena; the U.S. is to face the Germans' Under-18 national team at 8 p.m. in the same building.
The U.S. was victimized Thursday by double-digit Australian runs at the end of each half – 11-2 over the last 1:52 of the first 20 minutes, which put the Americans down 44-36, and the 16-3 streak at game's end that was one point short of elimination.
Australia earned the victory with effort and speed, the Americans said.
"Oh, yeah" answered East Aurora (Ill.) High School 6-0 junior point guard Ryan Boatright, who played an exhausting 35-and-half minutes and topped all scorers with 27 points, when asked whether the Aussies were the most physical team the Americans had played so far. "They were the fastest team we've played, too," he added. "When we lost (defensive) position on them, they made us pay."
Krystkowiak said the Aussies, who out-rebounded the U.S. 51-37 and posted 18 assists to just five for the Americans –stats that reflect hard work – are a testimony to the power of determination.
"They're really physical," he said. "They're the poster child for what's possible if you play hard. They might not be the most talented team here, but they're the most aggressive."
Not that the Americans didn't mount any runs of their own. A three-ball by Boatright and two more from Damien Leonard of Greenville, S.C., who finished with 14 points, over a 1:30 span got the Americans even at 49-49 with 5:35 left in the third period. The U.S. extended those treys into a 13-0 run and a 53-49 lead, built as much on the work down low of Chris Manhertz of New York City as it was on treys. Seven of his 12 rebounds, and all four on the offensive glass, and three of his four blocks came when the 6-8 center stepped it up after intermission.
"In the first half, we didn't play with much defensive intensity," he said. "I was trying to get us started."
Manhertz' plan worked. Australia managed just 11 points in the third quarter.
Tonight, the Americans face the same team which defeated them 76-66 in overtime the previous Thursday. Back then, the Americans had been together just four days. Now that's up to 12 sunrises, and Manhertz said experience counts.
Australia 79, U.S.A. 66
(Medal-round game Thursday at Mannheim)
Australia..........17 27 11 24—79U.S.A...........17 19 18 12—66Scoring—Australia: Mitchell Creek 23, Corban Wroe 12, Lewis Thomas 11, Hugh Greenwood 10, Anthony Drmic 8, Igor Hadziomerovic 5, Jackson Aldridge 4, John Fenton 4, William Sinclair 2; U.S.A: Ryan Boatright 27, Damian Leonard 14, Kevin Ware 8, Chris Manhertz 6, Andrew White 4, Royce Woolridge 4, Mike Chandler 2, Marshall Plumlee 1.Rebounding—Australia 51 (20 offensive, 31 defensive); U.S.A 37 (13 offensive, 24 defensive) Manhertz 12, Plumlee 5. Field goals—Australia 28-of-71, 39 percent, 8-of-23 3-pointers; U.S.A.: 25-of-66, 38 percent, 7-of-24 3-pointers. Free-throw shooting—Australia 15-of-18; U.S.A. 9-of-17.