U.S. team looks like Schweitzer contender
by
Rusty Bryan
April 12, 2004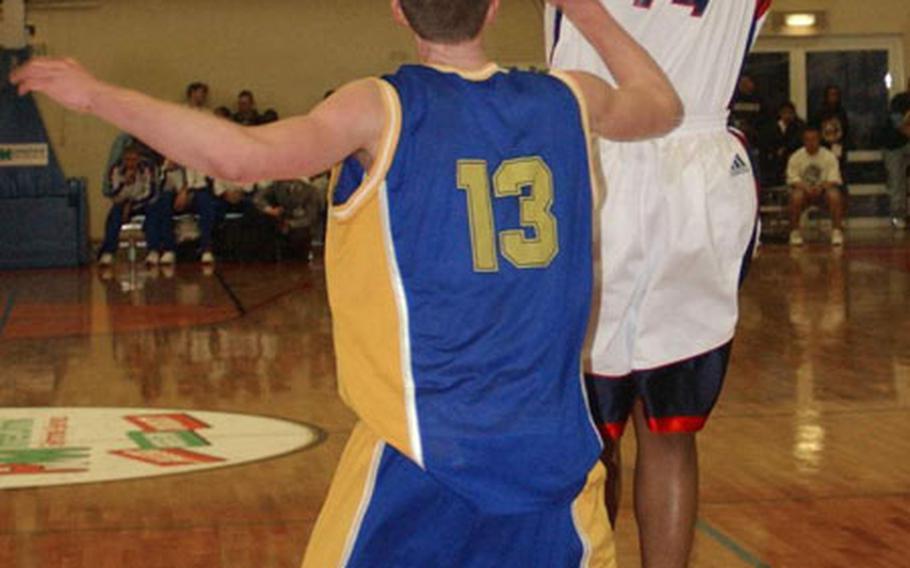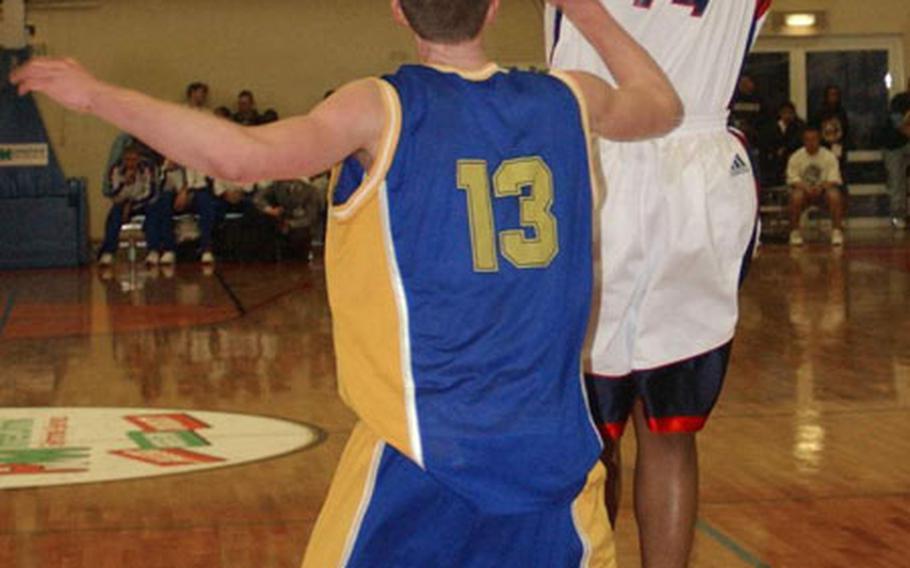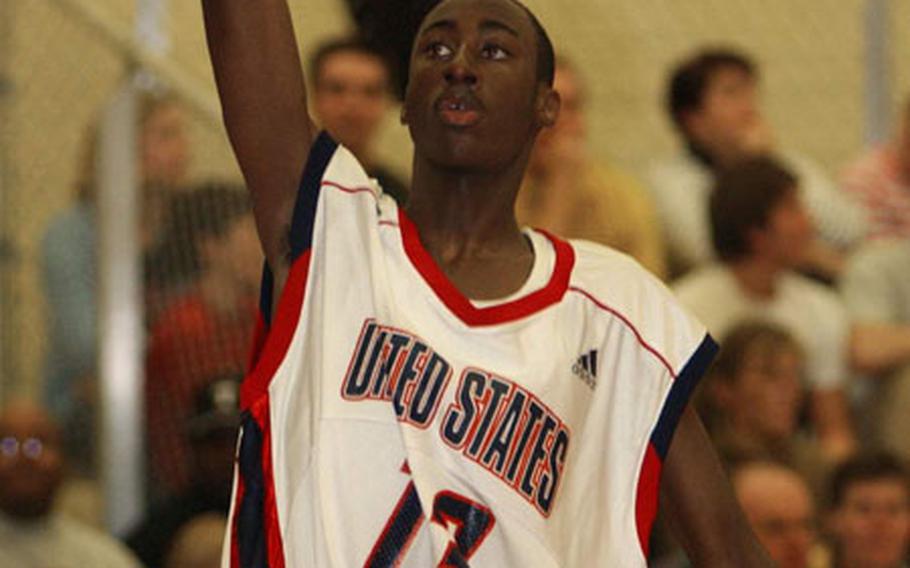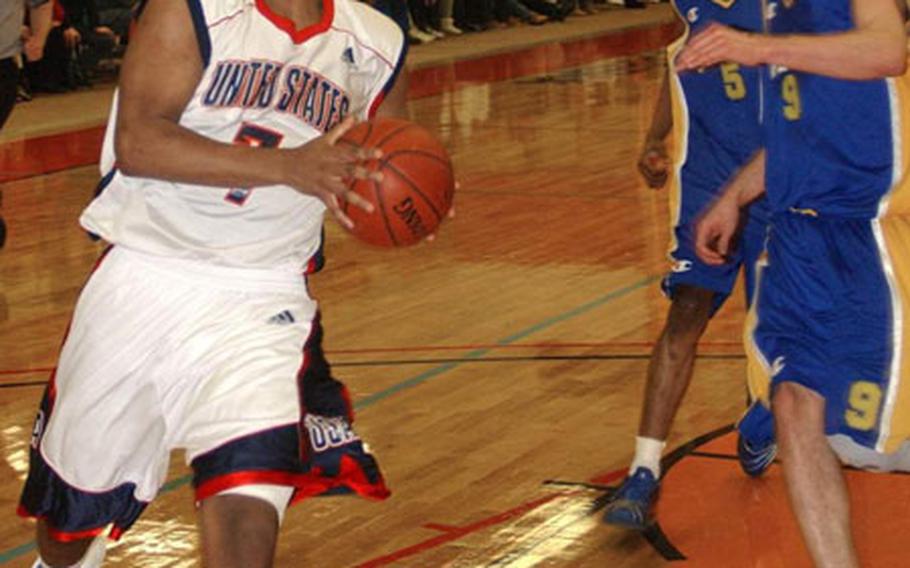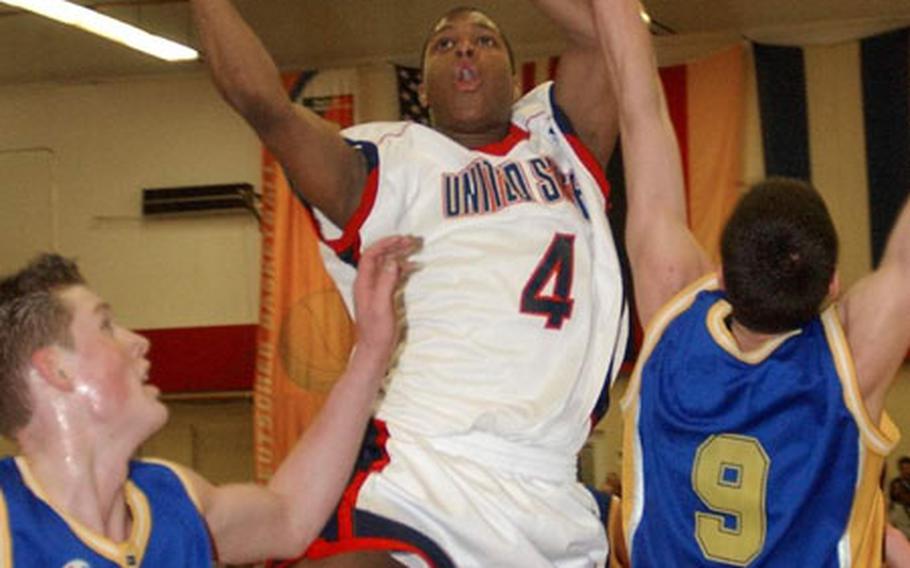 MANNHEIM, Germany — It didn't take long for the United States to make a believer of coach Dick McCann.
After a slow start, the Americans turned up the defensive pressure and roared to a 111-69 victory over Sweden on Saturday night in the opening game of the Albert Schweitzer international youth basketball tournament.
"The defense absolutely came alive in the second half," said McCann, a former Army officer guiding his 15th team through this biennial event.
"They now have absolutely no excuses" not to win the title, he added. "They let us know what we can expect from them.
"We were pleased at the effort," McCann said. "If they take their time and set up as they're supposed to set up, we should be all right."
Sweden made a game of it in the first quarter, hitting 10 of 15 shots (67 percent) to trail only 25-24. By halftime, however, the Americans had cut Sweden's shooting percentage to 44 percentage while building a 57-42 lead. Sweden managed only 35 percent accuracy the final 20 minutes.
"We started out slowly, until we could see what they were doing," point guard Kyle Lowery said. "Then we showed them that they had to play with us."
Lowery, headed for Villanova next season, had 20 points and seven assists, the latter total reduced because teammates failed to finish after several of his no-look, needle-threading passes zipped untouched to them. Typical was a steal and rush down the left sideline by Lowery, who rocketed a no-look, one-bounce backhanded pass around his defender to a teammate who missed the shot.
Despite the occasional miss, the effort helped the United States set a pace too fast for the Swedes to match. The Americans all but put the game away with a 32-18 second quarter and finished the job by outscoring the Swedes 54-27 in the second half. The United States scored 41 points off 26 Swedish turnovers and had 12 steals.
"We played really good defense," said sophomore Thaddeus Young, a 6-foot-7 point guard/wing from Memphis, Tenn., who scored 10 points. "Playing defense made our offense come alive."
Brandon Costner, a 6-foot-8 junior power forward for Seton Hall Prep in West Orange, N.J., led all scorers with 23 points on 13-of-19 shooting, including 5-of-7 three-pointers.
"They had him playing at all five positions," Heidelberg coach Brad Shahan said of the widely recruited Costner. "He played best at point guard, even though he'll never play that position at the next level."
The American team has not won the event since 1996.
The U.S. team's local representative, 6-9 Kaiserslautern sophomore Aaron Ellis, swished the only shot he took, a three-pointer from the top of the arc, and collected two rebounds in just under eight minutes of playing time.
He became the squad's only local player after Heidelberg's Jonathan Williams was removed from the team by DODDS-Europe for reasons that DODDS-Europe athletic director Karen Seadore said were unrelated to his conduct with the U.S. team.
The Americans were to play Poland in Sunday's 8 p.m. game, and then conclude pool play Monday at 8 p.m. against Italy at the Benjamin Franklin Village Sports Arena. Tickets are available at the door for $10 for adults and $6 for youths.
After a day off Tuesday, teams play cross-pool games Wednesday and Thursday. Any U.S. games in the crossover round or in Friday's semifinals and Saturday's third-place and championship games will be at BFV.
Tickets for any of those rounds are available from 11 a.m. to 5 p.m. daily at the BFV sports arena ticket office. Tickets for the first two days are the same as pool play games. Tickets to the semis are $12 for adults and $10 for youths; Saturday's are $17 for adults and $14 for youths.
---
---
---
---