U.S. Forces Europe wrestling: It's no secret: They'd go to the mat for Greco-Roman
by
Rusty Bryan
March 8, 2009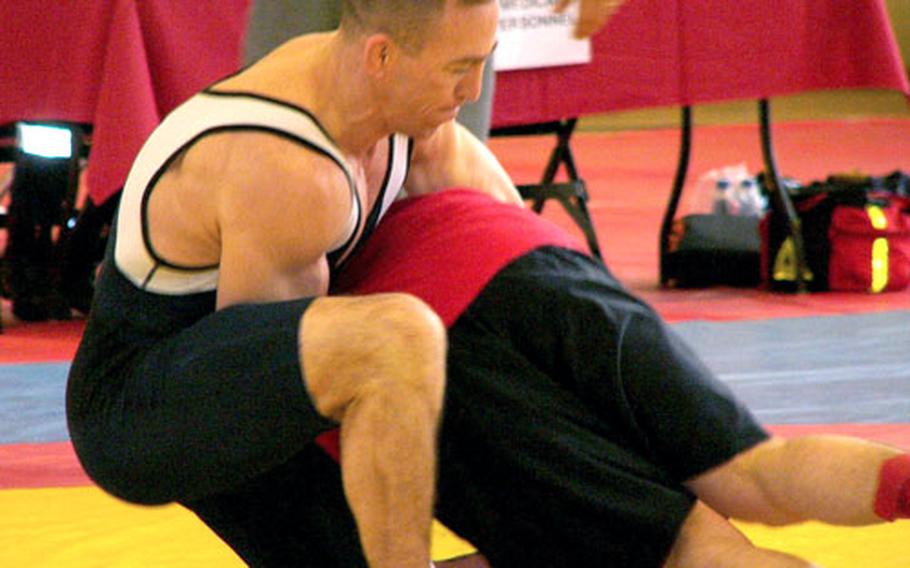 MIESAU, Germany — The most-experienced and the least-experienced Greco-Roman wrestlers earned gold Saturday on the first day of the two-day U.S. Forces Europe wrestling championships.
"I love Greco-Roman," nine-time All-Air Force wrestler Steve Horton, 42, of Ramstein said shortly after he decked Craig Gransbery, 40, of Bamberg in 1:35 of their 163-pound championship match.
"I'll be here for the freestyle [Sunday] and I'll be trying to win, but I'm a Greco man."
Before Saturday, you could hardly call Horton's fellow Ramstein wrestler, Matthew DeMitchell, 20, a Greco man. He won the USFE 185-pound Greco-Roman gold medal on his first day of competition in the arms-only style.
"I've never wrestled Greco-Roman before," said DeMitchell, who pinned his two opponents Saturday in 42 seconds each. "I came here and asked them the rules and went out and wrestled."
The answers DeMitchell got to his rules question turned out to be cutting-edge stuff. Saturday's matches were the first USFE event to use some newly adopted Greco-Roman rules, according to official Jeff Pellaton.
"Greco-Roman is an acquired taste," Pellaton told spectators about the sport in which participants can neither attack nor defend the legs. "The rules were changed to make the sport more appealing to the spectator."
At least one of the changes could not have appealed more to Horton, who spent seven years in the World Class Athlete program. Among the new rules was an increase in the opportunity for the better wrestler to earn the advantage in a referee's-position restart, in which the bottom wrestler starts on his hands and knees and the one with the advantage starts on top.
"My whole strategy is to get on top and get a chance to throw," Horton said. "If I get on top, there's a good chance the match will end."
Horton, who said he placed third last year at 152 in the veteran's division Greco-Roman world championships in Russia and who'll wrestle at 145 in next month's U.S. nationals, used referee's-position lifts and throws to win both rounds of his second match, 6-0 and 7-0, against Jeff Williams, 22, of Bamberg. Although it didn't come from the referee's position, a spectacular throw by Horton won the championship match.
"It was a five-point throw to a fall," said Pellaton, who refereed the title bout. "That's the ultimate move. It was perfectly timed."
DeMitchell, who wrestled U.S. rules during high school in Michigan, said he's making the switch to the unfamiliar Greco-Roman and freestyle methods of international wrestling on his own.
"I don't have a coach or anything at Ramstein," he said, adding that he isn't training with a German club, either.
Kaiserslautern's Reginald Newsome won the three-wrestler 211-pound field, pinning Chris Kennebeck of Miesau in 39 seconds and William Meyer of Heidelberg in 37 seconds. Logan Spencer of Kaiserslautern and Joshua DeBois of Baumholder won unopposed at 145 and 264 pounds, respectively. Fourteen wrestlers competed in five weight divisions.
Sunday's freestyle matches begin at 10 a.m. There is no admission charge.
USFE Greco-Roman championshipsMedalists Saturday in the U.S. Forces Europe Greco-Roman wrestling championships at the Miesau gym:
Team scoring — None
145 pounds—1, Logan Spencer (Kaiserslautern); 2, None; 3, None
163—1, Steve Horton (Ramstein); 2, Craig Gransbery (Bamberg); 3, Rick Nieme (Bamberg)
185—1, Matthew DeMitchell (Ramstein); 2, William Taylor (Kaiserslautern); 3, Jared Chumley (Kaiserslautern)
211—1, Reginald Newsome (Kaiserslautern); 2, William Mayer (Heidelberg); 3, Chris Kennebeck (Miesau)
264—1, Joshua DuBois (Baumholder); 2, None; 3, None