U.S. Forces Europe rugby team loses tourney warm-up to NATO
by
Seth Robson
March 18, 2006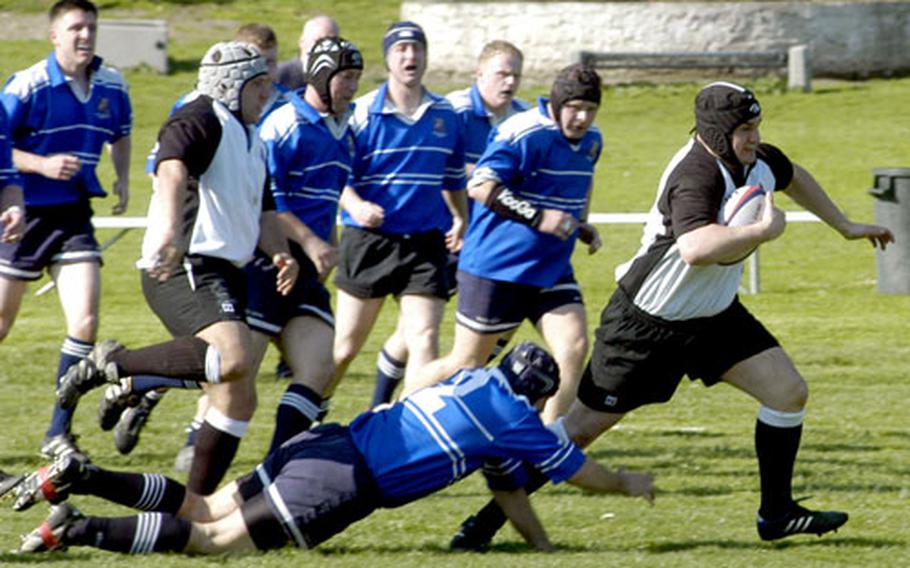 The U.S. Forces Europe rugby team lost 15-7 Friday to the NATO Lions in Naples, Italy, in a warm-up match for the U.S. Military National Rugby Championship in May.
The U.S. team includes servicemembers from the Army, Navy and Air Force stationed across Europe, according to Staff Sgt. Gerald Broom, 33, the team captain.
Broom, a native of Quitman, Texas, who works at the Landstuhl Regional Medical Center in Germany, said his players hope to emulate the U.S. Forces Europe team that won the U.S. military championship in 2003.
This year's national championship will be in Georgia and will include about 20 teams from around the U.S. competing in three divisions: Men's Open, Women's Open and a club tournament. Some foreign teams might also be invited. Last year's tournament featured a British Air Force team, Broom said.
The Naples game was against a NATO team made up of British sailors and Italian servicemembers. Both teams are to attend the Six Nations international tournament game Saturday between Italy and Scotland in Rome.
U.S. military rugby teams in Germany include the Ramstein Rogues and Illesheim Black and Blue. Other U.S. military ruggers play for German teams such as Frankfurt 1880, and an Italian club in Sigonella, Sicily.
Anyone interested in playing rugby or trying out for the U.S. Forces Europe team should contact Broom by e-mail at gerald.broom@us.army.mil, or by telephone at DSN 314-486-6915, or civilian (+49) (0)6371-866915.