U.S. clips Croatia in Schweitzer basketball tournament
by
Rusty Bryan
April 4, 2010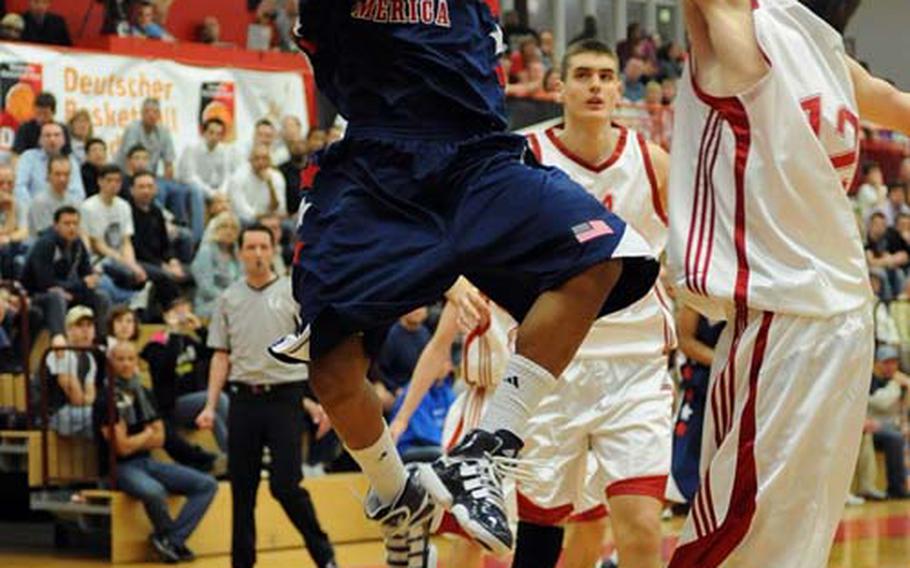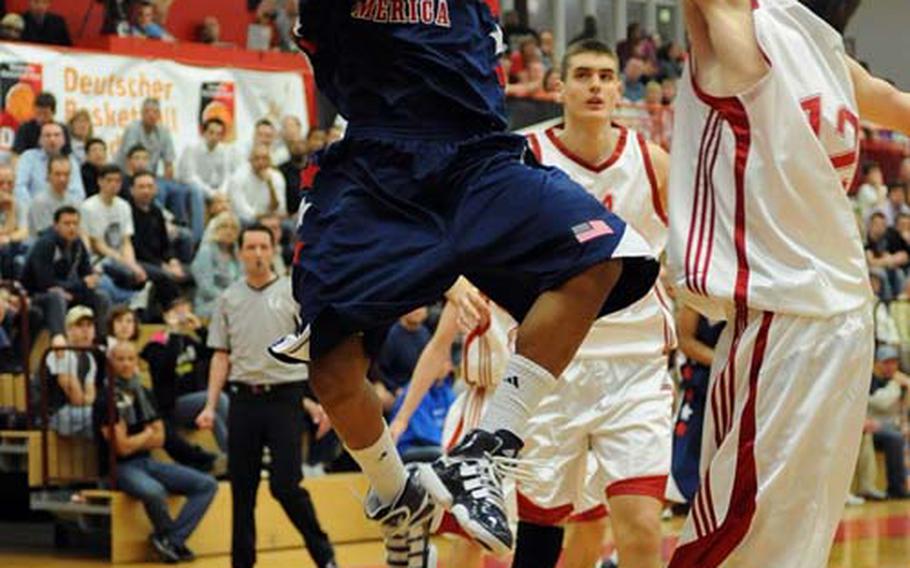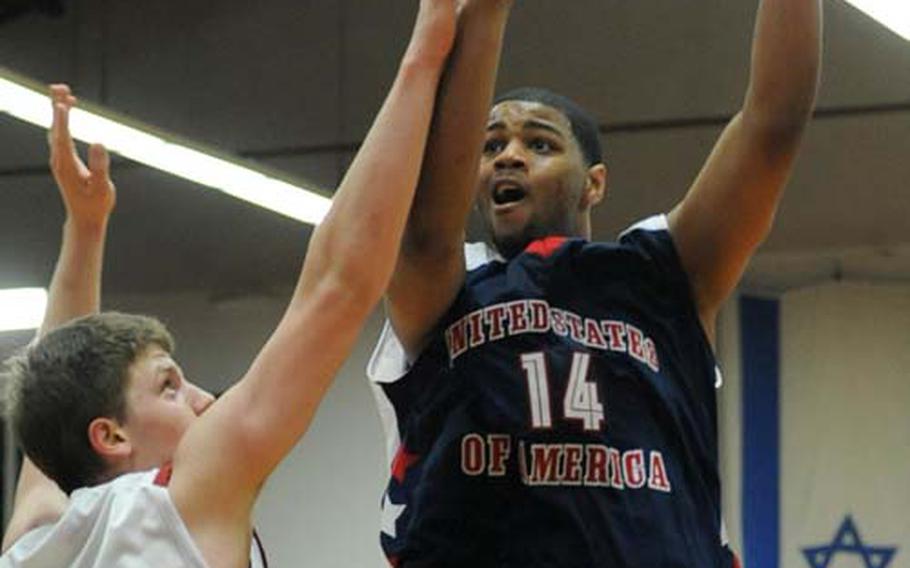 MANNHEIM, Germany – Chris Manhertz of Cardinal Spellman High School in New York City yanked down 14 rebounds Saturday night, and Damian Leonard of J.L. Mann High School in Greenville, S.C., scored a team-high 18 points as the United States opened pool play in the 25th biennial Albert Schweitzer International Youth Basketball Tournament with a 71-69 victory over Croatia.
"I guess we're getting used to the calls and the physicality," Manhertz said after the Americans were outrebounded more than 2-1 in a 76-66 overtime loss to the German national under-18 team in a Thursday exhibition game. Saturday, the Americans found themselves outrebounded just 46-42 by a team taller than the Germans.
"We talked about it," U.S. coach Larry Krystkowiak said about the rebounding imbalance. "The guys took it personally. Tonight we really improved. Our block-outs were better."
Manhertz wasn't alone in stepping up his rebounding. Mike Chandler of Lawrence North High School in Indianapolis and Kevin Ware of Rockville County High School in Georgia each grabbed eight.
"I was really impressed with the way Kevin got in there and pulled the ball in," Krystkowiak said of his 6-0 guard, who had eight defensive rebounds.
The Americans led by 13 points, only to have the lead slip away in the late going. Croatia, which trailed 34-28 at halftime, tied the game at 63 with just under three minutes to go on two free throws by Roko Rogic, the game's leading scorer with 19. The shots capped a 9-0 Croatia run, but the U.S. went up 70-63 with 2:08 to play on seven straight points by Ryan Boatright of East Aurora High School of Aurora, Ill. Boatright finished with 12 points, but missed three of four free throws that could have put the game away earlier.
Leading by just three with 5.2 seconds to play, the Americans fouled Marko Ramljac on a three-point attempt that wasn't close. Ramljac converted the first two free throws to cut his team's deficit to 70-69, but missed the third. Leonard grabbed the rebound and was fouled so quickly that inexplicably no time ran off the clock.
Leonard converted the second of two free throws, and this time the clock operator found the button when Croatia inbounded. Time expired as Rogic launched a brick as he was fumbling the ball at the top of the key.
"We lost a little spark at the start of the second half," Manhertz said, "but we picked each other up. That's what good teams do."
Next for the Americans is pool game No. 2, against the national junior team of France. It's to tip off at 8 p.m. today at the BFV Sports Arena. Tickets priced at seven euros for adults are available at the door. The U.S. closes its pool schedule at 8 p.m. Monday against Argentina.
USA 71, Croatia 69(Pool play Saturday at Mannheim)
Croatia 19 13 14 23—69U.S.A. 16 24 16 15—71Scoring—Croatia: Roko Rogic 19, Boris Barac 14, Dario Saric 13, Marko Ramljac 13, Josip Matic 4, Alex Percan 2, Franko Sango 2, Stefan Zadrevec 2; USA: Damian Leonard 18, Ryan Boatright 12, Mike Chandler 10, Kevin Ware 9, Chris Manhertz 7, Royce Woolridge 6, Farooq Muhammad 5, Marshall Plumlee 3, Joshua Henderson 1
Rebounding—Croatia (13 offensive, 29 defensive) 42, Saric 12; USA: (13 offensive, 33 defensive) 42, Manhertz 14.
Three-point goals—Croatia 3 of 24 (13 percent); USA 6 of 21, 29 percent. Leonard 5 of 11, 45 percent.
Free-throw percentage—Croatia 10 of 29, 34 percent; USA 17 of 28, 61 percent.