Two DODDS-Europe football players accept scholarships from NAIA schools
by
Rusty Bryan
April 26, 2006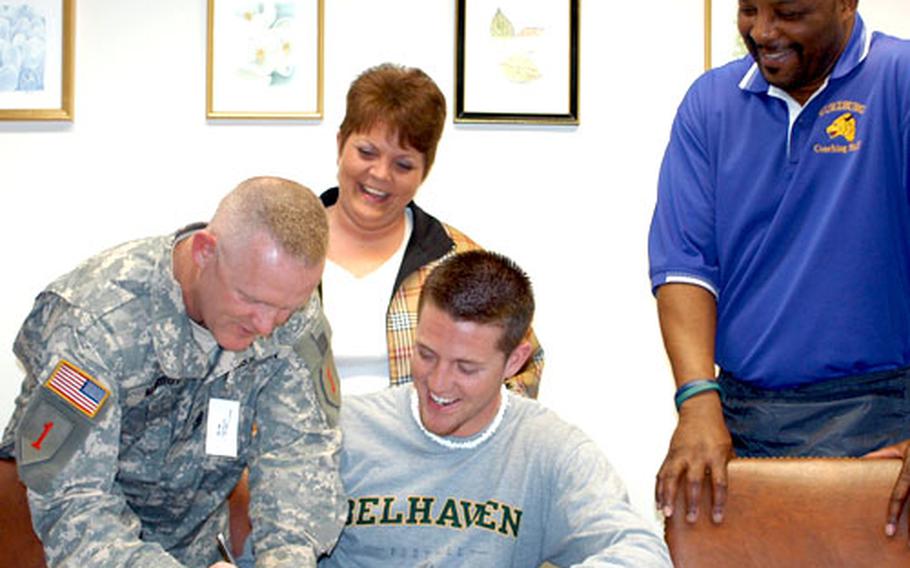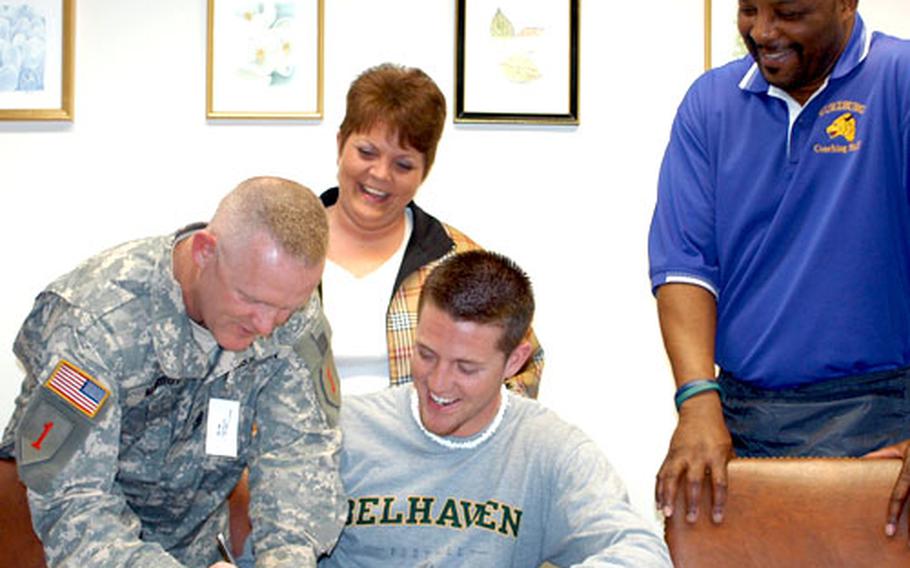 Two All-Europe football players have signed letters of intent to play for NAIA colleges.
Würzburg wide receiver Joel Marbut, 5-10 and 170 pounds, signed a letter of intent with Belhaven College of Jackson, Miss., last week. Patch quarterback J.D. Lindsay, a 6-4, 225-pounder who passed for 4,856 yards and 41 touchdowns in his four-year career, accepted a scholarship offer from Briar Cliff University of Sioux City, Iowa, earlier this month.
Marbut, called "the best wide receiver in DODDS" by his coach, Allen Archie, averaged more than 20 yards for each of his 35 receptions and scored eight touchdowns last fall.
This fall, Marbut will get a chance to be the best wide receiver in the NAIA Mid-South Conference for the Belhaven Blazers, the second-rated passing team in NAIA Division II in 2005 under head coach Don Lee.
"The coach told me that if I wanted to catch the ball 70 times a year," Marbut said, "this is the place to do it."
Both players circulated highlight videos of themselves to prospective schools, they said. In addition, Marbut said he made a recruiting visit to Belhaven in February.
Lindsay, however, got off to a late start that effectively excluded him from major colleges, most of which complete recruiting on national signing day in February. Scouts Inc., a national rating service for high school players, had ranked Lindsay as the 98th best quarterback prospect in the nation.
Lindsay's father, Jerry, wrote in an e-mail to Stars and Stripes that he had trouble getting good-quality film from Patch and had to put together a 10-minute highlight video using film from Patch opponents.
"We started out sending video to about 60 (NCAA) Division I and II schools and got the same response from most," he said. "They were impressed with the level of talent, but simply had no scholarships or money left to offer."
He said a Miami assistant told him about the NAIA, the national association of small-college athletic programs.
"The response was overwhelming, as many of these schools wait until March and beyond to sign kids who didn't get [offers from NCAA] schools," he wrote. "J.D. was contacted by 27 NAIA schools and … (was) recruited by 21 of those schools."
The quarterback said by telephone Monday that a talk with Briar Cliff's head coach, Dick Strittmatter, led him to pick the school. "He told me I could come in and have a chance to compete for the starting job," J.D. Lindsay said.
Even though NAIA programs don't offer full-ride scholarships of the type Hanau's Malcolm Lane received last month from the University of Hawaii, they can put together attractive packages, Jerry Lindsay wrote.
"… (He) will receive about $18,000 in scholarship and grant money, and, best of all, he has a real opportunity to play now," he said.
---
---
---