Twists, turns lead to soccer title for Vicenza
---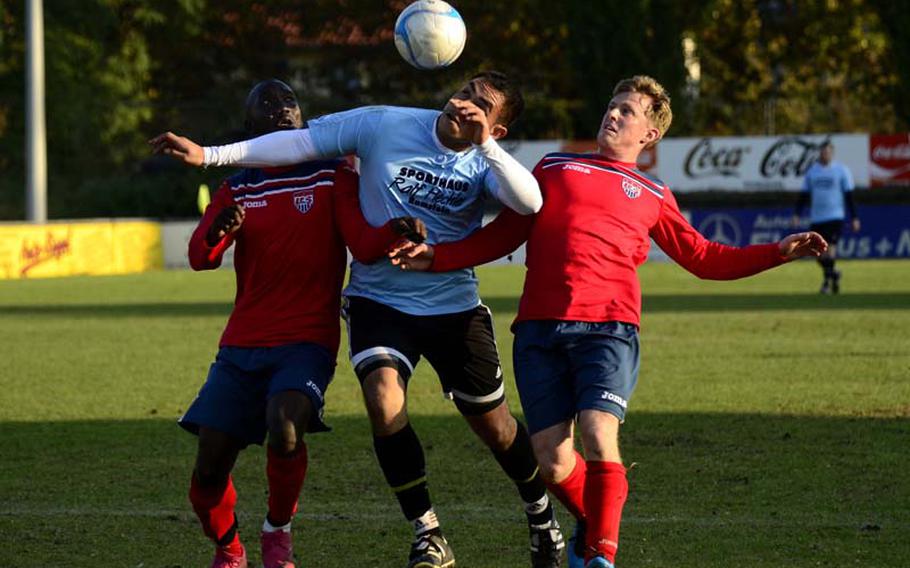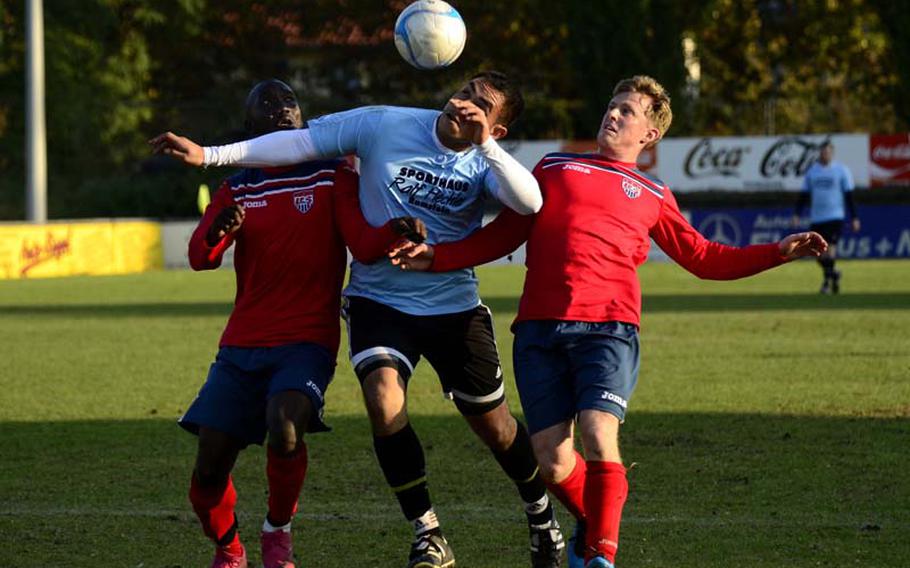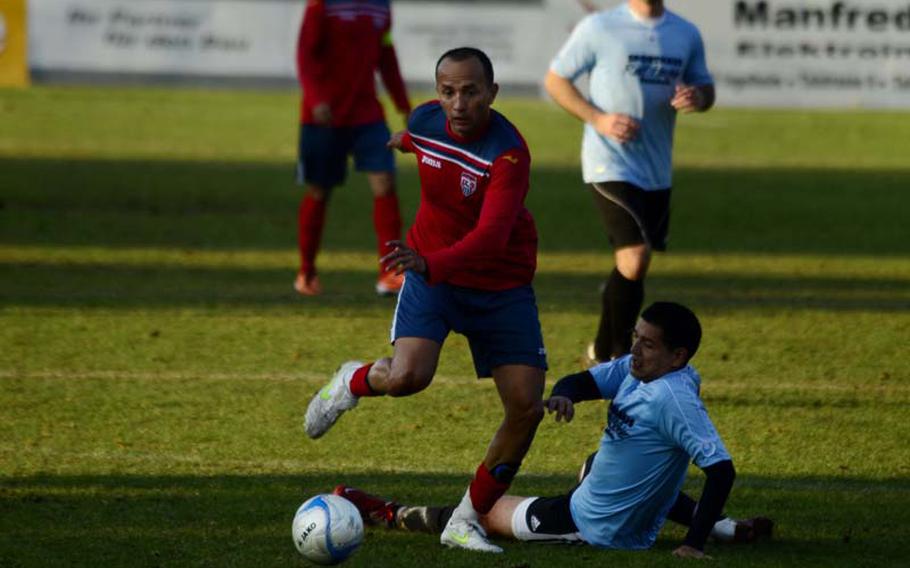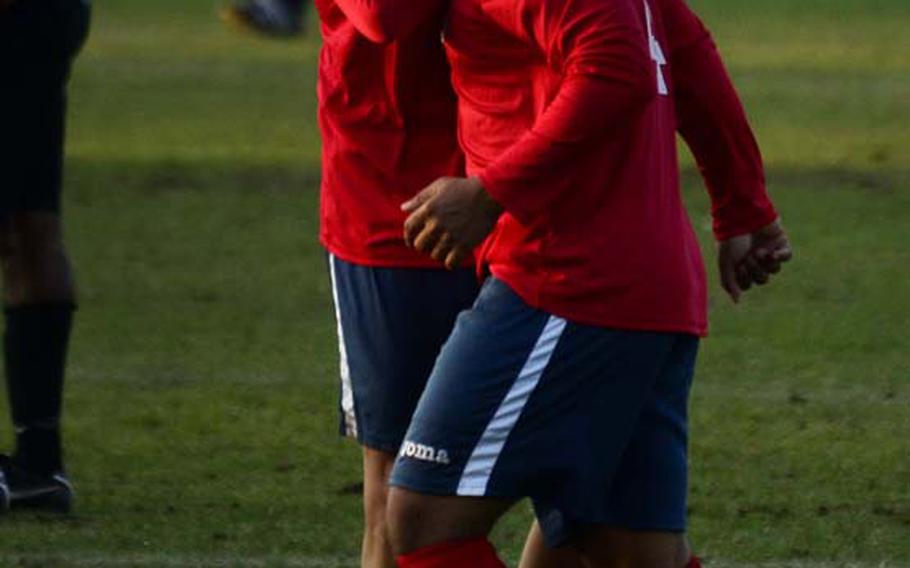 MAINZ-KASTEL, Germany – The Vicenza Lions, out-story-booking the Brothers Grimm, won the 2011 U.S. Forces-Europe soccer championship Sunday with a novice goalkeeper, an MVP who's supposed to be in the field, EUCOM's only husband-wife soccer combo and a mainstay hospitalized with a skull fracture he suffered the previous day.
A pressure attack also played a big part in the Lions' 3-1 victory over the Ramstein Rams, capping an unbeaten run through this four-day event at the Mainz-Kastel 06 complex that was contested by 13 community-level teams.
Stephen Joseph, Vorsane Photosane and Erwin Jamieson got the goals produced by the Lions' attack. All three goals resulted from set pieces.
But the Lions derived their inspiration Sunday from the plight of sweeper Randy Osborn, who suffered a skull fracture in a game on Saturday and spent title-day in the hospital instead of at the awards presentation with his teammates.
"We dedicated this game to Randy Osborn," said Vicenza coach Shaun Nurse as his team brought Osborn's blood-stained jersey with them to the presentation.
Osborne, whom Nurse said was expected to accompany the team back to Vicenza on Monday, might have been in the hospital, but he was all over the field Sunday, too, as Lion after Lion stepped up to take up the slack.
Among them was Bradley Byington, a defender who saw much more playing time than he had anticipated, MVP sweeper Abdul Sadiq, collected from field exercises at Hohenfels, and first-time keeper James Watson.
"I was playing for him," said Byington about their hospitalized teammate. "We all were."
Osborn's absence shifted much of the defensive load to Byington, and he responded effectively.
"I'm probably the least experienced player we have," said Byington, whose closing speed on the ball broke up a half-dozen Ramstein rushes. "But I had years of experience around me and I had the athleticisim to be able to do what they told me to do."
That experience benefited defender Andrea Alicea, too. Alicea, whose husband Arric plays midfield for the Lions, scored a goal against Heidelberg on Saturday. She said support from her defensive mates helps her cope with the speed and power of her male opponents.
"I love my boys," she said. "I have great team support in the back."
Keeper Watson enjoyed that support, too.
"I'm not even a goalie," he said. "I went out and bought this gear. But the team had faith in me and the defense helped me out a lot."
As had been the case since he had traded in his muddy combat boots for soccer cleats last week, MVP Sadiq organized the defense which kept Vicenza - which outscored the opposition 26-7 in the tournament - according to Nurse, perfect for the tournament.
"I just want to thank Sgt. Maj. Williamson and 1st Sgt. Smith and 1st Sgt. McDaniels for getting me permission to play," Sadiq said as he clutched his MVP plate. "The team picked me up at Hohenfels on their way here. I go back to Hohenfels in the morning."
Joseph put Vicenza up 1-0 in the 12th minute when he rushed into the box to direct a rebound of a Luis Estepa free kick from 35 yards out into the net.
But Ramstein equalized just before halftime, when Schyler Baxter lofted a cross to a wide-open Salvador Diaz. Diaz advanced toward Watson and steered his shot inside the far post.
The goal as the clock ran down was deflating, Arric Alicea said.
"It's always discouraging to give up a goal," he said, "but it was just a hiccup. We knew we'd fight through it."
The Lions did, and took the lead for good in the game's 57th minute. Vicenza captain Wllmer Aguilar fired a free kick into the box for 40 yards out. The shot deflected to the left side where Photosane gathered it and ripped a grass-cutter into the net.
Arric Alicea got the assist on the insurance goal. His corner kick to the right side of the box ended up on the head of Erwin Jamieson, who steered it into the upper right corner of the net.
That was plenty of scoring for the Vicenza defense, which could hardly have done better even had Osborn been in the lineup.
Sadiq, however, isn't sure of that.
"If he had been here," the 2011 U.S. Forces Europe MVP said, "he would have been the MVP."
---
---
---
---