Trojans take down Warriors
---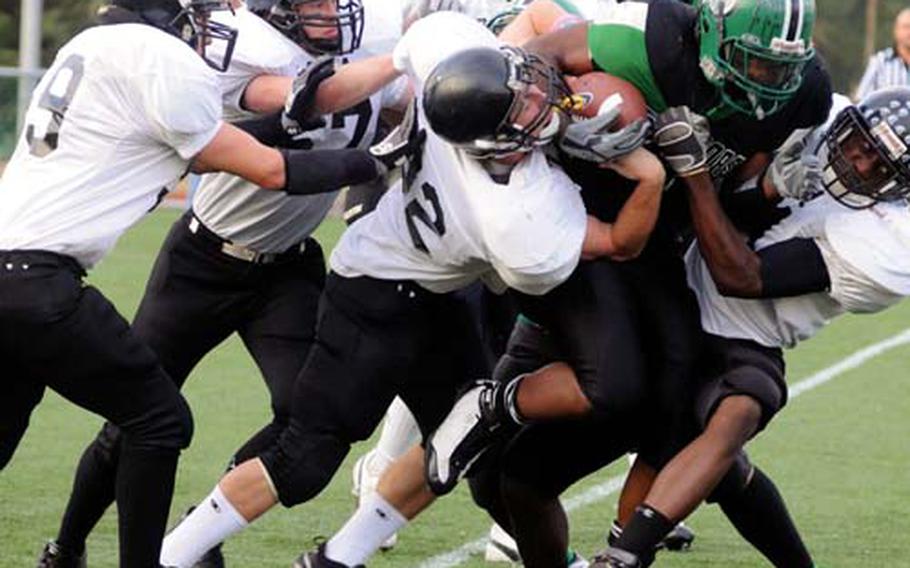 CAMP WALKER, South Korea — In a high-octane shootout pitting contrasting styles, Michael Spencer and Zama American's ground machine won out over David Martinez and Daegu American's spread option.
Spencer set Far East playoff records for carries (45), yards (312) and touchdowns (4), and Michael Jorgenson sneaked for three TDs as the Trojans rallied from a 38-28 second-quarter deficit to beatDaegu American 46-38 on Saturday to secure its first Class A football title banner.
"That's awesome. It's been a long time coming for Zama and we finally got it," coach Steven Merrell said.
Zama's boys had not won an outright Far East title in any sport since wrestling in 1979; wrestling shared the 1982 title. DODEA Japan won the Class A title game for the fourth straight year. DODEA Japan champion Zama finished 7-2 and DODEA Korea champ Daegu 6-2.
Zama regained the mojo that helped the Trojans pound opponents to the tune of 7.04 yards per carry in the first four games, only to regress to 3.45 in the next three. The Trojans gained 451 yards on 75 carries Saturday, 6.01 yards per carry.
Leading the way was Spencer, who fueled a Zama attack that outgunned Daegu 562 yards to 414. Spencer finished the season with a school-record 1,154 yards on 172 carries with 12 touchdowns.
"I wouldn't be able to do anything without them," Spencer said of his offensive line. "They're the best I've ever had. I'll remember this the rest of my life thanking them. Only them."
Merrell also credited the Trojans defense for stiffening in the second half. Torched by Daegu quarterback Tre Griffin for 260 first-half yards and four TDs, three by Martinez, Zama buckled down and held Griffin to 93 second-half yards and no points, and forced one fumble that led to Zama's final TD.
"We might have pressured the quarterback more. The defensive backs were in the right position. They (Daegu) turned the ball over and we were fortunate to get that," Merrell said.
Daegu coach Ken Walter felt his play selection in the final two quarters, plus losing center Angel Griego with a broken hand early in the third quarter, hurt the Warriors.
"I don't think I did a good job of calling plays in the second half," he said. "They (Zama) made some good adjustments. We had seven or eight players going both ways. Griego broke his hand and we had to switch centers."
In the end, Walter said, the day belonged to Spencer. "He's an amazing athlete, hard to bring down, low center of gravity and he keeps his legs moving," Walter said.
Spencer ignited the scoring pyrotechnics with a 2-yard run capping a 14-play, 75-yard drive covering 4 minutes, 33 seconds.
Martinez promptly answered with an 84-yard kick-return touchdown five minutes into the contest, but Spencer fired back with a 69-yard TD scamper. Antoine Feagin's 1-yard run put Daegu back in front 16-14 just before the first period ended.
Josh Gosserand's leaping 12-yard touchdown catch a minute into the second period made it 24-14. Spencer cut that to 24-22 with a 1-yard run, then Griffin hit Martinez for TD strikes of 66 and 63 yards, which Zama answered with short scoring runs by Spencer and Jorgenson.
Martinez "is a good athlete," Walter said. "He's had a great year as a leader. He throws, runs back kicks, catches passes, runs, but he's an amazing downfield blocker. He'll block two or three guys on one play."
Daegu led 38-34 at halftime, the highest-scoring two periods in the five-year history of DODEA Pacific Far East playoffs.
The defenses finally took hold in a scoreless third period, then Zama went ahead to stay 40-38 with 10:12 left on Jorgenson's 2-yard TD sneak. Malcolm Franklin promptly recovered a Daegu fumble, and seven plays later Jorgenson sneaked in again to cap the scoring.
Daegu had two more shots to tie it but got as far as the 22 with 4:53 left before turning it over on downs. A last-ditch pass to the end zone as time ran out fell incomplete, triggering Zama's celebration.
"Michael did a great job, the offensive line did a great job, the defense did a great job shutting them down in the second half and we stepped up the offense," Merrell said.
Merrell had not planned on coaching the Trojans for a third season and indeed had to be talked into returning by athletics director Ed Fogell. "It worked out well," Merrell said.
Football Scoreboard
Guam playoffs
Quarterfinals
Friday, Oct. 23
Game 1-Father Duenas Memorial 49, Okkodo 13
Saturday, Oct. 24
Game 2-Guam High 48, Southern 6
Game 3-John F. Kennedy 14, Simon Sanchez 12
Semifinals
Friday, Oct. 30
Game 4-George Washington 22, JFK 6
Saturday, Oct. 31
Game 5-Father Duenas 20, Guam 12
Friday, Nov. 6
Third-place game
Game 6-Guam High 42, JFK 0
Saturday, Nov. 7
Bamboo Bowl
Game 7-George Washington 18, Father Duenas 8
DODEA Pacific playoffs
Class A
Championship
Saturday, Nov. 7
Zama 46, Daegu 38
Class AA
At Camp Foster, Okinawa
Semifinals
Monday, Nov. 9
Game 2-Yokota vs. Kadena, 5:30 p.m.
Tuesday, Nov. 10
Game 1-Seoul American vs. Guam High, 5:30 p.m.
Saturday, Nov. 14
Third place
Game 3-Game 1 loser vs. Game 2 loser, 1 p.m.
Championship
Game 4-Game 1 winner vs. Game 2 winner, 6 p.m.
Saturday's summary
Class A championship
Zama American 46, Daegu American 38
At Camp Walker, South Korea
Zama 14 20 0 12-46
Daegu 16 22 0 0-38
First quarter
Zama-Michael Spencer 2 run (Austin Wilson kick), 7-0, 4:43
Daegu-David Martinez 84 kick return (Antoine Feagin run), 8-7, 4:56
Zama-Michael Spencer 69 run (Austin Wilson kick), 14-8, 6:08
Daegu-Antoine Feagin 1 run (Tre Griffin run), 16-14, 9:27
Second quarter
Daegu-Josh Gosserand 12 pass from Tre Griffin (Darius Wyche pass from Tre Griffin), 24-14, 1:01
Zama-Michael Spencer 1 run (Michael Spencer run), 24-22, 2:48
Daegu-David Martinez 66 pass from Tre Griffin (Antoine Feagin run) 32-22, 2:54
Zama-Michael Jorgenson 1 run (run failed) 32-28, 8:45
Daegu-David Martinez 63 pass from Tre Griffin (run failed), 38-28, 9:44
Zama-Michael Spencer 2 run (pass failed), 28-24, 11:24
Fourth quarter
Zama-Michael Jorgenson 2 run (kick failed), 1:48
Zama-Michael Jorgenson 1 run (kick failed), 4:56
Zama Daegu
First downs 27 16
Rushes-yards 75-451 18-54
Comp.-att.-int. 6-11-1 18-36-0
Passing yards 111 360
Total offense 86-562 53-414
Returns-yards 6-149 9-221
Total yards 711 635
Fumbles-lost 1-0 1-1
Penalties-yards lost 6-50 5-41
INDIVIDUAL STATISTICS
Rushing-Zama, Michael Spencer 45-312 (Far East playoff records for carries and yards), Ashton Norwood 12-58, Ryan Blackstock 7-51, Michael Jorgenson 11-30. Daegu, Antoine Feagin 11-34, Josh Gosserand 1-12, Tre Griffin 3-5, Anthony Lampman 3-3.
Passing-Zama, Michael Jorgenson 6-11-1-111. Daegu, Tre Griffen 18-35-0-360.
Receiving-Zama, Matt Cole 2-28, Michael Spencer 1-26, Ryan Blackstock 1-24, Ricky Martin 1-17. Daegu, David Martinez 6-173, Josh Gosserand 3-73, Darius Wyche 5-56, Christian Dawes 3-38, Anthony Lampman 1-20.
Guam
Boys soccer
Saturday's summary
Father Duenas Memorial 1, Guam High 0
At Leo Palace
Guam High 0 0-0
FDMS 1 0-1
---
---
---
---