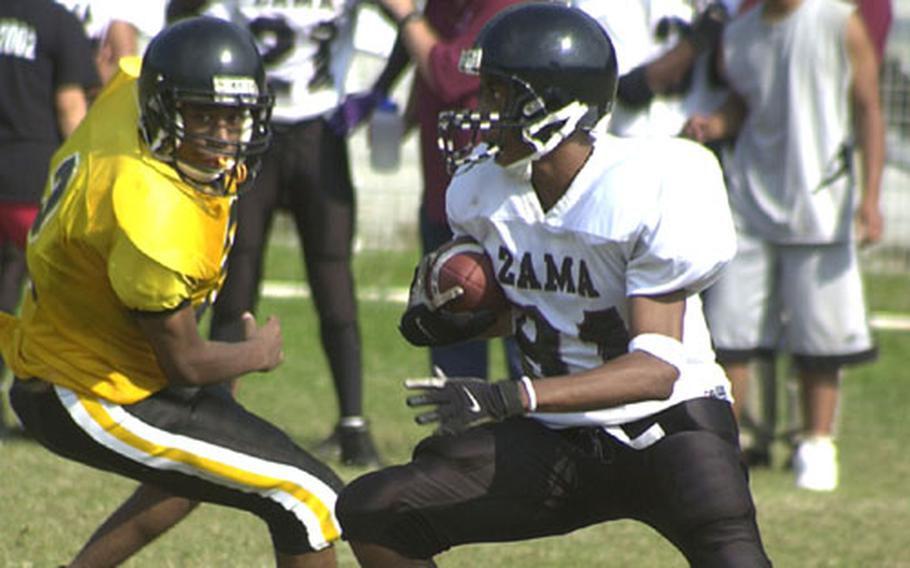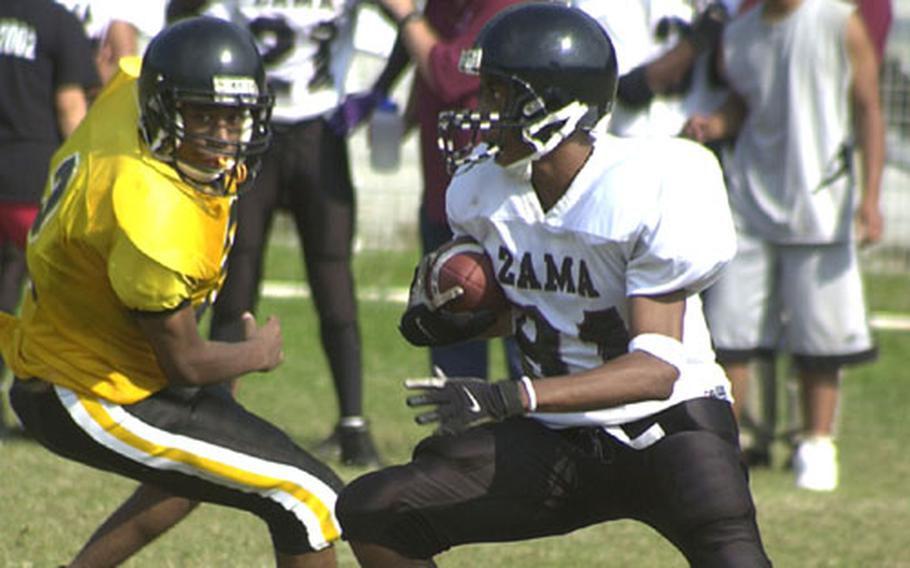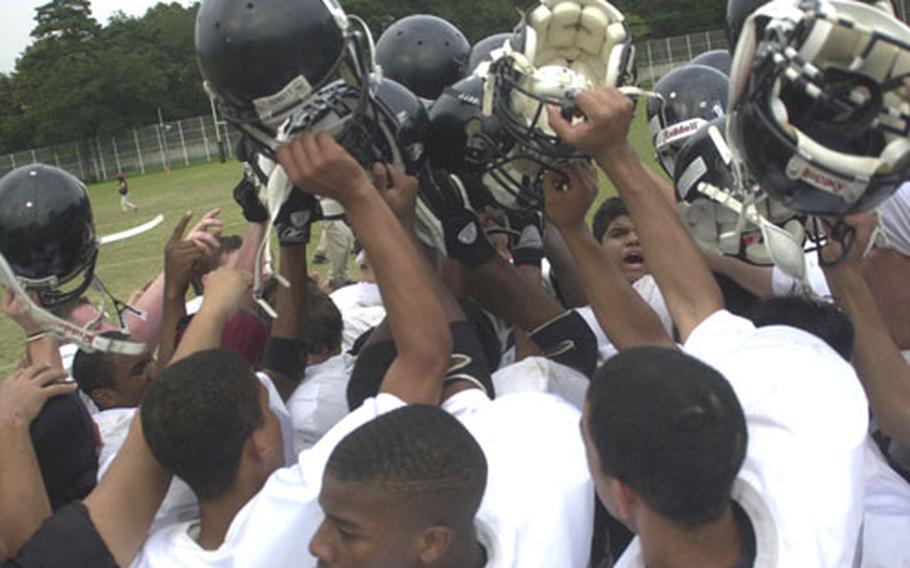 TOKYO — It's not often a wide receiver catches two touchdowns off tipped balls.
Corey Stacy accomplished that feat Saturday, catching three TD passes, two of the tip-drill variety, to power Zama American to a 48-0 shutout of the American School In Japan at Mustang Valley.
"The only time I've ever seen that is in tip practice," Zama head coach Ron Geist said. "He caught it, so it paid off. We had some luck today. That's very unusual."
"I've never heard of that before," Stacy said, shaking his head in amazement. "I got lucky."
He also got a bunch of yards in what turned out to be a huge game for the versatile junior, who helped Zama (2-2) to its second straight victory.
Stacy finished with five catches for 158 yards, took a return for 26 yards, completed a pass for 15 yards and ran four times for 2 yards.
"He's a great receiver. Very athletic," said quarterback David McMahon, who went 8-for-15 for 177 yards and the three TD passes to Stacy.
Of the two tipped TD catches, Stacy said it was a matter of concentration.
The second one, just seconds before halftime, was the more unlikely. McMahon's pass bounced off the chest of an ASIJ defender and wideout Darnell Harris batted it up in the air with his left hand. Stacy caught it and fell into the end zone.
"I saw it in the air after the defender missed it, I went after it, then I saw Harris hit it toward me, I again went after it, stayed with it, concentrated really hard," Stacy said.
McMahon, though happy for Stacy's feats, said he would have liked to have seen them.
"Amazing. It sounds really cool to say. It's got to be good to look at, but I was on my back both times" after being hit by ASIJ defenders, McMahon said.
Zama's other TDs came on the ground, courtesy of running backs Donovan Nance (10-yard run), Russ Casimire (11) and Jon Gilgenast (1). Flo Grabis scored a safety by tackling ASIJ quarterback Ben Seevers in the end zone in the closing minutes.
The Trojans piled up 386 yards and 18 first downs on 52 plays, while Zama held ASIJ to 40 yards on 33 plays with two sacks and four turnovers. The Mustangs' best shot at the end zone, on their final drive, ended with Nance recovering a fumble at the Zama 6.
After opening with two straight losses by a combined 13 points, the Trojans have outscored their last two opponents by a 101-0 margin. But those two losses came in Japan Football League competition, making the road to a possible Rising Sun Bowl berth Nov. 15 on Okinawa that much tougher.
"It's going to be hard, but if we work hard, we'll make it through," Stacy said. "We still have a chance to make it to Okinawa."
ASIJ has lost its first two games by a combined 93-3, the Mustangs' worst start since 1988.
Zama next hosts Matthew C. Perry on Saturday at Atsugi Naval Air Facility. ASIJ travels to Yokosuka Naval Base on Friday to visit Nile C. Kinnick.
Okinawa
Ryukyu University 44, Kubasaki Samurai 0
CAMP FOSTER, Okinawa — Though the Samurai (0-3) held the Stingray (2-0) to just one second-half touchdown in their best half of football this season, they still suffered their fourth straight loss overall and their first ever to Ryudai.
The Stingray now own a two-game winning streak, their longest in nine seasons of Okinawa High School Athletic Association play, and have outscored their opponents 70-13.
They've played one game each against the four OHSAA American teams starting in 1995, and until this season were 3-28 and had been outscored 846-147 in those games. Entering Saturday's game, Ryudai had gone 0-8 and had been outscored 315-81 by the Samurai.
---
---
---
---