Girls basketball preview
Trio will try to keep unbeaten divisional streaks alive
---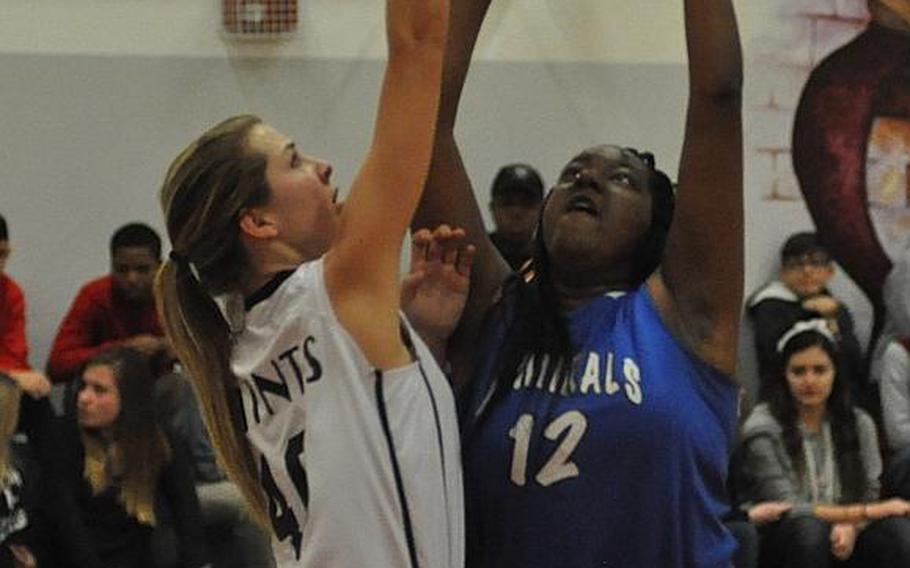 Undefeated frontrunners Stuttgart, Black Forest Academy and Sigonella headline the fields for the DODEA-Europe girls basketball championship tournament, set for Wednesday through Saturday at sites around Wiesbaden, Germany.
Division I Stuttgart has already played and defeated all of the teams that might prevent its coronation this weekend. All that's left is to do it all over again.
The undefeated Panthers don't appear to have any exploitable weaknesses. Marissa Encarnacion is one of the best all-around point guards in DODEA-Europe. Adan Maher brings scoring, rebounding and defense to the other backcourt spot. Meaghan Ambelang and Allyson Taylor headline a deep and productive frontcourt.
The results are indisputable. Stuttgart has won all of its games this season by double-digit margins. That list includes two-game sweeps of primary German rivals Ramstein and Kaiserslautern, a dominant swing through Italian programs Vicenza and Naples and a pair of 20-point routs of Lakenheath.
So while the Panthers are the clear favorites entering the tournament, the field's other eight contenders are preparing fresh attacks.
Ramstein has rolled over every opponent save Stuttgart. The defending champions are spearheaded by Ashley Mateo, one of the few point guards in Europe able to capably match up with Encarnacion, and their roster is the only one in the division that approaches Stuttgart's levels of depth and talent.
Kaiserslautern, led by star forward Le'Jhanique Brown, has ranked high in the standings throughout the winter, but a discouraging 36-11 loss to Ramstein on Feb. 14 and last weekend's sweep at the hands of Stuttgart cast considerable doubt on the Raiders' championship hopes.
Vicenza came with a few key possessions of winning last year's European title, but were decimated by attrition in the offseason and are unlikely to return to the tournament's latter stages. Fellow Italian school Naples split its four divisional games this year.
Lakenheath, Vilseck, SHAPE and Wiesbaden will look to make surprise playoff runs after posting sub-.500 divisional marks in the regular season.
Division II The Division II girls rivalry between Black Forest Academy and Bitburg has been a fixture of DODEA-Europe hoops in recent years, but BFA may have already spoiled this year's edition. Defending champion BFA blasted its rival by scores of 50-13 and 39-19 in early February, swinging the back-and-forth rivalry decisively in its favor.
That impressive sweep was just one highlight of a dominant season for the defending Division II champs. Like Stuttgart, the Falcons are strong at every position on the floor, from playmaking point guard Naomi Ruegg to stalwart post Katie Greathouse to prolific scorers Cailynn Campbell and Kennedy Wilbanks.
Bitburg may well find a way to close the gap with its old nemesis and set up another title rematch. Elise Rasmussen, arguably the most dominant interior force in DODEA-Europe, gives the Barons a fighting chance in any matchup they face.
But if the Barons fall short, the eight-team division holds other potential spoilers.
Foremost among the challengers is the ever-elusive Rota Admirals. DODEA-Europe's only Spain-based program played a slightly more robust regular-season schedule than usual this winter, and took advantage of the opportunity by winning all three of its games by double digits against Aviano, American Overseas School of Rome and Marymount. That's still a small sample size, but the Admirals have been harvesting big-time playoff yields from paltry regular seasons for years.
Despite their collective failures against Rota, the three above-mentioned Italian schools form the division's middle tier and any are capable of a prolonged run. Bahrain could also figure into the tournament's later rounds after a strong showing a year ago.
Division III The Sigonella Jaguars have held their own against opponents of all sizes this season. That bodes well for their chances to beat the teams their own size they'll encounter this week.
Sigonella, paced by double-double machine Kisiah Chandler, produced an 11-4 overall record this season, a mark that includes a doubleheader split with returning Division I runner-up Vicenza and a sweep of solid Division II program Aviano. The Jaguars also won all three of their Division III games.
But that doesn't mean Sigonella is a runaway favorite. Baumholder gave the Jaguars a scare in January before taking a 28-25 loss. That spirited regular-season meeting might hold up as a preview of Saturday's championship game, unless Alconbury, Ansbach, Brussels or Hohenfels intervenes.
Twitter: @broomestripes
---
---
---
---