Trattoria Da Rinaldo in Catania, Sicily, specializes in Sicilian and southern Italian dishes
---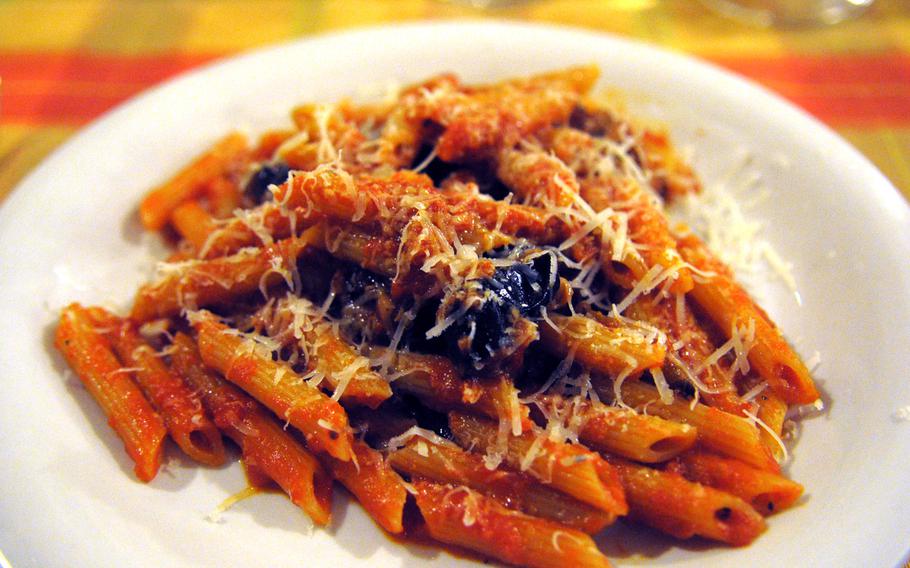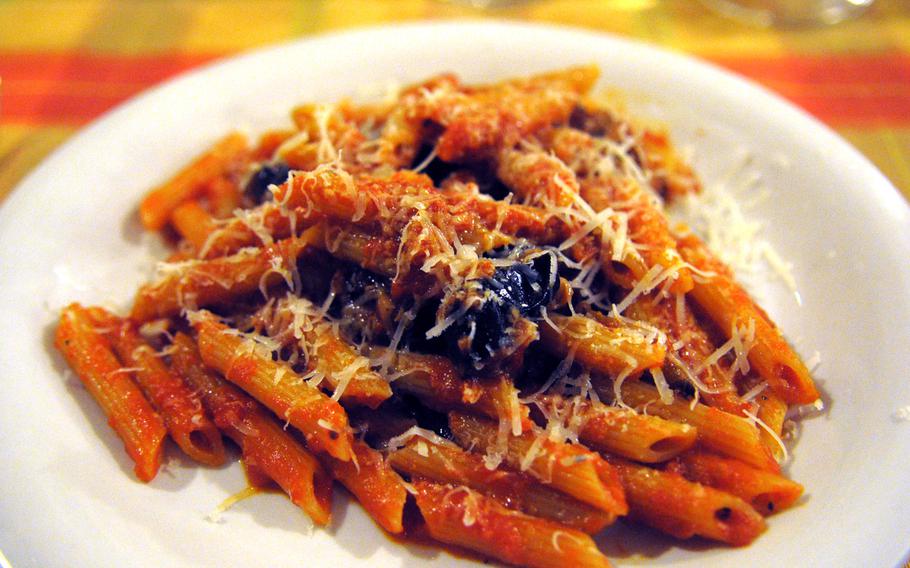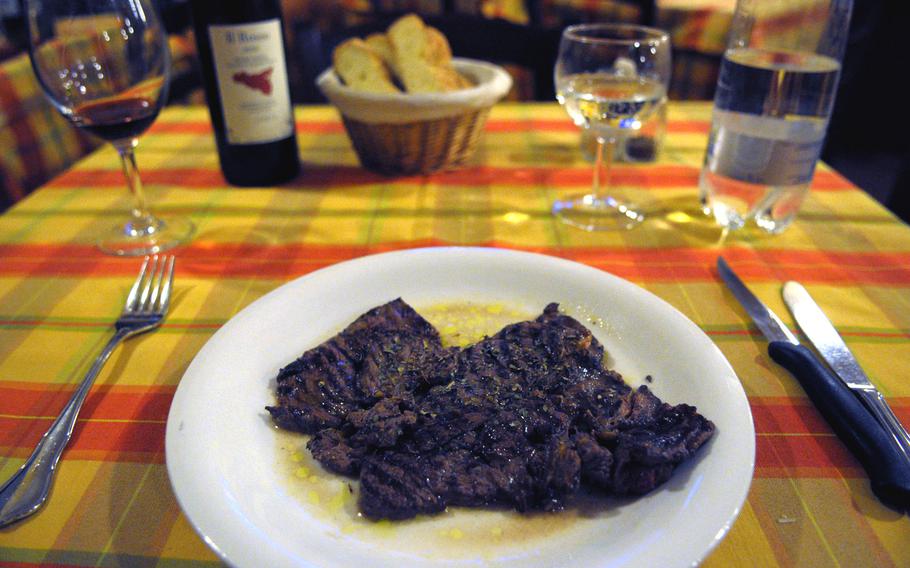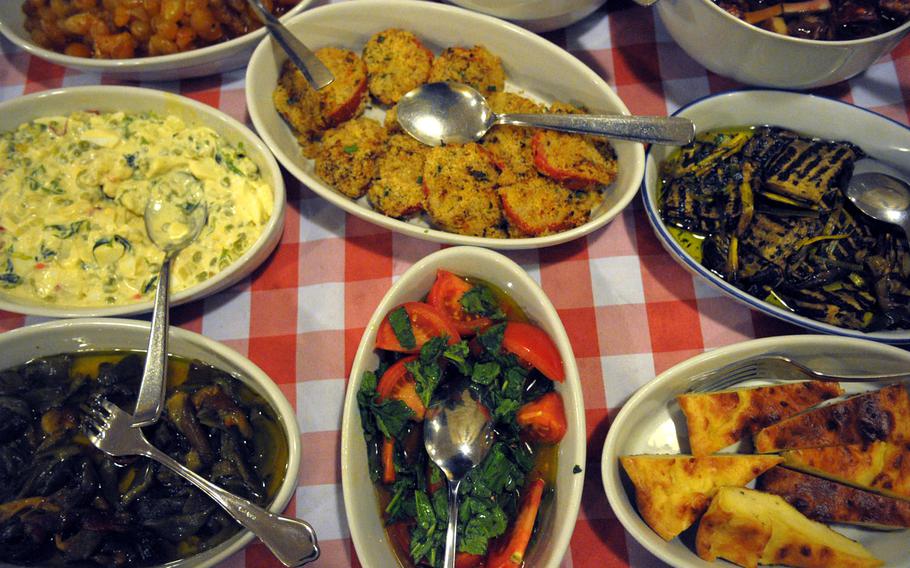 Horse meat is a common feature of Sicilian menus, and for good reason, I've decided.
Mine came grilled in a marinade of balsamic vinegar, olive oil and oregano, and it had a mild, gamey flavor that outweighed its sinewy texture. It was my third course at Trattoria Da Rinaldo, a homey restaurant in downtown Catania, Sicily, that specializes in traditional Sicilian and southern Italian dishes.
Located a block off Corso Italia, near the city's university, Da Rinaldo's style is classic family trattoria. Awning-covered doors lead into a warm interior of bright walls, patterned tablecloths and rustic stone columns.
The restaurant dates to 1972 and is run by Giuseppe Ardita, who took over from his father and still waits tables attentively. When I sat down on a recent evening, Ardita arrived promptly with baskets of bread and cured meats.
He directed me to the antipasto, or appetizer, buffet, which offered more than a dozen plates of grilled vegetables, olives and eggplant prepared in multiple styles. I ate lightly to save room for more courses, but what I tried had good flavor and tasted fresh. The artichokes in olive oil and herbs were a personal favorite.
For a first course, I ordered a penne in a tomato sauce with eggplant and garlic. This is reliable fare in Sicily, a traditional dish called pasta alla norma. Da Rinaldo's version was terrific.
The sweetness of the tomatoes was balanced by the meaty eggplant and sauteed slices of garlic, whose flavor had mellowed. Best of all, the dish was hot when it came out, something I've found to be rare in Italian restaurant pastas.
The antipasto and pasta alone could have made for a satisfying meal at Da Rinaldo. But the horse steak was what I'd come for, and it was worth it. Other menu options when I visited included pasta with pistachio sauce, another Sicilian favorite, and cuttlefish in black sauce.
I ordered a Sicilian red wine to go with the meal and finished with a small alcoholic digestif that tasted like cinnamon. The damage came to about 34 euros, or roughly $46. I was charged half price for the antipasto buffet because I ate sparingly — a good price for the quality of the food as well as the service.
Getting to Da Rinaldo from the Navy base in Sigonella takes a little work, given the restaurant's location downtown, but I found street parking available and affordable on a weeknight. Nearby shops and bars offer options before and after a meal.
Ardita, the owner, understands only a little English, but he is patient and eager to help. The menu is simple and understandable, the atmosphere unpretentious and forgiving. Break out your elementary Italian, and you might muddle your way through a great meal.
beardsley.steven@stripes.comTwitter: @sjbeardsley
Trattoria Da RinaldoLocation: Via Giuseppe Simili 59, Catania
Directions: From Naval Air Station Sigonella, take highways SS417 and SS192 roughly 12 miles into Catania. Take a right at the traffic circle toward Centro and highway SP701. Follow SP701 as it turns into SS114 and continues into the city along the coast. At Piazza Europa, turn left onto Corso Italia. Look for parking after about 500 meters; the restaurant is one block south of Corso Italia at the corner of Giuseppe Simili and Via Alberta Mario.
Times: Open Tuesday-Sunday for lunch from noon to 4 p.m. and dinner from 7:30 p.m. to midnight.
Menu: Traditional Sicilian and southern Italian dishes.
Costs: The antipasti buffet costs 8 euros (about $11); my penne dish and the horse steak were 8 euros each. A glass of Sicilian red wine was 5 euros. I found street parking on Corso della Provincale, about two blocks to the north, and paid 2.50 euros for nearly four hours.
Dress: This is a family-owned trattoria frequented by locals and regulars. Dress is casual.
More information: Phone: (+39)(0)95 532312. No website. Takes reservations.
---
---
---
---