Home Team
Transfers from Germany help Yokota, Edgren
By
Dave Ornauer and James Kimber
March 23, 2016
---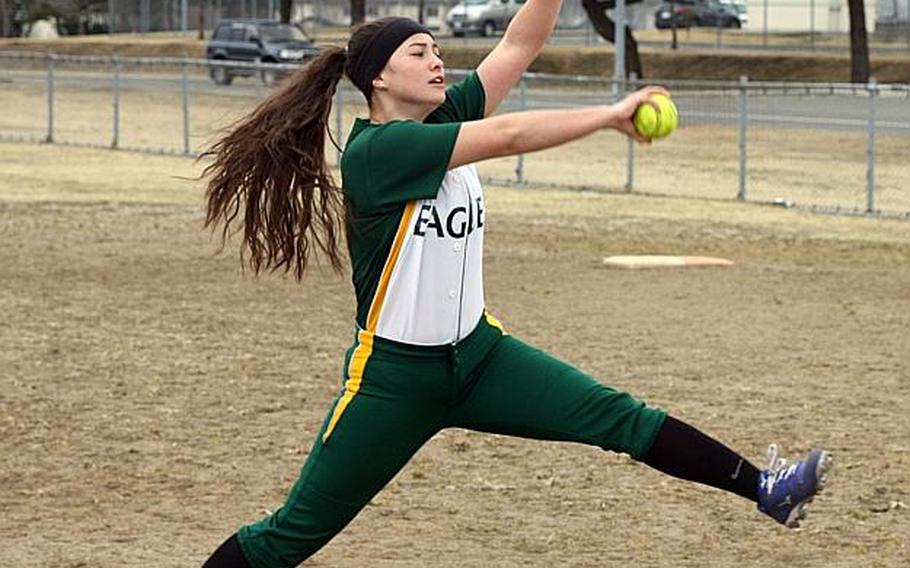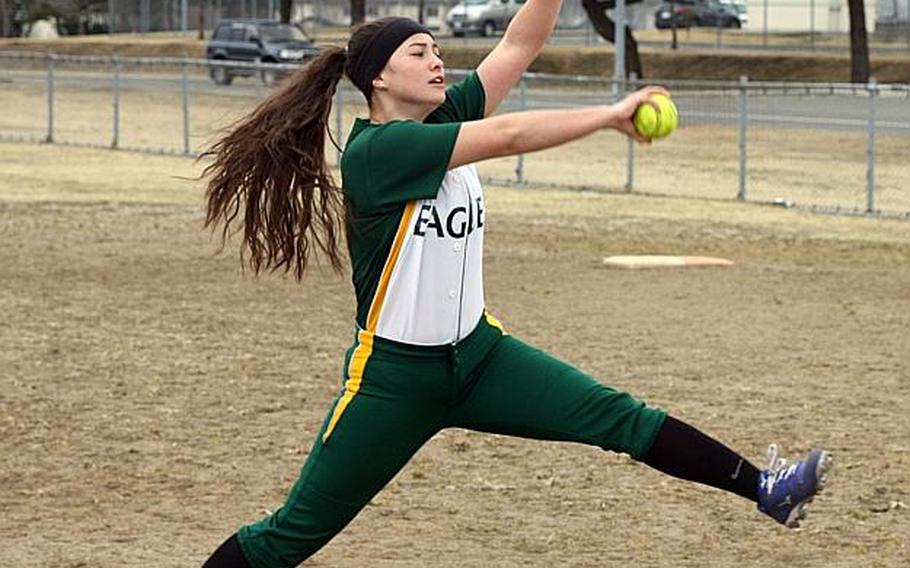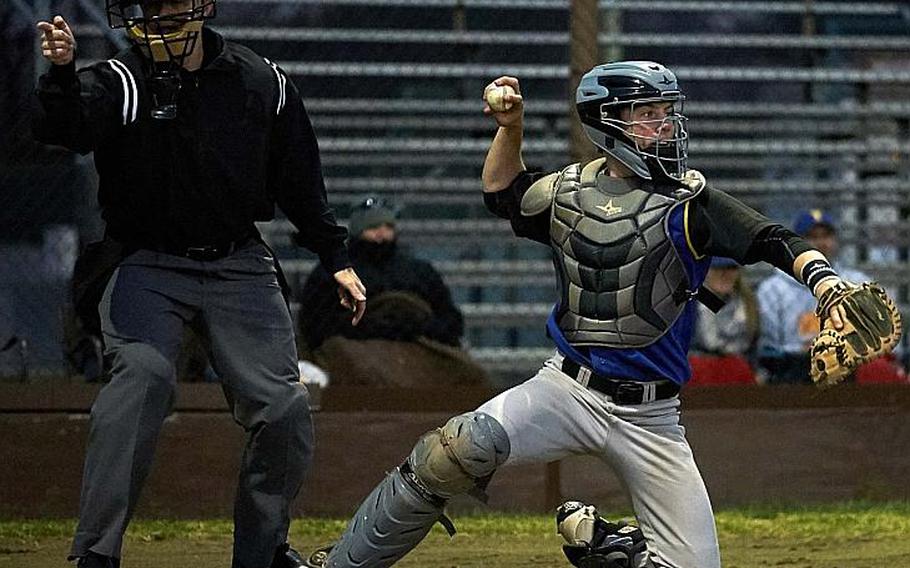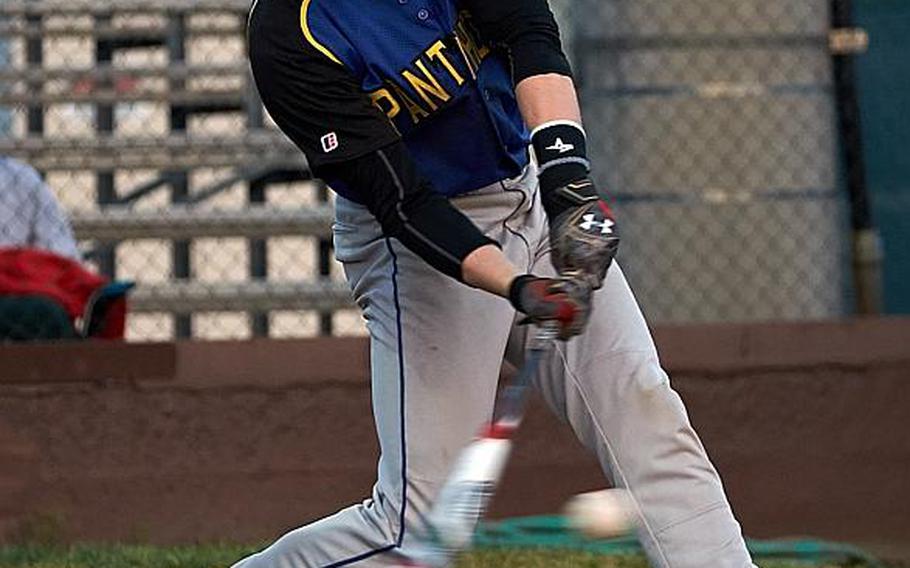 Ramstein's losses are definitely Japan's gain this spring, if the early numbers posted by two former Royals are any indication:
-- Woody Woodruff, a senior catcher, is batting 11-for-16 with three home runs, 15 RBIs and five stolen bases for defending Far East Division II champion Yokota, 5-1 this season. Woodruff was named All-Europe and led the Royals to the DODEA-Europe D-I title last May.
-- Sophomore right-hander Brittany Crown also departed a Ramstein title team for Edgren in northern Japan. In three starts this season for the Eagles, Crown is 2-1, allowing 20 hits and six earned runs with seven walks and 33 strikeouts in 18 innings. She's also batting 9-for-12 with seven RBIs to help her own cause.
Not bad for a girl who took up the sport by following her middle-school friends to the softball field.
"But I realized after a while that I loved the game, so I began working year-round to try to better myself and understand the game, and here I am," said Crown, who got the win in Ramstein's D-I title-clinching 7-6 edging of Vilseck last May 22.
Crown sounded her entrance in an 8-6 win on March 11 at Kinnick, in which she allowed three hits and four walks but struck out 16 and inspired an e-mail from opposing coach Katrina Kemper: "This girl can really throw some heat."
"It was a pleasant surprise" for Crown to see her strikeouts pile up early. "But it doesn't feel like it during the games. I try to focus, take each play with each pitch, concentrate on what I'm doing in the now, not worry about what went wrong, focus on the next play."
And the best may be yet to come, player and coach Sarah Richardson say.
"I feel like I can improve my hitting, try to get some bigger hits, score some more (runs), and consistently place pitches where they need to go," Crown said. "Speed will come; it's whether I get it across the plate and where that I'm worried about."
Crown admitted to nerves at first, coming to a new school after spending her formative years in Germany. But her teammates made her feel more than welcome, she said.
"It was definitely welcoming and we're having fun," she said, adding of getting accustomed to Misawa Air Base: "It's taken some time, but I'm settling in and gotten used to it."
Richardson, in her seventh season coaching Eagles softball, said Crown is the consummate teammate.
"She's always accommodating, helping other girls, and they appreciate that," Richardson said. "She's a nice girl, very coachable, very sweet. She's very humble. She doesn't boast about what she can do."
"She's unselfish, she cares a lot about her teammates and tries to help them out as much as she can," senior Raeven Moore said.
Woodruff has also delved in athletics now on three continents. The Tampa, Fla., native couldn't have been a better addition, timewise, to a Panthers baseball team that lost most of its pitching staff and needed a steady hand behind the plate to help manage a new rotation.
He took up baseball after his family arrived at Ramstein, where there was no lacrosse program, something Woodruff had played in Maryland up until the sixth grade.
"I sat down with my dad and asked if I could play baseball," he said. "There wasn't anything else to play, really, so I thought, 'why not?' I found out I really liked the game and my dad told me to stick to it."
Woody's father, Lt. Col. Rich Woodruff, played football and threw discus and shot at the Air Force Academy.
"I just do what my parents taught me to do, go out and put in my best effort all the time," the younger Woodruff said. "That and do everything right – the way I'm supposed to – and that's all I can do."
Once Woodruff made the move, he worked with Royals coach Tom Yost from his middle-school days through high school.
Conditioning and an individualized workout program at the IMG Academy in Florida were part of that development, Yost said.
"It's been fun to watch Woody's dedication to the sport begin to pay dividends, and I'm proud to have been able to work with such a quality young man," Yost said.
Woodruff has gone the extra mile to increase his exposure, attending a myriad of baseball camps, most recently the Under Armour Preseason All-American camp featuring more than 400 players in January at Mesa, Ariz.
He says he plans to resume work at IMG Academy after graduating from Yokota in June. He has his eye on a handful of Division I schools, in particular Clemson, plus Wake Forest, Duke and some Divisions II and III schools.
"The biggest challenge here is getting the exposure needed to get noticed by college programs," Woodruff said. "We'll see what happens."
Both Yost and Crown's coach at Ramstein, Steve Kennedy, confess to putting virtual candles in the windows for their former protégés.
"I'm for sure going to miss a .600-hitting, lockdown catcher in our lineup," Yost said. "We would love to have that firepower for one more year. We at Ramstein are cheering him on and hope for the best."
Kennedy compared Crown athletically to a freshman he coached in soccer at Seoul American in 2008, Liz Gleaves.
"Brittany has a work ethic that surpasses many college athletes, always thinking positive about her game and that of her teammates and then the added 'desire-to-improve' attitude," Kennedy said. "We miss her terribly. We'll be watching her results and wish her the best."
ornauer.dave@stripes.com; kimber.james@stripes.com
Twitter: @ornauer_stripes; @james_kimber
---
---
---
---