Track athletes begin six-week sprint to finish
by
Gregory Broome
April 13, 2017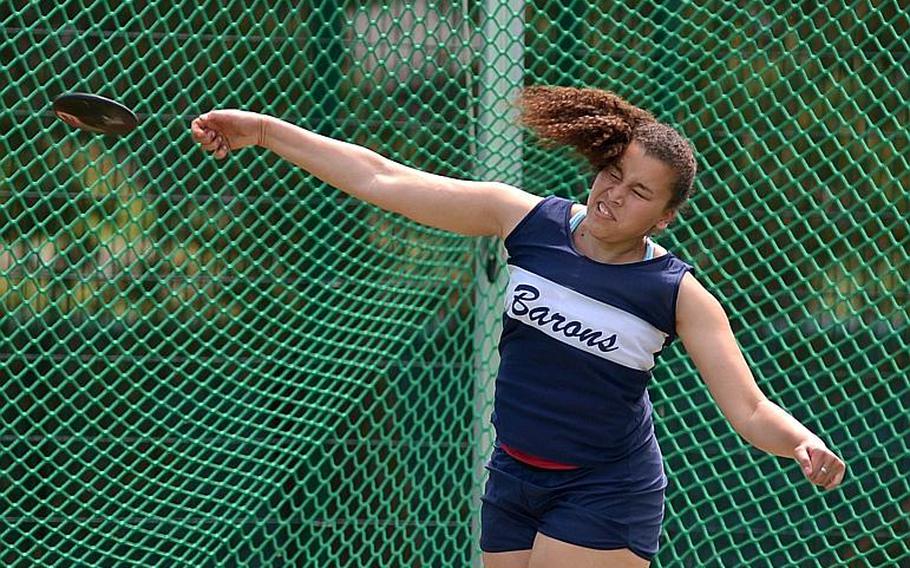 DODEA-Europe's track and field season this spring is more sprint that marathon.
As in years past, this year's schedule calls for a regular season of six Saturdays ahead of the two-day European championship meet. But this spring's version features a key difference - the schedule starts after spring break and proceeds uninterrupted to the finals. That's in contrast to recent seasons, in which teams competed in one regular-season meet, adjourned for two weekends over spring break and resumed the chase on the other side of the intermission.
Coaches are largely pleased with the change.
Stuttgart coach Philip Bailey said this format "provides a better chance to get the athletes prepared." Ramstein coach William Buckley offered a similar take, while adding that moving the opening meet later in the spring improves the chances of favorable weather. Kaiserslautern coach Andrew Panek posited that the schedule "should significantly lower the possibility of fatigue-related injuries during competition."
But the schedule also has less beneficial consequences. Wiesbaden coach David Brown said his roughly 80-member Warrior roster would keep his team sharp throughout the extended preparation, but suggested that smaller teams might see their athletes grow disillusioned with the tedium of uninterrupted training.
"We have plenty to compete with one another and keep workouts interesting," said Brown, a former coach at since-closed Mannheim. "I think it's a much harder pill to swallow when you're at a small school because you don't have as many athletes to push each other at practice. In that environment, it's harder to keep kids' interest levels up for that long without a meet."
Black Forest Academy, an international school that competes in DODEA-Europe athletics, won't compete in a regular-season track meet until April 29 due to a spring break that falls after that of their DODEA-Europe adversaries. Coach Alan Parish said he felt a need to "satisfy our athletes' competitive natures" in the interim and ratcheted up the intensity in practice to address the issue.
"Competing is the most fun, and training for weeks and weeks without that outlet is hard," Parish said.
Ultimately, however, the schedule can only have so much impact on the fortunes of their athletes, coaches allowed. In the end, success will come down to personal responsibility.
"If athletes stay dedicated over the break," Aviano coach Meghan Sindelar said, "it shouldn't affect the performance."
Discussion of the schedule and its side effects will give way to long-awaited regular season action Saturday at Lakenheath, Wiesbaden and Vicenza.
Girls The Ramstein Royals will look to defend the Division I team crown they won in last spring's weather-shortened championship meet. Distance specialist Kaitlyn Schultz is recovering from a knee injury but figures to be ready to defend her final European tournament, while sophomore Katie Gunia will rival her teammate at 800, 1,600 and 3,200 meters. Junior sprinter Yhari Dupree gives the Royals a contender at 100 and 200 meters.
Ramstein will see plenty of competition from its familiar large-school rivals.
Stuttgart's Rachel Dickenson will again rival Schultz in the long runs while Bailey's "young and developing" squad emerges. Senior hurdlers Clarissa Paniagua and Brigantia O'Sadnick headline a deep Wiesbaden squad. SHAPE coach Adam Wallace expects his Spartans to be formidable in the sprinting and middle-distance events and field a "solid" sprint medley team. Vicenza junior Brandy James is on the short list of short-distance contenders. And reigning Stars and Stripes girls track and field Athlete of the Year Jada Branch gives Kaiserslautern a huge head-start in terms of team points.
Among smaller schools, reigning Division II champion BFA lines up behind returning senior Erin Fortune, whose remarkable performance last spring saw her finish first in the high jump, second in the 400 meters, third in triple jump and fourth in long jump. Aviano returns its entire runner-up 4x400 relay team for another shot at European gold. Bitburg senior Elise Rasmussen is a near-lock to repeat as champion in shot put and discus.
Baumholder is hoping for an immediate impact from incoming freshmen Kya Williams, Shay Blizzard and Hassana Balde, who coach Todd Coyour said bring "lots of potential" to the small-school hopeful. Sophomores Kira Thorne and Marissa Kastler and junior Marianna Szukala are among the Alconbury athletes leading the defense of the Dragons' Division III title.
Boys Distance runner Paul Fullwood is the premier name back from last year's Division I championship Stuttgart squad, but sprinter Cameron Cloutier, middle-distance specialist Parker Hanes, jumper Tristan Brandt and power athlete Ander Bergeson fill out a formidable Panthers squad.
Ramstein will look to supplant the Panthers behind veteran distance runners Colin McLaren and John Casey and senior Eli Roberts in discus and shot put. Wiesbaden's Brown is hoping for "several pleasant surprises" from among the new additions to the program while leaning on an experienced core of seniors David Williams and Joel Waan and juniors Caleb Brown and Joshua Theodore. Seniors Evan Mackie, Oliver Powdar and Josiah Aldana carry Kaiserslautern's fortunes along with promising freshman sprinter Andre James.
The move of 2016 Division II champion Hohenfels to Division III creates an interesting team race in DODEA-Europe's smallest division, which saw Ansbach and Baumholder tie for the European championship last spring.
Sophomores Diego Martinez and Kyle Villanueva and freshman Kai Books give Hohenfels a strong contingent on the track. Senior strongman Joxua Baughman and sophomore jumper Ogden Andrew lead an Ansbach squad that is strong in the field events. Reigning European long-jump champ Nate Horton, all-around athlete Solo Turgeon and senior thrower Yorel Smalls headline one of the more robust Bucs squads in recent memory.
Twitter: @broomestripes