Tough competition, but no repeats
by
Rusty Bryan
February 18, 2007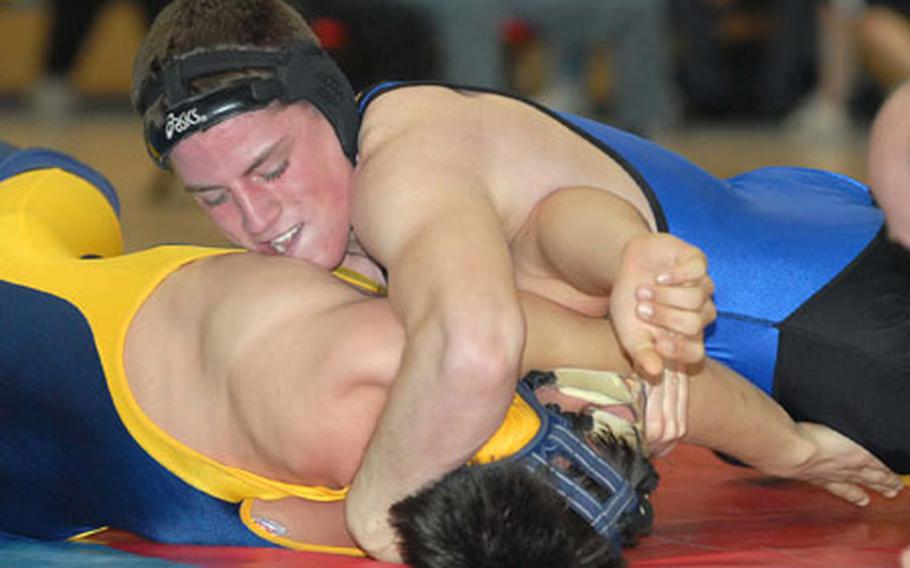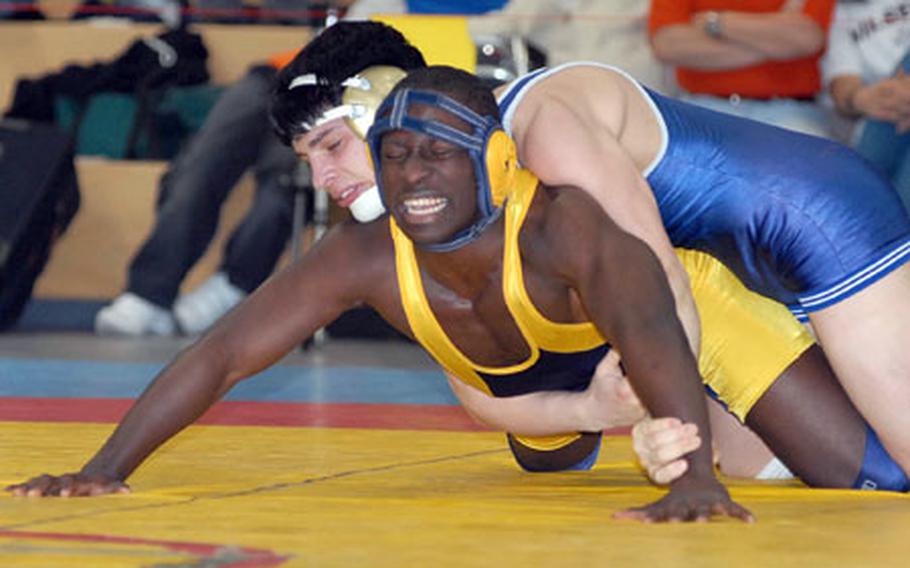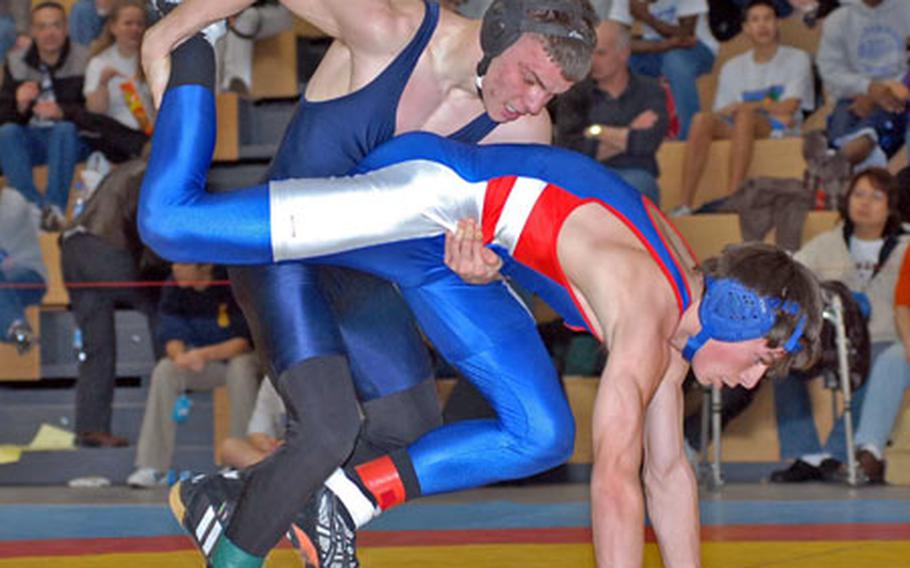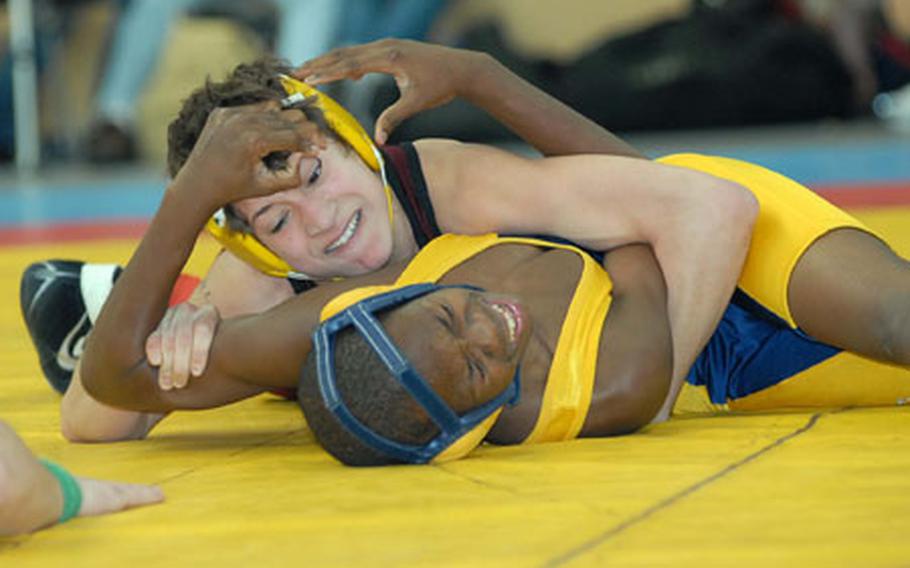 WIESBADEN ARMY AIRFIELD, Germany — All three defending champions fell on title day Saturday in the DODDS-Europe wrestling championships — two of them to 119-pound champ Chris Spenser.
Spenser, from Wiesbaden, downed Chris Campos of Naples 6-3 in Saturday morning's semifinals, then claimed a gutsy 2-0 victory over James Ricks of Patch in the championship bout.
"I'm looking forward to wrestling against him next year," Spenser said after finally reversing Ricks with a switch with 33 seconds left in the punishing title match. "We're both juniors."
Spenser was one of eight wrestlers to wrap up unbeaten seasons here, but was lost in the pre-tournament shuffle despite his glittering record. Campos was also unbeaten until Saturday.
"All you guys in the paper kept looking forward to Ricks and Campos," Spenser said. "I knew I had a chance."
Aviano senior Gary Vogt dethroned the other defending champion, Trey Fortunato of Ramstein, in the 135-pound title match.
That match, too, was a grind-it-out battle, with Vogt claiming a 3-0 decision with an escape with 1:52 left and a takedown with 1:12 to go.
Vogt played a part in another championship, according to 140-pound king Shane Hinton of Vicenza.
"Gary and I wrestled several times this year," Hinton said after beating Wiesbaden's Brandon Foster 7-6 in their title match. "Gary wrestled up this season and the extra practice really paid off."
Against Foster, Hinton broke a 5-5 tie with a takedown with 46 seconds left. "I knew I had to take him down," Hinton said. "I knew I wasn't going to be able to turn him."
Also striking late for a victory was Bitburg's unbeaten Jerry Arculeta at 103. He took Ty Yocum of Kaiserslautern down with 22 seconds left to win 5-3.
Baumholder went home with two individual titles, both by fall. Edgar Acosta caught Taji Peebles of Wiesbaden trying to stand and turn into him after a takedown and jammed home a body lock that put Peebles on his back at the 1:39 mark.
Baumholder's David Crow, whose seven pins during the two-day event tied him for most with 160-pound champion Eric Vandal of Hohenfels, collected his seventh by locking in a half nelson on Nick Rogers of Patch with 25 seconds left.
"I was waiting patiently to get my arm in all match," Crow said after wrapping up his unbeaten season.
Despite the Bucs' champions, AFNORTH took the D-II crown 114-102 behind most valuable wrestler Kris Higgins, the unbeaten 130-pound king, and Brock Blankenship, who rebounded from a 13-11 loss in Saturday morning's final round-robin match against K.C. Brown of Giessen at 171 to pin Brown in 2:43 of the title match.
"I stayed down on his hips this time," Blankenship said. "In the other match, I got too high and he rolled me."
Higgins, voted MVP, completed his unbeaten run with a cradle on previously unbeaten Andrew Moon of Heidelberg. The resulting takedown and near-fall points produced a 10-6 victory.
"I was just trying to get back points," Higgins said of his decisive five-point move.
Also going unbeaten for the season was 145-pound champion Jon Peden of Ramstein, who struggled to a 3-1 decision over Ronald Peebles of Wiesbaden, whom he had pinned in 22 seconds the day before.
Peebles battled as if that never happened, holding a gasping Peden to the narrow win.
"I'm out of shape," Peden said. "I hadn't gone three periods all year."
Vandal of Hohenfels collected his seventh fall of the tournament in 1:27 over Steven Ponte of Wiesbaden at 160. Vandal, a senior, plans to wrestle with a German club to prepare for a college career after leading Hohenfels to a 40-point victory over Vicenza in the D-III race. Brussels outgunned Alconbury for the D-IV crown.
Also turning his attention to a German club is 285-pound king Sasha Chavez of Kaiserslatuern, who gutted out a 5-4 victory over Evan Watson of Wiesbaden. Chavez hopes to wrestle for the Mexican national team.
Vandal was the second champion from Hohenfels. He followed Dameon Odum's 11-7 revenge victory over Jeremiah Raveling of Ramstein in the 152-pound finale. Raveling pinned Odum in Friday's round-robin.
"I made a mistake in that one," Odum said. "I had to work moves until one worked and that's what I did today."
The tourney's other unbeatens helped Ramstein defend its D-I team title with championship-bout falls.
Corey Targos flattened Brian Taylor of Patch with a body press at the 1:58 mark, and Eric Oyan decked William Domko of Heidelberg with a cradle in 1:17 of their 215-pound match.
Oyan, a senior, plans to give up wrestling.
"I'm going to work out and try to put on weight for (college) football," said Oyan, a member of Ramstein's championship football team. "I'll enjoy this a little while it lasts."
---
---
---
---