Top wrestlers take to the mat at Wolfpack Holiday Classic
by
Rusty Bryan
December 19, 2004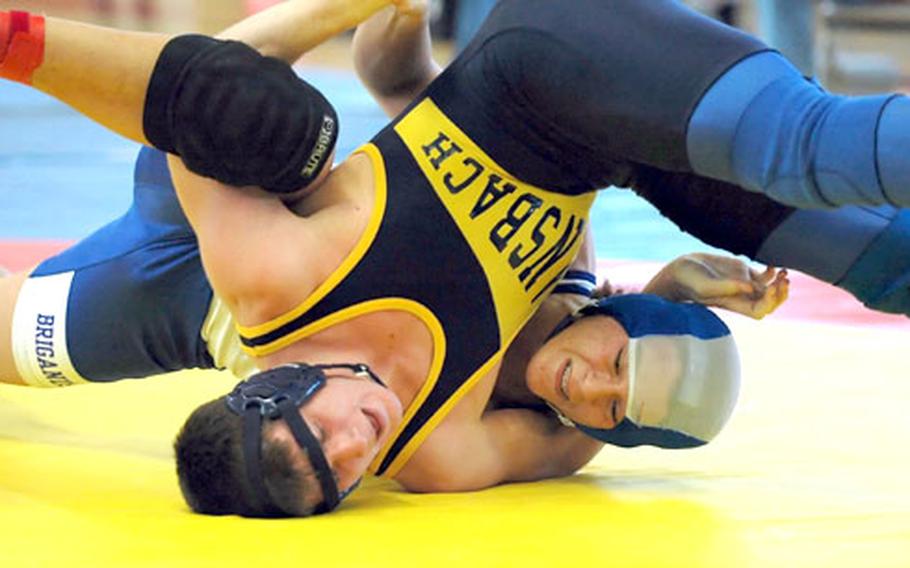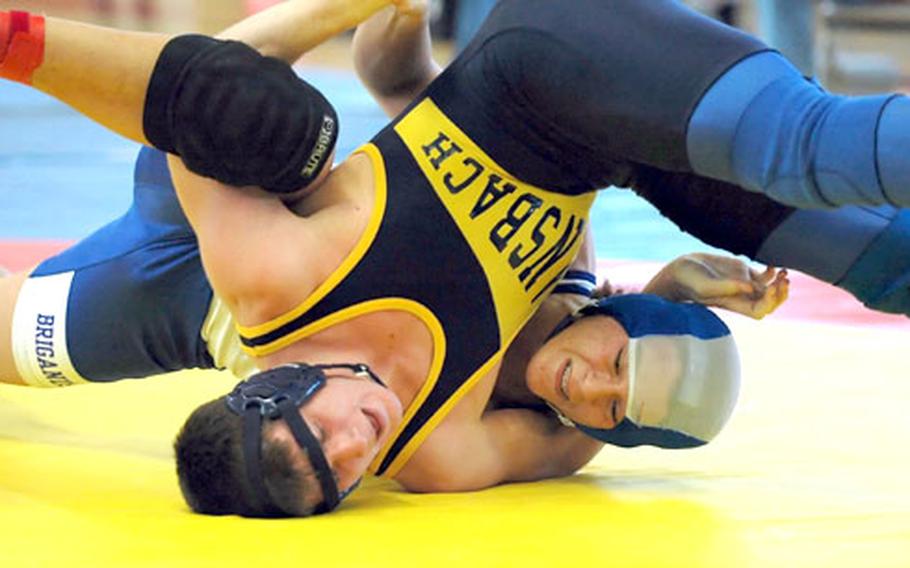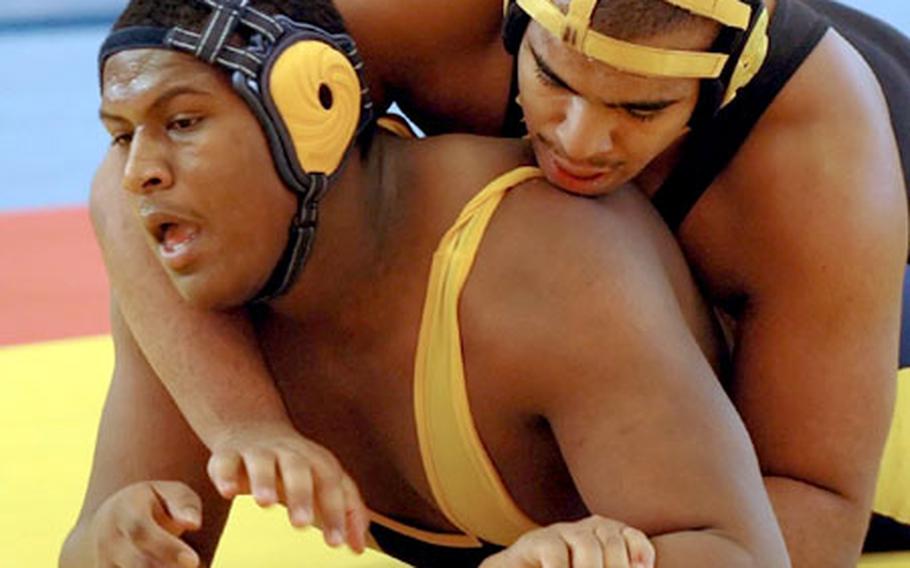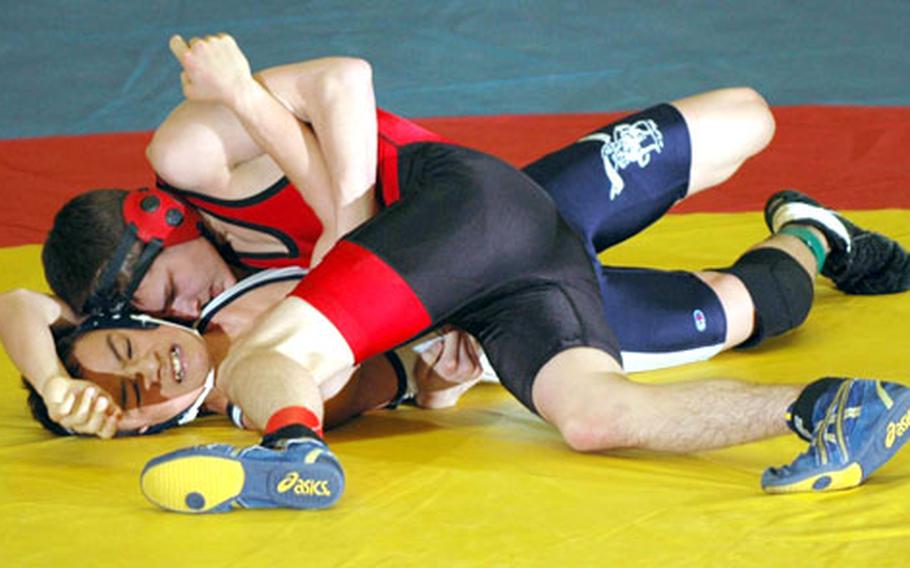 (Summaries at end of story)
WüRZBURG, Germany — Revenge was a main theme Saturday as some of DODDS-Europe's top wrestlers got together for the 13th annual edition of the Wolfpack Holiday Classic.
"He beat me last year at Europeans," Bryan Isbell of Brussels said after he defeated Heidelberg's Andrew Zachar 7-6 for the 171-pound championship. "It feels really good."
To prepare for this season, Isbell spent the summer working with a Brussels freestyle club that had him training with more than just Belgian champs.
"We had Iranian wrestlers, Turkish wrestlers — international champions from all over," he said. "It was great experience."
Like all the athletes here, Isbell knows one match does not a season make.
"He's a great wrestler," Isbell said of Zachar, the defending European 152-pound champion. "Euros are going to be tough."
The 140-pound final also matched a European champion and a runner-up, but of different weights. Devon Gardner of Bitburg, last year's runner-up at 130, defeated the 125-pound king, Jesse Painter of Würzburg.
Gardner, who had defeated the 145-pound European runner-up Tony Gagnon of Wiesbaden his last time out, won 12-4. Gagnon joined Gardner as a champion here with a fall in 1:50 over Andrew Hoffman of Heidelberg in the 145-pound division.
"You can't get better if you don't wrestle the toughest wrestlers," Gardner said.
No one knows that better than Cole McClain of Menwith Hill. McClain, who lost a 6-4 decision to Karl Saucier of Ramstein in last year's European 140-pound title bout, claimed the 152-pound crown here with a dominating decking of Heidelberg's Andre Aleong at the 4:11 mark.
Saucier wasn't here Saturday, but McClain was unconcerned.
"I've been working with the British national freestyle team," McClain said. "I'm not going to finish second again."
Also looking toward the Europeans are several other 2004 Wolfpack champions: Seth Romero of Menwith Hill at 112, Paul Moseman of Brussels at 119, and Jim Curtis of Würzburg at 189.
"This is my first year of high school wrestling," said Romero, who posted pins in 59 seconds and 2:37 en route to his crown. "This gives me confidence for Europeans."
Moseman, younger brother of former Brussels champion Zach, posted 19-9 and 18-1 victories in his two matches. He saw the technical falls as preparation for Europeans.
"This tournament shows all the talented wrestlers," he said, a sentiment echoed by Curtis.
"This sets up Euros," said Curtis, who gained a measure of revenge when he pinned Adam Golden of Ansbach at the 3:21 mark of the pair's 189-pound final. "I can't wait."
Golden, who was trailing Curtis 9-0 at the time of the fall, had beaten him the previous week, Curtis said. "I wanted to make sure I beat him in our home tournament."
However, 215-pound champ Mike Ewing of Ansbach, who flattened Chris Garcia of Wiesbaden in 3:38, has an outlook teammate Golden can adopt to ease the sting of losing here.
"I look on all these tournaments as practice for Europeans," said Ewing, who admitted to some disappointment that flashy newcomer Cole Maxey of Ramstein, a Far East champion, skipped the Wolfpack.
Another Ramstein newcomer made the field — and an impression.
Freshman Coty Reinhart, who spent the past three years winning middle school tournaments in Ohio, spent precisely 1:13 on the mats Saturday in winning his two bouts and the 135-pound championship. That probably wouldn't happen in Ohio, but Reinhardt's not complaining.
"I've never lived in a foreign country before," he said. "This is a good opportunity for me."
Summaries
Results Saturday from championship-bracket matches in the 2004 Wolfpack Holiday Classic wrestling tournament at the Leighton Barracks gym (forfeits not included):
Team scoring—Würzburg 155, Heidelberg 134, Patch 110, Wiesbaden 71, Bitburg 66, Ansbach 63, Menwith Hill 60, Brussels 53.5, Ramstein 44, Giessen 36.5, Kaiserslautern 27, Naples 26, Bamberg 25.5, Vicenza 23, Hanau 11, Alconbury 8 Hohenfels 0, Vilseck 0.
103 pounds—Chris Toner (Heid) pin John Grant (Wzbg) :26; James Ricks (Pat) pin Chris Spencer (Wies) 5:56; Anthony Davis (Wzbg) pin Ricks 5:19. Championship: Toner def. Davis 13-7; 3rd place: Ricks pin Spencer 5:34.
112—Jon Hoffman (Heid) pin Jared Cox (Heid) 3:26; Robert DeCarlos (Wies) pin Shannon Sukat (Bitb) 2:30; Ryan Singleton (Bitb) pin Ryan Barry (Wzbg) 1:10; Seth Romero (MH) pin Hoffman :59; Singleton pin DeCarlos 5:51. Championship: Romero pin Singleton 2:37; 3rd place: Hoffman pin Decarlos 1:54.
119—Daniel McElroy (Bamb) pin Kristopher Higgins (Wies) :28; Judy Brenneka (Ansb) pin Arrion Kennedy (Wzbg) :58; Nate Buckley (Pat) pin Josh Williamson (Alc) 3:10; Paul Moseman (Brus) def. McElroy 19-9; Buckley pin Brenneka 1:18; Championship: Moseman def. Buckley 18-1; 3rd place: McElroy def. Higgins 22-7.
125—Jesse Best (MH) pin Brandon Foster (Wies) 1:52; Michael Zachar (Heid) pin Stephen Oen (Han) 3:08; Noah Sheppard (Rams) pin M. Zachar 3:42; Andrew Moon (Heid) def. Best 15-1. Championship: Sheppard pin Moon 2:26; 3rd place: M. Zachar pin Oen 3:21.
130—Chris Williams (Gies) pin Michael Brady (Pat) :28; Crayge Majors (Kais) pin Jasmine Thompson (Ansb) 3:01; Jonathan Painter (Wzbg) pin Williams 4:52. Championship: Painter pin Majors 1:41; 3rd place: Williams pin Brady :55.
135—Coty Reinhart (Rams) pin Perianne Tucker (Heid) :12; Tyson Rydalch (Wzbg) pin Daniel Herring (Bamb) 1:09. Championship: Reinhart pin Rydalch 1:01; 3rd place: Herring def. Tucker 8-3.
140—1, Devon Gardner (Bitb) pin Steve Hinton (Vicz) 1:31; Steven Ponte (Wies) pin Philip Turner (Wies) 3:04; Jesse Painter (Wzbg) pin Ponte 3:16; Gardner pin Debra Clark (Heid) :23; Championship: Gardner def. Painter 12-4; 3rd place: Hinton def. Turner 10-2.
145—Gary King (Vicz) pin Konnor Higgins (Wies) 1:16; Andrew Hoffman (Heid) pin Cody Schlarbaum (Wzbg) 1:10; Hoffman def. Chris Vucich (Pat) 9-3; Jeremy Brady (Heid) pin Brian Painter (Wzbg) 4:53; King pin Daniel Renauld (Bitb) 1:08; Hoffman def. King 10-6; Tony Gagnon (Wies) pin Brady 3:44. Championship: Gagnon pin Hoffman 1:50; 3rd place: Vucich def. King 6-4.
152—Cole McClain (MH) pin Randy Leitz (Gies) :34; Shawn Renauld (Bitb) pin Andrew Pierson (Bitb) :26; McClain pin S. Renauld 4:52; Championship: McClain pin Aleong 4:11; 3rd place: S. Renauld pin Pierson :58.
160—Daniel Dixon (Wies) pin Christina Branch (Pat) 1:19; Guadalupe Flores (Napl) pin Sean Hipe (Wzbg) 1:24; Flores pin Brandon Speight (Ansb) 2:29; Elliot Boltz (Heid) pin Dixon 1:31. Championship: Flores def. Boltz by injury default 1:01; 3rd place: Hipe pin Speight 3:10.
171—Robert Fleck (Wzbg) pin Paul Hurley (Wies) 5:15; Rex Ely (Heid) def. K.C. Brown (Gies) 3-1; Bryan Isbell (Brus) pin Doug Bagnall (Alc) 3:12; Andrew Zachar (Heid) pin Fleck 4:57; Isbell def. Ely 14-7. Championship: Isbell def. A. Zachar 7-6; 3rd place: Brown def. Ely 7-2.
189—Matthew Domko (Gies) pin Zach Melillo (Wies) 3:31; Justin Ekberg (Bamb) pin Jeffery Surpris (Wies) 1:21; Jim Curtis (Wzbg) pin Ekberg 3:31; Mikie Beuckens (Pat) pin Derrick Neville (Han) 2:55; Eric Popp (Brus) def. Mike Gamberton (MH) 14-7; Adam Golden (Ansb) pin Domko 1:21; Golden pin Popp 3:53; Curtis def. Beuckens 12-1. Championship: Curtis pin Golden 3:21; 3rd place: Beuckens def. Popp 12-3.
215—Mike Ewing (Ansb) pin Jordan Brittan (Wies) :56; Chris Garcia (Wies) pin Dan Lozano (Ansb) 1:29; Ewing pin Brandon Simmons (Heid) 1:08; Garcia pin Brian Taylor (Pat) 1:59. Championship: Ewing pin Garcia 3:38; 3rd place: Lozano pin Taylor 1:46.
275—Spencer Johnson (Ansb) pin Piercedson Johnstone (Kais) :26; Daniel Dantas (Heid) pin Luis Ortiz (Han) 3:54; Greg Surpris (Wies) pin Troy Price (Kais) 3:55; Mike Burris (Wzbg) pin Johnson 2:54; Terrence Smith (Han) pin James Osbourne (Wzbg) :50; Brian Bowles (Pat) pin Dantas 2:39; Bowles def. Surpris 8-6 (OT); Burris pin Smith 3:40; Championship: Bowles pin Burris 1:50; 3rd place: Surpris def. Smith 11-8.
---
---
---
---