Top two girls return to battle for DODDS-Europe golf title
by
Rusty Bryan
September 14, 2010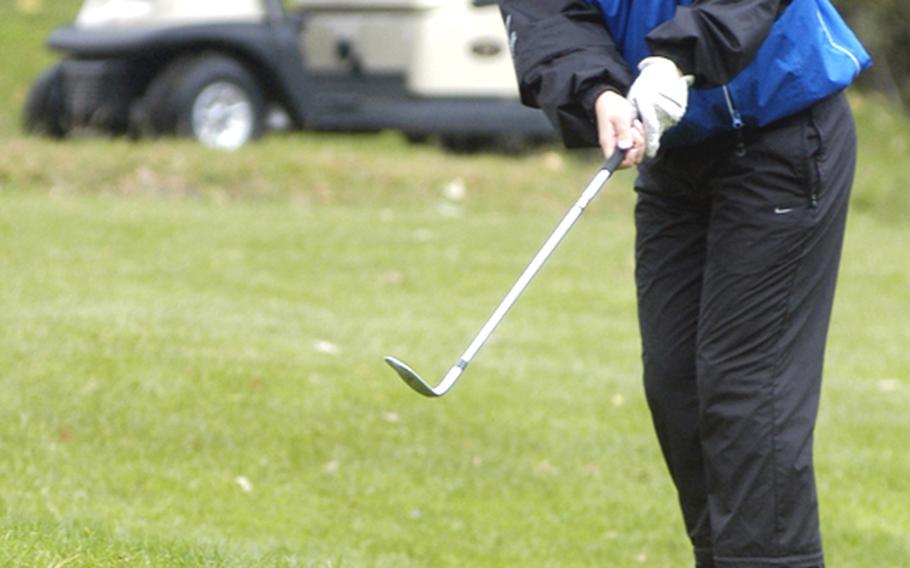 More of the same is on the menu when the DODDS-Europe golf season tees off Thursday and Friday at Stuttgart and Baumholder, Germany, respectively.
And who could ask for anything more?
For the second straight year, juniors Hollie Salvo of Wiesbaden and Elizabeth Ward of Ramstein, far and away the best female golfers in Europe in 2009, are back to battle it out.
Ward, runner-up to Salvo last fall, unveils the improved version of her game Thursday at the Stuttgart golf course; Salvo opens her 2010 campaign on Friday at Baumholder. However, they won't play against each other until Oct. 7 at Ramstein's Woodlawn course and the following week in the European championships at Rheinblick golf course in Wiesbaden.
Until then, though, enjoy the anticipation.
"She's ready to play," Ramstein coach Jeff Pellaton e-mailed last week about Ward, who fell to Salvo's second-day charge in last year's 36-hole European championships at Rheinblick. Ward, whose play sparked Ramstein to the girls team title in 2009, trailed Salvo by just three Stableford points after Day 1. She fell, however, 62-50, when Salvo outgunned her 34-25 on Day 2 under the scoring system that awards one point for double-bogey, two for bogey, three for par, four for birdie and six for eagle or ace.
While Ward hasn't let her game idle since last fall, Salvo has not either, according to her coach, Jim Campbell.
"Hollie's game has improved from last year as a result of offseason dedication and a lot of hard work," Campbell said in an e-mail.
Unlike their female counterparts, the boys figure to be a multi-horse race this fall.
Boys champion Lucas Clarke of Heidelberg, who beat teammate Mike Baltich 83-73 in the 2009 tournament, won't be back to defend his title, opening the top spot to several contenders who were closely bunched at the end of last year's second round. They include runner-up Baltich; No. 3 Mackenzie Bradley of Kaiserslautern, who attended Purdue's summer golf camp, according to coach Gerald Oyan; No. 5 James Cho of Ramstein; and No. 6 Jack Cannon of Heidelberg.
Pellaton expects Cho and Jordan Linder, who tied for seventh in last year's tourney, to lead Ramstein in its quest to topple 2009 champ Heidelberg.
"We are cautiously optimistic," Pellaton wrote about his team, runner-up to Heidelberg last fall. "We had a few leaders in camps this summer, and they are setting a high mark for us."
With three of his top-10 finishers (Baltich, Cannon and No. 10 Joseph Patrick) from '09 back, Heidelberg coach Jim McCauley sees his team in the hunt for the Division I title.
So does Kaiserslautern's Oyan, whose team finished third last year.
"Stephen (Lewis) … played almost daily this summer, and his swing looks bigger and smoother than last year," Oyan said in an e-mail. Kaiserslautern also picked up two seniors from stateside high school teams — Brennan Dickerson from Texas and Caleb Haynes from Nebraska.
Vilseck, too, hopes to benefit from some stateside transfers — eight-handicapper Frank Zachar, a senior, and his sister, Lauren, a freshman, from Pennsylvania, according to Falcons coach Tracy Thornbrugh.
Lakenheath coach Otis McCloskey reported his four-girl team will be led by Erica Larson (11 points in the 2009 finals). Ryan McDonnell (39 points in '09) is expected to fuel the boys.
The one-size-fits-all world of DODDS-Europe golf lost its smallest school this year, when Rota, No. 8 in 2009, was unable to field a team.
That left Baumholder, with 15 players out for the team, the smallest of the 11 golf-playing schools.
---
---
---
---