Top eight teams reach championship games
by
Rusty Bryan
November 1, 2008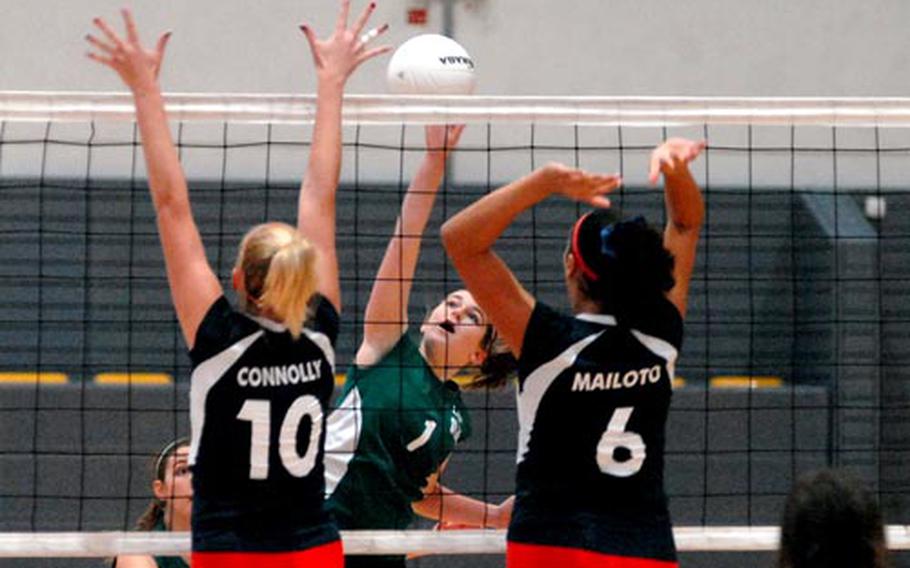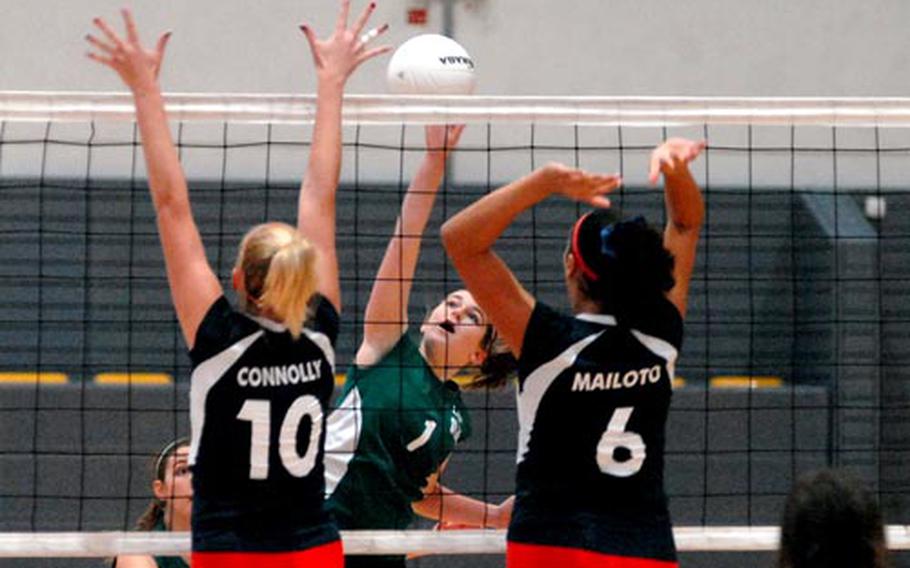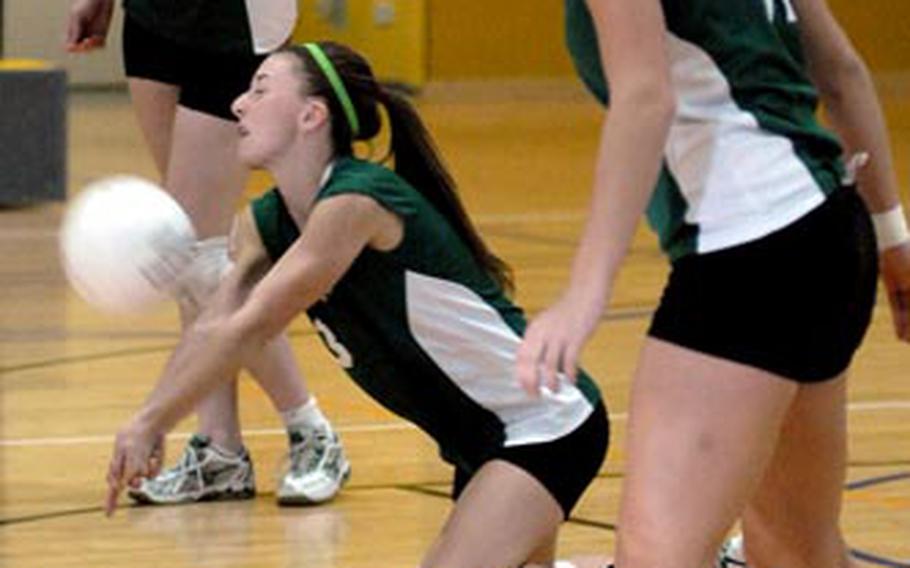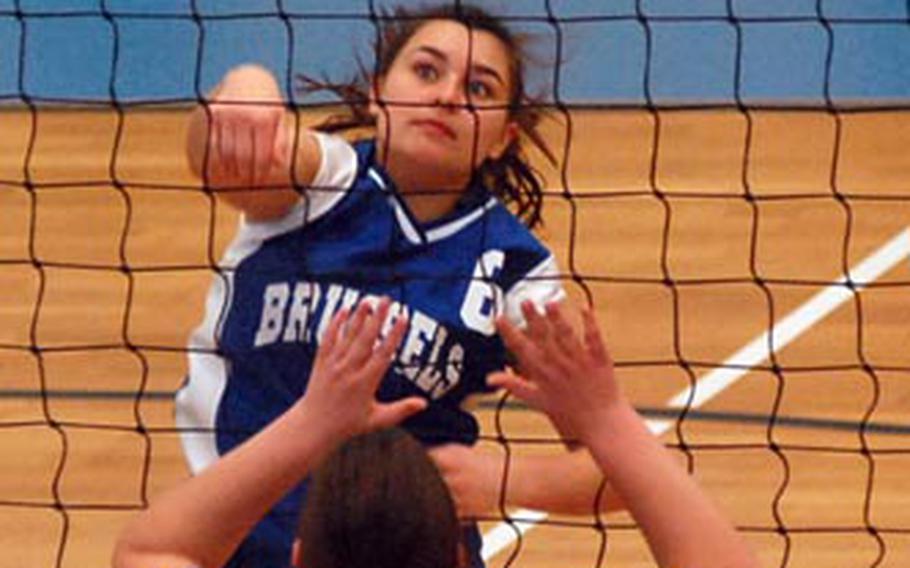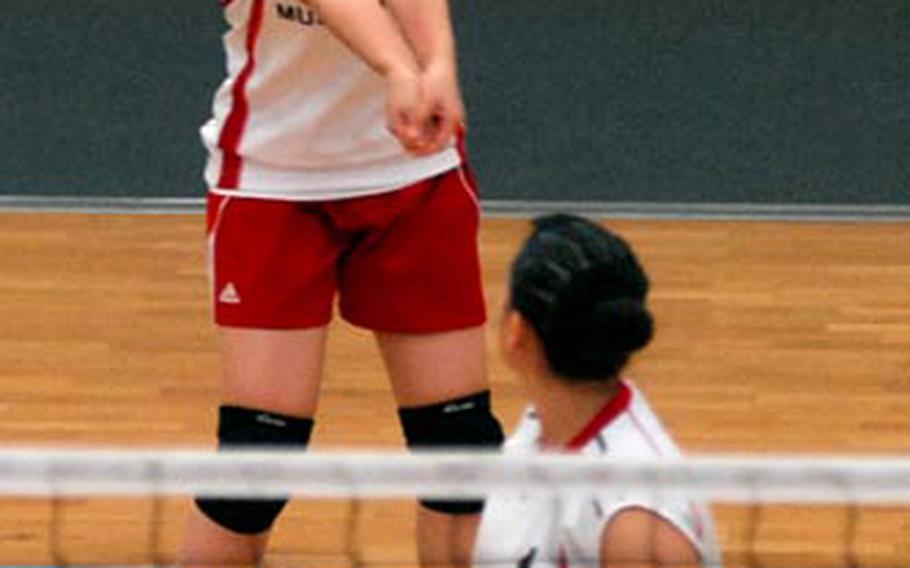 KAISERSLAUTERN, Germany — All four No. 1s and all four No. 2s moved into the championship games of the three-day DODDS-Europe girls volleyball tournament on Friday.
All eight will try to nail down titles in consecutive matches beginning at 10 a.m. Saturday at the Ramstein Southside gym.
First up will be Division IV, in which No. 1 Brussels advanced to the title game with a 25-17, 27-25, 20-25, 25-9 conquest of defending champion Rota. The Lady Brigands will face Alconbury, which earned its berth with a 12-25, 25-21, 25-22, 25-18 victory over surprising No. 8 seed Menwith Hill in its semifinal.
A title rematch will follow at 11:30 a.m., when top-seeded defending D-III champ Marymount takes on 2007 runner-up Baumholder. In addition to facing each other in last year's title game, the two, both unbeaten so far, also squared off in Friday night's final round-robin game, being played as this edition of Stars and Stripes went to press.
In the D-II semifinals, top-seeded and unbeaten SHAPE, which has lost just two games in two days, ended the run of the No. 7 Naples Wildcats 25-20, 23-25, 25-21, 25-18, and No. 2 Black Forest Academy turned back No. 3 Wiesbaden 25-14, 15-25, 25-12, 25-18. They will square of in the division championship game at 1 p.m.
Meghan Young dished out 31 assists, Cameron Prenger posted 12 kills and nine aces, and Stephanie Friehe made seven digs for BFA, which reached the final for the first time in four years.
Like the D-III title clash, the Division I finale at 2:30 p.m. is a rerun of Friday night. No. 1 Ramstein, chasing its fourth straight title, and No. 2 Heidelberg each took 5-0 records into their final round-robin game which began after press time Friday.
Although Naples missed the title game, the Wildcats enjoyed a full dose of joy in the quarterfinals derived from defeating defending champion and archrival Aviano 25-20, 14-25, 15-10 in the afternoon quarterfinals.
"This is just my first year with the team," Naples assistant Claudia Scherillo said after admitting she didn't know the last time the Wildcats had beaten Aviano. "I know it's been long enough that it feels really good."
Naples captain Sammie Dozier hasn't been with the team long enough to remember the last victory over Naples, which came in 1999, but she savored the moment Friday.
"We pretty much knew we had to shine today," Dozier said after Naples had ridden five straight service points by Jenny Horadan to break a 10-10 tie in the final game. "They beat us during the season so we had to do it today."