DODDS-Europe wrestling
Title could be tough for Ramstein to retain
by
Gregory Broome
December 4, 2013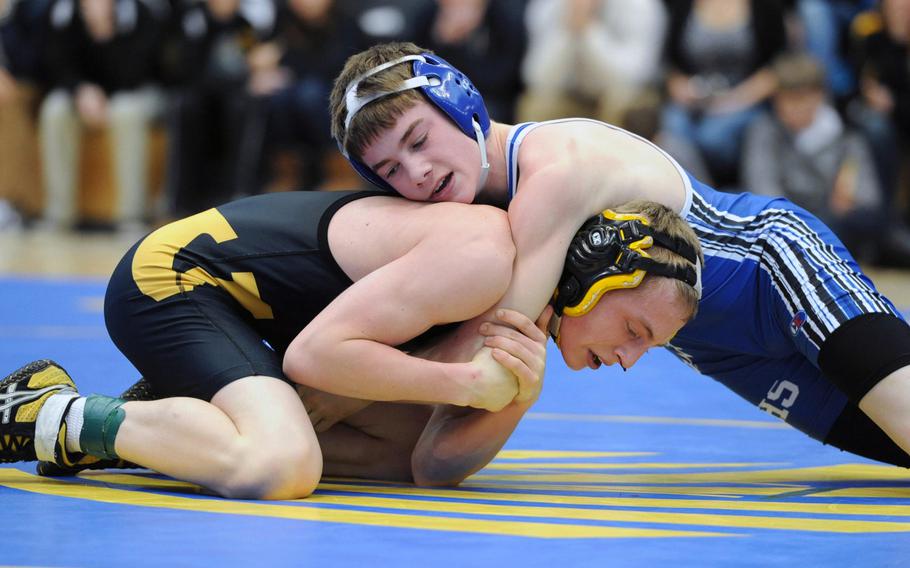 As DODDS-Europe's largest school, the numbers game is nearly always in Ramstein's favor. There's one sport, however, in which the 2013-14 Royals might actually be relatively undermanned.
That's the word from Ramstein wrestling coach Steve Kennedy, who teamed with co-coach Thomas Wright to lead the Royals to a conquest over four-time defending champion Patch last season. The math was squarely on Ramstein's side then as the Royals placed a wrestler in the European championship match in nine of 14 weight classes, finally overwhelming the equally deep Panthers program it had chased for a half-decade.
When the 2013-14 DODDS-Europe wrestling season begins with a four-meet schedule Saturday, however, it will find Ramstein's fresh reign already in peril. Sophomore Joey Fortunato, the 106-pound champion, and senior Eric Carter, the runner-up at 152 pounds, are the only two of the team's European finalists back for another run. Beyond them and senior Justin Zapata, a 145-pound semifinalist in 2012-13, the grapplers donning the red and blue are decidedly green.
"We have to overcome a huge drop in our team numbers and we are very inexperienced," Kennedy said. "We are in total rebuild and don't mind the work."
Working to Ramstein's benefit is the fact that Patch is dealing with its own considerable attrition. Three of its four 2012-13 European champions are gone. Senior Jaden Fields, the European champion at 138 pounds last year, headlines a core group of returning European qualifiers and a handful of promising new arrivals, including freshman 106-pound contender Matthew Bolduc, a recent transfer from Virginia, and former Heidelberg standout and 2012-13 European semifinalist Will Miller.
Head coach Norm Matzke looks forward to guiding this new group of Panthers through the five-week regular season and hopefully emerging, as they invariably do, with a healthy group of contenders at the European championships Feb. 14 and 15 at Wiesbaden.
"We are starting off more focused and disciplined than last year," Matzke said, adding his aspiration that the team "not peak too early."
While the Panthers and Royals fill in their depth charts, the growing Kaiserslautern program is poised to assert itself more forcefully in the European team race after a third-place finish a year ago. The Raiders saw over 40 wrestlers sign up, though many lack experience, and return a small core of three returning European qualifiers led by 113-pound runner-up Matt Fischer.
"Some of our new guys show potential," coach Brian Daly said. "But it's too early to tell."
The Raiders aren't the only Division I school hoping to transcend their usual second-tier status and challenge the supremacy of Ramstein and Patch.
Wiesbaden is also flush with fresh faces and boasts several returning upperclassmen, though the Warriors will have to replace both of its 2012-13 European finalists. Reigning 160-pound champion Justin Menges is back to spearhead Lakenheath and is backed up by an impressive group of eight newcomers including 120-pounder Preston Booth, a former state qualifier in Ohio.
Senior powerhouses Armando Saldana and Kraig Sumpter, the former the reigning 285-pound European champion and the latter the runner-up at 195, form an imposing foundation for Vilseck.
Vicenza will look to defend its Division II championship, though head coach Kurt York said his squad is "slightly smaller" than last year's version. The Cougars will have company in that regard, however, as contenders including AFNORTH and Aviano also report young rosters with few experienced wrestlers. Baumholder will move up from Division III and give its new foes a hard time with a small but dangerous roster.
Twitter: @broomestripes