Titans stun Bulldogs, will face Kadena for Okinawa title
by
Dave Ornauer
November 21, 2005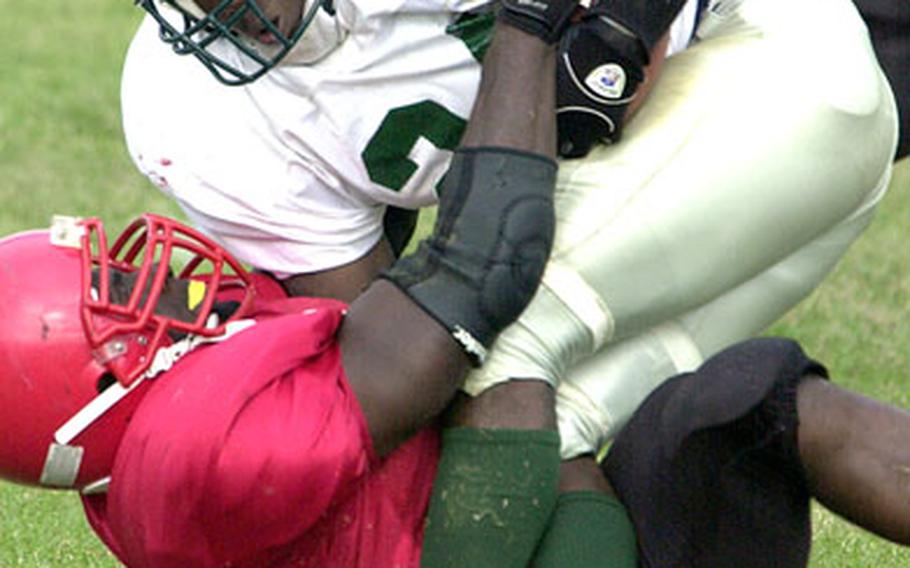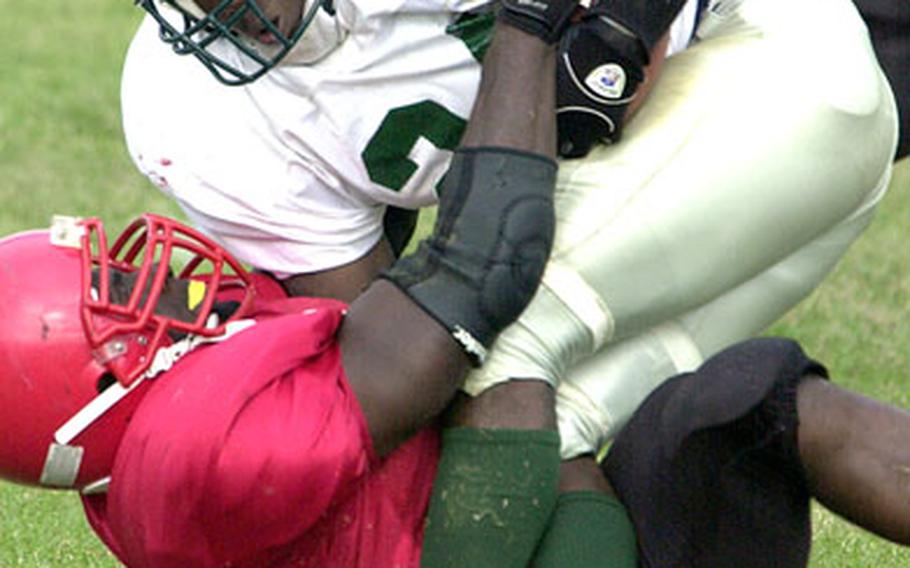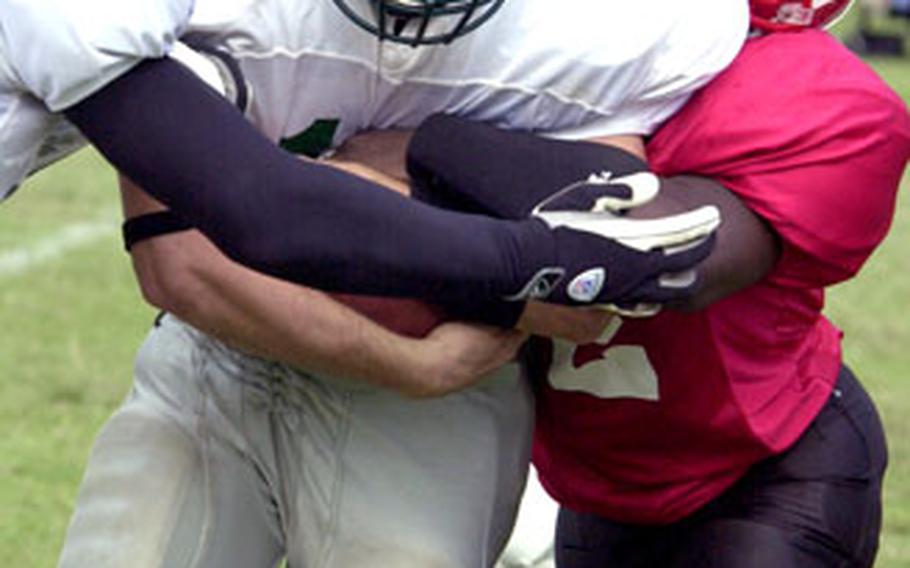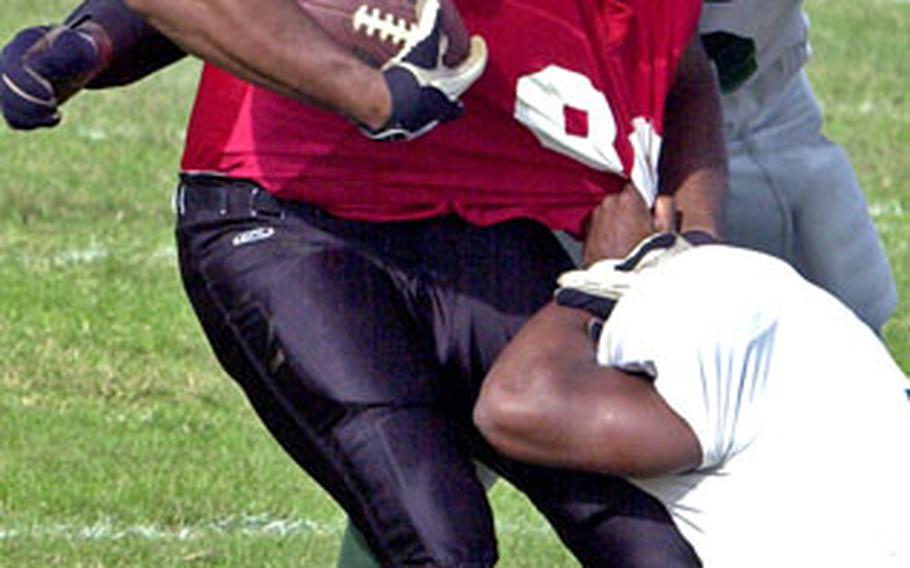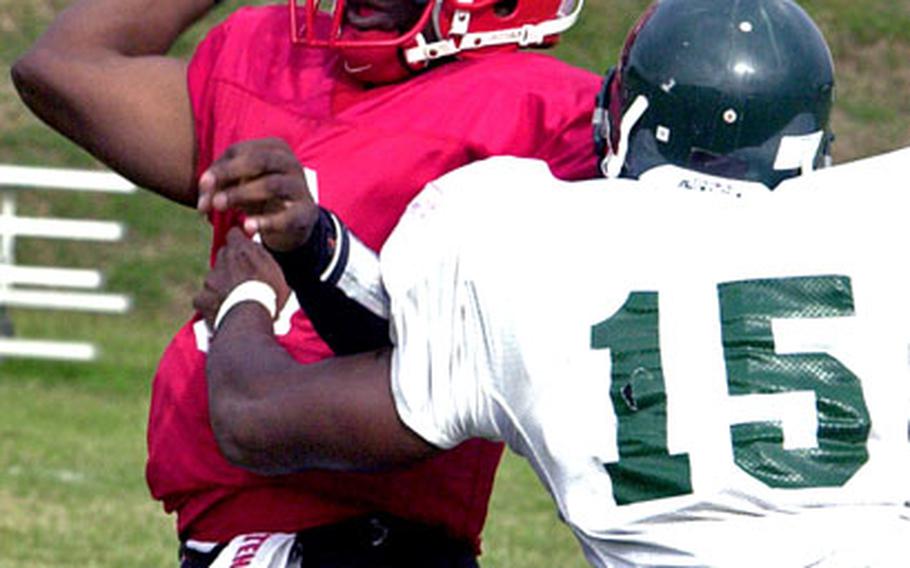 CAMP COURTNEY, Okinawa — Special-teams play gave the Courtney-Hansen Titans the edge they needed to score their biggest upset in the Okinawa Football League's two seasons.
Vedel Poindexter covered a bad punt snap in the end zone for a third-quarter touchdown and Jesus Lira converted the extra-point kick. The Titans' defense held on from there to shock the regular-season champion Foster-Futenma Bulldogs 7-6 in Saturday's OFL semifinals at Courtney Bowl.
Courtney-Hansen, which finished fourth in the regular season, will battle defending champion Kadena in the second Habu Bowl at 6 p.m. Saturday at Mike Petty Stadium on Camp Foster.
Saturday's games were as startlingly different as two could be — the Dragons pounded the Kinser Knights 69-0 in the second semifinal.
Courtney-Hansen 7, Foster-Futenma 6"We caught lightning in a bottle," said coach Rodney Best, whose Titans went 2-4 in a regular season fraught with close calls, including a 14-13 loss to Foster-Futenman in the opener on Sept. 25.
"We were a better team than our record showed. We were just waiting for it to happen," Best said. "It was just our day."
Foster-Futenma sported the league's best defense while going 5-1, allowing an average of 87.7 yards and 3.3 points per game while its offense racked up an average of 226.5 yards and scored 25 touchdowns in six games.
But the Bulldogs didn't execute when it mattered most, said coach James Moore. He cited penalties, 17 for 163 yards, as the biggest culprit.
"The things that got us here didn't happen," Moore said. "Almost every drive, we had a penalty that killed us. I hate that we lost without giving up a defensive touchdown. … We killed ourselves."
Foster-Futenma held Courtney-Hansen to 61 yards, and the Titans limited the Bulldogs to 145. It remained scoreless until Poindexter's key play 1 minute, 21 seconds into the third quarter.
On fourth-and-21 at the Foster-Futenma 24, the Bulldogs lined up to punt but the ball was snapped over punter Chris Garrow's head and bounced toward the goal line.
"I wanted to crush him, or at least tackle him in the end zone for a safety," Poindexter said. "I thought he (Garrow) was going to pick it up. But I saw him scramble for it, and I knew what that would become."
The Bulldogs responded early in the fourth quarter, taking over at the Courtney-Hansen 20. Tim Armstrong ran 17 yards to the 3, from where quarterback Chris McDougal sneaked into the end zone, cutting it to 7-6. But the Bulldogs fumbled away the two-point try, with Casey Moses falling on the loose ball to preserve the Titans' lead.
The Bulldogs had three more chances but Poindexter sacked Bulldogs quarterback Chris McDougal to stanch one Foster-Futenma drive. Then safety Andrew Cimonetti squelched Foster-Futenma's last possession with 20 seconds left by intercepting McDougal's pass.
Kadena 69, Kinser 0Dragons coach Will Cupp watched the Titans-Bulldogs game with interest. His team survived a 28-18 battle with Courtney-Hansen on Oct. 9 and he stressed to his team in pre-game warmups to not take Kinser lightly.
"I've thought all along that Courtney-Hansen was the second-best team in the league. We've tried all season long to not underestimate anybody," Cupp said. "It didn't help Kinser that they only dressed out 19 players. But today, we stepped up and played our level of football."
Kadena's punishing ground game rolled up 283 yards. Isaac Warren led the way with 173 yards — best in the league this season — and two touchdowns on 15 carries. The Dragons forced eight turnovers and held the Knights to 13 yards and just three first downs; Kinser's deepest penetration was to Kadena's 29-yard line in the second quarter.
Adam Hendrickson went 5-for-9 for 59 yards, including touchdown strikes of 15 yards to John Robinson and 4 to A.J. Hickman. Bronshay Limson added 34 yards and three touchdowns on six carries, Emmanuel Griffin ran 7 yards for a score and Hickman added a 14-yard TD run.
Okinawa Football League playoffs
Semifinals
Saturday, Nov. 19
At Camp Courtney, Okinawa
Courtney-Hansen 7, Foster-Futenma 6
Kadena 69, Kinser 0
Championship
Saturday, Nov. 26
At Camp Foster, Okinawa
Courtney-Hansen vs. Kadena, 6 p.m.