'Tiny but mighty' Pusan American turns it around in Korea softball
by
Dave Ornauer
March 30, 2006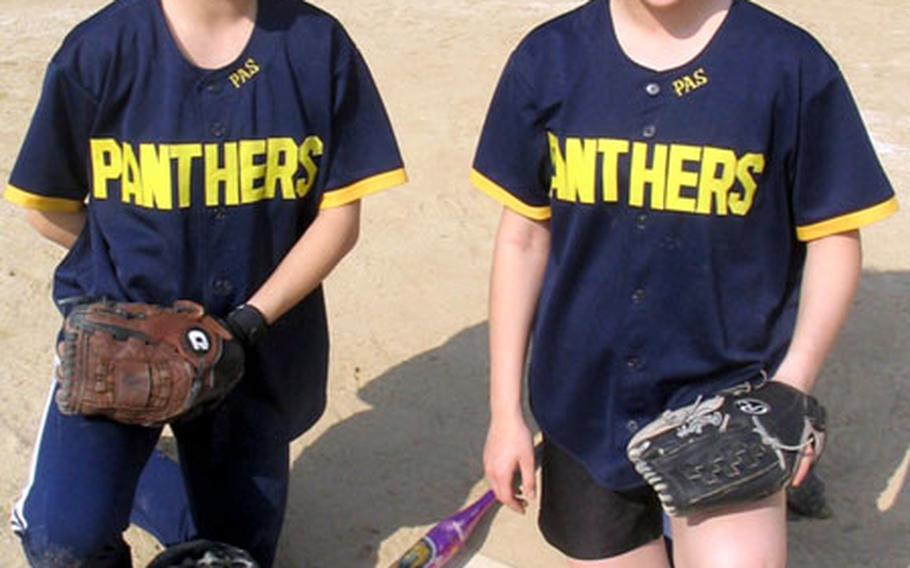 For the first two seasons of girls softball in Department of Defense Dependents Schools-Korea, the rites of April were as sure as flowers blooming and taxes: Seoul American rolled unchallenged to the league title while Taegu, Pusan and Osan American battled it out for second.
Not anymore.
Through two weeks' play, two little schools have had their way. Taegu American and Pusan American each beat the Falcons; they're tied atop the league at 4-2. Seoul American is a game back at 3-3; Osan American is last at 1-5.
"The last three teams aren't fighting each other for second place," said Taegu American coach Bob Miller. "They know in their hearts … you can strive to be No.1 and it is attainable."
Perhaps most surprising has been Pusan American, with its pitching-catching sister combination of senior Jeni Smith and freshman Ashley. The school is to close in June. The roster has just eight players; the Panthers have to borrow a ninth from each team they play just to take the field.
Yet on March 17, season opening day at Camp Hialeah's Custer Field, they beat the mighty Falcons 14-9 and 11-10, ending a streak of 12 straight losses to Seoul American. Eight days later, Taegu American, enrollment about 120, ended its own 12-game losing streak to the Falcons 15-10 at Camp Walker's Kelly Field.
"People were coming up and saying, 'Wow! You beat Seoul!'" said Panthers coach Dana Cottrell. "This season, we're all competitive. … It's wonderful."
Several factors, the Smiths and Cottrell said, contributed.
"We have good coaching, good relationships and a passion for softball," said Jeni Smith. "We're not out there necessarily to win but to play softball. This season, we've put it together and come out with wins. That's a bonus."
Last year, the Panthers went winless.
"We were younger and it was our first year of playing fastpitch," Ashley said, but this year, "We have more confidence."
The opener showed that, Cottrell said, when the Panthers fell behind 4-0 in the first inning, only to score five in their half.
"The bats came alive," the coach said. "The girls thought, 'Hey, we can do this.' … The girls were hitting, they were making plays in the field. I know I had butterflies the whole game. And that we won … just exceeded our expectations."
Setting the early-season pace: Ashley Smith on the mound (3-2, 15 hits, 14 walks and 38 strikeouts in 211/3 innings, 2.81 ERA) and Jeni Smith at the plate and on the basepaths (7-for-14, .632 on-base percentage, 13 steals).
Jeni is the team's on-field leader.
"The girls look to her for leadership," Cottrell said. "Jeni is also important as Ashley's big sister. She helps her settle down on the mound when things get rough."
Ashley always had good pitching speed, Cottrell said, "but she wasn't accurate … wasn't always in the strike zone. This year, she's a lot more accurate and with the accuracy came more speed. She's going to get her strikeouts but she's not walking a lot of people, which is giving everybody a chance to make plays."
Taegu's Millar said the Panthers also provided a bit of inspiration for his Warriors.
"They saw that Pusan could do it," he said, "so they said, 'Hey, we can, too.'"
And Tank Hancock — the Warrior who smacked a bases-loaded, two-out triple to break a 10-10 tie against Seoul American — also was one of the heroes of Taegu American's first Far East Class A basketball tournament title team.
"Our girls left everything they had on the field. Everything," Miller said. "It was blood, guts and pain and they came through. It was great."
He said the two former also-ran teams' early successes also should serve as a lesson to the entire league as the season wears on toward its April 29 conclusion at Seoul American:
"Don't rest on your laurels," he said. "Any one of these teams can win. And it just might be that small school [Pusan American] down south."