Three teams in chase for two spots in D-II finals
by
Dave Ornauer
September 26, 2019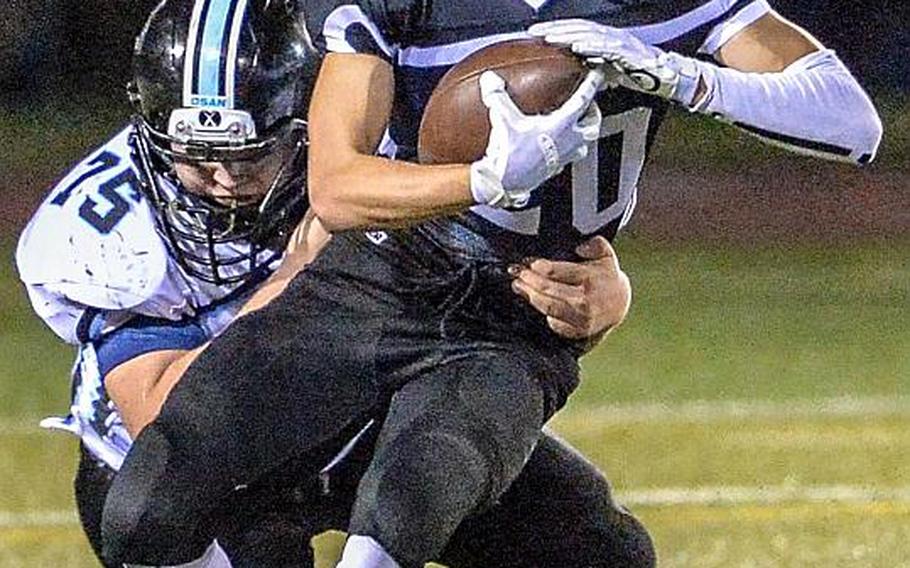 Three teams stand unbeaten atop the Division II football standings. Only two can play for the Far East title on Nov. 8.
Three games over the next four weekends will determine who plays and who stays home.
The first of those contests is at 6 p.m. Saturday at Naval Air Facility Atsugi's Reid Memorial Stadium, a rematch of the 2018 D-II final last Nov. 10 in which Osan edged Zama 24-20 at the Trojans' home field.
While both teams are much younger this season than last, with several of each team's name stars now a distant memory, each team enters Saturday's rematch with purpose. Zama hopes to gain vengeance for last year's defeat, while the Cougars must bear the bull's-eye a championship team bears on front and back.
"This is a different team this year," Trojans coach Scott Bolin said. "The returners want to take care of business, to finish the season out and get back to where we want to be. Osan is just another team on the D-II schedule that we need to beat to get back to the title game."
Zama and Osan each opened their respective seasons with two one-sided wins, each on the road. The Trojans beat Yokota 34-19 on Sept. 13 and Daegu 36-0 last Saturday, while the Cougars routed Daegu 56-6 and Robert D. Edgren 44-14.
The Trojans pounded the ball against Yokota, then went airborne in the rain at Daegu as senior Tim Matelski threw for three TDs and ran for a fourth.
Osan coach Jerome Learman said he watched the way Zama poured on the points from afar. All the while, his Cougars have ridden a punishing ground game to victory in their two games, scoring 10 times on the ground. Whether it's enough to handle the Trojans Saturday remains a question, Learman said.
"Ours is definitely not the same team either," he said. "We didn't know what to expect" when they faced Zama in the final last year, "and we don't know what to expect now. I'm sure their returning players and their coaches, they'll remember" what happened last Nov. 10.
This will be a nine-man format game, something Zama experienced for the first time last Saturday at Daegu's Kelly Field. Whoever does prevail on Saturday gains the initial advantage under the new standings format which mirrors that of Division I: Regular-season champion hosts, second-place team travels.
The other unbeaten D-II team, Matthew C. Perry, gets to play nine-man format for the first time when the Samurai entertain Daegu at 11 a.m. Saturday. While the Samurai have clobbered their two D-II foes thus far, both games have been against DODEA-Japan teams in 11-man format.
"This is a big one for us," Perry coach Frank Macias said. "It's (nine-man) definitely going to be an adjustment for us. I'm a little worried."
The next key D-II showdowns occur in October, with Zama visiting Perry on Oct. 11 and Osan entertaining the Samurai on Oct. 19.
On the Division I side, Kubasaki travels to Humphreys, with the visiting Dragons in desperate need of a win to stay alive in the Far East race, while the Blackhawks are hoping to rebound from a season-opening loss at Kadena.
The Panthers could take a major step toward hosting the D-I title game on Nov. 9 when they visit American School In Japan on Saturday. The Mustangs will be the last team to open their regular season.
On the tennis courts, Humphreys' unbeaten girls team hosts Osan on Friday. Led by top singles seed Melissa Pritchett, the Blackhawks girls have won every one of their individual and doubles matches this season.
Humphreys', Daegu's and Osan's cross country teams will be in action Saturday in a Korea regular-season meet at Osan Air Base.
Okinawa's tennis and cross country teams are back in action, tennis on Friday at Kadena and cross country on Saturday at Kubasaki. Their meets last week were postponed due to Tropical Storm Tapah and moved to this week, so each of the teams will be playing on short rest.
ornauer.dave@stripes.com Twitter: @daveornauer