Three teams have yet to lose in volleyball
---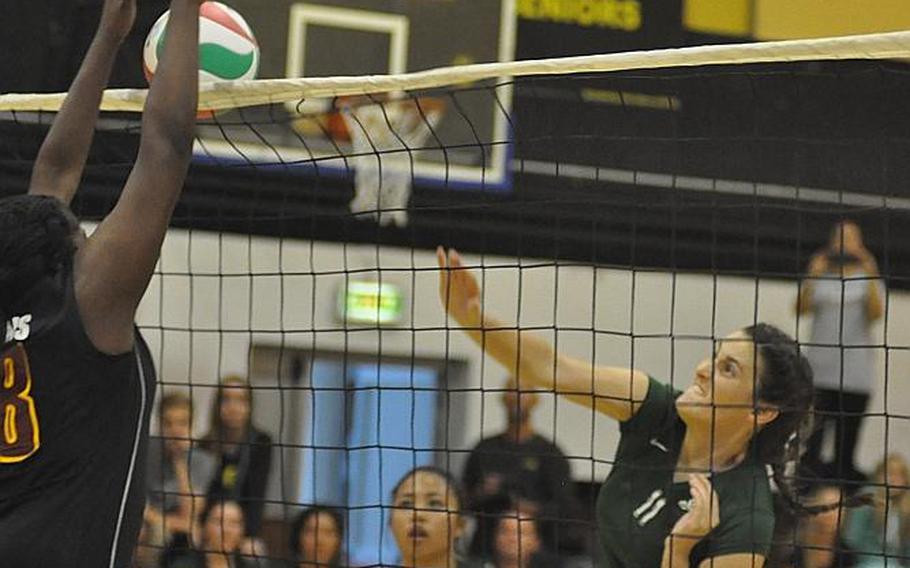 From roster turnover to regional scheduling to past and potentially future divisional realignment, there's a lot that rests outside of the control of DODDS-Europe volleyball programs. With that in mind, teams can only truly focus on beating the team that happens to show up on the opposite side of the net.
Sounds simple enough, but winning streaks have been difficult to achieve in a young DODDS-Europe volleyball season marked by parity. Entering the fourth weekend of regular-season play, only three of the 23 teams on DODDS-Europe's official schedule remain undefeated.
Foremost among the unbeaten few is Wiesbaden, which not only holds the title of defending Division I champion but also owns the most impressive body of work of any team thus far in 2015.
The centrally-located Warriors have beaten six different opponents in as many matches, ranging from Division I foes Kaiserslautern and Lakenheath to regional opponents Ansbach and Hohenfels to upset-minded small schools Alconbury and Baumholder. Only Lakenheath found a measure of success against Wiesbaden, winning the first set of their match before the Warriors recovered to sweep the next three.
The Warriors' schedule is about to ramp up, with Stuttgart and Vilseck in store Oct. 17 and Ramstein lurking a week later. But Wiesbaden can't look past its host this weekend, Black Forest Academy.
BFA is another of the three remaining unbeaten teams, though its 4-0 mark is less impressive. The Falcons have preyed on local rivals Baumholder and Kaiserslautern twice apiece this fall.
But they too are about to see fresh competition. After Wiesbaden's visit this weekend, BFA heads east to Hohenfels and south for a four-team Division II meet at Aviano.
That leaves Rota, the defending Division II champion. The Spain-based Admirals always play a light regular-season schedule; straight-set routs of AFNORTH and Alconbury comprise the whole of their 2-0 season to date. They'll get the chance to double that win streak when Bitburg visits on Oct. 17, then the Admirals are adrift until the tournament starts Nov. 5.
With so many unknowns surrounding DODDS-Europe volleyball, the best teams are often the ones that manage to focus only on the opponent at hand. So far this fall, nobody's done that as well as Wiesbaden, BFA and Rota.
Twitter: @broomestripes
---
---
---
---