Three sectionals to determine championship field
by
Gregory Broome
February 11, 2016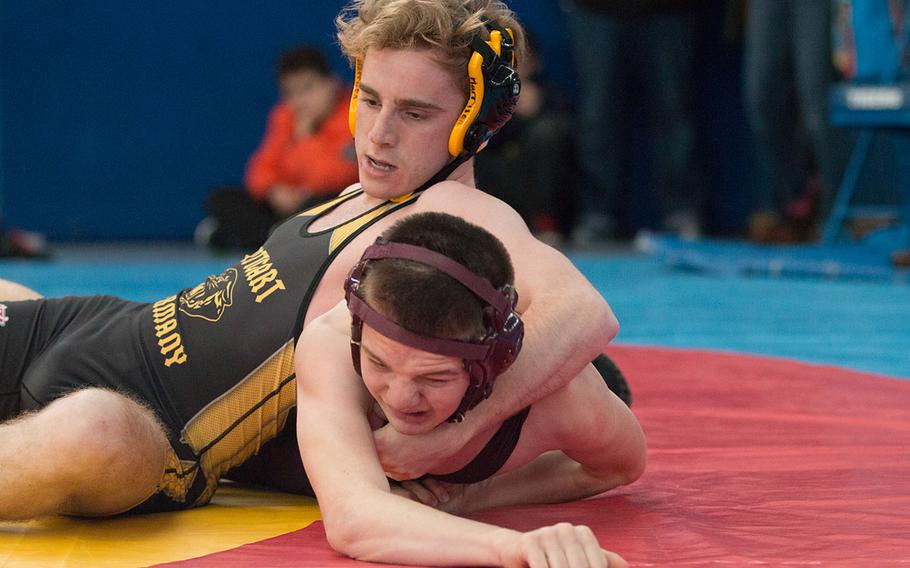 Divide and conquer.
DODDS-Europe handled the dividing, deploying DODDS-Europe's largest schools across this Saturday's three sectional meets in an effort to even the odds for each.
Now it's time for the conquering.
This preliminary round of the postseason will determine the field for the European championship meet, set for Feb. 19-20 in Wiesbaden. The top three finishers in each weight class from each sectional class will advance to Europeans, assuming they're in a class of at least four wrestlers. Two wrestlers will advance from classes with fewer than four wrestlers. Those qualifiers, along with a few wild-card selections DODDS-Europe will make early next week, will fill most of the European tournament's 14 weight classes with 12 competitors apiece.
Elite individual wrestlers from schools of all sizes are targeting European solo titles, and those legitimate contenders should sail through the sectionals. The larger issue this weekend is team performance. Programs seeking team championships need to qualify as many of their wrestlers as possible, both to stockpile points for their own squad and to squeeze out rival schools' wrestlers from points-earning high finishes.
North Sectional at Lakenheath
The Lancers were last year's tournament upstarts, storming ahead of more storied Division I opponents for an encouraging runner-up finish. Despite some heavy personnel losses, they've carried that momentum into this season by thoroughly dominating the north.
Though two other Division I schools join them in this weekend's meet, the Lancers' draw is relatively favorable, and not just because they'll be working on home mats. SHAPE has been competitive all winter but hasn't given Lakenheath real trouble overall in repeated encounters this season, while Wiesbaden is a solid big-school program that lacks the numbers to make a significant dent this season.
Alconbury, despite its tiny stature, has a handful of individual title contenders and is a favorite for the Division III crown.
Central Sectional at Kaiserslautern
With two huge Division I schools in the immediate area, DODDS-Europe didn't need to bring in outside programs to balance the numbers. This straightforward sectional field features all Germany-based programs save for Turkish visitor Incirlik.
That's good news for Ramstein, which is eying a return to the Division I throne after breaking through for the 2013 crown. Stuttgart has returned to dominance ever since, but that could be about to change again. The Royals outscored Stuttgart both times the two teams shared a meet this winter, including a dominant Jan. 30 showing that saw Ramstein pile up 237 points in a stout field including the Panthers, Kaiserslautern, VIlseck and Wiesbaden.
Like Alconbury, Baumholder has outperformed its small-school status all season and could challenge the Dragons for a Division III team nod.
South Sectional at Aviano
Two-time defending champion Stuttgart will need all the qualifiers it can get if it hopes to continue its title reign in the face of a renewed challenge from Ramstein. In that sense, the Panthers' title defense starts Saturday.
Stuttgart will launch that effort as one of four Division I teams in Saturday's meet, the most of any of the three sectionals. But the Panthers are a clear favorite, as Naples is largely untested by large-school competition this winter, Vicenza has struggled to escape the middle of the Italian pack and Vilseck finished well behind Stuttgart in all five regular-season meetings.
Division II contender and meet host Aviano could hassle the Panthers, as the Saints have fared admirably against larger rivals this winter.
broome.gregory@stripes.com
Twitter: @broomestripes