Prep roundup
Three records fall in Petty's first day
by
Dave Ornauer
April 6, 2012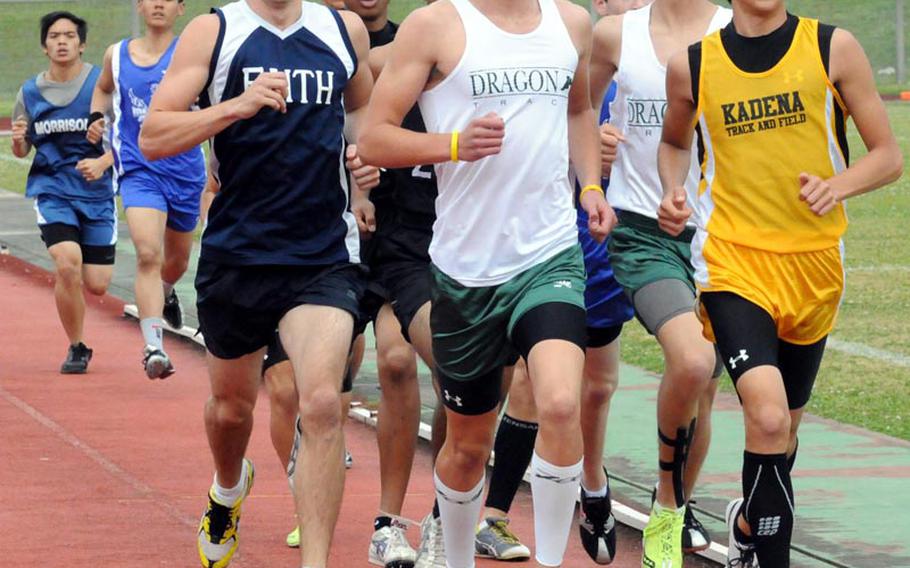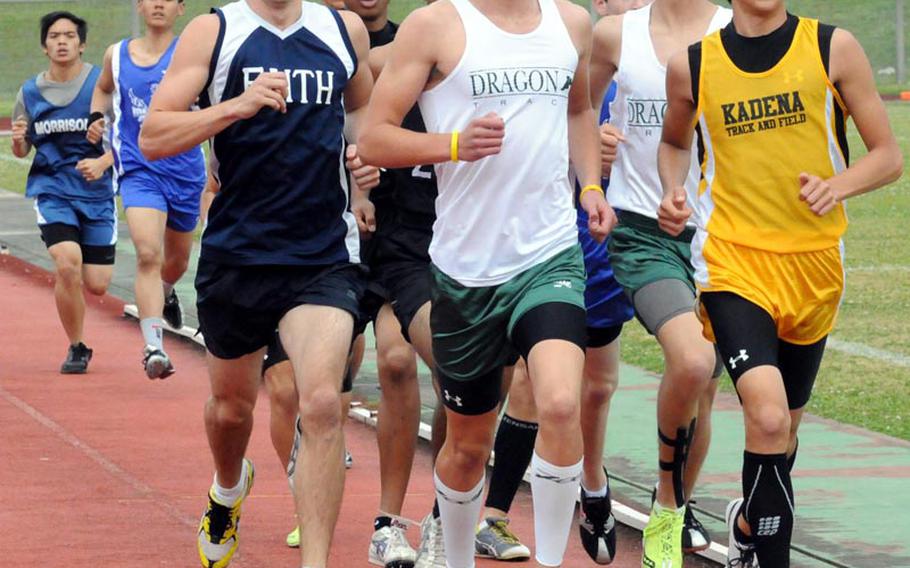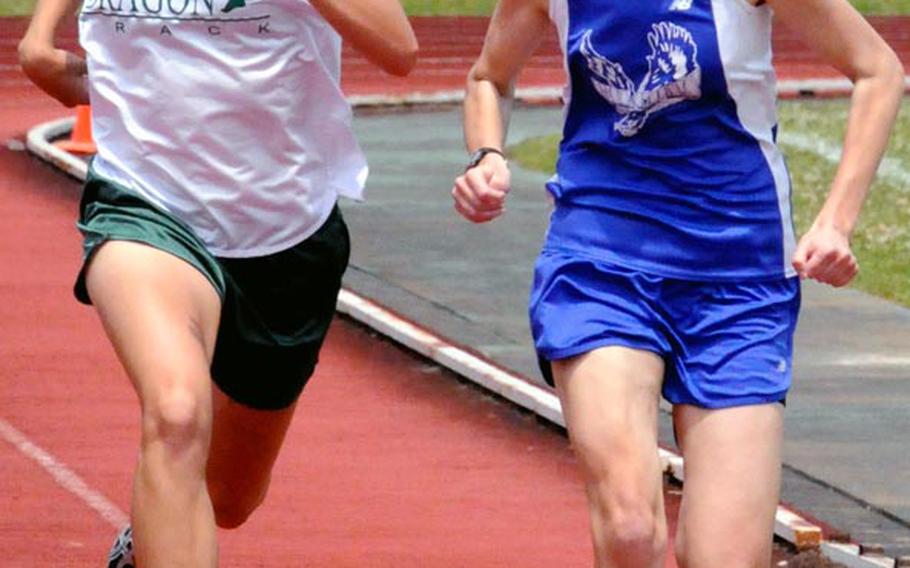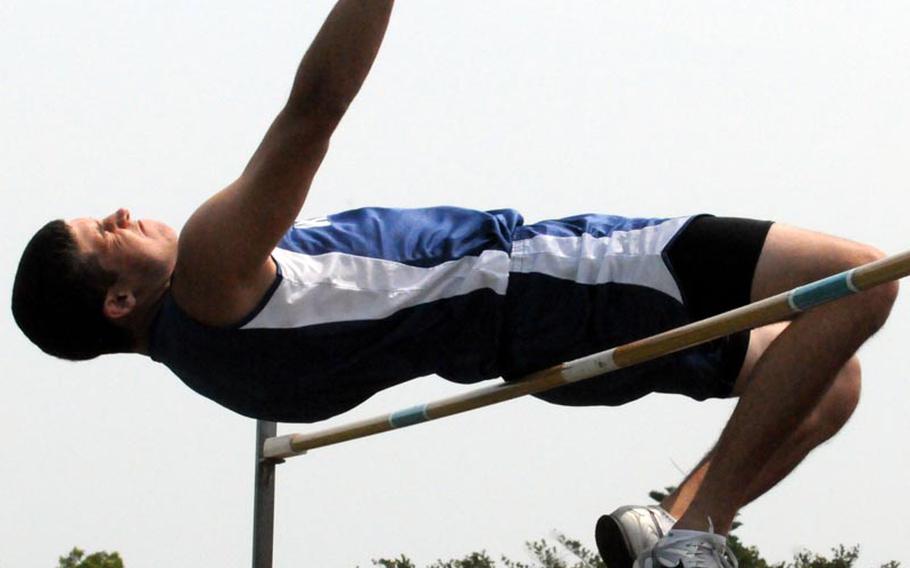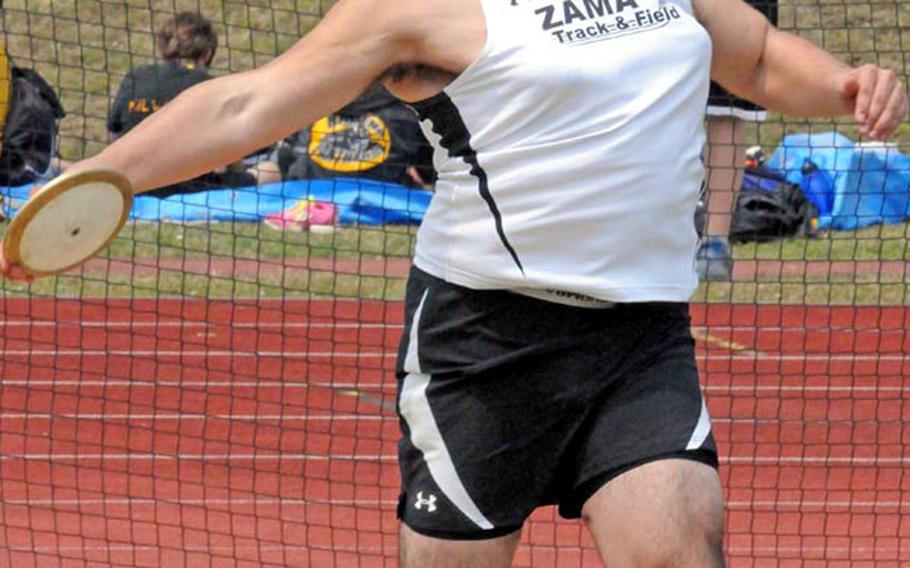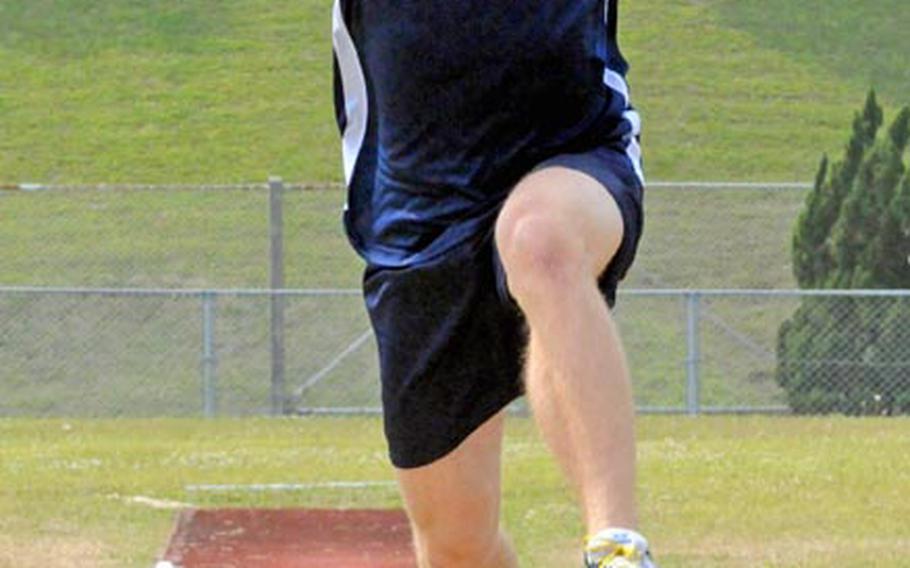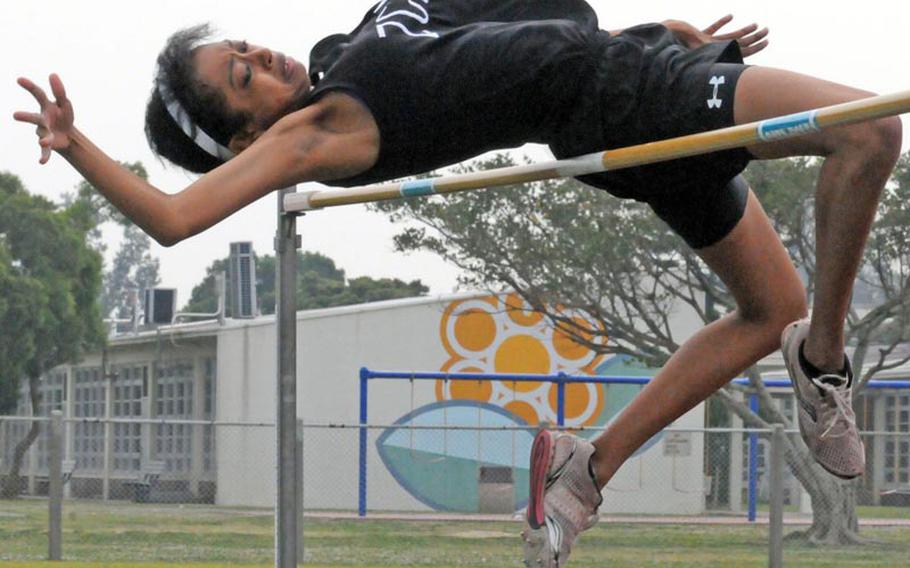 CAMP FOSTER, Okinawa - He'd scratched on his previous five attempts, two discus and three shot put throws, and desperately needed a good throw to make a strong impression in the 9th Alva W. "Mike" Petty Memorial Track & Field Meet.
Zama American senior Roland Cote did more than that. He not only beat the Petty discus record, he obliterated the 41.2-meter mark by almost two meters Friday at Kubasaki's Mike Petty Stadium with a winning toss of 141 feet, 6 inches (43.15 meters).
"I was a little worried, but I knew I had the ability," Cote said of rebounding from the five scratches. He and his father Paul, his throwing coach, made some adjustments. "I trusted my training, had the throw and everything came together."
The throw easily topped Cote's best on Okinawa, 36.36, which he threw in last year's Far East meet, also at Mike Petty. The old mark was set six years ago by Morrison Academy's Andrew Bettinger.
"He always PRs on Okinawa," Paul Cote SAID. "I told him if he wants to throw in college, he'd better start throwing 140s (in feet) or else people won't pay attention to him."
Cote's was one of three meet records to tumble Friday as the meet resumed after a one-year hiatus brought on by the March 11 Tohoku-Kanto earthquake.
Kelsey Scott of Seoul American and Rahman Cairnes of Okinawa Christian International established new 100-meter meet records during qualifying runs for Saturday's finals.
Cairnes' 10.9 topped the 11.18 in 2006 by Kadena's Jeff Morton, while Scott, with a 12.75, topped by a hundredth of a second the old mark set in 2010 by Seoul American's Kristy Taylor.
"That's what I've been working for this whole season, her time," Scott said.
Reigning Far East cross-country champions also had their moments in the sun, though not without a close finish in the girls 3,000-meter run.
Amanda Henderson of Seoul American edged out Allie Reichenberg of Kubasaki in a sprint to the tape, Henderson clocking a 11:10.53 and Reichenberg a 11:10.97.
"That's what meets like this are for, for people to push each other instead of winning with ease without any challenge," Seoul American coach David Abbott said.
"I was so scared," Henderson said, adding that "not for a long time" had she been challenged like that. "It was refreshing. I was afraid I'd get too used to going at too comfortable a pace."
For her part, Reichenberg said she "underestimated" Henderson, thinking she could go into her stretch drive with 300 meters left, but Henderson kicked with 400 to go, making Reichenberg tired with 200 left.
"She's a fantastic runner. Amazing," Reichenberg said of Henderson.
Kubasaki freshman Erik Armes, meanwhile, had little difficulty ruling the boys' distance roost, outdistancing his training partner Andrew Kilkenny of Kadena 9:46.78 to 9:52.97.
"It was a hard race," Armes said. "The pace was so slow early, I had to make up time on the last lap."
The meet continues with sprint, relay and middle-distance finals on Saturday.
Henderson DQ'd from 800Seoul American thought it had a 1-2 finish in the girls 800 when sisters Amanda and Pam Henderson crossed the finish line in the top two spots.
But a race official on the back stretch reported seeing Amanda Henderson, the two-time Far East cross-country champion, step off the track. It led to Henderson being disqualified. Seoul American's coaching staff, Abbott and distance coach Kevin Madden, argued vehemently that Henderson had been "blatantly" pushed off the track by another competitor.
---
---
---
---