Girls soccer preview
Three divisional races have different storylines
by
Gregory Broome
March 14, 2019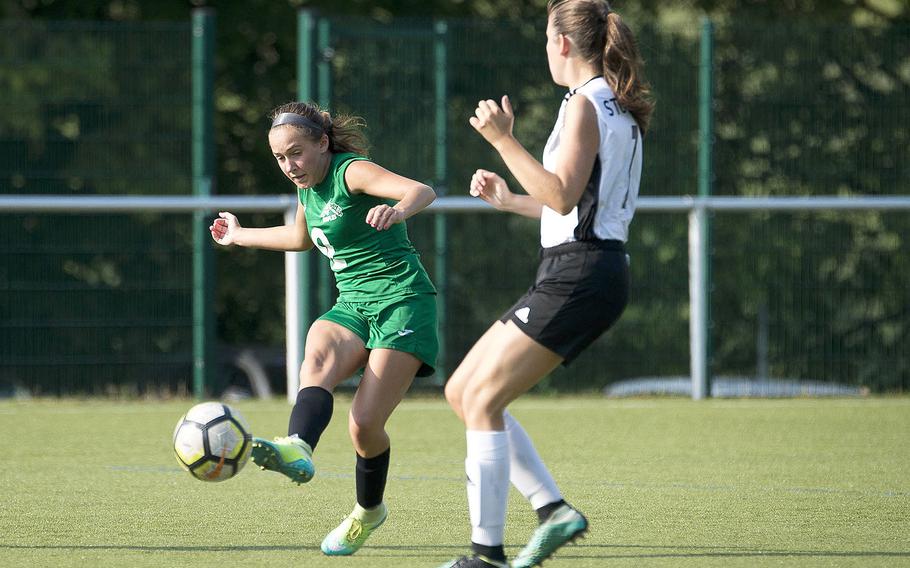 The 2019 DODEA-Europe girls soccer season opens this weekend with a distinct storyline in each of the organization's three divisions: an entrenched hierarchy in Division I, widespread opportunity in Division II and a clash of dynasties in Division III.
Division I The Stuttgart Panthers restarted their title reign last spring with a shootout victory over the Ramstein Royals, overcoming the shootout loss they took to Wiesbaden in the 2017 final and claiming the program's third championship in four seasons.
Stuttgart will enter 2019 a strong favorite for another repeat. The reigning champions are loaded with talented seniors, including All-Europe midfielder Reagan Treichel and newcomer Lilly Lakich, a Florida transfer who projects to immediately rank among the DODEA-Europe elite. Wings Mara Bartell and Trinity Leahy round out the senior core, while coach Bill Ratcliff reports a set of "very skilled" underclassmen prepared to offer capable support.
Ramstein, once as consistent a finals participant as longtime rival Stuttgart, snapped a two-year streak of semifinal losses with its appearance in the championship game last spring. The Royals will be seeking their first European title since their 1-0 win over the Panthers in the 2014 final.
The Wiesbaden Warriors and Naples Wildcats have established themselves among the Division I elite in recent seasons, joining Stuttgart and Ramstein in the tournament's final four each of the last four seasons. Each team, appropriately, returns 11 varsity players, including seven starters, for another run this spring.
Seniors Audrey Merhar, Gracie Reeves and Karli Wallace, the latter perhaps DODEA-Europe's most skilled goalkeeper, headline the Warriors. Sophomore striker Roxanne Sasse and junior midfielder Abigail Houseworth rank high on the Wildcats' long list of dangerous offensive players.
The division's other five contenders - Kaiserslautern, Lakenheath, SHAPE, Vicenza and Vilseck - will look to ease the grip those four powerhouse programs have placed on the elimination round. Kaiserslautern, which posted a winning divisional record last spring, is heavy on young players and faces a brutal early schedule with games against Ramstein and Wiesbaden over the first two weekends.
Division II The Division II reign of the two-time champion Spangdahlem Sentinels was ended by off-field measures as DODEA-Europe realigned the small school to Division III. That leaves DODEA-Europe's annual wild-card of a division even more wild than usual.
The Rota Admirals are the top returning team, having taken a 2-0 loss to Spangdahlem in last year's divisional title match despite a 2-1 win in the 2018 regular season. The Black Forest Academy Falcons are the most recent champion in the mix, having claimed the 2016 crown before Spangdahlem's reign.
But less obvious challengers have a chance to use the division's chaos as a ladder to contention.
The AFNORTH Lions are loaded with high-potential freshmen and sophomores who might not be interested in waiting their turn. Aviano coach Robert Tiffany is working with unprecedented depth for the program and has a nice mix of returning and incoming talent.
Division III At least one dynasty will fall this spring as the realigned Sentinels invade the turf of the four-time defending Division III champion Alconbury Dragons.
Head coach Jose Pumarejo leads a seasoned Sentinel squad featuring six returning starters and "only one purpose" - to win another European title. Freshman striker Chesney Tieyah expects to add some fresh offense to the junior core of Katie Garcia, Tahlia Mower, Chloe Smith and Izzy Smith.
Alconbury, which has beaten Sigonella 1-0 in the last three European title games, is rebuilding after taking considerable personnel losses from last year's championship squad.
Spangdahlem visits Alconbury on April 26 to kick off the new divisional rivalry.
Twitter: @broomestripes