Thousands gather at Pacific sites to watch Super Bowl
by
Dave Ornauer
February 7, 2007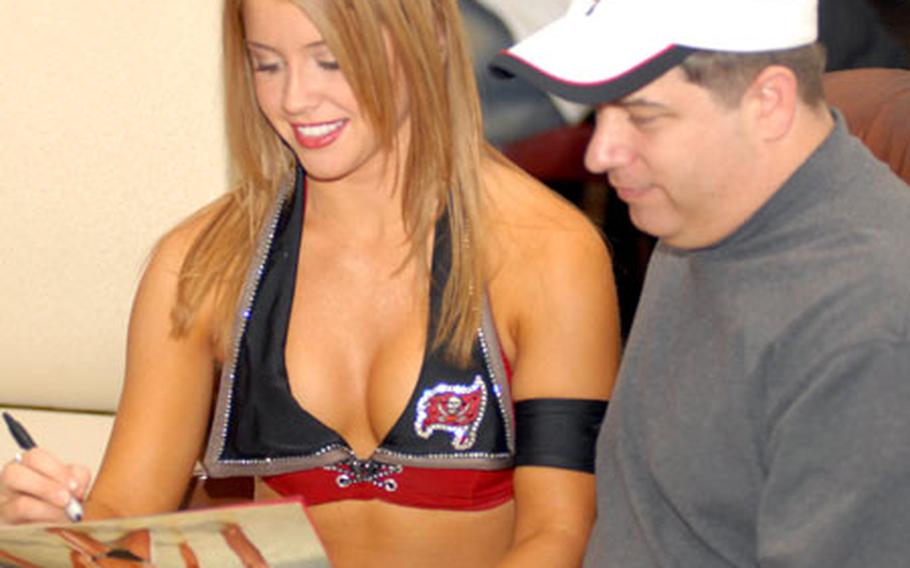 From Misawa to Andersen and all points in between, thousands of Pacific troops, civilians and family members gathered at base clubs and community centers for Super Bowl Monday, a full-fledged festival of football and food.
Greeting the party-goers were plenty of breakfast eats, hot dogs, pizza and hot wings, widescreen TVs, contests galore and a touch of home, as NFL cheerleaders from Tampa Bay, St. Louis and San Francisco shared the festivities with the troops.
"It's a big deal," said U.S. Army Garrison Japan Command Sgt. Maj. Eusebius Cadet at the Camp Zama Community Club. "The Super Bowl is one of the great American pastimes. To have commanders give troops the time to see it is great, and to have the cheerleaders come is icing on the cake."
While rain poured over Miami's Dolphin Stadium, where Indianapolis beat Chicago 29-17, there was no shortage of fans indoors in the Pacific decked out in Colts blue and white and Bears blue and orange.
Club doors opened to patrons as early at 5:30 a.m., though the majority of fans arrived much closer to the 8:30 a.m. kickoff time.
Airman 1st Class April Wilson, a Colts fan watching at Kadena Air Base's Banyan Tree Club on Okinawa, insisted 7 a.m. wasn't too early to get up on a day off.
"Not for football," she said.
Tim Jacobson, a Kadena civilian, came to Banyan Tree with a group of friends mostly from the American Steele Motorcycle Club. That they were watching during the day and not at night didn't matter at all — and didn't stop his group from enjoying a few beers.
"We're professional drinkers," he joked.
At Yongsan Garrison in South Korea, Angela Chapple was rooting for the Bears. Shelia McInnis, seated next to Chapple, was supporting the Colts.
"I'm a true Steelers fan," she said above the noise of the game being projected on a huge screen. "I have been since the '70s."
Why was she cheering for the Colts?
"Because she's for the Bears," she said of Chapple, sending the friends into laughter.
"I've been a Bears fan since I was born in Chicago," said Marine Corps contractor John Macias at the Globe & Anchor Club on Okinawa's Camp Foster. "If you're born there, you have to be a Chicago fan — win, lose or draw — in all sports."
Some revelers were used to the early hour, having been in the Pacific for years, while others made their debut as Super Monday fans. Navy chief petty officer Brent Hingrich is in his seventh year of Monday madness.
"So, I'm used to getting up early to see the game," he said at Yokosuka Naval Base's Seaside Restaurant, his 2-year-old son, Tomoya, in tow. "This year, I decided to give my wife a break and watch the game away from the house."
A first-timer to the early morning experience was Kanto Lodge employee Marvin Davis at Yokota Air Base, Japan.
"I like this a lot," he said. "There's a whole lot of fun and camaraderie with everyone getting together to watch the Super Bowl on a Monday morning."
As the morning progressed, so did the various contests and interaction with the cheerleading groups, who alternately danced and drew tickets for prize giveaways.
"The club is really putting on a great party," said Navy Lt. Cmdr. Bryan Braswell of Yokosuka's Navy Information Operations Command. "From the raffle and trivia questions to food and football, everything has been fun."
Marine Corps Community Services employee Duane Burk brought home trinkets from the Globe & Anchor for answering a trivia question.
"My goal is to win a bunch of free stuff here," said Burk, who brought along girlfriend Kaori Miyanishi, to whom he's been introducing football.
Two servicemembers, Chief Warrant Officer Shannon Sherman and Air Force Senior Airman Chad Parsons, got to sit with five Tampa Bay cheerleaders as winners of the "King of the Quarter" drawing at Zama.
"I'm pretty excited, I ain't gonna lie," Parsons said, surrounded by the cheerleaders, moments after letting out a loud whoop when he was selected.
At least one of the cheerleaders felt a special connection with the Army. The brother of Tampa Bay cheerleader Aubrey Gainey, Army Sgt. Cole Gainey, was seriously wounded in a roadside bombing just before Thanksgiving in Iraq. He's home recovering in Colorado after a brief stay at Walter Reed Army Medical Center in Washington, Aubrey said.
"I feel very honored, blessed to be here," said Aubrey Gainey, 21, a student at the University of South Florida in Tampa. "It's personal for me. It touches my heart. When my brother heard I was coming here, he was very excited, thrilled. I just want to be here to thank our troops."
As the game wore on and it appeared Indianapolis was headed to victory, many more Colts fans than Bears fans seemed to remain until the end of the game. One simply panned the play of Bears quarterback Rex Grossman.
"Tell Rex Grossman my great grandmother could play better than that," said Harry Mason, a commissary employee at Japan's Sagami Depot. He'd been upset two weeks earlier when the Bears downed New Orleans in the NFC championship. "I'm a Saints fan. What do you expect?"
Taking some of the air out of things was the lack of commercials in the AFN TV telecast, said Staff Sgt. James Goggin at Yokota's Enlisted Club.
Kadena's Jacobson agreed.
"No commercials suck because those are the best commercials," he said. "AFN commercials just don't cut it."
The Colts' victory more than made up for it, Goggin said: "The Colts played awesome."
One Colts fan said he'd been optimistic even after the Bears drew first blood on Devin Hester's opening kick-return touchdown.
"When they came back against New England" in the AFC championship game two weeks earlier, "they showed me they could do it," Zama Army Sgt. Paul Williams said.
Stars and Stripes reporters Bryce Dubee, Cindy Fisher, T.D. Flack and Chris Fowler contributed to this report.
---
---
---
---