Thomas steps up in fourth, helps Yokota boys hold off Kinnick
---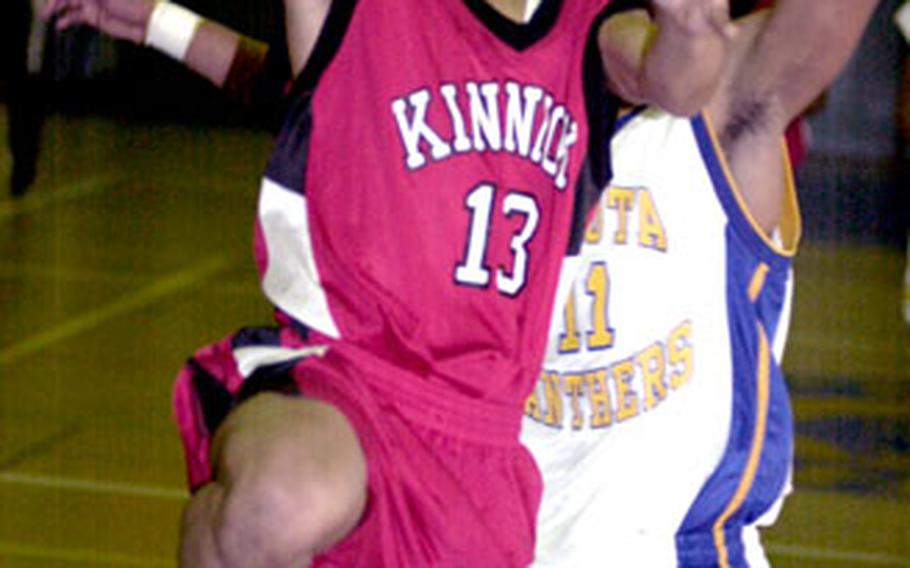 YOKOTA AIR BASE, Japan — Despite trailing by 17 points in the first quarter, Nile C. Kinnick's boys basketball team refused to quit, and even mounted a comeback to take a brief fourth-quarter lead. Only a huge final-quarter performance by Caiveon Thomas helped Yokota ensure the Red Devils would not complete the comeback.
The Panthers' senior forward scored 11 of his 23 points in the fourth quarter, shooting 7-for-8 from the foul line and grabbing four of his five rebounds plus a clutch steal, as Yokota held off the late Kinnick rally for a 58-54 home triumph Friday before 400 fans at Capps Gym.
It was the first of two regular-season Kanto Plain Association of Secondary Schools and Japan Basketball League meetings between the last two runner-up teams in the Far East Class AA tournament. The two teams matched each other for the best record in Japan (24-4) and shared the Kanto and JBL titles last season.
"We had chances to get the ball to him (Thomas) inside and we tried to take advantage of them," said coach Paul Ettl of the Panthers (15-3 overall, 4-2 JBL, 8-0 Kanto). The Red Devils, whose only other loss came in a preseason game, fell to 11-2, 6-1, 5-1.
Kinnick scored the first basket, but the Panthers mounted a major flurry and scored the next 12 points, implementing various zone and man-to-man presses to go up 17 late in the first period.
But the script changed after that. Thanks to varied forms of defensive pressure, the Red Devils outscored Yokota in each of the last three quarters. It was not enough to overcome the early deficit, however.
"Give credit to Kinnick," said Ettl, who coached the Red Devils for five seasons in the late 1990s. "They're quick, good in transition and they're not going to hang their heads when they're down by 17. And it was 17 early."
"If we play ball in the first quarter, we win," Kinnick coach Nathan Brewster said. "That's what I told the guys afterward. We beat them for three quarters. It was the first quarter that killed us."
Partly to blame was inactivity caused by end-of-semester exams, Brewster said; the team's practice time was cut down for the preceding two weeks.
"It hurt our conditioning, it hurt our shooting, it hurt our ballhandling," he said. "And it showed tonight."
Cameron Cooper contributed 17 points for the Panthers, including a pair of clutch three-point goals, one down the stretch to keep Yokota ahead. Kinnick's double-double man, senior Travis Ekmark, netted 19 points and grabbed 11 rebounds, while Paul Ergus got 10 of his 16 points in the second half, plus 12 rebounds.
Unlike a year ago, when the two teams split their season series by winning each of their victories on the road, Yokota earned this victory at home. The teams meet again in the DODDS-Japan tournament at Yokota Air Base on Feb. 10-11 and again on Feb. 16 at Yokosuka Naval Base.
"We're going to see them a lot in the next few weeks," Ettl said. "This is just round one."
---
---
---
---