Europe softball
This might be the year that Kaiserslautern breaks through
---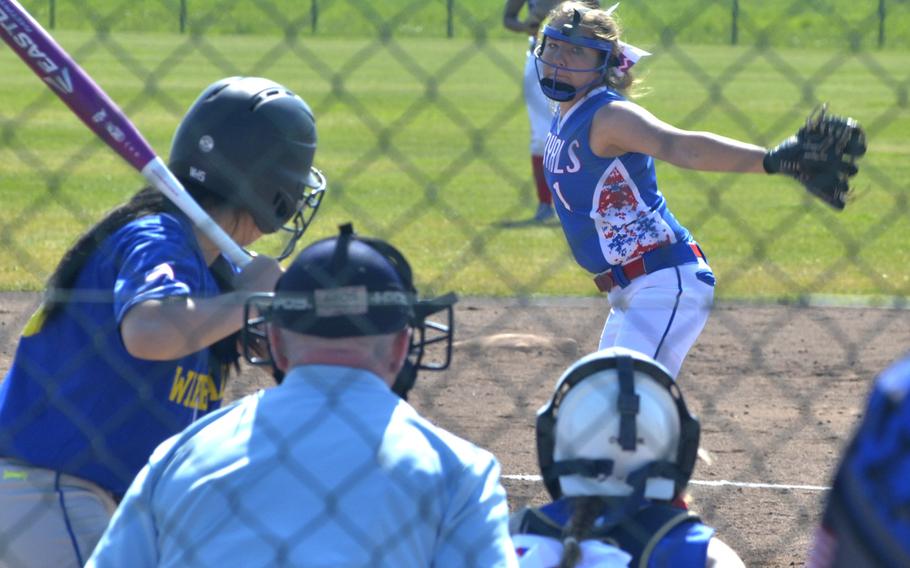 A new large-school favorite brings fresh intrigue to the 2016 DODEA-Europe softball tournament, which runs Thursday through Saturday around the Kaiserslautern Military Community in Germany. The defending Division I champion Ramstein Royals are facing a very potent challenge from their longtime archrival, the Kaiserslautern Raiders, while 2015 small-school champ Aviano looks to extend the school's first-ever softball title reign.
Division I This could be the Raiders' year.
After multiple consecutive seasons of settling for a spot in the Saturday third-place consolation game, Kaiserslautern enters the postseason a favorite to play in - and have a strong chance at winning - the main event. The Raiders spent the spring undefeated until the last weekend of the season, when they split a doubleheader with defending champion Ramstein, and carry a division-best 11-1 record into Thursday's tournament opener.
But even in its lone defeat, Kaiserslautern was impressive. Down 2-0 after a pair of fielding errors and 5-0 through two and a half innings, the Raiders responded forcefully and pulled ahead 7-6 on a Tori Liggins grand slam. Though they eventually took an 11-7 loss, the Raiders regrouped immediately to pound eight consecutive hits in a 9-0 nightcap victory.
That kind of resilience is a recipe for the postseason success that has narrowly eluded the program over the past few years. Talented Raider teams have bumped up against a glass ceiling in the semifinals in recent seasons, including a loss to Vilseck last spring and a loss to Ramstein the year prior.
The 2016 Raiders might have the personnel to break through. Liggins leads the way at the plate and on the mound, where in last weekend's season finale she kept the potent defending champs off the board while granting just three hits and a walk. She's supported by a capable batting order including Emma Frost, Phoenix Whisennand, Chloe Whisennand, Sydney Brown and Nina Knight.
As promising as this Kaiserslautern squad is, it will face significant resistance this week from DODEA-Europe's traditional powers, Ramstein and Stuttgart.
The Royals come into the postseason having suffered two losses in their last four Division I games, including splits against Stuttgart and Ramstein. Their last effort was the shutout loss to the Raiders, so momentum, to the extent that it matters in the transition from regular season to postseason, is assuredly not on the Royals' side.
But a lot of other factors are. The Royals have a strong pair of pitchers in Abby Walker and Victoria Rady, while sluggers Zania Sterling and Sierra Nelson headline a lineup with a knack for stringing together base hits and posting big innings.
Stuttgart, the 2014 champion formerly known as Patch, remains a difficult out despite taking four losses this spring. The Panthers can hang with Kaiserslautern, losing the teams' two regular-season meetings by a combined five runs, and they split doubleheaders with both 2015 finalists, Ramstein and Vilseck.
Former Division II powerhouses Naples and Vicenza didn't make a lot of inroads last spring after moving up to Division I, as neither squad advanced to the elimination round. Vicenza has struggled this spring, but Naples notched a pair of divisional wins over Vilseck and should be a tough out this week.
Division II/III What's the best way to follow up your program's first-ever championship?
With your program's first ever repeat.
That's the goal the Aviano Saints will pursue this week, and it's one they've got a good chance of achieving. The Saints have an 8-4 overall record, the best in Division II with the exception of Rota's 2-0 regular-season cameo appearance, and have big-game experience garnered from both last year's tournament run and this spring's showdowns with Division I Italian squads Naples and Vicenza.
They've also got junior McKenzie Milligan, the ace pitcher and run-producing slugger who is among DODEA-Europe's best all-around players, and a set of solid senior leaders including De'Ja Knight and Ashley Mills.
The Saints' biggest obstacle to a repeat might come from within their own home country. Sigonella, boasting an offense that scored at least four runs in each regular season game, split four games with Aviano this spring.
The rest of the division is an unpredictable mix of potential contenders. Rota is usually dangerous in the postseason but has its usual small sample size of regular-season work; Bitburg matched Aviano's 4-2 divisional record but earned all of those wins against struggling teams; AFNORTH is a traditional small-school powerhouse that lost 12 of its 14 games this spring; Hohenfels didn't win a game until May but swept Bitburg and winless Baumholder to ride a four-game win streak into the tournament.
Twitter: @broomestripes
---
---
---
---