D-II championship
Third time this year will be charm for Admirals or Saints
---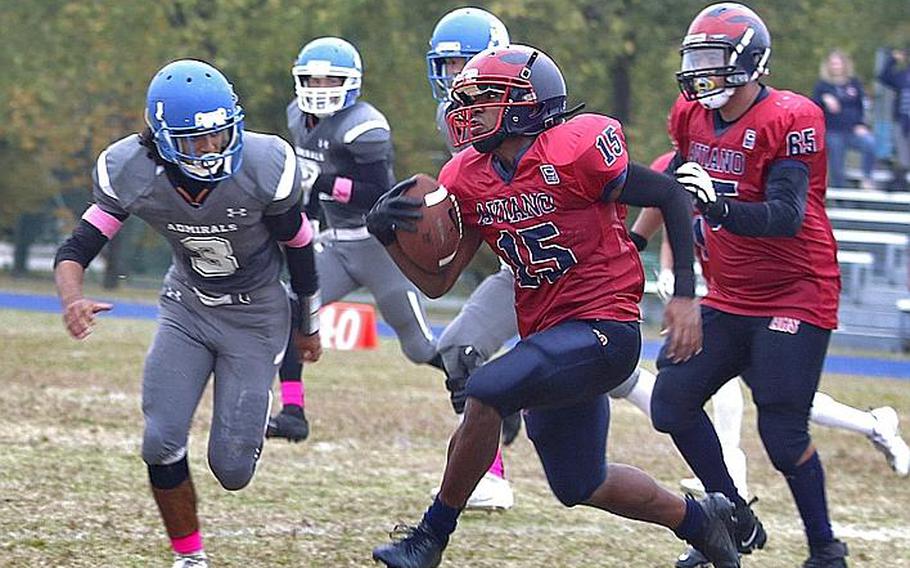 It's been seven years since a DODEA-Europe football team has played for a championship on its home field. That streak ends Saturday.
The Aviano Saints will host the Rota Admirals in the 2019 DODEA-Europe Division II football championship game Saturday at 1 p.m. CET. The Saints will become the first team to host a European football championship game since Baumholder beat Rota for the 2012 Division III championship, the year before the annual slate of football championship games was shifted to Kaiserslautern High School.
That tradition goes on hiatus this year. Kaiserslautern will host the Division I and Division III finals, both of which feature two Germany-based schools, while the two southern teams in the Division II game avoid that trip north, instead playing on the field of the higher-seeded finalist.
The defending champion Saints secured that status with an undefeated division season that included a close 24-21 defeat of the Admirals, and advanced to the final with a 24-10 defeat of Naples in last weekend's semifinal round. Second-seeded Rota, which won all of its regular-season games save for the visit to Aviano, reached the championship game with a 28-6 semifinal defeat of Vicenza.
DODEA-Europe athletic director Kathlene Clemmons said the decision was a common-sense move to avoid having two teams travel a vast distance and require parents and supporters of both teams to follow them, to play in a game that would spark little interest in the Kaiserslautern Military Community.
"We just wanted to give more parents an opportunity to watch their kids play in a championship game," Clemmons said.
Notably, DODEA-Europe realigned its member schools into a more geographically oriented divisional structure prior to this season, largely consolidating Division I to Germany and the north and Division II to Italy and the south, in the interest of reducing travel for regular-season games. But Clemmons said the organization doesn't have any designs on extending this weekend's localization of a football final to European championship tournaments in other sports.
"Certainly this year, it's isolated to football," Clemmons said.
It's a distinct element of DODEA-Europe culture to bring in every team, regardless of regular-season records, in sports such as volleyball, basketball, baseball and softball to Germany for centralized, multiple-day postseason tournaments. As of now, at least, that isn't changing.
"I don't want to isolate the kids," Clemmons said. "I think the kids really enjoy coming up here and being part of a big tournament and watching everybody play."
As for this weekend's game, Rota coach Luke Spencer said his program is comfortable with DODEA-Europe's decision to have it compete for the title on the road.
"Aviano had the best regular-season record and they won the right to host," Spencer said.
The Admirals have already reached their primary goal by advancing to the championship game, Spencer explained. Rota appeared in three straight Division II title games between 2015 and 2017, including a win in the 2016 championship game.
"Ultimately, we talk about playing for championships, not winning them," Spencer said. "The team that loses this game is not a failure. Getting to the game is the goal. The game will take care of itself."
broome.gregory@stripes.com Twitter: @broomestripes
---
---
---
---